---
Last Saturday marked the 30th game of Brady Hoke's tenure at Michigan, and while it wasn't pretty it resulted in a win. As we conclude the first of two bye weeks for Hoke's squad this season it's the perfect time to examine his first 30 games and how they stack up against the other coaches in Michigan history. First, let's take a look at wins.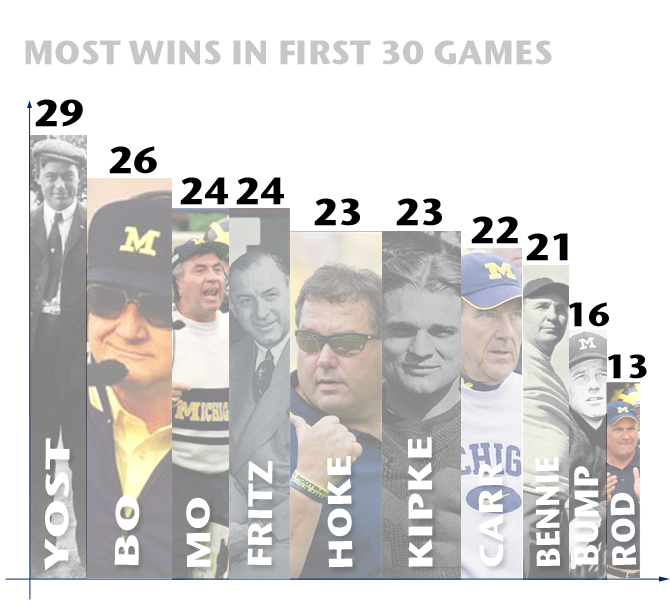 Hoke has won 77 percent of his games so far and 75 percent of his Big Ten contests. His 23 wins are the fourth most during that time span, behind Fielding Yost's 29, Bo Schembechler's 26, and Gary Moeller and Fritz Crisler's 24. It is one ahead of Lloyd Carr's 22 and ten better than his predecessor Rich Rodriguez.
Digging even further, we find that Hoke's four wins over the three main rivals – Ohio State, Michigan State, and Notre Dame – are third only to Fritz Crisler's seven and Gary Moeller's five. Lloyd Carr and Bennie Oosterbaan each also won four games over the three main rivals in their first 30 games.
Yost obviously coached in a far different era, his first season being 110 years before Hoke took over. Schembechler and Crisler can be the most comparable to Hoke's situation, having both taken over teams that had two losing seasons in the previous four. In Bo's case, it was a program that had really been struggling for the previous decade. That he was able to have such immediate success, going to two Rose Bowls in his first three seasons, is a major reason why Bo is so revered. Moeller took over from Bo and had been on his staff for the majority of Bo's tenure, so his first three seasons were mostly just an extension of his predecessor.
While Hoke has one more victory in his first 30 games than Carr, it is important to note that Carr won his next seven and the national championship, so unless Hoke does the same, he will fall behind Carr in the near future. Another item worth noting is that Hoke is the only coach other than Yost to not lose a single home game in his first 30 games. Schembechler lost just one – a 40-17 loss to 13th-ranked Missouri. Hoke is currently 17-0 in Michigan Stadium.
Now that we have established that Hoke ranks up there with the greats in Michigan history in victories through his first 30 games, let's take a look at one of the areas Michigan has been struggling with this season: turnovers.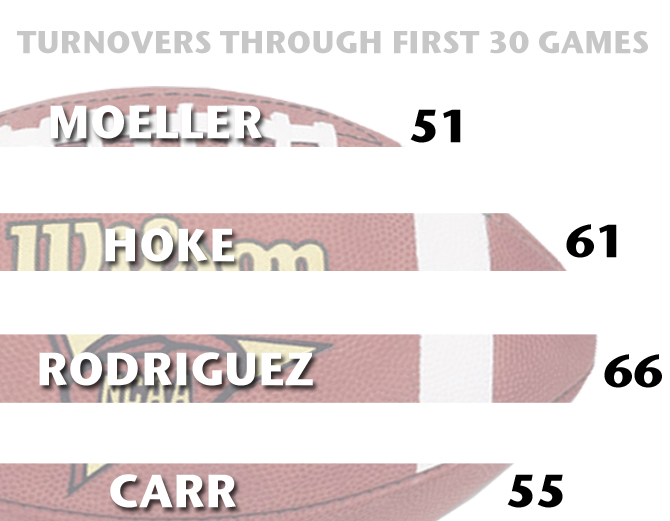 Turnover records don't go far enough to compare turnovers from the Schembechler era backwards, but we can compare Hoke to the previous three regimes. As you can see above, Hoke's teams have turned the ball over 61 times – just over two per game – which is second most behind the 66 given up during Rich Rodriguez's first 30 games. Carr's teams were better at taking care of the football, but Hoke still won one more game, while Moeller's gave it up 16 percent fewer times.
One hypothesis as to why Hoke's teams have turned it over more than Moeller's and Carr's is that he has many of the same players that Rodriguez's staff recruited and coached. But Hoke's first season wasn't bad with 22 giveaways (16 interceptions and six fumbles). By comparison, Carr's first two seasons had 23 turnovers each. Last season the number ballooned to 27 and this season Michigan is on pace for 36. The pace isn't likely to continue, but unless they improve drastically the rest of the season it will be another large season total.
I think, rather than blaming it on Rodriguez's recruits/players, the type of quarterback Michigan has had the past few years is the main culprit. Hoke has talked several times about Devin Gardner's athleticism being both a strength and a weakness because it can create big plays out of nothing but also lead to mistakes that shouldn't be made simply because other quarterbacks wouldn't have been able to make them. The same can be said for Denard Robinson.
Of Michigan's 12 turnovers this season nine have been interceptions. Of the 61 turnovers under Hoke, 44 have been interceptions and just 17 have been fumbles. Conversely, of the 55 under Carr, 28 were interceptions and 27 were fumbles, while of the 51 under Moeller, 27 were interceptions and 24 were fumbles. In other words, the quarterbacks – Elvis Grbac, Todd Collins, Brian Griese, and Scott Dreisbach – were more traditional quarterbacks who took better care of the ball.
In addition, the disparity can't be chalked up to more passing and less running. Moeller's teams averaged 290 passes and 565 runs in his first three seasons, while Carr's averaged 343 passes and 557 runs and Hoke's have averaged 308 passes and 521 runs.
Fumbles are an odd thing in football. Just because a player fumbles it doesn't mean it results in a turnover. Carr's teams fumbled 59 times but only 27 of those (46 percent) were turnovers. Moeller's fumbled 41 times and 24 (58 percent) were recovered by the opponent. Hoke's teams so far have fumbled 44 times and 17 (39 percent) have been turnovers. So the ball has bounced Michigan's way under Hoke, but the quarterbacks have been more careless with the ball.
It's also important to go back and look at Hoke's turnover record at his previous head coaching stops, Ball State (2003-08) and San Diego State (2009-10). Over the course of those eight seasons Hoke's teams averaged just 18.25 turnovers per season, which is right on par with Moeller's years at Michigan.
So what can we make of all of this? Although Hoke's teams have turned the ball over more than Carr's, he has one more win to show for it at this point. But nobody is going to argue that this team is as talented as Carr's 1997 squad. Fumbles are largely a random event, and in this case, the luck has been mostly on Hoke's side, but the quarterbacks Hoke has had are different types of quarterbacks than those that Carr and Moeller had. And Hoke's history is one of fundamentals and taking care of the football, so it's not likely that the current turnover woes will continue much longer.
Last Saturday was Gardner's ninth career start, which means he's still essentially a first year signal caller. As he continues to mature and get more experience under his belt his decision making will improve and he'll learn that sometimes simply throwing the ball away is better than trying to be Superman. He has two-thirds of a season remaining in 2013 and a full year in 2014, and any bit of improvement in ball security will significantly improve Hoke's chances of winning more games before the Wolverines return to the same type of quarterback Moeller and Carr had: less risk, less reward, but more consistent.
Gardner is a very smart kid and despite his recent struggles he will bounce back and provide far more thrilling moments than bad ones, so sit back and enjoy the ride. Michigan is in good hands under Hoke and he'll help guide Gardner through his woes.