---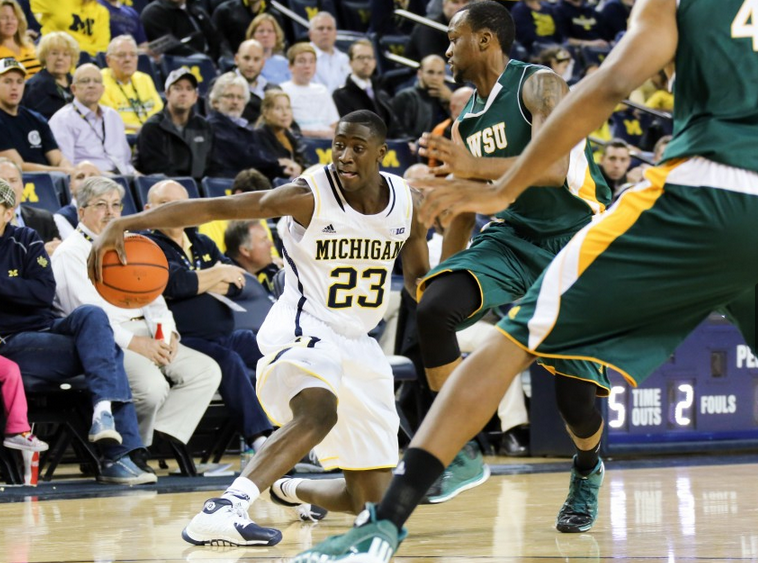 (Dustin Johnson, UMHoops)
When a college basketball team makes a run to the national championship game with large contributions from the Naismith Player of the Year and another first round NBA pick, the first question after those players' departures is naturally going to regard their replacements. Around the country, writers and fans alike have been hesitant to deem Michigan an elite team again this season because they don't know who will fully replace Trey Burke and Tim Hardaway, Jr.
Following tonight's routine, 79-60 exhibition win over Wayne State, however, Michigan gave the world a little bit of an answer to that lingering question. No one will replace Burke and Hardaway alone. It's going to be a team effort.
After a 2:48 drought to start the game, the Wolverines got going with a nifty finish by Nik Stauskas followed by a silky smooth three-pointer from a fresh-off-the-bench Caris LeVert and capped off a quick 7-0 spurt with two free throws from Jordan Morgan.
By the time the first half had ended, six Wolverines had tallied double-digit minutes, eight had scored, and Michigan had built a 16-point lead that, despite a back-and-forth second half, was always going to be enough to coast to the win.
In Michigan's first go-round of the exhibition games, Glenn Robinson III was turning heads with 33 points and LeVert wowed with 10 dimes. Tonight, Zak Irvin and LeVert notched nine points a piece before halftime to go along with 15 combined from Stauskas and Derrick Walton, Jr. while Morgan and Jon Horford each grabbed five rebounds.
In his post-game comments, John Beilein quipped that it wasn't long ago that if Burke got into early foul trouble, it could spell doom for Michigan on any given night. Now, if one player goes down, there are seven or eight guys that can pick up the slack.
Irvin, who calmly knocked down three straight first-half threes and ended the night with 13 points on 5-8 shooting, said after the game that, "I just think we're a very dangerous team, (we) have a lot of balance."
For Beilein, balance is certainly welcome. Of course most coaches would dream of having two first round draft picks, but Beilein's offense in particular creates more problems when four or five guys can consistently lead the team offensively rather than two or three.
After leading four Wolverines in double figures with 17 total points and being one of six Michigan players to knock down a three tonight, Nik Stauskas alluded to the fact that when the shots are falling for everyone, the opposing team has "got to respect that."
Now with two exhibitions in the rearview mirror, Michigan opens up the regular season schedule on Friday night against UMass-Lowell, a first-year Division 1 squad.
Beilein, who usually likes to find a comfortable starting lineup and determine a rotation early on, has perhaps changed his philosophy a bit given the balance this team presents.
"We could go in and change starting lineups all the time."
For now, it's a good bet that after a little bit of experimenting, Beilein probably has a good idea of what his lineup will look like heading into the season, but there's no guarantee on that remaining the same for games at a time. He will go with the players that give him the best chance to win on any given night.
Walton, who got his first start tonight, looks like a good bet to start the season after a second strong showing, and Jon Horford seems to give Michigan the best rebounder and shot-blocker down low, but it's anyone's guess as to who will be called upon when Friday rolls around.
In the past, such uncertainty would have been worrisome, but with the versatility of this 2013-14 edition of the Michigan Wolverines, there appears to be strength in numbers.
Final Game Stats

#

Name

FG-FGA

3FG-3FGA

FT-FTA

OR

DR

TOT

PF

TP

A

TO

BLK

S

MIN

01
Glenn Robinson III*
5-10
1-3
4-5
2
1
3
1
15
3
3
0
1
32
15
Jon Horford*
1-2
0-0
0-0
2
7
9
4
2
1
2
2
0
25
52
Jordan Morgan*
0-0
0-0
3-4
1
5
6
1
3
1
0
0
1
14
10
Derrick Walton Jr.*
1-4
1-3
4-5
0
3
3
0
7
4
2
0
1
27
11
Nik Stauskas*
5-8
2-4
5-5
0
6
6
2
17
4
2
1
1
31
02
Spike Albrecht
2-3
1-2
1-2
0
0
0
2
6
0
0
0
0
13
21
Zak Irvin
5-8
3-5
0-0
0
0
0
1
13
0
0
0
0
19
23
Caris LeVert
5-10
1-3
5-7
0
1
1
1
16
3
1
0
0
28
34
Mark Donnal
0-0
0-0
0-0
0
0
0
2
0
0
0
0
0
2
44
Max Bielfeldt
0-1
0-1
0-0
0
0
0
0
0
0
0
0
0
9
Totals
24-46
9-21
22-28
6
25
31
14
79
16
10
3
4
200
Wayne State
23-63
7-19
7-10
15
21
36
22
60
10
11
2
4
200