---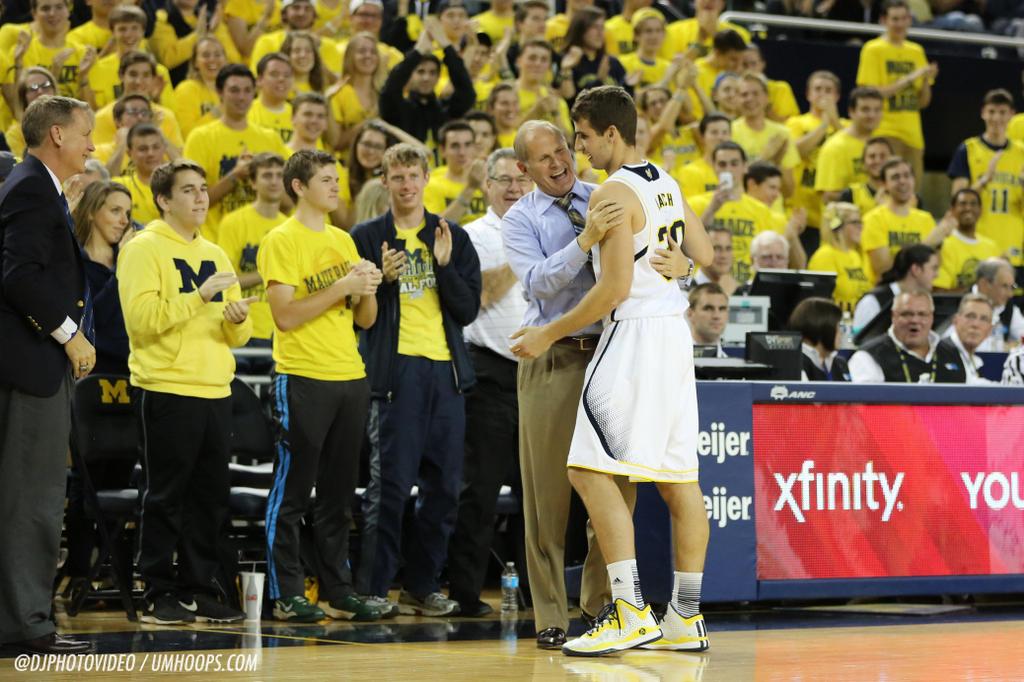 (Dustin Johnson, UMHoops)
With 12 seconds remaining on the clock in Michigan's exhibition blowout of Wayne State last night, one Wolverine stepped to the line to shoot two free throws.
The first shot, perhaps a little rushed, clanged off the back left of the rim.
The second one found nothing but net to put Michigan up 86-43.
The ensuing roar of the crowd might have looked like a shallow celebration of doubling up an over-matched opponent to the outsider.
But those who have followed Michigan basketball and the story of Austin Hatch for the past few years knew it was so much more than that. The standing ovation for that one free throw was a celebration of life, an ode to a historical moment at the Crisler Center, a tear-soaked applause for a kid who has overcome more hardship than what most could even imagine.
Back in the summer of 2011, nine days after accepting an offer on the spot to play basketball at the University of Michigan, Hatch was involved in a deadly plane crash that took the life of his father, his stepmom, and a family dog. The 16-year-old Hatch was left completely unaware for eight weeks, as he lay comatose while doctors dealt with his punctured lung, broken collarbone, broken ribs, and, worst of all, a fractured skull that resulted in a bruised and swelling brain.
But that's far from the whole story. It turns out that the family Hatch lost in that catastrophic accident was the only immediate family he had left.
Eight years prior, the eight-year-old Hatch was riding in a different plane that went down, taking the lives of his mom, his only sister, and his only brother. His father, who had his pilot's license and was flying both planes, made it out of the first wreck and had become the younger Hatch's self-proclaimed best friend.
Today, Hatch is still a shell of his former self on the basketball court. At the Canterbury School in Fort Wayne, Hatch thrived as a shooter and scorer for two years before suffering those injuries that knocked his development back to the point at which he says "it was almost like being born again".
Hatch is noticeably the slowest player on the floor and has to think two steps ahead to be able to beat his man to the spot. He's still a long way off from finding himself in a game that's up for grabs.
But that doesn't mean he's settled. No, Hatch is perhaps more determined than ever to keep fighting. He admits that last night was a cool moment, a special moment, even monumental, but Hatch is the first to acknowledge that the actual point he scored was not a deciding factor in the preseason game.
"I don't want to be known, by the time my career comes to an end here, as a cool story. Obviously what happened to me is kind of unique, but that's what happened. It's not who I am. Obviously it's a big part of my life, but I'm about moving forward and making the most of my experience here."
This is coming from the same kid who would not allow his high school coaches to insert him into a basketball game until he felt that he could contribute in a meaningful way.
Austin Hatch has a lot of heart, faith, and determination. He knows last night was not the end of a road, a chance to ride off into the sunset. Last night, though the score will not go down in any record books, was just the beginning.
The exhibition was the first chance for most to see Michigan's other five true freshmen in live action against a real opponent. Here are some quick thoughts on each:
Kam Chatman – Chatman looks to have locked down the starting spot at the 4 and shook off some early nerves to wind up with a nice night of nine points, six rebounds (one offensive), four assists, and zero turnovers in 25 minutes. The highest-rated player in this class seems to be operating comfortably within the offense and made a really nice drive from the top of the key where he used a pretty hesitation move and an up-and-under scoop to get past two defenders for his first bucket of the night. He air-balled two threes long from the same corner in the first half, but came back in the second half and stepped into a pretty catch-and-shoot three from the right wing and drained it. He also went 4-of-4 from the free throw line and had a couple nice passes.
Aubrey Dawkins – Dawkins was the first true freshman off the bench and was quiet for most of the night until scoring eight points, including two pretty-looking threes from the right corner, within three minutes near the end of the game. Like most freshmen, he looked lost a couple times on the floor and nearly turned the ball over the first time he touched it, but he didn't make any glaring errors and has two skills – shooting and athleticism – that could see him settle into a nice role. He also drained two free throws and recorded an assist, a block, and a turnover each.
Ricky Doyle – The big Floridian notched four points and three rebounds in 15 minutes but has a ways to go before any of the big boys come to town. Doyle is a hard worker who arrived in Ann Arbor early to put in extra work with Strength and Conditioning Coach Jon Sanderson, and his body looks ready for Big Ten play, but his foot speed and hands stand out as major areas for improvement. Doyle jumped through a crowd on one occasion to get an offensive rebound and put-back, but too many times when he was on the floor he was nowhere near the carom. As the biggest player on Michigan's team, he needs to rebound. He did throw a nice back-door pass to Zak Irvin but was not credited with an assist.
D.J. Wilson – Wilson just oozes potential. The lanky 6'9″ Sacramento native with a 7'3″ wingspan is going to be excellent when he really gets everything figured out. Wilson's foot speed is much better than fellow big man Doyle's at this point, and his outside shot looks smooth. Wilson's final stat line – nine points (including a three), two rebounds (one offensive), two assists, one block, and zero turnovers in 15 minutes – is exactly what Beilein would love out of him.
Wilson did make one befuddling error early in the game when he caught a ball on the elbow and nervously threw up a shot that got sent right back in his face, but he really seemed to calm down as the game got going, and was calling for the ball on the wing by the end. All four of his buckets were pretty impressive for a freshman big – a monster dunk underneath from Spike Albrecht, a harder-than-it-looked layup in a crowd, a drive from the right wing capped by an awkward lay-in, and a three from the right corner. Wilson also missed a layup in the first half where he was more open than he thought and got blown by once on defense, but he made up for it with a nice block from behind. One troubling stat – Wilson's three fouls in 15 minutes have him off to a rough 8 fouls per 40 minutes pace.
Muhammad-Ali Abdur-Rahkman – Rahk may be the furthest freshman from seeing meaningful minutes at this point. He has the quicks that should make him a dangerous player and a good defender down the line, but he rushed things a little bit and missed all three of his shots by a wide margin. He did make two of three free throws, though, and recorded a rebound, an assist, a steal, and a turnover in 12 minutes.
• Zak Irvin's improved athleticism has been a major talking point all offseason, and he finally got the chance to show it off here, recording a trio of rim-rattling dunks that got the crowd on its feet. He looks much markedly more comfortable operating within the offense and should see his 1-of-4 shooting from downtown improve significantly.
• There is no doubt that the core of this team is in its guard play. Caris LeVert, Derrick Walton, and Irvin will all easily see more than 30 minutes a night and should carry the scoring load. All three looked to be in good shape and led the team with 16, 11, and 13 points, respectively, despite only making three of their combined 10 triple attempts.
• Derrick Walton went down hard on a late drive to the basket and limped his way to the locker room after not being able to put any weight on his left leg, but he emerged jogging just a few minutes later with no noticeable limp and entered back into the game shortly after. Players and coaches confirmed after that it was just a cramp.
• The battle for 40 minutes at the five position is not close to being settled. Mark Donnal started and scored four points while grabbing five boards in 12 minutes, but needs to continue to build muscle to deal with stronger players down low. He also did not attempt any outside shots – a disappointment for me. Doyle saw 15 minutes of action while a few of Wilson's 15 minutes also came at the five. The most impressive of the bigs, however? That would be seasoned vet Max Bielfeldt, who didn't see a minute in the first half, but immediately grabbed an offensive rebound for an easy put-back when entered in the second. The senior also drained a nice 10-footer and made his only free throw attempt (in place of Walton after his injury) while blocking two shots in just seven minutes. Bielfeldt clearly has the lowest ceiling of any of Michigan's big man options, but he may also have the highest floor for quite some time as well.
• The crowd, listed at 10,510, looked much smaller than that and was very late to arrive and quiet when it did.
***Austin Hatch***
1 point (1-of-2 FT) in 1 minute
**Caris LeVert**
16 points (6-of-10 FG, 1-of-3 3pt, 3-of-4 FT), three rebounds, six assists, one turnover in 30 minutes
*Zak Irvin*
13 points (5-of-11 FG, 1-of-4 3pt, 2-of-2 FT), five rebounds (two offensive), one assist, one steal, two turnovers in 29 minutes
Final Game Stats

#

Name

FG-FGA

3FG-3FGA

FT-FTA

OR

DR

TOT

PF

TP

A

TO

BLK

S

MIN

03
Kameron Chatman*
2-6
1-3
4-4
1
5
6
1
9
4
0
0
0
25
34
Mark Donnal*
1-2
0-1
2-4
2
3
5
2
4
0
0
1
1
12
10
Derrick Walton Jr*
2-6
1-4
6-7
0
4
4
2
11
0
0
0
1
21
21
Zak Irvin*
5-11
1-4
2-2
2
3
5
1
13
1
2
0
1
29
23
Caris LeVert*
6-10
1-3
3-4
0
3
3
3
16
6
1
0
0
30
02
Spike Albrecht
2-3
0-1
0-0
1
2
3
1
4
2
1
0
3
20
05
D.J. Wilson
4-8
1-3
0-0
1
1
2
3
9
2
0
1
0
15
12
M-A Abdur-Rahkman
0-3
0-1
2-3
0
1
1
2
2
1
1
0
1
12
20
Sean Lonergan
0-0
0-0
0-0
0
2
2
0
0
0
1
1
0
4
24
Aubrey Dawkins
2-3
2-2
2-2
0
2
2
0
8
1
1
1
0
9
30
Austin Hatch
0-0
0-0
1-2
0
0
0
1
1
0
0
0
0
1
32
Ricky Doyle
2-2
0-0
0-0
1
2
3
1
4
0
1
0
0
15
44
Max Bielfeldt
2-2
0-0
1-1
1
0
1
0
5
0
0
2
1
7
Totals
28-56
7-22
23-29
9
31
40
17
86
17
8
6
8
200
Wayne State
14-54
4-12
11-13
10
23
33
23
43
8
18
2
3
200

Full Stats