---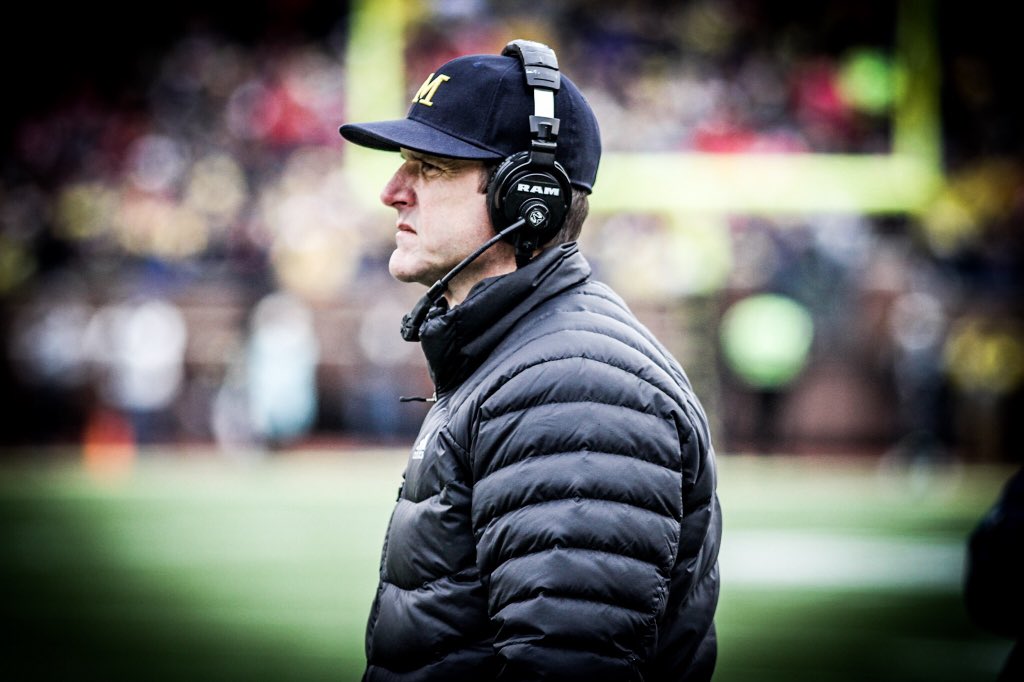 (Isaiah Hole, 247 Sports)
College football can be a strange and cruel game.
It doesn't care that Ohio State torpedoed it's national title hopes with a clunker last week, falling to Michigan State 17-14 to end a 23 game winning streak. All the Buckeyes did was rebound with their best performance of the season, turning a 14-10 halftime lead into a second half rout over rival Michigan.
It doesn't care that Michigan's defense was among the nation's best for 11 weeks, surrendering just 14.9 points and 100.2 rushing yards per game. Ezekiel Elliott channeled his inner Tshimanga Biakabutuka, barreling through the Michigan defense like a snowball rolling down Mount Everest.
Final Stats
Michigan
Ohio State
Score
13
42
Record
9-3 (6-2)
11-1 (7-1)
Total Yards
364
482
Net Rushing Yards
57
369
Net Passing Yards
307
113
First Downs
20
25
Turnovers
1
0
Penalties-Yards
7-72
5-39
Punts-Yards
4-157
2-70
Time of Possession
29:54
30:06
Third Down Conversions
9-of-18
7-of-13
Fourth Down Conversions
1-of-3
1-of-2
Sacks By-Yards
1-2
2-11
Field Goals
2-for-2
0-for-0
PATs
1-for-1
6-for-6
Red Zone Scores-Chances
3-of-3
5-of-6
Red Zone Scores-TDs
1-of-3
5-of-6
Full Box Score
It doesn't care that sometimes the underdog rises to the occasion with an unexpected conference title to play for in the final week of the season, because sometimes the team with better athletes across the board exerts its will, leaving no doubt which team is better.
It doesn't care that Michigan has outperformed all expectations in Year 1 of the Jim Harbaugh era. A stinging loss to their most bitter rival makes the season feel like a failure anyway, even if it isn't.
Michigan and Ohio State both entered Saturday with Big Ten title hopes on the line. In the end it didn't matter because Michigan State won the afternoon game to clinch the Big Ten East, but neither could know that at the time.
Ohio State struck first with a 94-yard drive on their second possession of the game. Michigan's defense had forced a three and out to start the drive, but Tyree Kinnel was flagged for roughing the punter, giving the ball back to the Bucks. Instead of Michigan taking over around the 50, Elliott burst through the line for a 66-yard gain two plays later. Two plays after that, J.T. Barrett found the end zone from seven yards out and Ohio State never looked back.
Michigan got a field goal on a 14-play, 72-yard drive, but Ohio State answered with another touchdown, this time a 5-yard Elliott run. Michigan struck just before the half with a 92-yard touchdown drive to pull within four when Jake Rudock found Jehu Chesson from five yards out.
But any thoughts of victory quickly evaporated in the third quarter when Ohio State ran 24 plays to Michigan's 10 and turned a 14-10 game into an insurmountable 28-10 lead. The Buckeyes put on a rushing clinic in the third and fourth quarters, taking advantage of Michigan's depleted front seven with 34 rushes and just nine pass attempts.
Harbaugh will never admit as much, but Michigan sorely missed nose tackle Ryan Glasgow, who suffered a season ending pectoral injury against Rutgers. In the nine games with Glasgow clogging the middle, Michigan allowed just 80.6 rushing yards per game and no opponent tallied more than 144 yards. In the three after Glasgow's injury, the Wolverines surrendered 248.7 yards per game, and two of the three opponents rushed for more than 300 yards. To put it another way, in the first nine games Michigan allowed a total of 725 rushing yards. Post-Glasgow, the Wolverines gave up 746 in three games.
Would Glasgow's presence have changed the outcome? It's hard to believe one player — a former walk-on at that — could make such a difference, but it may have helped keep the game within reach.
But in the end, there was no doubt which team was better. Ohio State's starting lineup averaged 4.13 stars coming out of high school, while Michigan's averaged 3.56, according to 247 Sports composite. Ohio State had four five-stars in its starting lineup while Michigan had one — Jabrill Peppers — who was so important to Michigan's success that he lined up all over the field on Saturday. Stars don't mean everything, but there's a reason the teams atop the recruiting rankings have dominated the national championships in the past decade.
Harbaugh has Michigan on the rise, taking an underachieving 5-7 team and going 9-3 in his first season with 15 more practices and a bowl game to look forward to. His performance on the recruiting trail will also help close the gap and it received a boost after the game when the nation's 43rd best player, defensive tackle Jordan Elliott, pledged his commitment to the Wolverines.
It has been a perilous decade for Michigan, having lost 11 of its last 12 to Ohio State, and they'll have to wait at least another year to get them back. Michigan fans, too, will have to endure another year of razzing from Buckeye fans that we've become all too used to.
College football is a strange, cruel game. But that's why it keeps us coming back for more.