---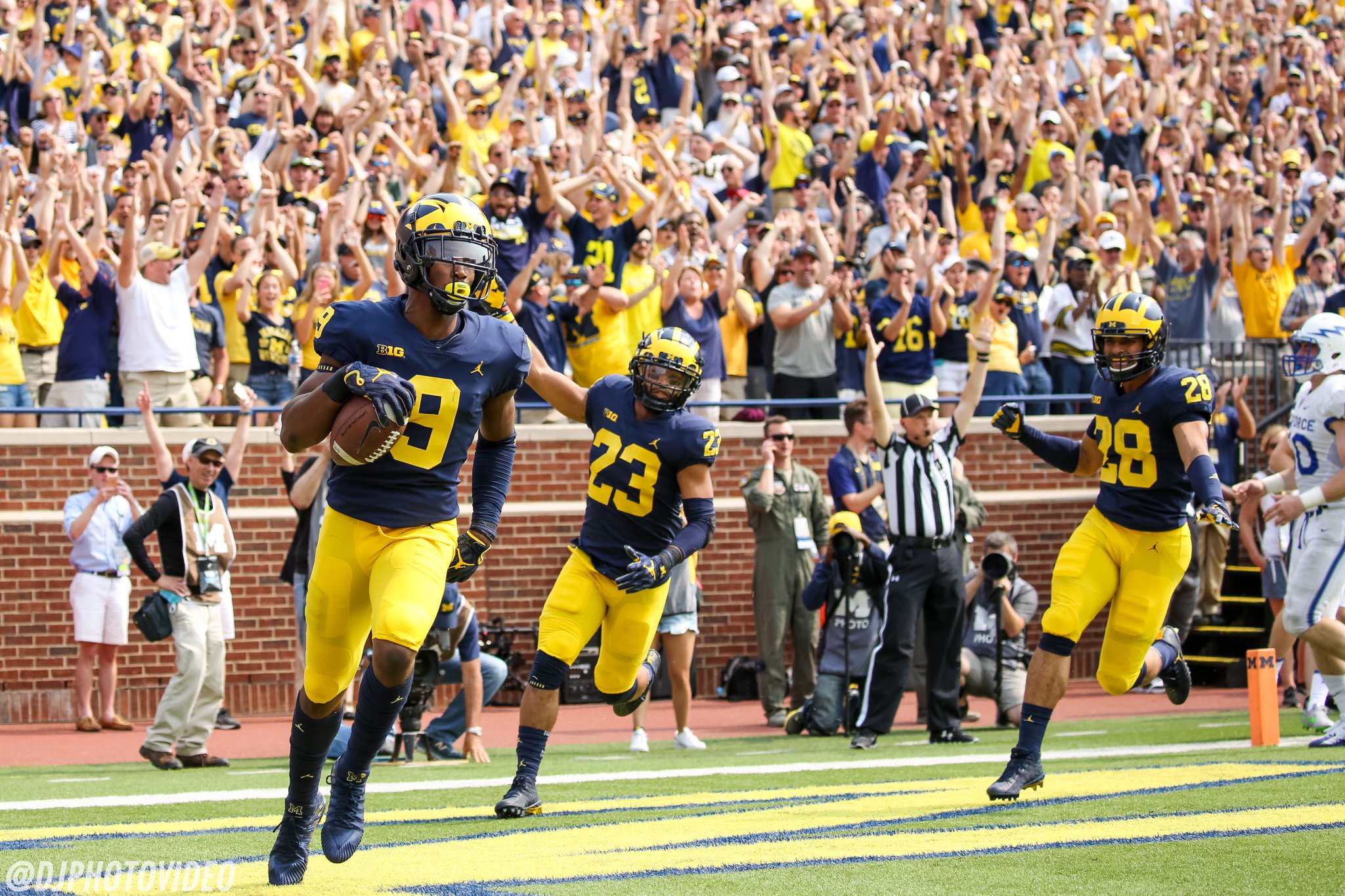 (Dustin Johnson)
Last week, Michigan played ugly but still beat Cincinnati by 22 points, leaving fans wondering if it was simply a letdown after a big season-opening win over Florida or a sign of things to com. This Saturday, Michigan picked up an ugly 29-13 win over Air Force.
Michigan looked like it would take command early on as Ty Isaac took the fourth play of the game 62 yards for a touchdown. But it was called back as his foot touched the sideline at the Air Force 30. Instead, Michigan had to settle for three points as the offense stalled at the 17-yard line and Quinn Nordin kicked a 35-yard field goal.
The opening drive was emblematic of the way the rest of the game would go: the offense moving the ball but sputtering in the red zone and settling for three instead of six.
Final Stats
Michigan
 Air Force
Score
29
13
Record
3-0
1-1
Total Yards
359
232
Net Rushing Yards
190
168
Net Passing Yards
169
64
First Downs
17
15
Turnovers
1
1
Penalties-Yards
7-72
3-29
Punts-Yards
3-111
6-231
Time of Possession
29:35
30:25
Third Down Conversions
5-of-14
3-of-13
Fourth Down Conversions
1-of-1
1-of-1
Sacks By-Yards
3-27
2-11
Field Goals
5-for-5
2-for-3
PATs
2-for-2
1-for-1
Red Zone Scores-Chances
4-of-4
1-of-2
Red Zone TDs-Chances
0-of-4
0-of-2

Full Box Score
After forcing an Air Force punt, Michigan gave the ball right back when Chris Evans fumbled and the Falcons recovered at the Michigan 44. Air Force capitalized with a field goal to tie the game at three. That drive was also symbolic of the way the rest of the game would go as Air Force ran 12 plays but advanced just 24 yards.
Michigan settled for another field goal on its first possession of the second quarter, driving 77 yards in eight plays before stalling at the Air Force 8-yard line. Air Force answered with a 50-yard field goal and Michigan closed the half with a 49-yard field goal to take a 9-6 lead.
Michigan's defense forced a three-and-out to start the second half and freshman receiver Donovan Peoples-Jones scored the first touchdown of the game, taking the punt 79 yards to the end zone for the longest punt return since Steve Breaston went 83 yards against Indiana in 2006.
But the breathing room wouldn't last long as Air Force threw its first pass of the game and receiver Ronald Cleveland beat safety Tyree Kinnel for a 64 yard touchdown.
Both offenses went three-and-out on their next possessions before Michigan got on the board once again with another field goal after the offense stalled in the red zone. This time, Nordin converted from 29 yards.
The Michigan defense forced another three-and-out, and two plays later, Isaac reeled off another big touchdown run, but again it was called back, this time for a questionable holding on Kekoa Crawford. Michigan settled for another Nordin field goal, this time from 36 yards out to take a 22-13 lead.
Air Force refused to back down, however, putting together a 16-play drive that used nearly seven minutes of the clock and got to the Michigan 5-yard line. But the Michigan defense held strong, forcing a 29-yard field goal attempt that was missed.
Michigan finally scored its first and only offensive touchdown of the game when Karan Higdon scampered around the left side for a 36-yard touchdown run to reach the final score of 29-13.
Michigan's offense compiled 359 total yards, 190 on the ground and 169 through the air while the defense held Air Force to its lowest yardage total since 2012 (232 yards).
Wilton Speight completed 14-of-23 passes for 169 yards. He didn't throw a touchdown pass or an interception. Isaac led Michigan on the ground for the third time in three games, finishing with 89 yards on 5.6 yards per carry. Higdon added 64 yards and a touchdown on 12 carries, while Evans got just six carries for 30 yards and the fumble. Tarik Black led Michigan in receiving with five receptions for 55 yards, while Peoples-Jones caught two for 52. Nordin tied a program record with five field goals in the game, joining K.C. Lopata (Nov. 8, 2009), J.D Carlson (Nov. 10, 1990), and Mike Gillette (Nov. 5, 1988) as the only Wolverines to do so.
Air Force quarterback Arion Worthman completed 1-of-7 passes for 64 yards and a touchdown while rushing for 60 yards. Running back Tim McVey managed just 62 yards on 5.2 yards per carry, well below his career average of 8.4 yards per carry.
Michigan hits the road for the first time this season next Saturday at Purdue. The game will kick off at 4pm EST and be televised by FOX.
Donovan Peoples-Jones (2 receptions for 52 yards, 2 punt returns for 104 yards and 1 touchdown)
For the third week in a row, Ty Isaac could have gotten the game ball, and if his two touchdown runs wouldn't have been called back he most certainly would have this week. But I'm going with Peoples-Jones because his third-quarter punt return began the second half with a statement, putting Michigan ahead by two scores and ultimately sealing the game. The true freshman has been a major weapon in the punt return game in the early season. He also gained 52 yards on a pair of receptions.
Previous:
Week 1 – Quinn Nordin (4-of-6 field goals, 2-of-3 from 50-plus)
Week 2 — Ty Isaac (20 carries for 133 yards, 6.7 yards per carry)
Chase Winovich (9 tackles — 3 solo — 2 tackles for loss, 1.5 sacks, 1 quarterback hurry)
Devin Bush could have gotten the nod here as he was seemingly all over the field, playing a huge role in slowing down the Air Force triple option running game. But I'm going to split hairs and pick Chase Winovich because he recorded a sack and a half on just seven Air Force pass attempts. He also recorded nine tackles and a quarterback hurry.
Previous:
Week 1 – Devin Bush (7 tackles, 5 solo, 3 tackles for loss, 2 sacks)
Week 2 – Tyree Kinnel (9 tackles, 8 solo, 1 tackle for loss, 1 sack, 1 interception return for touchdown)