---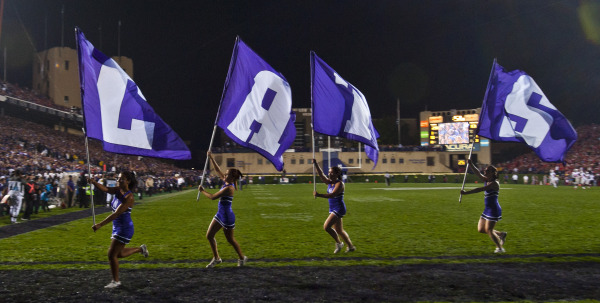 Two straight losses in which Michigan's offense looked completely inept have left Michigan fans wondering where another win is going to come from. This week, the Wolverines hit the road to face the only other Legends Division foe that is in worse shape – Northwestern.
The Wildcats have dropped five straight since starting the season 4-0. Heading into their Oct. 5 matchup with Ohio State, Northwestern was ranked 16th. ESPN College Gameday made the trip to Evanston and billed the game as the one that could trip up the Buckeyes. Instead, Ohio State won 40-30 and Northwestern has continued to slide ever since. A 35-6 defeat to Wisconsin the next week was comparable to Michigan's loss to Michigan State. The three games since have all been close: a 20-17 loss to Minnesota, a 17-10 overtime loss to Iowa, and a 27-24 loss to Nebraska on a Hail Mary.
Neither team has any conference title hope remaining, but there is still plenty on the line. Northwestern must win two of its final three to become bowl eligible and with a showdown with Michigan State next week this is the better opportunity to pull one out. Michigan is already bowl eligible but with a trip to Iowa, where Michigan always struggles, and then a home tilt with Ohio State remaining, the Wolverines likely see this as the best opportunity to at least secure a winning season. So what's more likely? Let's take a look at how the Wildcats compare.
Northwestern Statistics & Michigan Comparison

N'western

| 

Michigan

Rank

Opponent

Rank

Points Per Game

28.0

|

35.1

T73

|

31

26.0

|

25.9

62

|

61

Rushing Yards

1,700

| 

1,218

1,513

|

969

Rush Avg. Per Game

188.9

|

135.3

47

|

97

168.1

|

107.7

70

|

13

Avg. Per Rush

4.5

|

3.2

4.1

|

3.2

Passing Yards

1,894

| 

2,250

2,248

|

2,185

Pass Avg. Per Game

210.4

| 

250.0

82

|

51

249.8

|

242.8

97

|

88

Total Offense

3,594

| 

3,468

3,761

|

3,154

Total Off Avg. Per Game

399.3

|

385.3

74

|

83

417.9

|

350.4

81

|

22

Kick Return Average

22.4

|

22.6

51

|

44

18.9

|

22.0

28

|

73

Punt Return Average

7.3

|

6.9

76

|

82

3.8

|

7.6

15

|

58

Avg. Time of Possession

28:26

| 

32:28

95

|

21

31:34

|

27:32

3rd Down Conversion Pct

40%

|

42%

66

|

55

43%

|

41

%

92

|

T76

Sacks Allowed-Yards/By-Yards

32-166

|

26-190

118

|

105

19-127

|

18-132

T51

|

T57

Touchdowns Scored

30

|

40

30

|

26

Field Goals-Attempts

14-16

|

12-18

9-15

|

18-23

Red Zone Scores

(34-35)97%

|

(32-38)84%

2

|

T55

(27-30)90%

|

(26-30)87%

107

|

91

Red Zone Touchdowns

(21-35)60%

|

(26-38)68%

(19-30)63%

| (

16-30

)53%
Much of Northwestern's downturn has been a result of injuries. During their bye week this past Saturday, head coach Pat Fitzgerald said that if they would have played they would have been without 13 injured players and several others would have been limited. No team in the Big Ten has been hit harder by the injury bug.
A large part of Northwestern's success last season was a result of just the opposite: avoiding injuries. Only two teams in the country (Louisiana Tech and Mississippi State) had fewer starters miss games due to injuries than the Wildcats. This season, they're making up for it.
Electric running back Venric Mark has played just one full game all season and is likely headed for a medical redshirt. Versatile quarterback/running back/receiver Kain Colter has missed time. The Wildcats lost starting cornerback Daniel Jones to a season-ending knee injury and the team's best defensive tackle, Sean McEvilly has played only three games. Linebackers Collin Ellis and Jaylon Prater, safety Jimmy Hall, cornerback Nick VanHoose, defensive tackle Will Hampton, defensive ends Tyler Scott and Dean Lowry, receiver Tony Jones, and running backs Treyvon Green, Mike Trumpy, Stephen Buckley and Warren Long all would not have played this past Saturday.
Their statuses for the Michigan game will be determined in the coming days, but it's safe to say Michigan won't be facing the same Northwestern team that started the season.
With the injury disclaimer in mind, there isn't much that this Northwestern team is very good at this season. The running game ranks 47th nationally and that's the highest-ranked unit on the offensive or defensive side of the ball. And even that ranks just eighth in the Big Ten with an average of 188.9 yards per game on the ground. Heading into the Michigan State game two weeks ago Michigan's running game ranked 49th nationally, averaging 183.9 yards per game and no one considered it to be anything to write home about.
The Northwestern passing game is even worse, ranked 82nd nationally and sixth in the Big Ten with an average of 210.4 yards per game. In five of nine games, Northwestern has finished with less than 200 passing yards, four of those with less than 140. Against Nebraska two weeks ago Northwestern completed just 8-of-21 passes for 81 yards.
Northwestern averages 28 points per game which ranks 73rd nationally and ninth in the Big Ten. But since conference play has started, the Wildcats have averaged just 17.4 points per game. The primetime showdown with Ohio State was surprisingly one of Northwestern's best offensive showings of the season. The Wildcats scored 30 points and racked up 437 yards of offense including 343 through the air. But that was before many of the injuries.
Defensively, Northwestern hasn't fared well in either phase, but has been slightly better against the run. The Wildcats give up 168.6 yards per game on the ground, which ranks 70th nationally and ninth in the Big Ten. Ohio State rushed for 248 yards and Wisconsin gained 286 on Northwestern's run defense.
The pass defense is one of the worst in the country, ranking 97th nationally and 11th in the conference. Only two opponents, Minnesota and Iowa, have thrown for fewer than 200 yards against Northwestern and the Gophers threw it just 14 times all game.
As far as intangibles go, Northwestern is second in the nation in red zone scores, having scored on 34 of 35 red zone trips. The Wildcat defense, however, is 107th nationally in the red zone, allowing opponents to score 90 percent of the time. Northwestern converts 40 percent of its third downs (compared to Michigan's 42 percent) and ranks 92nd nationally by allowing a 43 percent conversion rate on third downs (compared to Michigan's 41 percent). If you think Michigan's 26 sacks allowed are bad consider the 32 that Northwestern has given up, which is the most in the Big Ten and 118th nationally.
Perhaps the best phase of the game for Northwestern this season is its kick and punt coverage units which rank 28th and 15th in the nation, respectively. By comparison, Michigan ranks 73rd and 58th.
Northwestern will be hungry for its first conference win of the season and looking to avenge last season's improbably loss to Michigan in which Devin Gardner found Roy Roundtree on a bomb in the closing seconds to set up a game-tying field goal. Michigan then won in overtime. But depending on which injured players are able to suit up Michigan could be facing a shell of the Northwestern team that started the season.
Key Players

Passing
Comp-Att
Yards
TD
INT
Rating
Trevor Siemian
102-181
1,349
7
6
125.1
Kain Colter
58-74
545
4
3
150.0
Rushing
Attempts
Yards
TD
Long
Avg/Carry
Treyvon Green
94
612
8
55
6.5
Kain Colter
94
409
4
33
4.4
Mike Trumpy
61
270
2
28
4.4
Venric Mark
31
97
0
23
3.1
Receiving
Receptions
Yards
TD
Long
Avg/Game
Tony Jones
38
492
4
47
61.5
Christian Jones
31
389
2
36
43.2
Rashad Lawrence
19
307
0
67
38.3
Dan Vitale (FB)
26
298
2
53
33.1
Defense
Solo
Assisted
Total Tackles
TFL-Yds
Sacks-Yds
Damien Proby (LB)
48
32
80
5.0-16 (1INT)
1.0-6
Chi Chi Ariguzo (LB)
50
29
79
4.5-6 (4INT)
1.0-2 (1FR)
Tyler Scott (DE)
24
10
34
9.0-48 (1INT)
5.0-33 (1FR)
Deonte Gibson (DT)
9
10
19
6.0-24
2.0-15
Kicking
FGA
FGM
Long
XPA
XPM
Jeff Budzien
16
14
43
30
30
Punting
Punts
Yds
Avg.
TB
In 20
Brandon Williams
50
1,856
37.1
5
14

Full Stats