---

They arrived in Ann Arbor four or five years ago, to a program in a state of flux that no incoming class had seen in nearly 40 years. Unlike last year's graduating class, none came to Michigan under the old regime of Lloyd Carr prior to his retirement. The 18 [Edit: 23] players that will play their last game in Michigan Stadium on Saturday came to Michigan full of promise with a new coach. While the first couple years of their careers didn't go as planned, they laid the groundwork for the resurgence of Michigan football that we have seen last season and this. While they still have two games left and a bowl game, let's take a look back at the careers of each of Michigan's graduating seniors.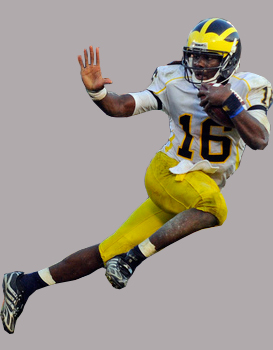 #16 – Denard Robinson
No player has meant more to Michigan over the last four years than Denard Robinson. His career began with an electric 37-yard touchdown run against Western Michigan in 2009 and has produced enough highlight-reel plays and legendary performances to assure that he will go down as one of the greats to ever don the maize and blue.
Denard currently ranks fifth in career rushing yards, third in rushing touchdowns, fourth in 100-yard rushing games, sixth in pass completions, fourth in passing yards, fourth in passing touchdowns, and first in total yards in the Michigan record books. He also ranks first all-time in Big Ten rushing yards by a quarterback, third in NCAA career quarterback rushing yards, and seventh in Big Ten career total yards. If he's able to play the final two games and bowl game, he will surely move up even higher in most of those categories.
He arrived in Michigan a soft-spoken kid and became the face of Michigan football through the roughest patch in the past 40 years. Even when Michigan was barely competitive, Denard gave us a reason not only to watch but to be excited. This August, he delivered the keynote speech at the Big Ten Media Day and serves as team captain. This is all the more remarkable considering that Rich Rodriguez was virtually the only major coach that wanted him as a quarterback.
Denard will remain a Michigan legend long after he plays his final game, whether or not his number gets official legends status.
___________________________________________________________________________________
#32/11 – Jordan Kovacs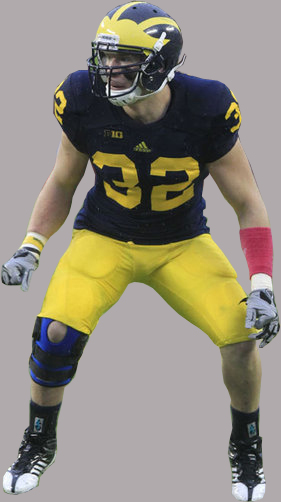 While Denard has been the face of the team and put up all the offensive stats over the past four years, Jordan Kovacs has been the face of the defense. And his story is even more improbable. A hardly recruited defensive back out of Clay High School in Ohio, Kovacs chose to walk on at Michigan instead of go to the only other school that showed any interest in him – Toledo.
In his first season, he was named to the CollegeFootballNews.com Freshman All-America second team and was named Sporting News Freshman All-Big Ten. As a redshirt sophomore he finished second in the Big Ten with 116 tackles and was named All-Big Ten honorable mention by the media. He also earned a scholarship. Last season, he was again named All-Big Ten honorable mention, and currently has 54 tackles through 10 games in his senior campaign. He also became a captain this season. From walk on to captain, he's everything Rudy wasn't.
Last weekend, Kovacs was awarded the Wistert brothers' No. 11  legends jersey to wear for the remainder of his career. He has started 43 career games and has brought hard-nosed, high-energy defense every game. Every walk on from now on will aim to be the next Jordan Kovacs and he will be missed next season.
___________________________________________________________________________________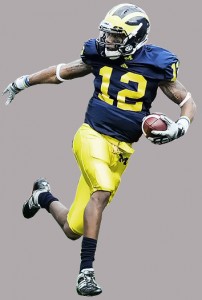 #21 – Roy Roundtree
A skinny kid from Dayton, Ohio, Roy Roundtree committed to Rich Rodriguez on his first National Signing Day. After redshirting his freshman year, Roundtree led Michigan with 32 receptions for 434 yards and three touchdowns in 2009 while starting four games. He was named a CollegeFootballNews.com Freshman All-America honorable mention and Sporting News Freshman All-Big Ten. In 2010, he broke out with 72 catches for 935 yards and seven touchdowns. He ranked second in the Big Ten in yards and was named to the All-Big Ten second team by the media.
Last season, his production fell off considerably in Brady Hoke's first season, but he provided one of the highlights of the season with the game-winning touchdown catch in Michigan's improbable comeback against Notre Dame. This season, Roundtree has 20 receptions for 378 yards and one touchdown through 10 games, but no catch has been more important than the 53-yarder he hauled in in the final seconds last week against Northwestern to set up the game-tying field goal.
Although he won't go down as one of the best receivers in Michigan history, he has shown a knack for big plays and won't soon be forgotten. For the past two seasons, he has worn Desmond Howard's No. 21 legends jersey, which was the first one given such status.
___________________________________________________________________________________
#88 – Craig Roh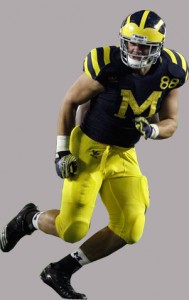 Craig Roh was a big pickup for Rich Rodriguez when he committed on Sept. 18, 2008. The seventh-ranked defensive end in the nation out of Scottsdale, Ariz. held offers from USC, Stanford, and Nebraska to name a few, but chose to make the journey east.
As a freshman in 2009, he recorded 37 tackles, 7.5 for loss, two sacks, and an interception, earning CollegeFootballNews.com Freshman All-America honorable mention honors, as well as Sporting News Freshman All-Big Ten. He upped his tackle numbers to 43 in 2010 and then was named All-Big Ten honorable mention by the media last season. He ranked second on the team with four sacks a year ago.
This season, he's on pace for his best season yet with 37 tackles, 5.5 for loss, and four sacks through 10 games thus far. He has consistently represented Michigan well off the field and was named 2011 Academic All-Big Ten. He has started 48 consecutive games, 20 at linebacker, 26 at defensive end, and two at defensive tackle, showing his versatility and willingness to do what is needed to help the defense improve.
___________________________________________________________________________________
#73 – William Campbell
Will Campbell was one of the most highly touted in recent memory, a consensus five-star defensive tackle. He arrive din Ann Arbor weighing 356 pounds and never lived up to the hype through his first three seasons. At one point in 2010, he moved to offensive line, but that was short lived when Hoke took over. As a senior, he has finally earned a starting spot and done well with 32 tackles and a sack so far.
#2 – Vincent Smith
The diminutive back from Pahokee, Fla. was recruited for Rodriguez's system and had a promising freshman season with 48 carries for 276 yards and a touchdown, as well as 10 receptions for 82 yards and two touchdowns. He earned the starting job in 2010, carrying the ball 136 times for 601 yards and five touchdowns to go along with 15 receptions for 130 yards and two more TDs. When Hoke arrived, Smith lost the job as the starter, but became the third down back. Against Minnesota last season, he became the first player in program history to record a rushing touchdown, receiving touchdown, and passing touchdown in the same game. This season, he has just 24 carries for 67 yards and two touchdowns, but has always shown an ability to pick up yards when needed.
#57 – Elliott Mealer
Mealer's road to Michigan was filled with heartache when a car accident killed his father and girlfriend and left his brother Brock permanently paralyzed. But he has overcome the tragedy with a solid career as a backup offensive lineman. This season, he earned the starting nod at center, replacing David Molk and may be best known for his mountain man beard.
#25 – Kenny Demens
Demens was a highly sought after linebacker recruit in the midwest in 2008 but chose to come to Michigan at a time when linebacker play was less than stellar. He grabbed a starting spot midway through the 2010 season and never looked back, helping to solidify a position that had been a weak point for a couple of years. He was the team's third leading tackler as a sophomore with 82 tackles. Last season, he led the team with 94, earning All-Big Ten honorable mention honors from the coaches and media. This season, he currently ranks second on the team with 67 tackles and five for loss.
#52 – Ricky Barnum
Barnum spent his first couple of seasons as a reserve offensive lineman before coming onto the scene a year ago. He started three games at left guard and finally earned a true starting spot this season, starting all 10 games thus far.
#65 – Patrick Omameh
Omameh has started 39 consecutive games at right guard over the last three seasons while being named Academic All-Big Ten twice. He was also one of 11 players nationally to be named to the AllState AFCA Good Works Team for his regular visits to Mott Children's Hospital.
#8 – J.T. Floyd
Floyd wasn't highly ranked coming out of high school, but has been a fixture in the Michigan secondary for the past three seasons, starting 32 games at cornerback and playing in 40. In 2010, he finished sixth in the conference in tackles per game, and last season he was named All-Big Ten honorable mention. This year, he has 29 tackles so far for the nation's top-rated pass defense. He has recorded three career interceptions and two career forced fumbles.
#89/87 – Brandon Moore
Moore hails from the same high school as Roundtree and former Wolverine Michael Shaw and came to Michigan as the nation's eight-best tight end. He has been mostly a special teams player throughout his career, but has recorded two receptions for 28 yards. On Sept. 15, he was given Ron Kramer's No. 87 legends jersey to wear for the remainder of the season.
#7 – Brandin Hawthorne
Hawthorne came to Michigan from Pahokee, Fla. as a three-star player and has spent the majority of his career on special teams. Last season, he started five games, recording 43 tackles, three for loss, and one sack. So far this season, he has 14 tackles, seven of which came against UMass.
Other seniors who will be playing their last games in Michigan Stadium are #14 Jack Kennedy, #20 Steve Wilson, #23 Floyd Simmons, #31 Paul Gyarmati, and #81 Mike Kwiatkowski. [Edit: Also, Al Backey, Nathan Brink, Seth Broekhuizen, Curt Garman, and Charlie Zeller].
Make sure to get into the stadium early on Saturday to salute each of these Michigan men for their hard work an dedication of the last four or five years. Give them a standing ovation to thank them for coming in during tumultuous times, sticking it out, and helping turn the program around.