---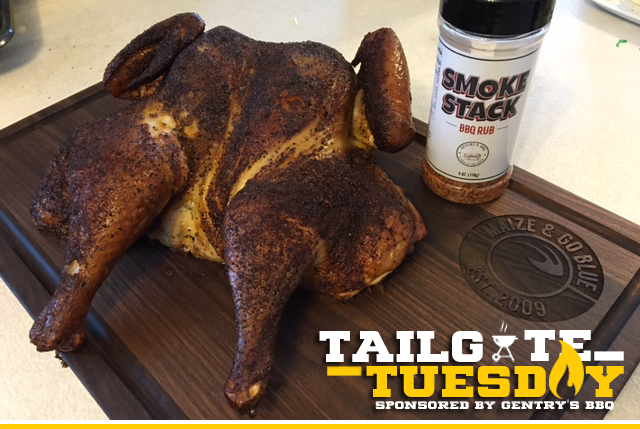 Tailgate Tuesday has traditionally been our weekly contribution from our resident pitmaster, Joe Pichey from GoBlueBBQ. Due to a new job, Joe has had limited time this season, so I have taken the reigns as interim Maize and Go Pitmaster. These tailgate recipes will be posted each Tuesday throughout the football season and will feature a variety of appetizers, main courses, and sides to help you be the king of your next tailgate. Gentry's BBQ, a Orlando, Fla. based BBQ and catering company, sponsors this season's feature by providing their killer rubs and sauces for use in the recipes. Buy them here. In addition, Fogo Charcoal provides charcoal to use in each recipe. Buy it here.
Previous: Gator kabobs; Steak tacos nortenos with bacon fat flour tortillas; Brisket burnt ends; Fried pork tenderloin sammy with fire roasted green chile jam and savory corn casserole; Smoked onion dip; Jalapeno balls; Sous vide french dip cheesesteak; Western style chopped pork and red slaw; Carolina hush puppies; Smoked beef empanadas; Home-cured applewood smoked bacon; Beer cheese soup; Hickory smoked trail mix; 
Recipe Archive
I hope everyone had a merry Christmas, got everything you wanted, and enjoyed time with friend and family. I don't know about you, but what I've been most proud of is the Michigan community coming together in support of Chase Winovich's fundraiser for ChadTough, donating over $125,000 to date. If you haven't donated yet, I encourage you to do so. I'm looking forward to seeing Chase and others with orange hair — or mustaches — on New Year's Day.
With Michigan facing the South Carolina Gamecocks, I couldn't get an actual fighting rooster, but I thought a chicken would be close enough. When it comes to meat preferences I'm not a big fan of chicken, but when it's smoked I can eat it all day long. Plus, it's easy.
Ingredients
1 whole chicken
Lanes BBQ Garlic2 Rub
Gentry's BBQ Smoke Stack BBQ Rub
1 stick butter
Olive oil
When it comes to chicken, there are different schools of thought. Some say brining is best; others swear by injecting. I say it's simply a preference thing and I'm in the former. I've never been a big fan of how injecting has turned out. If you go the brine route, do it overnight. For this recipe I just mixed the new Lane's BBQ Garlic2 Rub with water and let the bird chill in that bath overnight.

The next day, drain the water out and pat your chicken dry and it's time to apply a technique called spatchcock, which is removing the backbone of the chicken in order to let it lay flat. This helps the bird cook faster and more evenly. Lay it on the counter with the breast facing up and the head facing you. Use a pair of kitchen scissors to cut right along the backbone, on either side of it, all the way down toward the tail end. Cut it all the way through until you've removed the backbone. Now, there's one more thing to do before it will lay flat. Locate the breast bone, which is in the middle, about two-thirds of the way toward the head. Once you find it, use a knife to cut a slit in it, then press down until it cracks. Now, you can flatten the bird out.

Crank up your smoker to 275-300 degrees using your preferred type of wood. For chicken, I like a mix of hickory and apple. While that's getting ready, make a compound butter by whisking together a stick of room temperature butter with some more Garlic2 Rub and then carefully lift the skin and apply your compound butter as much as possible. Be careful not to tear the skin. This will help you get flavor into the meat, since it won't penetrate the skin. Now, coat the outside of the chicken liberally with your Gentry's BBQ Smoke Stack Rub.

Once your smoker is up to temp, put your bird in and let it go. You don't really need to check on it, just let it go until it reaches 165-170 degrees internally. Once it's there, take it out, wrap it in foil, and let sit for 30 minutes. Now, you're ready to slice it and eat! Pair it with some rice or potatoes and you've got a nice meal for gameday.

Visit Gentry's to purchase their great rubs and sauces. You can follow them on Twitter at @gentrysbbq and you can also follow our resident pitmaster Joe at @mmmgoblubbq.