---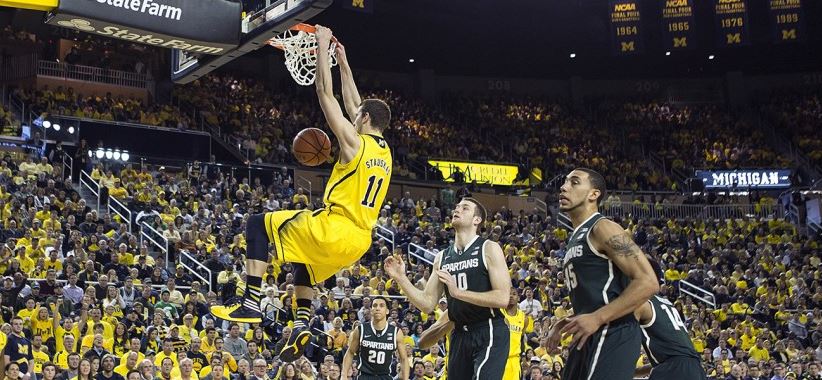 (Scott Mapes, UMHoops)
In a basketball game being called one of the biggest ever in Ann Arbor, with all the marbles on the line and a clear road to the Big Ten championship at stake, Michigan and Michigan State put on a game for the ages. Back and forth they went, the Spartans jumping out to a quick double-digit lead in the first half, then the Wolverines battling back to make it a two-point halftime deficit and taking a lead themselves early in the second stanza.
All afternoon, it seemed that the game would come down to a last-second possession, but somewhere along the way, Michigan decided they wanted it more and Michigan State lost its steam.
Once the Maize and Blue clawed back from the small but tough deficits they were in to go up 50-49 with 11:18 left, Michigan State was certain to draw closer. And they did, with a Gary Harris three to re-gain the lead less than a minute later. Then Nik Stauskas answered with a three of his own, and we'd all seen the narrative before – Michigan gets over the hump, Michigan State fights back, game comes down to wire, one rival wins in heart-stopping fashion.
After all, three of the past five meetings between these bitter enemies had been decided by five points or fewer – and two by a single point.
Today, however, the story would follow a different path. Once Stauskas drained that three, good for his 18th, 19th, and 20th points of the day, Michigan got a stop, then two free throws from LeVert, then another stop, and another three from Stauskas to go up by seven. Michigan State called a timeout, and rightfully so with the noise of the Crisler crowd. But after the timeout, it was LeVert's turn to continue digging the Spartan grave with a three and a dunk off a turnover to give him 21 points on the day.
When the two sophomores finally took their feet off the pedal, Michigan had already amassed a 12-point lead on the backs of the 21-4 run put on entirely by LeVert and Stauskas, and the game was over.
Sure, the clock still had seven minutes and change left, but the Spartans simply weren't coming back.
When the clock eventually did strike zero, the scoreboard read Michigan 79, Michigan State 70. The Wolverines were back again.
This time around, Michigan State couldn't blame the loss on two absent stars. Adreian Payne, their best player, was back in full form, and while forward Branden Dawson had to sit out again, both teams were down a starter.
It's certainly clear now that Michigan has adjusted much better to their adversity than their counterparts in East Lansing. There have been bumps in the road to be sure, but the Maize and Blue have played through the loss of Mitch McGary in mid-December like nothing ever happened.
Stauskas, the sophomore many are calling the best player in the Big Ten, broke out of a mini slump today with spectacular team highs of 25 points on 9-of-13 shooting (3-of-5 from deep) and five assists. LeVert, being billed as the Big Ten's most improved, complemented his classmate's game remarkably with 23 points (7-of-15 FG, 3-of-5 3PT) and three assists of his own. Together, the pair who played second fiddle to the likes of Trey Burke, Tim Hardaway, Jr., and even McGary and Glenn Robinson III last season, emerged for all to see today with more than 60 percent of Michigan's total offensive output.
LeVert, with 14 points in the first half, including a wide open, buzzer-beating, corner three that splashed net with LeVert already halfway down the court, kept Michigan alive. Stauskas, with 21 after the break, including shot after shot falling away with a hand in his face, put the nails in Michigan State's coffin.
The pair also got a big boost from the quiet Glenn Robinson III, who finished with 15 points — 11 in the second half — on 12 shots despite missing all three of his threes and four of his seven free throws.
What stands out most about the win, however, is how Michigan completely abolished Tom Izzo's defensive game plan and simply out-smarted the Spartans all game long. In the first half, when buckets were hard to come by, the Wolverines scored on a variety of back-cuts against an overly-aggressive defense. In the second half, Michigan drove the ball much better and started hitting their outside shots while stymying Michigan State's attack with a 1-3-1 zone defense.
With a quick glance at the box score, it's clear what the difference was: Michigan turned the ball over just three times while taking advantage of 13 Michigan State giveaways to outscore the Spartans 14-0 off of turnovers.
Postgame thoughts are often overly optimistic or pessimistic based on the very recent play of a given team, but today it seems obvious that this Michigan win will hold great weight for a long time.
With the victory, the Wolverines have complete control of their conference finish. Win the four winnable-looking games (at Purdue, home versus Minnesota,  at Illinois, home versus Indiana) left on the schedule, and the Big Ten title goes to Michigan – no splits, no shares, no ties.
The win also means that even if Michigan and Michigan State somehow play each other two more times this season – highly unlikely – and the Spartans win both (again, this is a hypothetical) no Wolverine will have a losing record against their in-state foes at the end of the season. That includes senior Jordan Morgan, who will in all likelihood finish his career with a 6-2 mark against Michigan State.
Michigan's triumph also ensures a black mark on Michigan State seniors Keith Appling and Adreian Payne's college careers – neither will ever be able to claim a victory over the Wolverines in Ann Arbor.
Following the momentous win, John Beilein credited his team with playing a great game against a great opponent, but noted that his Wolverines will quickly move on after celebrating tonight, because, of course, they are now only "in position to be in position."
But he didn't leave the press room before making a statement that just about everyone already realized.
"Michigan is back in so many ways."
Indeed.
***Nik Stauskas***
25 points (9-of-13 FG, 3-of-5 3PT, 4-of-6 FT), three rebounds, five assists, two turnovers in 37 minutes
**Caris LeVert**
23 points (7-of-15 FG, 3-of-5 3PT, 6-of-8 FT), three rebounds, three assists, one steal in 39 minutes
*Gary Harris*
21 points (7-of-17 FG, 4-of-13 3PT, 3-of-3 FT), one rebound, four assists, one steal, three turnovers in 39 minutes
Nik Stauskas' 44 points vs. MSU this season are the most by a U-M player in one season since Terry Mills dropped 46 vs. MSU in 1990.

— Drew Hallett (@DrewCHallett) February 23, 2014
John Beilein (6-6) joins Bo Ryan (14-11) & Thad Matta (10-10) as the only Big Ten coaches not to have a losing record vs. Tom Izzo.

— Drew Hallett (@DrewCHallett) February 23, 2014

• Crisler Center was perhaps as loud as it has ever been today with 3,000 students in the house and a crowd that had less green in this rivalry game than ever before. Jordan Morgan appreciated the boost, saying, "Our fans were great…we gotta give them a lot of credit. They made it a great atmosphere to play in, and I'm sure they made a huge difference in the outcome today."
• For the fifth consecutive year, Michigan's Maize Rage teamed up with the Dance Team to put on the show dubbed "Dance Rage." While Dance Rage previously took place as the main halftime attraction, the entertainment has disappointingly been moved to a timeout in the second half for the past three seasons. Today's halftime show instead was a no-name magician who received very little attention.
Final Game Stats

#

Name

FG-FGA

3FG-3FGA

FT-FTA

OR

DR

TOT

PF

TP

A

TO

BLK

S

MIN

01
Glenn Robinson III*
6-12
0-3
3-7
2
3
5
1
15
1
0
0
0
38
10
Derrick Walton Jr.*
1-5
1-3
2-2
1
3
4
3
5
3
0
0
2
28
11
Nik Stauskas*
9-13
3-5
4-6
0
3
3
0
25
5
2
0
0
37
52
Jordan Morgan*
1-2
0-0
2-2
0
2
2
4
4
0
0
0
0
22
23
Caris LeVert*
7-15
3-5
6-8
0
3
3
2
23
3
0
0
1
39
02
Spike Albrecht
1-3
1-1
0-0
0
1
1
1
3
2
0
0
1
13
15
Jon Horford
1-1
0-0
0-0
1
2
3
5
2
1
0
0
0
16
21
Zak Irvin
1-3
0-2
0-0
0
0
0
2
2
0
0
0
1
17
Totals
27-54
8-19
17-25
7
17
24
18
79
15
3
0
5
200
Michigan State
26-48
9-23
9-15
7
24
31
23
70
13
13
2
1
200

Full Stats