---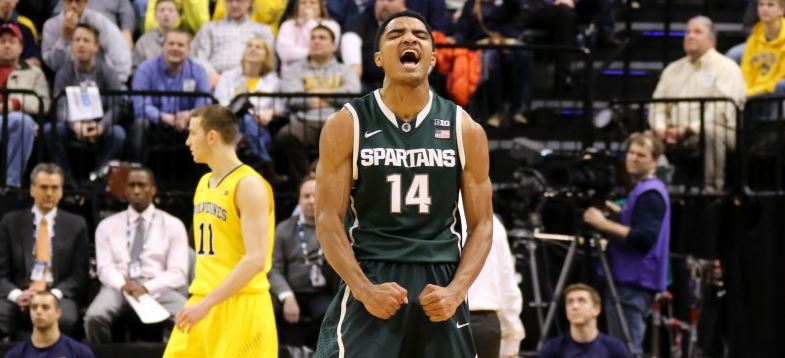 (Dustin Johnson, UMHoops)
With the Big Ten regular season title under its belt and a possible one-seed in the NCAA Tournament, Michigan faced off with Michigan State for the Big Ten Tournament title on Sunday afternoon. But instead of running the table and pulling off a three-game sweep of the Spartans, Michigan was outplayed and handed a 69-55 defeat.
Nik Stauskas started the game just as he left off the previous two meetings. His first shot of the game was good for three, and after a pair of Adreian Payne free throws, Derrick Walton Jr added a three to give Michigan an early 6-2 lead. The Wolverines widened it to 9-4 before Michigan State scored 12 straight to take a 16-9 lead.
After a Michigan time out, Stauskas hit another three to stop the run, but Michigan State kept the foot on the pedal. The Spartans' game plan was clear from the start: get the ball inside and take it to Michigan's big men. It worked as Jordan Morgan and Jon Hoford both picked up several fouls in the first few minutes, forcing John Beilein to turn to Max Bielfeldt for major minutes.
Keith Appling made a layup to put Michigan State ahead 23-14 and Beilein received a technical foul — his second in the last four games. Travis Trice made both free throws, but Stauskas responded with a four-point play to negate the whole sequence. Michigan State took a 38-29 lead into the locker room.
The second half started out as badly as possible for Michigan as Michigan State scored eight straight and Michigan missed its first six shots. Suddenly, a nine-point halftime deficit was 17 just three minutes into the half. Morgan ended the Spartan run, but Dawson answered with a jumper of his own. Michigan was never able to get closer than ten the rest of the way and Michigan State captured its fourth ever Big Ten Tournament crown.
For the game, Michigan shot just 31.5 percent and 26.1 percent from three-point range. Michigan State, meanwhile, shot 50 percent from the field despite making just 2-of-17 from downtown. Michigan had no answer for the Spartans' inside game without Morgan and Horford for most of the game.
Stauskas led Michigan with 17 points on just 4-of-14 shooting. He hit 3-of-5 three-pointers, but often struggled to find an open shot, especially in the second half. Walton was the only other Michigan player in double figures with 11 points, while Caris LeVert scored just seven on 2-of-10 shooting and Glenn Robinson III just six on 2-of-8 shooting.
***Adreian Payne***
18 points (6-of-13 FG, 1-of-4 3PT, 5-of-5 FT), nine rebounds (one offensive), one assist, one block, two turnovers in 29 minutes
**Branden Dawson**
15 points (7-of-8 FG, 1-of-1 FT), six rebounds (one offensive), one assist, one block, in 24 minutes
*Gary Harris*
15 points (7-of-13 FG, 1-of-5 3PT), two rebounds, two assists, three steals, one turnover in 30 minutes
I know I said something about Michigan's D earlier, but this is more about U-M having a 37.8 eFG% – its lowest since playing Charlotte.

— Drew Hallett (@DrewCHallett) March 16, 2014
I doubt it's a coincidence that Michigan's two worst shooting games are when it played its third game in three or four days.

— Drew Hallett (@DrewCHallett) March 16, 2014
Michigan finished with a 37.0 eFG%. That's its second-lowest of the season. The worst: Charlotte with 35.2%.

— Drew Hallett (@DrewCHallett) March 16, 2014
This is the first time in nine games that all three of Stauskas, LeVert & GR3 didn't score in double digits.

— Drew Hallett (@DrewCHallett) March 16, 2014

___________________________________________________________
Final Game Stats

#

Name

FG-FGA

3FG-3FGA

FT-FTA

OR

DR

TOT

PF

TP

A

TO

BLK

S

MIN

01
Glenn Robinson III*
2-8
0-3
2-2
1
2
3
2
6
0
0
0
1
31
10
Derrick Walton Jr.*
3-6
1-4
4-5
1
3
4
3
11
1
0
1
0
30
11
Nik Stauskas*
4-14
3-5
6-6
1
1
2
1
17
1
3
0
0
39
52
Jordan Morgan*
4-6
0-0
0-0
4
2
6
4
8
0
2
0
0
20
23
Caris LeVert*
2-10
0-4
2-3
0
1
1
0
7
4
3
0
1
34
02
Spike Albrecht
0-1
0-0
0-0
0
1
1
0
0
1
0
0
1
11
05
Andrew Dakich
0-0
0-0
0-0
0
1
1
0
0
0
0
0
0
1
15
Jon Horford
0-2
0-0
0-0
1
1
2
4
0
0
1
1
0
5
20
Sean Lonergan
0-0
0-0
0-0
0
0
0
0
0
0
0
0
0
1
21
Zak Irvin
2-5
2-5
0-0
0
1
1
0
6
0
0
0
0
15
44
Max Bielfeldt
0-2
0-2
0-0
2
0
2
0
0
0
0
1
0
13
Totals
17-54
6-23
15-16
13
15
28
15
55
7
9
3
3
200
Michigan State
27-54
2-17
13-15
14
24
38
19
69
14
10
6
7
200

Full Stats