---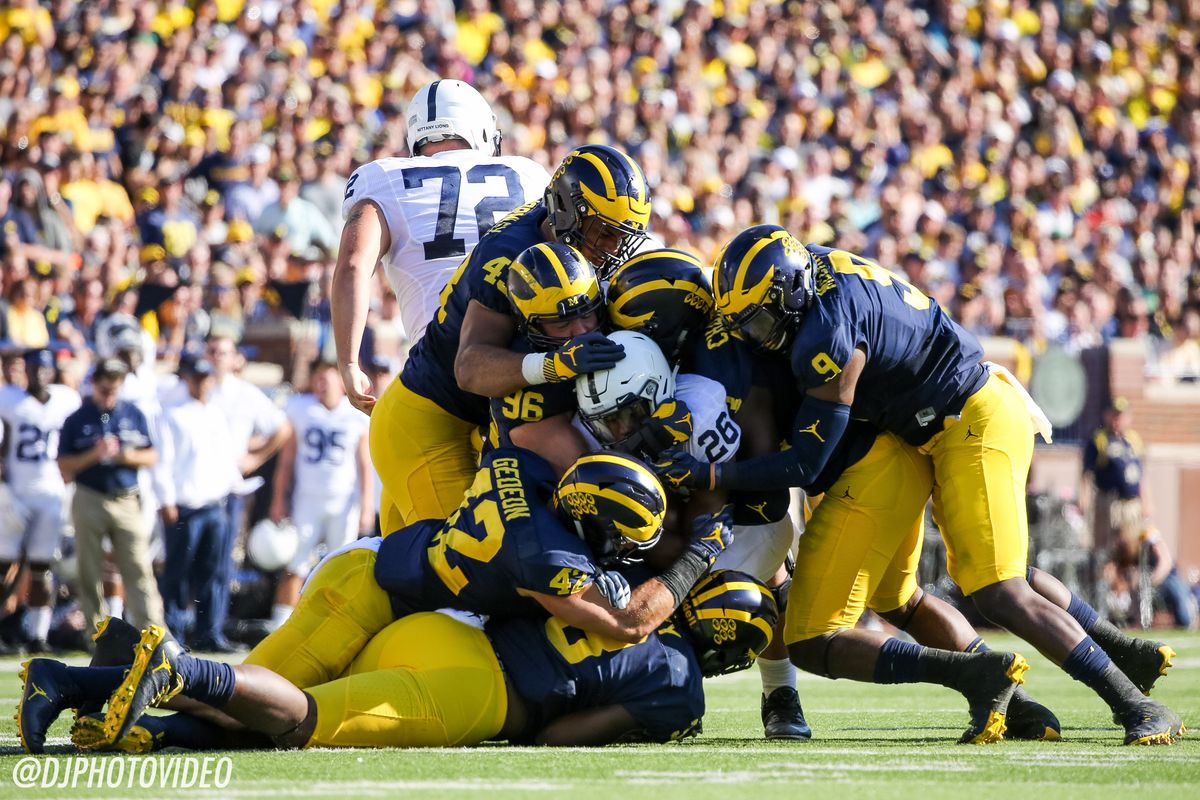 (Dustin Johnson)
On the first play of the game, Penn State quarterback Trace McSorley was sacked for a loss of two. On the second play, he completed a pass to tight end Mike Gisecki for one yard. On the third play, McSorley was sacked for a near safety by Chris Wormley. Unlike the start of last week's game against Colorado, this game was over, basically, three plays in.
Michigan's defense came to play from the opening whistle and Penn State never stood a chance. It set the tone from the start that it wasn't Kent State. It wasn't Pitt. It wasn't Temple. And it certainly wasn't a RichRod defense or a Brady Hoke defense. It was a Jim Harbaugh and Don Brown defense. It was a Michigan defense.
Jabrill Peppers damn near took the ensuing Penn State's punt to the house. After beating the last defender he got tripped up at the 9-yard line. Michigan took advantage of the short field and never looked back.
Final Stats
Michigan
Penn State
Score
49
10
Record
4-0, 1-0
2-2, 0-1
Total Yards
515
191
Net Rushing Yards
326
70
Net Passing Yards
189
121
First Downs
25
12
Turnovers
0
2
Penalties-Yards
7-80
2-13
Punts-Yards
1-44
6-240
Time of Possession
35:49
24:11
Third Down Conversions
11-of-16
2-of-12
Fourth Down Conversions
2-of-4
2-of-3
Sacks By-Yards
6-27
0-0
Field Goals
0-for-0
1-for-1
PATs
7-for-7
1-for-1
Red Zone Scores-Chances
6-of-6
2-of-2
Red Zone Scores-TDs
6-of-6
1-of-2
Full Box Score
The first half was as thorough a beatdown of a Big Ten power program as one could get. Michigan led 28-0, sacked McSorely five times, outgained Penn State's offense 259 yards to 50, converted 7-of-10 third downs and 2-of-3 fourth downs, and found the end zone on four of five possessions.
While four Penn State beat writers talked themselves into choosing James Franklin over Harbaugh if they were given the choice, the reality of the chasm that exists between the two head coaches was never more evident than on Penn State's opening drive of the second half. Down 28-0 in the third quarter, facing 4th-and-goal from the Michigan two, Franklin sent his field goal team onto the field, called timeout to think about it, and sent them back out to kick the 19-yard field goal. The television cameras may have missed it, but Franklin was waving a white flag.
On Michigan's next possession, Harbaugh faced a 4th-and-4 from the Penn State 28 and went for it, up 28-3. The conversion failed, but message was clear. Harbaugh plays to win.
Not content to simply win, Michigan flexed its muscle on the next drive, running the ball eight of nine times right through the Penn State defense. Chris Evans for 37. De'Veon Smith for eight. Ty Isaac for five. Karan Higdon for three. Evans for five. Smith for eight. Higdon for 11. Evans for three. Touchdown.
Penn State would add a touchdown at the beginning of the fourth, but Michigan added two more to double the point spread and improve to 4-0 on the season.
The Michigan offense racked up 515 total yards — 326 on the ground and 189 through the air — and the defense held Penn State to just 191 total yards. Wilton Speight completed 21-of-34 for 189 yards and a touchdown. Smith led Michigan with 111 yards on 8.9 yards per carry and a touchdown. Higdon gained 84 yards and scored two touchdowns, while Isaac finished with 74 yards and a score. Nine different Wolverines caught a pass, including freshman tight end Devin Asiasi, who caught the first touchdown of his career.
Linebacker Ben Gedeon led the Michigan defense with 11 tackles, 1.5 of which were behind the line of scrimmage. Maurice Hurst led the Wolverines with three tackles for loss. Hurst, Matt Godin, Chris Wormley, Chase Winovich, and Taco Charlton each recorded a sack, and Mike McCray picked off McSorley in the fourth quarter. Peppers finished with five tackles, but was unable to add to his Big Ten-leading 9.5 tackles for loss. Michigan held Saquon Barkley — who came in averaging 5.1 yards per carry — to just 59 yards rushing on 3.9 yards per carry.
At 4-0 overall and 1-0 in the Big Ten, Michigan will likely remain ranked fourth nationally and will face its toughest test to date next week when Wisconsin (4-0, 1-0) comes to town. The Badgers stunned Michigan State in East Lansing, 30-6 on Saturday.
Grant Newsome, Ben Braden, Mason Cole, Kyle Kalis, Erik Magnuson (326 rushing yards, no sacks allowed)
Michigan's offensive line has been much maligned over the past few seasons, and although it's not the big, mauling line Harbaugh wants just yet, it has made considerable progress from the days of negative rushing yards. Against Penn State on Saturday it was nearly flawless. It paved the way for Michigan's backs to rush for 326 yards and six touchdowns and it didn't allow a sack against a Penn State defense that entered the game with 10 in its first three games. Four different running backs rushed for more than 50 yards, five different backs scored touchdowns, and the Wolverines rushed for 6.7 yards per carry.
Previous
Week 1 – Chris Evans (8 carries, 112 yards, 2 touchdowns)
Week 2 — Wilton Speight (25-of-37 for 312 yards, 4 touchdowns)
Week 3 — Jake Butt (7 receptions for 87 yards)
Maurice Hurst (6 tackles, 3 solo, 3 tackles for loss, 1 sack)
Michigan's defense was all over Penn State quarterback Trace McSorley and running back Saquon Barkley, but Hurst stood out the most. He seemed to be in the PSU backfield all afternoon, recording three tackles for loss and dropping McSorley once.
Previous
Week 1 – Mike McCray (9 tackles, 3.5 tackles for loss, 2 sacks, 1 forced fumble)
Week 2 — Rashan Gary (6 tackles, 2.5 tackles for loss, 0.5 sacks)
Week 3 — Jabrill Peppers (9 tackles, 3.5 TFL, 1 sack, 2 kick ret. for 81 yards, 4 punt ret. for 99 yards, 1 TD)