---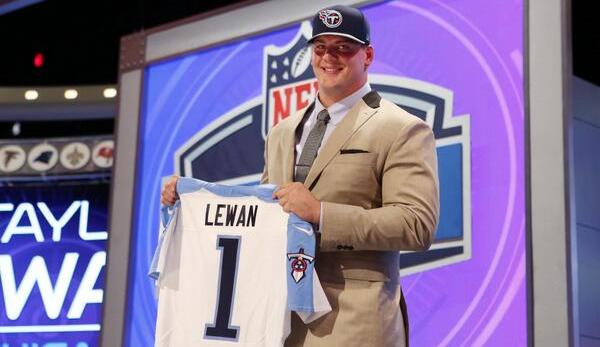 Taylor Lewan was a first round lock, but the question heading into the 2014 NFL Draft was whether he would be the first, second, or third offensive tackle selected. The answer came just before 9:30 Eastern time on Thursday evening when Lewan followed Auburn's Greg Robinson (second overall) and Texas A&M's Jake Matthews (sixth), as the 11th pick by the Tennessee Titans.
Most mock drafts had Lewan going sixth or ninth, so he fell slightly, but still becomes the first Michigan player drafted in the first round since Brandon Graham was taken 13th by the Philadelphia Eagles in 2010. He's also the highest Michigan draft pick since fellow left tackle Jake Long was the first overall pick by the Miami Dolphins in 2008 and was the first Big Ten player selected in this year's draft.
The question now is where Lewan fits at Tennessee. Michael Roos has started 143 games at left tackle since he was drafted out of Eastern Washington in 2005. He was a Pro Bowler in 2008. On the other side, the Titans just locked up right tackle Michael Oher, who has started all 80 games since he was drafted out of Mississippi in 2009, to a four-year, $20 million deal with $9.5 guaranteed. One possibility would be to slide Oher to guard, but last year's first round pick, Alabama guard Chance Warmack, started all 16 games at right guard in 2013 and left guard Andy Levitre has started all 80 games of his career. Lewan is walking into a loaded offensive line, so there's a chance the Titans could use him as a trade piece later in the draft.
Prior to the draft, NFL.com's Daniel Jeremiah listed Tennessee's needs as cornerback, running back, quarterback, and offensive tackle, in that order. He notes Roos' age, 32, as the reason for needing a tackle, but also says they should look to draft one somewhere around the fourth round. In other words, one that wouldn't necessarily be ready to start from day one. Roos is in the final year of his contract, but Lewan certainly won't be happy waiting a year to step into the lineup.
Lewan joins former Michigan defensive tackle Mike Martin on the Titans roster. Martin was drafted by the Titans in the third round, 82nd overall, in the 2012 draft and has started two games over the past two seasons, recording 52 tackles (33 solo) and four sacks.
The draft continues with rounds two and three tonight at 6:30 p.m. and concludes with rounds four through seven on Saturday at noon. Michael Schofield and Jeremy Gallon will likely find out their destinations on Saturday, but there's a chance Schofield could find his way into the third round.