---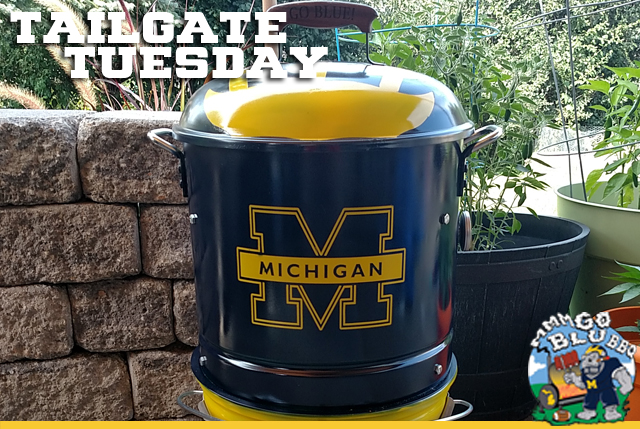 Tailgate Tuesday is our weekly collaboration with Joe Pichey from MmmGoBluBBQ. These tailgate recipes will be posted each Tuesday throughout the football season and most of the time will be themed around that week's opponent. Meat Church, a Dallas, Texas based BBQ joint sponsors this feature by providing their killer rubs for use in the recipes. Buy them here. 
I am a sports junkie and I love my Michigan teams. I can't get enough of my Detroit Lions, Tigers, Red Wings, and of course the Michigan Wolverines. I even enjoy watching a game with Sparty every now and then. One weekend, while tailgating with some friends, we ran across a smoker covered in sports stickers. I can't begin to tell you how horrible this thing looked due to the stickers burning up on the side of a hot piece of metal. Go Figure. It got me thinking about tailgating and showing my team spirit. I started Googling smokers and tailgating and came across a several sites that featured this Mini WSM build. I had to give it a try. The sites I am referring to are Steve's BBQBros and Chris Allingham's The Virtual Weber Bullet. Both are great sites and full of great recipes, tips, and overall BBQ greatness. Give them a look.
WSM stands for Weber Smokey Mountain and is a great overall smoker. I love this Mini WSM for a few reasons. First, is the ease of operation. It's easy to transport and set up. It's perfect for tailgating. Just throw it in your trunk and head to the game. Secondly, it cooks great food. This little thing keeps it's temps like the big boys and holds a surprising amount of meat (or those veggie things, if your into that). I have cooked 50 stuffed jalapeños in the mini along with a Tri-Tip roast. I can also get six racks of Baby Backs (rolled) inside. 12-pound pork butt, also, not a problem. Thirdly, this smoker does not eat up a bag of charcoal like my big boys. Dare I say, it's the Prius of smokers. I can go 10 hours with this smoker on less than half a bag of charcoal and keep the temps in the 250 range. Simply awesome. Lastly, the team colors and logo make tailgating even more fun. Everyone wants one.
Here is what you will need. Get ready to have some fun!
• Weber Smokey Joe Gold Grill
• Imusa 32 QT PotIMUSA POT
• Weber 7431 Cooking Grate (13.5 inch)
• BBQ THERMOMETER W/ 2.5″ STEM OR Cajun Bandit Grommets for wireless probes
• (3) – 1/4″ X 3/4″ inch stainless steel bolts
• (7) – 1/4″ stainless steel washers
• (7) – 1/4″stainless steel hex nuts
• (4) – 1/4″ 4-5 inch stainless steel bolts
• 10-12 inch aluminum pie pan. (heat diffuser)
• 1 can of high heat Automotive Enamel Paint (color of your choice – optional)
• 1 can of high heat Automotive Enamel Clear Gloss (adds some shine – optional)
• Die Cast Decals (optional). Get them from Sean at 2loosescrews.com
• Wooden handle (optional)
• Tin snips
• Drill with 1/4 inch drill bit
Below is the Vasconia 32-qt steamer pot (after I drilled into it). This is the best fitting pot for the Mini WSM. It is very hard to find these days, so the IMUSA POT is a great replacement. It fits perfectly into the Weber Smokey Joe grill and comes complete with plastic handles to help with the heat. I have purchased a few other pots, but nothing comes close to the Vasconia.
The Weber Smoker Joe Gold is my favorite for this build. I have seen others use the Weber Smokey Joe Silver, but I do not recommend it. Sure, it saves you $5, but the air intake is on the bottom and gets clogged with the ashes. Go with the GOLD!

A cheap set of tin snips are needed to cut out the bottom of the steamer pot. The bottom is very thin and very easy to cut. It will only take you about 2 minutes to remove the bottom of the pot.
I placed a plate in the center of the pot and traced a line around the edge, leaving a 1-2 inch lip. The lip is needed to help add support. Some guys prefer to drill dozens of holes in the bottom, but it's easier to remove it altogether. Trust me, remove the bottom.
Once you have traced the line, you will need a starter hole. Drill a small hole or two in the bottom of the pot. Just enough to get your tin snips into and start cutting. Be careful with the sharp edges.
Once you are done, you will have some rough edges that will need to be hammered down. If you want to go back at it with the tin snips, feel free.

I decided to take out some aggression with my hammer. Have fun with this step. Hammer away!
Once you have the bottom removed, its time to decide where to put the grates. You can place one grate directly on top of the heat diffuser. The other can go about half way up. It's up to you. I've added a third grate, but this is not mandatory. The pot is approximately 43.5 inches around, so you will drill a 1/4 inch hole every 14.5 inches. A string cut to 43.5 inches comes in handy when measuring the distance between holes. The top set of holes should be drilled about 3-4 inches below the lip. If you are planning on painting your smoker and adding a design, be careful where you drill the holes. You probably do not want the bolts in the middle of your team logo. Mark your three spots with a sharpie and drill away. The should be evenly spaced and the exact same distance from the top lip. You want to make sure the grate is even.
Place the washers and nuts on the inside of the smoker. These add a nice little shelf for the grate to sit on. Once you have them all assembled, it's time for the bottom bolts. Drill three holes in the lower section (In alignment with the top bolts). You will want them in the middle of the lower section, exactly between the little ridge around the pot and the bottom. If you place them too low, the pot will not sit all the way down, inside the grill, as it should. Once these are drilled, you will add the longer 4-5 inch bolts along with the washers and nuts.

These will hold your heat diffuser (pie pan) above the bottom opening. The heat diffuser is very important to ensure even heat and to keep your foods from burning. A 10-12 inch pie pan works great as a diffuser. Wrap in foil each use for easy clean up.
As you can see below, the holes and bolts are lined up evenly.
Time to add the grates. I forgot the picture with the heat diffuser inserted, but you can imagine it down there. Place the bottom grate directly on top of the heat diffuser. You can also add water to the pie pan for some extra moisture.

We have one final hole to drill. This is for the thermometer or the grommets. I went with the grommets so that I can insert my wireless probes into the smoker and the meat. Either way works great. I love the Cajun Bandit Grommets as they are very reliable and large enough to hold several probes. Pictured below.
If you go with a thermometer gauge, you can find some good ones on Amazon. I used this one in another build and have had no complaints.

After you have added the thermometer or grommets, you are ready to cook. If you would like to add a handle to the top air valve, drill away. Take a 1/4″ bit and drill your hole. Insert a 4-5 inch bolt along with a wooden knob on the end and you are all set. I found the wooden knob at Hobby Lobby for .99c and drilled a small hole and added some super glue. Viola!!!
You are now done with Mini WSM and ready to light it up. See, that wasn't so hard. Now the real fun begins. If you would like to add some team colors and make your tailgate crowd jealous, read on.
Remove the bolts/washers/nuts along with the grates and set aside. Tape the top lip of the steamer pot so that it looks like this. Leave some sticky edge so that we can add a garbage bag inside.
Stick the garbage bag inside and make sure the bag sticks to the tape all the way around. This will keep the paint from getting inside our pot. It should look like the pic below.
Use some clear wrap to cover your rubber/plastic handles. This will keep them clean when you are painting the outside of the pot. The little sandwich bags work great. Tape it up tight.

Now, we can add our DIE CAST DECAL logo's. These will not stay on the smoker for long. We only need these to cast the design when painting. Die Cast Decals will allow paint to get inside the logo and add some really good detail. I get mine from Sean at 2 Loose Screws. He makes great custom decals. Tell him I sent you.
Add your decals to one or both sides. Add them wherever you want, it's your smoker. Once they are added, it's time to paint. The high heat enamel paint is necessary for the high heat that your smoker will emit. Look for a paint with a rating of 500 degrees and higher. The higher, the better. Your local auto parts store should have plenty of colors to choose from. Make sure and get a can of clear gloss as well. It will help shine up your new smoker.

Once the logos are on, start painting. Keep the can at least 8-10 inches away from your pot and move side to side in a smooth motion. If you keep it in one spot too long, the paint will pool up and look awful. Apply the first coat and allow 10 minutes for the paint to set a little. Give it a second coat. Once the second coat has been applied, you must remove the decals ASAP. If the paint dries and you try to remove the logo's, the paint will stick and start to pull up around the edges. You will lose some of the great detail you are looking for. The shiny silver below the paint looks really sharp! Once the pot has dried, we can give it a coat of clear gloss. This really makes it POP!!!! Of course, you will lose some of the shine once you start cooking large hunks of meat on your new Mini. After a few cooks, you will see the paint near the bottom start to darken. This is from the higher heat near the burning charcoal. After the paint dries, you are ready to cook. Order yourself a custom handle from Marty and you have a great new BBQ toy.

Have fun with this project. It's really simple and a lot of fun! The possibilities are endless. Here are a few mini's that I have made for friends. The Packers mini was tough for me, as they are a Lions rival. The others weren't so bad. One thing is for sure. They were all a lot of fun!

If you give this project a shot, send me some pics of your finished work. I love to post others successes. Enjoy!
Visit Meat Church to purchase their new Bacon BBQ rub or any of their other great rubs and seasonings. You can also follow Joe on Twitter at @mmmgoblubbq.