---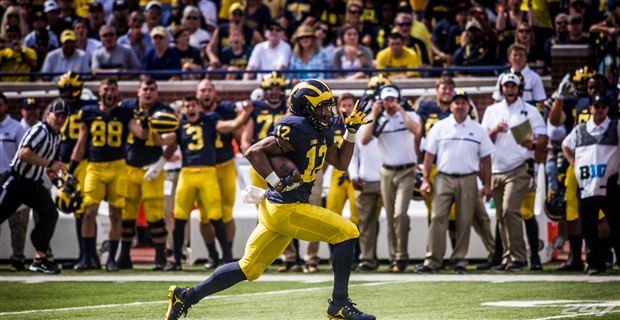 (Isaiah Hole, 247 Sports)
The Hawaii game went about as expected, save for that pick on Wilton Speight's first throw, and while it won't tell us much we don't already know I thought we could look at the big plays (for and against) and the toxic differential to see how Michigan compares to their first game last year and the 2015 season overall. This will be a running feature throughout the season.
Last year, Michigan opened up on the road against a very good Utah team. Obviously, Hawaii did not present the same challenges as the Utes did a year ago, so take these comparisons with grain of salt.
Against Utah in 2015, Michigan had zero big runs (10 or more yards) and only three big passes (20 or more yards) amongst their 72 offensive plays, yielding a paltry 4.1 percent big play percentage (not very good). The Utes, by comparison, had five big run plays and two big pass plays, yielding a decent but not spectacular 10 percent big play percentage. Michigan lost the big play battle seven to three and lost the turnover battle three to one, giving them a minus-6 toxic differential for the game. It's tough to win the game when you lose the turnover battle and it's just about impossible when losing both the turnover battle and the big play battle.
Now for some good news.
This year, Michigan came storming out of the gates. Quality of opponent caveats apply, but last Saturday went about as well as it should have against a team like Hawaii. Michigan had 11 big run plays and three big pass plays amongst their 59 total plays for a big play percentage of 23.7 percent, good for third nationally after Week 1. On the other side of the ball Michigan gave up four big run plays and two big pass plays for a big play against percentage of 10 percent, good for 72nd nationally — not great but one less big play than they gave up in last year's opener.
Michigan's big play differential (big play percentage for minus big play percentage against) was 13.7 percent, good for 8th best nationally. Michigan won the total big play battle fourteen to six and the turnover battle two to one for a total toxic differential (big plays for minus big plays against plus turnover margin) of 9, tied for 13th best.
Michigan 2015 vs 2016 Week 1 comparison
Year
Big Run Plays
Big Pass Plays
Total Big Plays
Big Play %
Big Play Diff
Toxic Diff
2016 (Hawaii)
11
3
14
23.7%
13.7%
9
2015 (Utah)
0
3
3
4.1%
-5.9%
-6
Ohio State always seems to fare well in these metrics and currently sits atop the nation with a toxic differential of 19 (19 big plays for, 2 big plays given up, and a plus-2 turnover margin). Michigan is gaining ground, but the Buckeyes are still ahead for now.
Of course, one game is not a sufficient sample size and comparing it to the 2015 opener is not equal (Utah is much better than Hawaii hopes to be) but we can still look at these numbers and compare them to 2015 as a whole for a pseudo gauge of improvement and speculate on how that might look going forward.
For a refresher, here are Michigan's big play numbers (on a per game basis) both for and given up..
Michigan's 2015 offense averaged 3.6 big run plays per game (118th) and 3.7 big pass plays per game (40th) for a total of 7.3 big plays per game (100th) with a big play percentage of 10.49 percent (98th). Against Hawaii those numbers, again, were 11 and three.
If you'll recall the look back at Harbaugh's San Francisco 49ers days you'll remember that the passing game wasn't the area which saw drastic improvement. In fact, it regressed then bounced back to just a bit better than pre-Harbaugh. The Hawaii game is showing just that, a big improvement in big plays in the run game and a slight regression in big plays for the passing game. Of course, these big running play numbers are not likely to continue — only three teams averaged over 10 big run plays per game in 2015 and only nine teams even averaged more than eight per game — but it is promising to think about how this might pan out over the course of a full season.
Passing game numbers shouldn't be anything to worry about. This won't be a team that has a lot of them as the strength will be in the run game. If they can maintain their 2015 average of about 3.5 big pass plays per game while experiencing an uptick in big run plays (the 1-2-3 punch of De'Veon Smith, Ty Isaac, and Chris Evans tells me they will) Michigan should be able to top their 2015 total big plays per game (7.3) en route to a very exciting season. Remember, if they can manage just one more big play per game than last year that would (in theory) put them in the top 10 for most big plays per game.
Michigan's Week 1 big plays
Quarter
Down & Distance
Player
Yards Gained
Run/Pass
1
1st and 10
Jehu Chesson
15
Run
1
3rd and 7
Wilton Speight to Amara Darboh
31
Pass
1
2nd and 9
Wilton Speight to Jehu Chesson
21
Pass
1
1st and 10
De'Veon Smith
14
Run
1
1st and 10
Ty Isaac
12
Run
2
2nd and 5
Chris Evans
21
Run
2
1st and 10
Eddie McDoom
15
Run
2
1st and 10
Chris Evans
18 (TD)
Run
3
2nd and 7
Wilton Speight to Maurice Ways
22
Pass
3
1st and 10
Chris Evans
43 (TD)
Run
3
3rd and 2
Eddie McDoom
19
Run
3
1st and 10
Karan Higdon
19
Run
4
2nd and 11
Shane Morris
14
Run
4
2nd and 3
Kingston Davis
10
Run
In 2015, the Michigan defense gave up an average of 4.8 big run plays per game and 2.4 big pass plays per game, good for 56th and 13th nationally. Based on total number of plays Michigan gave up a big play 11.49 percent of the time — 59th nationally. All told, Michigan gave up 7.2 big plays per game, good for 25th nationally.
Giving up four big run plays and two big pass plays to Hawaii falls in line right about where I expected them to, about one less big play given up per game than last year. Now before we run for the hills saying this is Hawaii and they should have not allowed ANY big plays let's calm down for a minute. Only seven teams gave up fewer than six total big plays per game in 2015, and one was coached by Don Brown. Another was some national champion down in Alabama. I'm told they tend to field elite defensive units and have a couple trophies hanging around. And let's not forget that Michigan was running out their second and third string players for most of the second half, along with seventeen total true freshmen. It's not the end of the world to have given up six big plays to Hawaii. In fact, I expected them to have given up more as they worked out new system kinks and let a lot of guys get experience, so all in all I think we should be happy with that number.
To sum it up, Hawaii wasn't very good but the numbers Michigan put up were exactly what we should expect this team to do against inferior opponents and we didn't always get that in the past. As each week goes by we'll add more pieces to our puzzle and by the time the Michigan State game rolls around we should have a very good idea at how explosive this offense is and how good at preventing explosive plays the defense is. My prediction based on flimsy evidence: it will be a top 20 unit in big play for/against metrics.
Looking forward to UCF, I will just look at their first game stats. Our good buddy Scott Frost is new there so comparing this team to last year's isn't really worth our time. UCF's offense had six big run plays (43rd) and five big pass plays (19th) for a total of 11 big plays (39th) and a big play percentage of 12.1 percent (61st). On the other side of the ball — and keep in mind they played an FCS team — they surrendered three big run plays (33rd) and two big pass plays (40th) for a total of five big plays (30th) with a big play against percentage of 7.1 percent (33rd). They won the turnover battle three to two and their toxic differential after one game is 7, good for 28th in the country. Given their level of competition this still impressive, especially since UCF hadn't won a game since Brady Hoke was Michigan's head coach.
Unrelated, I was slightly surprised Michigan did not take their foot off the gas in the second half as they often did last year in blowouts. It wasn't a complete surprise as Harbaugh once famously went for two after a touchdown against USC since he wanted to put 50 on them, but it just might be a message to the rest of the country that Michigan isn't playing around this season. That leads me to wonder what will happen against UCF and Frost, the former Nebraska quarterback. My gut tells me Harbaugh won't take his foot off the gas in this one either!