---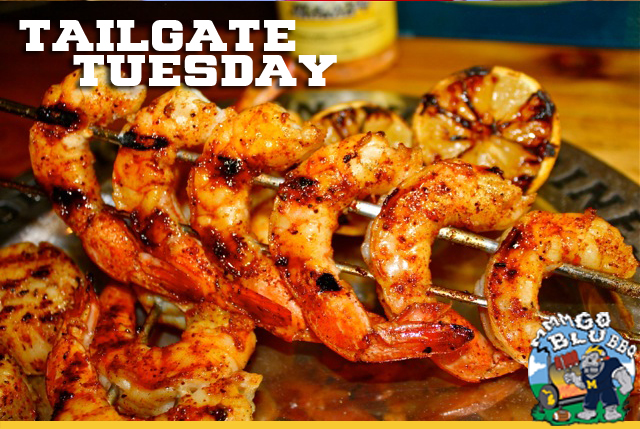 Tailgate Tuesday is our weekly collaboration with Joe Pichey from GoBlueBBQ. These tailgate recipes will be posted each Tuesday throughout the football season and most of the time will be themed around that week's opponent. Meat Church, a Dallas, Texas based BBQ joint sponsors this feature by providing their killer rubs for use in the recipes. Buy them here. Seriously, you won't regret it.
Previously: Frog legs, smoky spiced beaver nuts, build the perfect tailgate smoker, pig shots, lamb shank, flat iron fajitas, country style ribs with bock glaze, pork belly sliders, smoked bologna, smoked eggs, or visit our whole library of recipes here.
One of my favorite things to grill has always been shrimp. They are quick and easy and relatively healthy. Throw on some scallops and we have a great seafood feast. Add some Meat Church rub and we have one of the best meals of the season. Put it all on some skewers and now we have a PARTY. Everything is better on a stick (or skewer in this case).
Jumbo Shrimp (21-25 size) peeled and de-veined
Jumbo Scallops (20-30 size)
Meat Church Fajita Seasoning
Meat Church Honey Hog Rub
Lemon (cut in half)
Set grill up for high, direct heat. If you have a set of Grill Grates, get them scorching hot. If not, make sure your grates are hot and clean. While the grill is heating up, set your scallops and shrimp on paper towels and pat dry.
Once they are dry, sprinkle each scallop/shrimp with some of your favorite Meat Church Rub. I chose a mixture of Fajita and Honey Hog. It added some salty/spicy tang along with some sweetness. Double skewer the shrimp and scallops to make them easier to turn on the grill. I didn't double the scallops and regret it. Learn from my mistake.
Trust me, the double skewering helps BIG TIME!!!!
Oil the grates with a high heat oil. Something like a grape seed or canola oil works well. Add the seafood to the grill and close the lid. Don't go far. These do not take very long.
I also like to toss a few lemon wedges on the grill and get them a little extra smokey flavor. It also brings out some of the sugars in the lemon. This is a great flavor to add to the cooked seafood.

After about three minutes per side, flip the shrimp and scallops. Let go for another two to three minutes and remove from the heat.
Serve along side the cool looking grilled lemons. Eat immediately as they start to turn rubbery if you wait too long. Squeeze some of that grilled lemon on the seafood and enjoy.

This is a great appetizer or a main course. You can't really get enough of this combo, so don't hold back. Go Blue!!!!
Visit Meat Church to purchase their new Bacon BBQ rub or any of their other great rubs and seasonings. You can follow them on Twitter at @MeatChurch and you can also follow Joe at @mmmgoblubbq.