---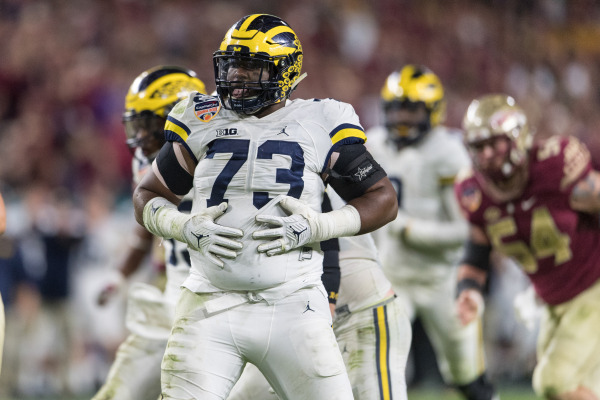 (Mgoblue.com)
Michigan, playing without Jabrill Peppers, who missed the game with a hamstring injury, dug itself a big first half hole, fought back to grab a late lead, but ultimately fell by one point to 11th-ranked Florida State in the Capital One Orange Bowl in Miami on Friday night.
Florida State took the opening kickoff and marched right through the vaunted Michigan defense for a 6-play, 75-yard scoring drive to make an early statement. The Wolverines got a break after they were forced to punt on their first possession of the game when FSU's Noonie Murray fumbled Kenny Allen's punt and Dymonte Thomas recovered at the Florida State 1-yard line. But the Seminoles' defense held strong, forcing a 19-yard Allen field goal.
Florida State responded with a field goal of their own on their next drive and then forced two straight Michigan three-and-outs. On the first play of FSU's next drive, Michigan's coverage broke down and quarterback Deondre Francois hit Murray for a 92-yard touchdown to put the Seminoles up 17-3.
Final Stats
Michigan
 Florida State
Score
32
33
Record
10-3, 7-2
10-3, 5-3
Total Yards
252
371
Net Rushing Yards
89
149
Net Passing Yards
163
222
First Downs
16
15
Turnovers
1
2
Penalties-Yards
4-37
7-65
Punts-Yards
8-379
6-207
Time of Possession
34:17
25:43
Third Down Conversions
7-of-20
3-of-13
Fourth Down Conversions
1-of-2
1-of-1
Sacks By-Yards
2-22
4-26
Field Goals
3-for-3
2-for-2
PATs
1-for-1
3-for-4
Red Zone Scores-Chances
4-of-4
3-of-3
Red Zone Scores-TDs
1-of-4
3-of-3
Full Box Score
By the end of the first quarter, Florida State was outgaining Michigan 201 to 22, despite Michigan having more time of possession.
The Michigan defense forced a three-and-out to start the second quarter and put together a 11-play, 59-yard scoring drive. However, after reaching 1st-and-goal at the FSU six, the Wolverines had to settle for a 28-yard Allen field goal to pull within 17-6.
Florida State answered with a 15-play drive to get that field goal back as Robert Aguayo connected from 38 yards out. Florida State took a 20-6 lead into the half.
In the first half, both teams had 34 plays from scrimmage, but Michigan managed just 83 total yards (2.4 yards per play) compared to FSU's 255 (7.5).
But the second half was a different story. Michigan set the tone on the first possession of the half, marching 14 plays for yet another Allen field goal, this time from 37 yards out.
The two teams traded a pair of punts and Michigan linebacker Mike McCray made the big play the Wolverines needed, picking off Francois at the Florida State 14 and returning it for a touchdown. Wilton Speight's pass for the two-point conversion fell incomplete.
Michigan's defense held Florida State to just 15 yards on nine plays in the third quarter while pulling within five points. But FSU wouldn't roll over, beginning the fourth quarter with a 7-play, 75-yard touchdown drive to take a 27-15 lead.
Two possessions later, Michigan's offense found the end zone for the first tim in the game when Speight connected with Khalid Hill for an 8-yard touchdown.
Florida State took over with 5:22 remaining and the Michigan defense stood strong, forcing a three-and-out, and giving the offense the ball with a chance to take the lead. And they did just that. The Wolverines went 61 yards in just five plays, capped off by a 30-yard Chris Evans touchdown run to give Michigan the lead with two minutes to play. Speight hit Amara Darboh in the end zone for the two-point conversion, putting Michigan ahead 30-27.
But instead of forcing Florida State's offense — which had managed just 82 yards in the second half to that point — drive the length of the field for a game-tying field goal, Michigan's special teams allowed a 66-yard return up the middle to the Michigan 34-yard line. Four plays later, Francois completed a pass to Murray over Jourdan Lewis in the end zone to give Florida State a 33-30 lead. Michigan blocked the extra point try and Josh Metellus returned it for two points to bring the Wolverines within two, but the Michigan offense was unable to move into field goal range as Speight was intercepted to end Michigan's chances.
Speight finished the game 21-of-38 for 163 yards, one touchdown, and one interception. Evans lead Michigan with 49 rushing yards and the one touchdown, while Darboh lead the way with five receptions for 36 receiving yards. Ian Bunting caught three passes for 40 yards filling in for Jake Butt, who tore his ACL in the first half.
For Florida State, Dalvin Cook rushed for 145 yards and one score, while Francois completed 9-of-27 passes for 222 yards, two touchdowns, and one pick.
Michigan finishes the season at 10-3, matching last season's record, while Florida State also finished 10-3. The Wolverines may fall out of the top 10 in the final rankings, but will look to bounce back next season when they open with Florida in AT&T Stadium on Sept. 2.
Kenny Allen (3-of-3 field goals, 8 punts for 47.4 average, 4 downed inside 20)
For the second straight game and third in the last four, Kenny Allen gets the offensive game ball. The Michigan offense struggled to move the ball at all in the first half and Allen kept them in it with two field goals and then tacked on another to start the second half. He also booted eight punts for an average of 47.4 yards, most notably a 61-yarder that forced Noonie Murray to try to catch the ball over his shoulder and fumble, resulting in the first field goal. Allen ends his career as one of the best kickers in Michigan history.
Previous
Week 1 — Chris Evans (8 carries, 112 yards, 2 touchdowns)
Week 2 — Wilton Speight (25-of-37 for 312 yards, 4 touchdowns)
Week 3 — Jake Butt (7 receptions for 87 yards)
Week 4 — Grant Newsome, Ben Braden, Mason Cole, Kyle Kalis, Erik Magnuson (326 rush yards, 0 sacks allowed)
Week 5 — Amara Darboh (6 receptions for 87 yards, 1 touchdown)
Week 6 — Khalid Hill (2 carries for 2 yards and 2 touchdowns, 2 receptions for 19 yards and 1 touchdown)
Week 7 — Wilton Speight (16-of-23 for 253 yards, 2 touchdowns)
Week 8 — Amara Darboh (8 receptions for 165 yards)
Week 9 — Wilton Speight (19-of-24 for 362 yards, 2 touchdowns, 3 carries for 16 yards, 1 touchdown)
Week 10 — Kenny Allen (2-of-2 FGs, long of 51)
Week 11 — De'Veon Smith (23 carries for 158 yards, 2 touchdowns)
Week 12 — Kenny Allen (2-of-2 field goals, 7 punts for 47.4 average, 5 downed inside 20)
Taco Charlton (5 tackles (2 solo), 2 tackles for loss, 1 sack, 2 quarterback hurries)
Michigan's defense gave up some big plays, but played very good when needed in the second half to key the comeback. Mike McCray could have gotten this week's game ball for his pick-six, but as I think about who made the most impact defensively, it has to be Taco Charlton. The senior defensive end was consistently in the FSU backfield, pressuring Francois, and getting to him once. He showed why he may be the first Michigan player selected in this spring's NFL Draft, solidifying the hype on the big stage.
Previous
Week 1 — Mike McCray (9 tackles, 3.5 tackles for loss, 2 sacks, 1 forced fumble)
Week 2 — Rashan Gary (6 tackles, 2.5 tackles for loss, 0.5 sacks)
Week 3 — Jabrill Peppers (9 tackles, 3.5 TFL, 1 sack, 2 kick ret. for 81 yards, 4 punt ret. for 99 yards, 1 TD)
Week 4 — Maurice Hurst (6 tackles, 3 solo, 3 tackles for loss, 1 sack)
Week 5 — Channing Stribling (2 tackles, 2 interceptions, 2 pass breakups)
Week 6 — Taco Charlton (2 tackles, 2 tackles for loss, 2 sacks)
Week 7 — Mike McCray (3 tackles, 0.5 tackles for loss, 1 fumble recovery, 2 quarterback hurries)
Week 8 — Jabrill Peppers (7 tackles, 2 tackles for loss, 1 sack, 1 two-point conversion fumble recovery return)
Week 9 — Delano Hill (6 tackles (5 solo), 0.5 tackles for loss, 2 interceptions)
Week 10 — Chris Wormley (6 tackles (2 solo), 2 tackles for loss, 1 sack)
Week 11 — Ryan Glasgow (7 tackles (5 solo), 3 tackles for loss, 1 sack, 1 forced fumble)
Week 12 — Taco Charlton (9 tackles (6 solo), 3 tackles for loss, 2.5 sacks)