---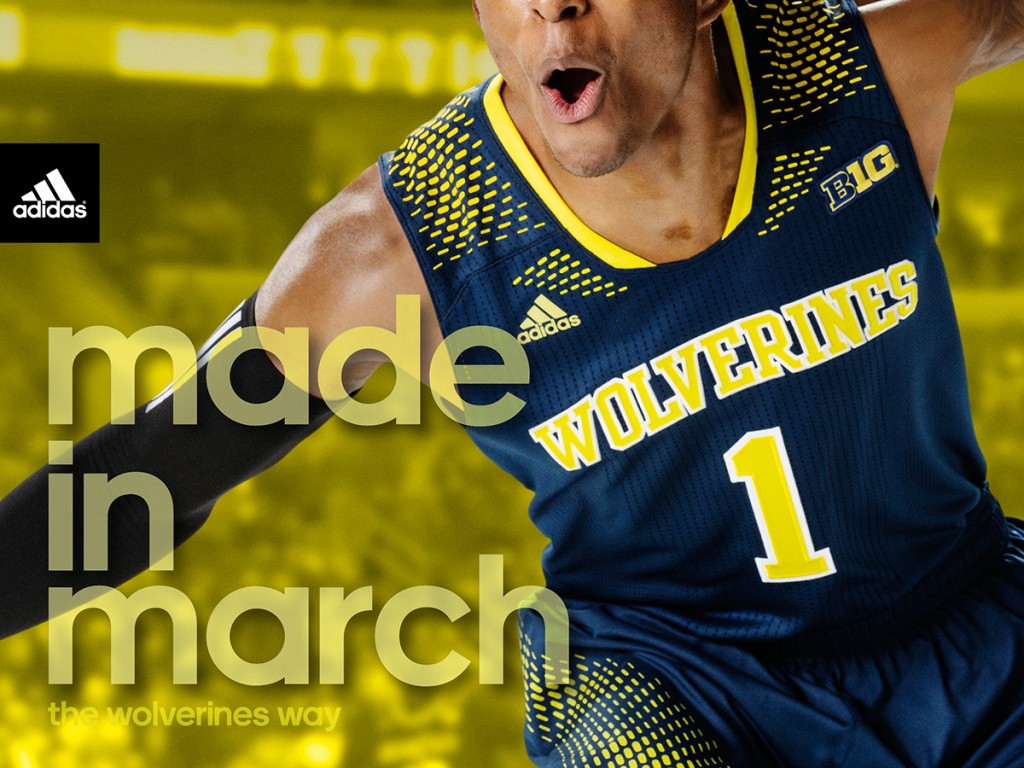 With the outright Big Ten title already wrapped up before the final weekend of the regular season, adidas has given Michigan fans something else to talk about aside from the pros and cons of the upcoming Big Ten Tournament or potential seeding in the Big Dance. The program officially unveiled a set of 'Made in March' uniforms that Michigan will wear for the postseason.
The jerseys, which will be in both maize and blue, will feature "Wolverines" across the chest instead of the usual "Michigan" and 'Go Blue' on the inside of the collar.
Per the university's release, they will also "feature a functional perforated print pattern along the leg of the stretch woven short to enhance breathability and ventilation, keeping players cool as the clock winds down. Adidas' quick-drying jersey technology found in current NBA uniforms along with ClimaCool zones on the chest, back and side move heat and moisture away from the body to keep the jersey light and dry as players sweat."
On the shorts, the print pattern doesn't look that much different from what the Wolverines have been wearing the past two seasons. The print pattern on the shoulders will be more pronounced. Another positive difference is the lack of a stripe down each side of the uniform, which makes for a cleaner look.
Michigan will wear them beginning next Friday in the Big Ten Tournament and continue through the NCAA Tournament. Typically, the higher seed wears white or light uniforms, so expect Michigan to wear maize throughout the Big Ten Tournament and for most of the NCAA.
Another positive aspect of the changes is that they could have been much worse. Look no further than the sleeves that Louisville, Cincinnati, UCLA, and Baylor will wear. Also look at how cramped Notre Dame's jersey looks with "Fighting" above the number and "Irish" below it. Finally, check out Baylor using not only the "Bears" nickname but also the phrase "Sic em".
The basketball program's Twitter account also tweeted out a preview of the maize jersey:
Coming soon. #MadeinMarch pic.twitter.com/umTgqbj7A6

— Michigan Basketball (@umichbball) March 6, 2014

What do you think? Is this a positive development with the uniforms — a change but not too big of a change? Or do you consider it pointless?