---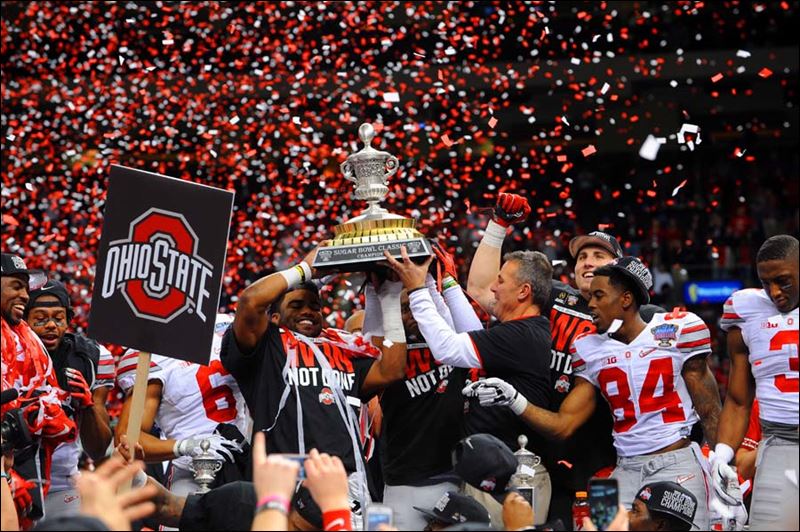 (AP)
Last summer we kicked off our season preview series with a look at the returning production from each team in the Big Ten from the year before. We're going to do the same this summer, but we'll begin with a review of how the returning production entering last season translated over the course of the season. That will lead into this year's returning production, our opponent previews, and our Michigan position previews.
Entering last season, Maryland was far and away the most experienced team based on the previous season's production. The Terrapins returned 97.5 percent of their offense, 94.4 percent of their scoring offense, and 82.6 percent of their defense. They led the conference in all three categories. But did it translate?
Maryland went just 7-6 overall and 4-4 in conference play in 2014, its first year in the Big Ten. All that returning offensive production resulted in the 12th-best (third-worst) offense in the Big Ten, though it ranked fifth in scoring. The offensive line that returned 51 starts from 2013 produced the third-worst rushing offense and allowed the second most sacks. All that returning defensive production resulted in a the conference's 12th-ranked defense and 10th-ranked scoring defense.
Returning 2013 Production vs 2014 Results
Team
Returning Total Off.
Returning Scoring Off.
Returning Def.
Big Ten Finish
Ohio State
12th (59.8%)
13th (53.7%)
11th (60.3%)
Champion
Wisconsin
13th (57.0%)
11th (57.7%)
13th (49.9%)
1st – West
Michigan State
3rd (90.9%)
2nd (91.3%)
12th (50.1%)
2nd – East
Minnesota
10th (65.9%)
12th (57.4%)
8th (66.1%)
2nd – West
Nebraska
9th (66.5%)
10th (59.5%)
9th (66.5%)
2nd – West
Iowa
2nd (92.8%)
3rd (89.3%)
14th (44.4%)
4th – West
Maryland
1st (97.5%)
1st (94.4%)
1st (82.6%)
3rd – East
Rutgers
6th (74.4%)
4th (86.9%)
3rd (77.8%)
4th – East
Illinois
14th (34.3%)
14th (40.0%)
6th (75.8%)
5th – West
Michigan
8th (68.6%)
9th (63.8%)
4th (77.6%)
4th – East
Northwestern
7th (71.9%)
8th (71.1%)
5th (76.1%)
5th – West
Penn State
5th (76.4%)
5th (84.4%)
7th (67.4%)
6th – East
Indiana
9th (67.3%)
7th (72.2%)
2nd (79.1%)
7th – East
Purdue
4th (82.5%)
6th (80.6%)
10th (63.3%)
7th – West
Iowa and Michigan State ranked second and third in returning offensive production, both at about 90 percent. It translated for the Spartans, who went 11-2 and possessed the Big Ten's second-best scoring offense and total offense. Interestingly, the running game, which returned 100 percent of its 2013 production ranked just fifth in the conference, while the passing game, which lost 21 percent of its yards and 35 percent of its receiving touchdowns, led the conference in passing. Iowa, meanwhile, was middle of the pack, ranking sixth in total offense and seventh in scoring while matching Maryland's record of 7-6 and 4-4.
Defensively, both ranked among the bottom three in returning production entering last season, but performed much better. Michigan State ranked fourth in total defense and third in scoring defense, while Iowa ranked sixth and eighth, respectively.
Michigan was in the middle of the pack in returning production with 68.6 percent of its offense and 63.8 percent of its defense returning. The Wolverines went 5-7 overall and 3-5 in Big Ten play, ranking dead last in total offense, second to last in scoring offense. The defense fared much better, finishing third in total defense and fifth in scoring defense.
How about the Big Ten and national champions? Ohio State had the third-lowest total offense, second-lowest scoring offense, and fourth-lowest total defense returning. And that included Braxton Miller, who missed the entire season. All the Buckeyes did was bounce back from an early-season loss to Virginia Tech by running the table the rest of the way, taking down Michigan State, Wisconsin, top-ranked Alabama, and second-ranked Oregon in the process.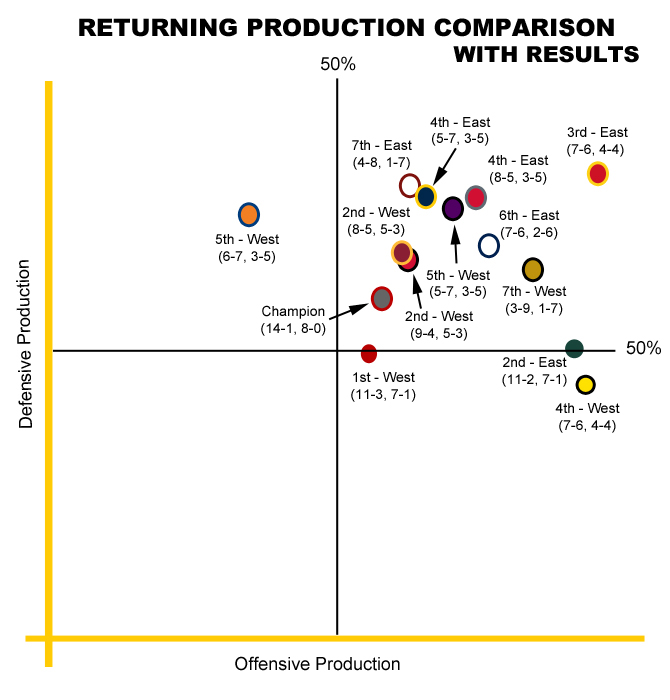 Wisconsin followed a similar pattern, starting the season with the second-lowest total offense, fourth-lowest scoring offense, and second-lowest total defense returning. It translated into an 11-3 record, a trip to the Big Ten title game — which the Badgers lost to Ohio State 59-0 — and an overtime win over Southeastern Conference power Auburn in the Outback Bowl.
Minnesota, the surprise team in the conference last season, brought the fourth-lowest total offense, third-lowest scoring offense, and eight-most total defense back from 2013. The Gophers went 8-5, nearly ended Ohio State's chances of a national title, and were a regular-season-ending loss away from a spot in the Big Ten championship game.
For the most part last season — with the exception of Michigan State's offense — the teams that brought the least production back did the best, while those that had the most returning production suffered the opposite fate. Stay tuned for a look at this year's returning production across the conference.