---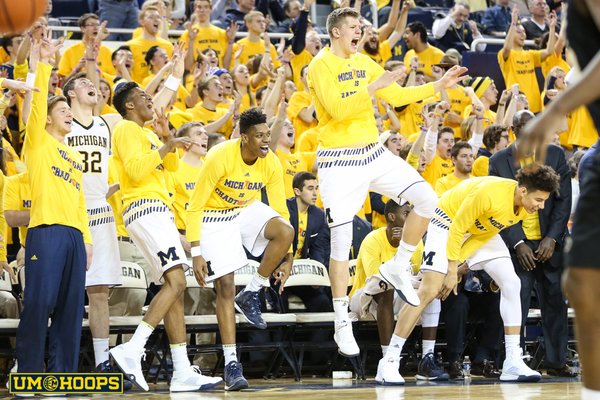 (Dustin Johnson, UM Hoops)
After getting blown out at home two straight times within the last two weeks, Michigan needed an answer today as they welcomed another ranked opponent, Purdue, to the Crisler Center. It never looked or felt like that answer would come, but when the final buzzer sounded, the Wolverines had indeed finished on top, 61-56, thanks to an 11-0 run to end the game.
Neither team was able to find any sort of offensive rhythm this afternoon, and both teams shot worse than 40 percent from the floor, but Michigan looked like a team dead-set on defending their home floor after being embarrassed twice.
The Wolverines also looked like a team fighting for their NCAA Tournament lives; this win certainly bolsters their resume and gives them a second top-tier conference win. Paired with no bad losses and a couple other solid wins, Michigan looks the part of a safe bet to be dancing come March.
Perhaps the Maize and Blue looked like a group excited to have their veteran star back on the court too. Caris LeVert, of course, is that long lost star who made his return to the floor after missing 11 straight conference games with a mysterious left foot or ankle injury.
Regardless of the motivations behind the victory, Michigan fought tough in a crucial matchup that turned into a bizarre battle.
Purdue's game revolves around the play of big men A.J. Hammons, Isaac Haas, and Caleb Swanigan, who are all skilled around the rim, shot blocking threats, and good rebounders. In addition to senior guard Raphael Davis, the big trio is the reason Purdue is one of the best defensive teams in the country, limiting the opposition to just 41.4 percent shooting from two-point range and a meager 30.9 percent from distance. They are also the reason the Boilermakers had outgained every single opponent in rebounding this year.
Michigan, on the other hand, is all about guard play and offense. While their defensive rebounding numbers are pretty solid, the Wolverines are certainly not known to clean up the glass with any consistency, and in fact point guard Derrick Walton is actually their best defensive rebounder. They also can struggle to score inside on occasion, which was evident both in Michigan's earlier loss at Purdue and in today's win. And because of John Beilein's offensive system, Michigan almost always has a size disadvantage at the four position, with 6-foot-6 junior Zak Irvin getting most of their minutes there.
Yet somehow, Michigan today managed to both outscore Purdue in the paint (24-22, 66.7%-45.8% on shots in the paint) and outrebound them overall (39-35). And while I'm of the belief that straight up rebounding margin doesn't mean much, that is certainly an impressive stat, bolstered by the fact that the difference in rebounding today was with the Wolverines grabbing four more of the offensive variety.
It's not every day you see a Beilein squad out-physical a high quality team for a win – especially one with such inside prowess as Purdue – but today was not every day either.
In another strange occurrence, Zak Irvin was the only Michigan player to crack double digits, and he couldn't have done it in a crazier way. The Indiana native was ice cold in the first half, having scored just six (2-of-5 2pt, 0-of-2 3pt, 2-of-3 FT) of his game-high 22 points in the opening 20 minutes before catching fire in the second half with 16 points on 2-of-6 shooting inside the arc and 4-of-6 from long range.
Walton, coming off a career night in a victory at Minnesota earlier this week, could not get a shot to fall until finally ending a 0-of-9 streak with 2:06 to play on a beautiful and-1 finish. He did, however, make his free throws to seal the deal and grabbed a pair of crucial rebounds on Purdue's final two misses.
You want more strange? How about Duncan Robinson, Michigan's leading three-point shooter, attempting only one three on the afternoon, and missing that one, but scoring four points inside the arc? And, to make things interesting, he only played 21 minutes because of foul trouble.
Don't worry, there's more. LeVert, who was Michigan's leader in many statistical categories before falling prey to injury and losing so many games, played 11 minutes, all in the first half, and had five more rebounds than he had points – of which he had none on only one shot attempt.
The strange continues on and on: Kameron Chatman and D.J. Wilson, usually seen riding the pine, saw six minutes of combined action and scored two points apiece, but were chosen to lead the team in The Victors following the win in the locker room.
And, oh yeah – did I mention that Michigan won a game making 36.4 percent of their shots and only five of 20 threes? And that the Wolverines pulled it out despite only leading for about 6:30 of playing time, with most of that coming shortly after the tip? How about that Michigan trailed by 10 points roughly halfway into the first half and looked primed for another home beatdown before clawing back?
It was bizarre in many ways, and I never thought Michigan would come out on top until the very end. But the Wolverines deserve plenty of credit. They never seemed to be in the game, but they were almost always within 4-6 points despite their epic shooting woes. There were plenty of times that they could have seen their shot not fall and proceed to wilt away because it wasn't their day.
So you could look at this game and cry that it was a fluke.
But you could also look at it and see some toughness, some grit, some fight. You could see a team that can win in more than one way.
I'll choose the latter.
• John Beilein said after the game that he didn't expect LeVert to be ready to play before yesterday's practice, but LeVert had a good practice where he was able to go full-court for a while and "got gassed" pretty quickly. Following that practice, LeVert told his coach that he wanted to give it a go. Before letting that happen, Beilein wanted to make sure it was the right decision and checked back with him a few times. He also insisted that LeVert participate in regular warmups to see how his ankle/foot held up.
Because of the late decision, Beilein mentioned that there was not much offense drawn up for LeVert, and they were aiming to give him 10-15 minutes of playing time to loosen him up and help him get back in the flow of things. He did not specify whether LeVert sitting for the entire second half was planned, but Beilein also did not seem worried about it at all and said he would have been available in an emergency situation, and seemed to indicate that he will be on track to give it a go again at Ohio State on Tuesday. LeVert was not available to the media following the game, but there were no indications that he aggravated his injury or did not feel well enough to go play in the second half.
• After Derrick Walton missed his first three open looks, Beilein said he gave Walton motivation or confidence by telling him to "make the shots, damn it". It did not necessarily work, as Walton missed plenty more open shots along the way, but his layup and free throws down the stretch with critical.
• Mark Donnal had another serviceable game, with eight points on 2-of-6 shooting and 4-of-4 free throws. He also dunked for the second straight game, which I believe are his only two dunks in conference play despite seeing drastically increased playing time and a much larger role in the offense.
• I also thought Ricky Doyle had another pretty solid game with four points on 2-of-2 shooting in 14 minutes, but his free throws continue to disappoint. He missed his only two attempts from the line today to bring his average to 60.5 percent on the season.
• Speaking of free throws, you'll never guess who the only Wolverine to have attempted at least 15 free throws and have a worse percentage than Doyle is. Well, you probably will because if you are reading this you've probably seen most of Michigan's games…but the answer is Zak Irvin, who is inexplicably shooting a woeful 60.4% at the charity stripe. In one of the stranger things I saw today (and it was a strange day indeed – see above), I looked up Irvin's career numbers at the free throw line after he missed his first attempt today – a front-end of a 1-and-1 – badly and saw a statistical oddity: Irvin's numbers at the line have gotten worse year-over-year since his freshman season. As a pure shooter in his first year, Irvin made 71.4% of his free throws. As a sophomore, the number dropped slightly to a still-respectable 68.9 percent. Now in his junior season, the mark has plummeted by a whopping 8.5 percent. It's rare to see a pure shooter have such poor shooting numbers, and even rarer to see someone's free throw percentage drop two consecutive years.
• A couple won a $500 jewelry gift card during a timeout contest…and then got engaged immediately after at center court. I have never seen a ring purchased so quickly in my life.
***Zak Irvin***
22 points (8-of-19 2pt, 4-of-8 3pt, 2-of-3 FT), five rebounds (one offensive), one assist in 35 minutes
**Muhammad-Ali Abdur-Rahkman**
9 points (2-of-4 2pt, 0-of-1 3pt, 0-of-0 FT), four rebounds (three offensive), two assists, three steals, one turnover in 36 minutes
*Mark Donnal*
8 points (2-of-6 2pt, 0-of-1 3pt, 4-of-4 FT), one rebound (one offensive), one turnover in 20 minutes
Season Three-Stars Standings
Derrick Walton Jr – 26
Duncan Robinson – 17
Caris LeVert – 15
Zak Irvin – 13
Muhammad-Ali Abdur-Rahkman – 8
Aubrey Dawkins – 5
Mark Donnal – 2
Spike Albrecht – 1
Moritz Wagner – 1
Final Game Stats

#

Name

FG-FGA

3FG-3FGA

FT-FTA

OR

DR

TOT

PF

TP

A

TO

BLK

S

MIN

34
Mark Donnal*
2-6
0-1
4-4
1
0
1
4
8
0
1
0
0
20
10
Derrick Walton*
1-10
0-6
4-5
0
7
7
4
6
1
2
0
2
36
21
Zak Irvin*
8-19
4-8
2-3
1
4
5
1
22
1
0
0
0
35
22
Duncan Robinson*
2-4
0-1
0-0
1
2
3
3
4
2
0
0
0
21
12
Muhammad-Ali Abdur-Rahkman*
3-6
1-1
2-3
3
1
4
1
9
2
1
0
3
36
03
Kameron Chatman
0-2
0-2
2-2
1
0
1
0
2
0
0
0
0
4
05
D.J. Wilson
0-1
0-0
0-0
0
1
1
1
2
0
0
1
0
2
13
Moritz Wagner
0-0
0-0
0-0
0
0
0
0
0
0
0
0
0
4
23
Caris LeVert
0-1
0-0
0-1
0
5
5
0
0
1
1
0
0
11
24
Aubrey Dawkins
1-4
0-1
2-2
1
3
4
1
4
0
1
0
0
17
32
Ricky Doyle
2-2
0-0
0-2
1
2
3
3
4
0
0
0
0
14
Totals
20-55
5-20
16-22
11
28
39
15
61
7
6
1
5
200
Purdue
21-53
6-12
8-14
7
28
35
18
56
8
9
3
2

200
Full Stats