---
Earlier this afternoon, we posted the full transcript from Brady Hoke's 15-minute podium session. Shortly after that, Hoke and Michigan's three player representatives — Devin Gardner, Jake Ryan, and FrankClark — met with the media at individual podiums, allowing an opportunity for further questions in a smaller group setting. Here are some select quotes from each of them.
Devin Gardner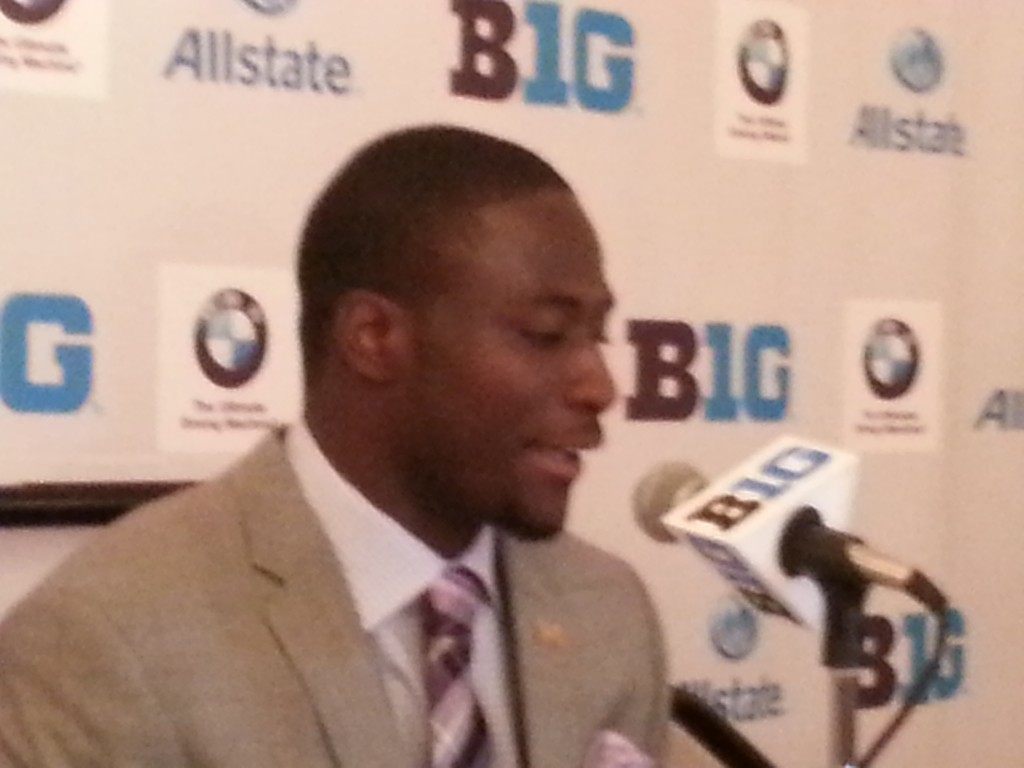 (Justin Potts, M&GB)
Have you reflected on last season?
"Definitely. I feel like I know what I accomplished last year. As my first time starting I feel like I accomplished a lot. I had a lot of success, a lot of adversity, but I feel like I battled through it. I continued to fight. I was there when my team needed me. Coach Nuss always says, 'the quarterback's always there, no matter what' and I feel like I was always there for my team when I could and I did what I could. "
 Even though you lost to Ohio State, everybody appreciates the performance. Did anyone reach out to you after that game?
"Charles Davis was a big one and Eddie George reached out to me. A lot of different people – Archie Manning. It was great. Even though it didn't turn out the way we wanted it to, being able to fight through something like that is big when it's for your team and the fan base, but it doesn't really matter if the fans appreciate it. My teammates appreciate it and they know what I went through and I'm excited to be able to fight with my teammates."
What did Eddie George tell you?
"He just told me that I had a great game. He was excited. We built those relationships at the Manning Academy two years ago and he's really excited to see the way I fought, the way that I played in that game. That's pretty much it. He also said his sons are big fans, so that's pretty cool."
Are you excited to be in the same division as Ohio State and Michigan State?
"Our mentality this year is just to take every game one at a time and don't treat other games as bigger games than some other games, and don't discount anyone either. Obviously, as our rivals, and now they're in our division, it will be a little heightened intensity during those games, but until we get to those we can't see. I'm sure they'll be really excited and pumped up to play us too, but we're going to bring everything we have and we're going to play as hard as we can.
Can you talk about Coach Nussmeier and what he brings to the table that Michigan fans haven't seen in the past?
"I don't know if it's something we haven't seen, but he's his own coach. He's very intense and he's a fun guy to be around. He's a player's coach for sure. We can talk off the field and he helps me with football and sometimes it always comes back to some type of football lesson, so that's really cool. He brings a different perspective as a guy that's played NFL, played in college and excelled, coached NFL and excelled. He just brings a winning attitude and a successful attitude to the entire Michigan brand."
What's the hardest road venue in the Big Ten?
"I think Iowa, just because the fans are so close. You always try to block out the fans, but when they're close enough to touch you, it's hard to ignore everything they say, so Iowa's kind of tough. But I feel like our stadium is a tough place to play as well."
Who are some new guys that have really stood out?
"Freddy Canteen has done a really nice job for us on offense. He came in (and) I didn't know anything about him until the first day of spring practice. He came out and made a lot of good catches and throughout the spring he's been really consistent in making big plays, and being accountable and being there when we need him.
"On defense, I like the way Jabrill Peppers is competing. I don't know yet what he can do on the field, and as far as knowing the plays and knowing where you need to be, and we haven't put on the pads. But from an athletic standpoint and a competitive standpoint, he's one of the best competitors I've seen in the freshman class."
Who has stepped up defensively?
"Joe Bolden. He's always been a pretty vocal leader. He's a very high energy, high intensity guy. I really enjoy seeing him play. Sometimes he treats us like we're the other team, on offense, but it's great to see. Coach Hoke always says – any coach will say this – you would rather have to say 'whoa' than 'attack'. I feel like that's great for him that he's always in attack mode. I'm really looking forward to seeing him this year."
Is Bolden too intense?
"No, no, no. We can't say too intense. We don't want to say that. He is very intense in practice. He hits us – I mean, he doesn't hit me, quarterback's off limits – but he hits really hard in practice and he gives it everything he has like it's his last play, and that's how it should be."
Are you excited about Ty Isaac joining the team?
"I haven't seen him yet. I met him when he was a recruit. I hosted him when he came for a visit, but I haven't seen him this summer or anything like that. But if he's going to be a part of our team we'll welcome him just like any other teammate. He's not going to be more special or less special than anyone on the team. Whether he's a walk-on guy or a scholarship guy, we treat everybody as a teammate and as a brother, so he's welcome into this brotherhood. When I get a chance to meet him he's going to be treated as such."
Does the uncertainty of the offensive line make it harder for you?
"My job is to encourage those guys, encourage every guy that's out there, whether they're going to start, or who's going to play. My job is to encourage them and for me to work on myself as a consistent quarterback. It's not my job to be like 'who's going to play' or 'what's going to happen with those guys'. I'm just encouraging everybody, having dinner at my house, inviting them over, and continuing to work on being a great quarterback."
Frank Clark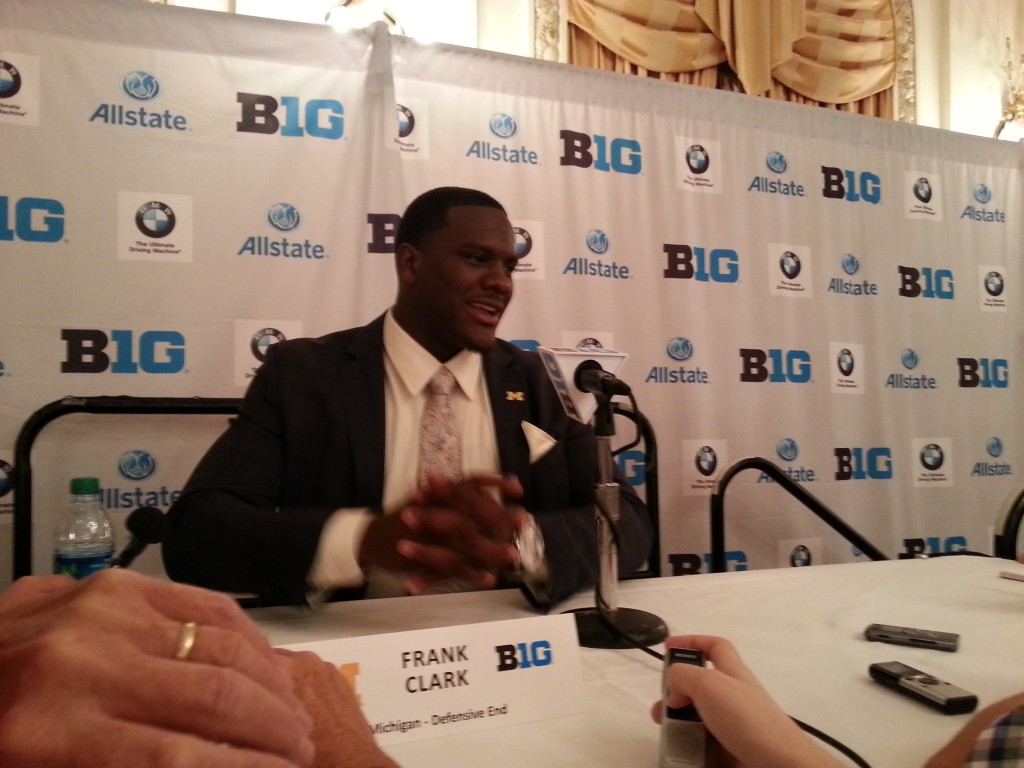 (Justin Potts, M&GB)
Who is the toughest player you've ever gone against?
"The toughest guy I ever went against, who was here last year, is Taylor Lewan. I mean, I don't really see another offensive lineman that was really close.
Who is the toughest you've gone up against on this year's team?
"It's weird because I'm the old one. I'm used to being the younger one. I'm used to going against Taylor every day. This year it's like I'm the old one. I guess if you flip that around you'll have to ask the younger players who's the toughest to go against on the defensive line."
Who has stepped up on the defensive line?
"Man, we've got guys like Taco Charlton, guys like Henry Poggi, guys like Maurice Hurst, Ryan Glasgow, Willie Henry. These are guys that are younger but have experience. When you have a young, experienced defensive line, the possibilities are limitless. We have a defensive line unit that has very good players, it's almost like having a first team two times. So when your first team goes out, when Frank Clark needs a break, or Brennen Beyer needs a break, you can send the next man in. You can send a Mario Ojemudia in. You can send a Lawrence Marshall in, who's a freshman. You can send a Taco Charlton in and it's going to be like having your first team stay on the field."
How tough was it to get over the Ohio State loss last year?
"It was tough. Every loss is tough. But at the same time it was a close loss. I believe it was 42-40. It was a tough loss and it was a loss that we didn't really expect. Every game you go into playing against Ohio, that's one game, without being confident or without being cocky, that's one game that you expect to win, being at Michigan. You know it's going to be a hard game, but it was hard. It just gave us that extra fire and that extra energy in every workout through the winter, through the spring, and through the summer."
Jake Ryan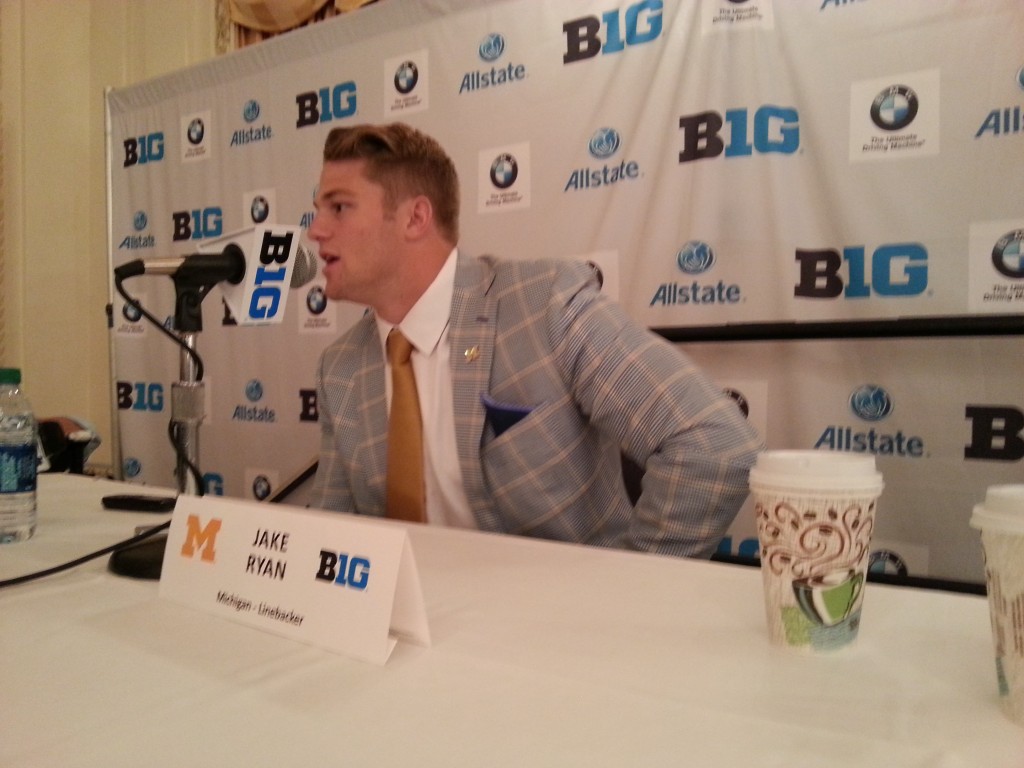 (Justin Potts, M&GB)
Will playing Maryland and Rutgers feel like conference games?
"Now they're a part of the Big Ten and I think it's going to be great for us and great for the conference. It'll be interesting."
How important is it to be the better program in the state of Michigan?
"We're both great programs, we both have great coaches. It's just where we are on the map. It's not who's better, who's worse."
Why would you not be concerned about being the better program?
"I mean, it's a rivalry game, it's one of the biggest games, but we're focused on Appalachian State. I'm not going to focus on Michigan State right now."
Is one of the new Big Ten divisions better than the other?
"I think they're both great divisions and I think they're both going to do very well."
Do you guys have a loop running of the 2007 Appalachian State game?
"No. They're a whole different team and we're a whole different team. We're going to go into that game like we prepare for every other game, so it's going to be a fun game to play in."
How is the offense shaping up?
"I think Devin's running really well. He's running the offense really well. Coach Nussmeier has been doing a great job with the guys. Devin has gotten guys in the film room, coaching them up on things they're doing wrong, so I think it's going to good and it's going to be fun to watch."
Will it look like a different offense?
"I think it's the same offense, but it's just a matter of the guys coming in and doing their thing. Like I said before, Devin's been doing a great job running it."
On Joe Bolden
"Joe Bolden is a great player. He knows what he's doing, very smart player. Joe's always there and if I need help, or anyone else needs help, Joe's doing his job."
Is there a freshman that has stood out?
"All of the freshmen have really stood out. Everyone has different character, everyone has been doing their job, going through the runs and workouts great."
Brady Hoke said let's not anoint Jabrill Peppers yet, but Devin said he's pretty special…
"He's a good player. I mean, he's very athletic, brings energy. But I think there are a lot of freshmen that do that as well and it can't just be one guy. It's got to be all of them."
How has Jabrill tempered the expectations?
"He's keeping to himself and he's going through the workouts, going through everything else like every other guy."
Is there a part of you that, despite all the hype, says Jabrill needs to earn it?
"Every single guy has got to earn it on the field. Every single guy has got to do their job in order to play."
What do you think of the pictures he posts of his abs?
"Hey, that's not my…I try to stick to golfing pictures, stuff like that. He can do whatever he wants."
What does it feel like to watch Ohio State go 24-2 and Michigan State win the league the past couple years?
"I'm not focused on those teams. I'm focused on what we need to do as a team our first game against Appalachian State. It will be a really fun game to play."
What do you need to do to get ready for Appalachian State?
"Every single day, take that step forward that you need to take. Technique, fundamentals, the game of football. And do it every single day."
Did you talk to former players about the Appalachian State game?
"I have not. Nope. Whole different team."
How do you keep that mentality that it's a big game?
"Every single game's a big game. Every single game. We prepare for every single game."
Did you seek out any advice from middle linebackers in the NFL about the position switch?
"I've definitely gotten a lot of tips, talked to a lot of guys. Jarrett Irons is a great guy to talk to, but everyone's pushing me. Coach Mattison is the greatest coach you could have. He knows everything about the position, so just going to him and talking is great."
Will the switch to middle linebacker allow you to play more instinctually?
"It's a little different. But a lot of positions are instincts, but there are always those fundamentals or techniques that you need to play with every single play. I mean, some of it is instincts, but you also need those things."
What was the offseason like?
"Very good offseason. I thought we did really well, prepared really well. Runs and lifts were great."
Was it any different from previous years?
"A little different because I was older, leading the guys. There's different leaders out there, but I think it's great and I think it's great for our team."
When installing the new offense, how long did it take for them to figure it out?
"They were figuring it out the first day they got it. They were running on us, they were doing well."
How have you seen Coach Hoke evolve over the past few years?
"Coach Hoke has been the same guy ever since I met him. Hard-nosed, tough, you can always talk to him, go into his office. If you have a problem, bring it to him. He's going to be the same guy every single time and I love that about him."
Brady Hoke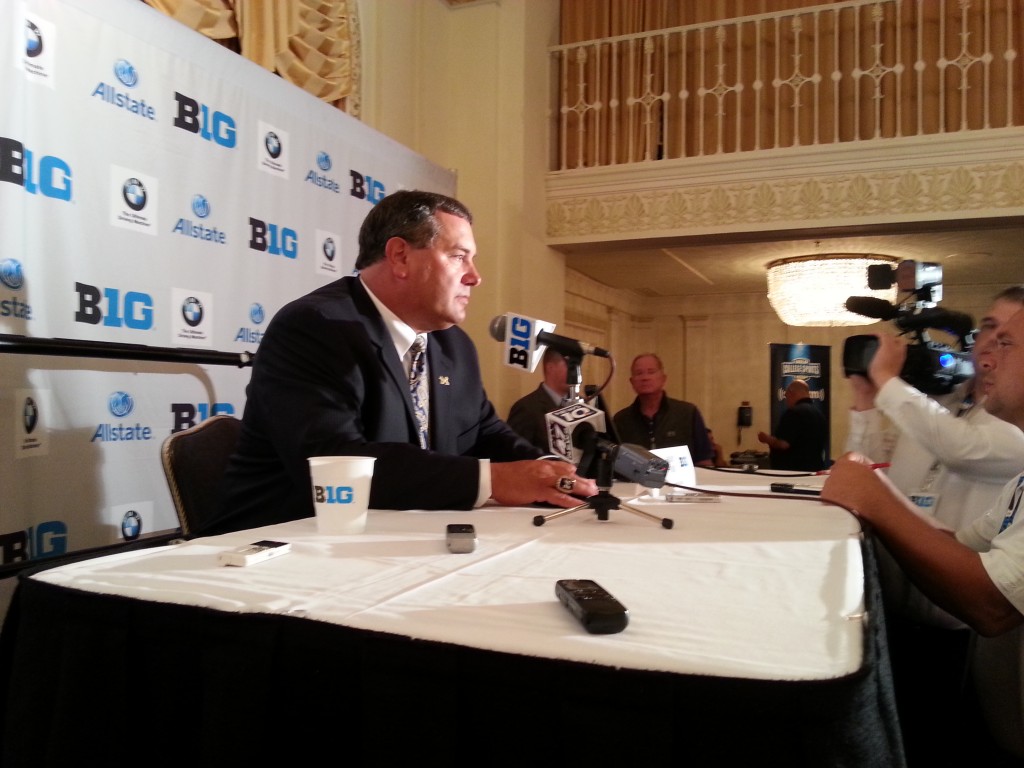 (Justin Potts, M&GB)
How close is the Big Ten to winning a national title?
"I don't know why they couldn't this year. A team comes out of here as champion, why couldn't they? Now, I don't know these other teams. I mean, when we vote on this stuff, I don't know them. I don't know who they're playing…Wofford – nothing against Wofford – but I mean there are nine conference games that we're going to end up playing."
Why do you think it has been so long since a Big Ten team won it all?
"I can't believe it."
Do you feel comfortable turning over the postseason selection process, versus before when the coaches at least had a vote?
"How many of those coaches really did it themselves? I've got a guy who I talk to about it, but I mean, this group, the integrity these people have as far as the committee itself, it's what the fans want. I don't know if you all wanted it. I worry about the bowl system. I think that was always a good system. I worry about the semifinals in the Rose Bowl, how are you going to approach the Rose Bowl? It's the greatest experience there is in America for kids. How are you going to do it? They're certainly not going to go out and stay for 10 days and go to Lawry's two nights before, whatever it is. It's not going to happen. It's a game. And I'm sure the Sugar, when they're a semifinal, all those things go away now."
Do you address what's appropriate with your freshmen?
"Yes, we educate them every day. We educate them to not embarrass themselves, what their grandma wouldn't want to see out there. Why would you do it?"
Have you had any instances?
"Oh yeah. You've probably made some dumb decisions."
You talk a lot about 'this is Michigan'. Can you talk about the importance of this season for the program and for yourself?
"It's not personal. Believe me. Nothing's personal. It's about Michigan and it's about the program as you said, and it's about the kids in the program."