---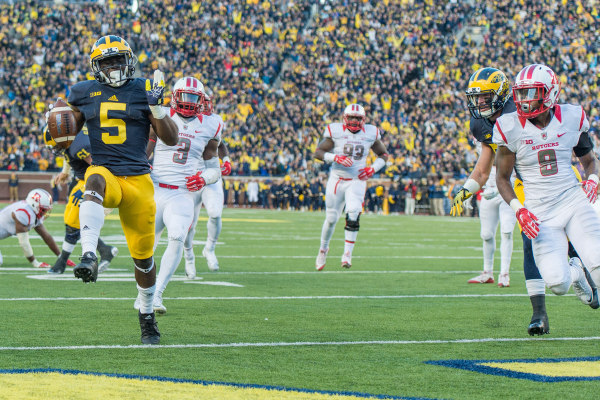 (MGoBlue.com)
It took 146 years, but the winningest program in college football history finally topped the nation's oldest program for the first time ever on Saturday afternoon. Michigan avenged last season's 26-24 loss in Piscataway with a dominating 49-16 victory in the Big House on Military Appreciation Day.
About the only thing that didn't go right for Michigan's offense was a sloppy opening possession that began with a fumble that was overturned and ended with a missed 37-yard field goal. The Wolverines scored touchdowns on their next five possessions — scored points on eight of their next nine — to blow out the Scarlet Knights.
Final Stats
Michigan
Rutgers
Score
49
16
Record
7-2 (4-1)
3-6 (1-5)
Total Yards
487
225
Net Rushing Yards
150
128
Net Passing Yards
337
97
First Downs
25
17
Turnovers
0
1
Penalties-Yards
6-60
7-80
Punts-Yards
3-133
7-245
Time of Possession
33:04
26:56
Third Down Conversions
7-of-13
3-of-13
Fourth Down Conversions
0-of-0
0-of-1
Sacks By-Yards
4-32
0-0
Field Goals
2-for-3
3-for-3
PATs
5-for-5
1-for-1
Red Zone Scores-Chances
8-of-9
3-of-4
Full Box Score
Jake Rudock threw for a career high 337 yards on just 18 completions and Michigan racked up a season high 487 total yards of offense. The Michigan defense held Rutgers out of the end zone, allowing just three field goals, while the special teams gave up a kickoff return touchdown to Janarion Grant — his fourth return for a score this season.
Rudock had touchdown passes to Jehu Chesson (13 yards) and Amara Darboh (eight yards) and also ran one in himself from four yards out. Drake Johnson had a one-yard touchdown run and De'Veon Smith a four-yarder. But Michigan's most impressive touchdown came from jack of all trades Jabrill Peppers, who took a bubble screen at the 18, made a man miss, and then zig-zagged through the Rutgers defense into the end zone. Kenny Allen added a pair of second half field goals from 34 yards and 28 yards out to reach the game's final score.
When Michigan scored its first touchdown of the second half to take a 41-16 lead, Jim Harbaugh elected to go for two and Rudock carried it in for the conversion. Harbaugh dismissed the decision as "playing the percentages" because "that's what the chart says." But the players revealed a different igniter: Rutgers players chirping in the tunnel at halftime.
"They were just saying things like 'oh yeah, it's our time in the second half' or 'we're the comeback kids,'" said Peppers, a New Jersey native. "Or 'these guys can't really finish games."
Cornerback Jourdan Lewis, who broke Michigan's single season record with his 19th pass breakup, echoed his secondary mate and paraphrased Harbaugh's halftime direction.
"Put the foot on the gas, and finish these guys off," Lewis said.
Were those his exact words?
"I can't really repeat what he said," Lewis responded, laughing. "He wanted to bring that fire back in the second half and finish them off."
Rutgers managed to gain 110 yards from there on, but no points. Chris Laviano went just 11 of 26 for 97 yards and an interception. Running back Robert Martin managed 81 yards on 10 carries thanks to a few big runs, which Harbaugh attributed to the Scarlet Knights "trapping us."
For Michigan, Smith led the way on the ground with 73 yards and a touchdown on 15 carries (4.9 yards per carry). Johnson gained 27 yards and a score on seven carries. Jake Butt recorded his first career 100-yard receiving game with four receptions for 102 yards.
At 7-2 overall and 4-1 in the Big Ten, Michigan now has a great opportunity to win the Big Ten East division with just three games remaining. Michigan State fell by one point to Nebraska on Saturday night. The Spartans visit unbeaten Ohio State on Nov. 21, and if the Buckeyes win that one as expected, Michigan needs only to win out to capture the division and a trip to the Big Ten Championship Game.
Michigan travels to Bloomington, Ind. next Saturday for a 3:30pm tilt with the Indiana Hoosiers (4-5, 0-5).
Jake Rudock (18 of 25 for 337 yards, 2 TDs, 1 carry for 4 yards, 1 TD)
If you ask most Michigan fans, the main thing holding Michigan back in Jim Harbaugh's first season is the lack of an explosive playmaker at quarterback. But Jake Rudock has been improving and looking more comfortable in the Michigan offense each week, and he had his best game of the season on Saturday. The senior Iowa transfer completed 18 of 25 passes for a career high 337 yards and two touchdowns. He also evaded pressure and beat the Rutgers defense to the pylon for a four-yard touchdown run, and ran in a two-point conversion. He looked comfortable and confident all game before giving way to Wilton Speight in the fourth quarter.
Previous:
Week 1 – Jake Butt (8 rec for 93 yards and 1 TD)
Week 2 – De'Veon Smith (23 carries for 126 yards, 3 TDs)
Week 3 – Ty Isaac (8 carries for 114 yards, 1 TD)
Week 4 — De'Veon Smith (16 carries for 125 yards and 1 TD)
Week 5 — Drake Johnson (13 carries for 68 yards, 1 TD, 1 rec for 31 yards, 1 TD)
Week 6 — Mason Cole, Ben Braden, Graham Glasgow, Kyle Kalis, Erik Magnuson
Week 7 — Kenny Allen (3-for-3 field goals, 2-2 PATs)
Week 8 — Jabrill Peppers (4 carries for 16 yards, 1 TD, 1 punt return for 41 yards, 1 kick return for 43 yards)
Chris Wormley (4 tackles, 2 TFL, 2 sacks)
After shredding opposing offensive lines in the first two weeks of the season, Chris Wormley has been relatively quiet the last six weeks. But he broke out again against Rutgers on Saturday with a pair of sacks of quarterback Chris Laviano. The first came on 3rd-and-5 from the Michigan 5-yard line, forcing Rutgers to kick a field goal. The second also came on third down, this time on Rutgers' first possession of the second half, forcing a punt. Wormley now ranks fifth in the Big Ten in solo tackles for loss with 10 and has been a crucial part of one of the nation's top defenses.
Previous:
Week 1 – Chris Wormley (5 tackles, 3 TFL)
Week 2 – Chris Wormley (6 tackles, 3 TFL, 1 sack)
Week 3 – Jourdan Lewis (3 tackles, 4 PBU)
Week 4 — Ryan Glasgow (3 tackles, 2 TFL)
Week 5 — Desmond Morgan (9 tackles, 1 INT, 2 PBU)
Week 6 — Jourdan Lewis (4 tackles, 1 TFL, 1 INT, 1 touchdown, 1 PBU)
Week 7 — Willie Henry (5 tackles, 3 TFL, 2 sacks, 1 PBU)
Week 8 — James Ross (9 tackles, 1 TFL, 1 sack)