---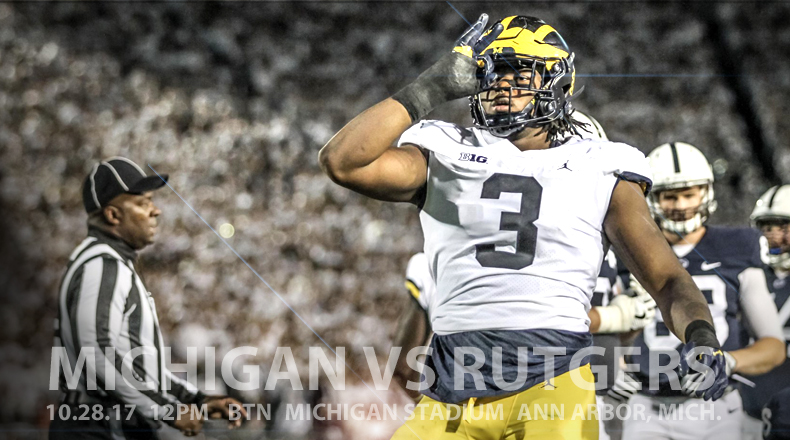 (Isaiah Hole)
Michigan suffered its second loss in three games last week, a humiliating 42-13 beatdown in Happy Valley, drawing a chorus of calls for staff shakeups including Jim Harbaugh. It's clear that the Harbaugh honeymoon is over, but with the youngest Power-5 team in college football, losses to rival Michigan State and on the road at Penn State aren't the worst things that could happen. What would be is a Homecoming loss to Rutgers this Saturday.
Quick Facts

Michigan Stadium – 12p.m. EST – BTN
Rutgers Head Coach:
Chris Ash (2nd season)
Coaching Record:
5-14 (all at Rutgers)
Offensive Coordinator:
Jerry Kill (1st season)
Defensive Coordinator:
Jay Niemann (2nd season)
Last Season:
2-10 (0-9 Big Ten)
Last Meeting:
UM 78 – RU 0 (2016)
All-Time Series:
Michigan 2-1
Record in Ann Arbor:
Michigan 1-0
Jim Harbaugh vs Rutgers
2-0
Last Michigan win:
2016 (78-0)
Last Rutgers win:
2014 (26-24)
Current Streak:
Michigan 2
Michigan on Homecoming:
90-28-2
Rutgers schedule to date
Opponent
Result
#8 Washington

L 14-30

Eastern Michigan

L 13-16

Morgan State

W 65-0

at Nebraska

L 17-27

#11 Ohio State

L 0-56

at Illinois

W 35-24

Purdue

W 14-12
A year ago, Michigan strolled into Piscataway, N.J. and set all kinds of records including the largest Big Ten margin of victory for any team since 1940 and the most rushing touchdowns in a game in Michigan program history. Fullback Khalid Hill scored three touchdowns and third-string fullback Bobby Henderson even found the end zone. It was an utter beatdown.
Like Michigan's big win over Penn State last season, Rutgers will enter this matchup looking for revenge. And the Scarlet Knights aren't nearly as bad as they were in 2016 when they went just 2-10 overall and 0-9 in the conference. For starters, they've already topped last year's win total and have won back to back Big Ten games for the first time since joining the conference. Their win over Illinois two weeks ago ended a 16-game conference losing streak and they followed it up with a 14-12 win over Purdue last Saturday.
Now, before we get carried away with Rutgers accolades, let's keep in mind that their three wins so far this season are over Illinois (2-5, 0-4), Purdue (3-4, 1-3), and Morgan State, an FCS school that is currently 1-6 and has only scored 93 total points in seven games.
Rutgers lost 16-13 to Eastern Michigan, 27-17 to a Nebraska team that is just 3-4 this season, 30-14 to a good Washington team to open the season, and got whooped by Ohio State, 59-0. So essentially, Rutgers is pretty much where they're expected to be at this point, except for that loss to EMU.
With two potentially winnable games remaining on the schedule (home against Maryland on Nov. 4 and at Indiana on Nov. 18), Rutgers needs to squeeze out one more win to become bowl eligible. With Michigan, Penn State, and Michigan State left on the docket, given Michigan's recent struggles, they probably feel that Michigan is their best chance, 2016 be damned.
Could that happen? Let's take a look at the matchups.
Ash lost last season's offensive coordinator, Drew Mehringer, to Tom Herman's staff at Texas, so he went out and paid big money to get former Northern Illinois and Minnesota head coach Jerry Kill to run his offense. Kill went 29-29 at Minnesota from 2011-15 before retiring due to health problems. He wound up at Kansas State as an associate athletic director last season before Ash pulled him back into the coaching ranks.
Through the first seven games of 2017, his offense ranks 103rd nationally and 13th in the Big Ten in scoring (22.6 points per game), 62nd and 8th in rushing (167.7 yards per game), 121st and last in passing (133.6 yards per game), and 122nd and last in total offense (301.3 yards per game).
Fifth-year senior quarterback Kyle Bolin transferred to Rutgers from Louisville, where he lost his starting job to Lamar Jackson in 2015. But he struggled in the first four-plus games, ranking 114th nationally in passer rating with just three touchdowns and six interceptions, so he once again lost his job, this time to redshirt junior Giovanni Rescigno, who promptly led the Scarlet Knights to back to back wins. But did he really? Sure, they won, but he completed just 14-of-28 passes (50 percent) for 176 yards and a touchdown. Perhaps the best part about that two-game stat line is the lack of interceptions.
Like Michigan, Rutgers doesn't have an established receiving threat. They have a bunch of guys who can occasionally catch the ball, but no go-to weapon. Junior tight end Jerome Washington leads the team with 19 receptions for 163 yards and a touchdown, but after catching six passes in the season opener, he has just four combined in his last three games. Fifth-year senior Jenarion Grant is explosive — he was second-team All-Big Ten as a return specialist in 2015 — but suffered a season-ending injury after four games a year ago. Against Eastern Michigan in Week 2 this season, he caught eight passes for 91 yards, but missed the Nebraska and Ohio State games and had just one catch for five yards last week. Fifth-year senior Damon Mitchell — the brother of former Michigan, and injured Rutgers, receiver Ahmir Mitchell — is the only other pass catcher with at least 100 yards this season. He has nine catches for 122 yards.
The bright spot of the Rutgers offense is fifth-year senior running back Gus Edwards, who ranks ninth in the Big Ten with 69.6 rushing yards per game and tied for fourth with five rushing touchdowns. He hasn't posted a 100-yard rushing game this season, but has been consistent with between 43 and 94 yards in each game. Last week was his best game with 14 carries for 94 yards (6.7 yards per carry) and a touchdown against Purdue. In fact, on the two-game winning streak he's averaging 92.5 yards on 5.3 yards per carry and has scored three touchdowns. Senior Robert Martin, the team's leading rusher last season, has 278 yards and two scores on 4.7 yards per carry, but his production has slowly tailed off throughout the season as Edwards' has increased.
Yes, Rutgers has a defense and it's better than it was last year. I apologize that I ran out of time to complete this week's recap.
Michigan wins but doesn't win nearly as bad as it did last year. Michigan's defense will load the box to stuff the run, forcing Rescigno to beat them with his arm. Rutgers has allowed just six sacks this year and Michigan's defense will challenge that. Offensively, Michigan will run early and often, but I expect Jim Harbaugh, Tim Drevno, and Pep Hamilton to try to get the passing game going. Rutgers' defense gives up 224.9 passing yards per game, so it's a great opportunity to find some cohesion between John O'Korn and his receivers.
Score Prediction: Michigan 41 – Rutgers 6