---

Entering the conference championship weekend, most assumed Michigan would receive an invitation to either the Buffalo Wild Wings Bowl or the Gator Bowl. For most of the weekend it appeared the Wolverines were headed to Jacksonville to face Georgia, but the BWW Bowl, which selected before the Gator, somewhat surprisingly chose Michigan over Nebraska to fill its Big Ten slot. The Wolverines will face Big 12 foe Kansas State in their first Buffalo Wild Wings Bowl (formerly the Copper Bowl) appearance.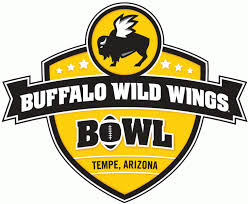 It will also be the first ever meeting between to two schools, which does create some intrigue as opposed to another SEC opponent, and will be only the fourth time ever Michigan has faced a Big 12 opponent in a bowl game. All three of the previous meetings resulted in losses: the 1995 Alamo Bowl against Texas A&M, the 2005 Rose Bowl against Texas (following the 2004 season), and the 2005 Alamo Bowl against Nebraska.
So what does Kansas State bring to the table? The Wildcats have the same 7-5 record as Michigan, but went 5-4 in conference compared to Michigan's 3-5. A closer look, however, reveals that KSU has beaten just two teams that finished the season with a winning record: Louisiana Lafayette (8-4) and Texas Tech (7-5). The Wildcats also opened the season with a 24-21 loss to North Dakota State of the FCS, which finished the regular season undefeated and faces Coastal Carolina this Saturday in the FCS Tournament quarterfinals.
Three of Kansas State's five losses were by ten points, but none was a blowout. Texas led K-State 24-7 entering the fourth quarter before the Wildcats outscored the Longhorns 14-7 in the fourth. KSU led Oklahoma State 29-23 midway through the fourth before falling 33-29. The Wildcats also led Baylor at the end of the third quarter 25-21, but the Bears scored 14 in the fourth. Finally, Kansas State trailed Oklahoma by just three entering the fourth, but back to back touchdowns, including a 74-yard pick-six allowed the Sooners to pull away.
So as you can see, K-State has at least been in each game into the fourth quarter, but the final period hasn't been good to them. So what can we make of a team that has wins over six FBS opponents with a combined record of 30-54 and lost to every good team they played? Let's take a look at how the Wildcats compare statistically.
Kansas State Statistics & Michigan Comparison

Kansas State

| Michigan

Rank

Opponent

Rank

Points Per Game

33.4

|

33.8

37

|

36

23.7

|

26.5

36

|

63

Rushing Yards

2,165

| 

1,569

1,743

|

1,673

Rush Avg. Per Game

180.4

|

130.8

53

|

100

145.2

|

139.4

38

|

28

Avg. Per Rush

4.5

|

3.2

3.9

|

3.8

Passing Yards

2,650

| 

3,025

2,661

|

2,736

Pass Avg. Per Game

220.8

| 

252.1

73

|

43

221.8

|

228.0

46

|

60

Total Offense

4,815

| 

4,594

4,404

|

4,409

Total Off Avg. Per Game

401.2

|

382.8

72

|

83

367.0

|

367.4

T36

|

38

Kick Return Average

22.6

|

22.2

42

|

47

20.4

|

22.4

47

|

91

Punt Return Average

15.3

|

6.7

3

|

87

12.8

|

7.1

111

|

51

Avg. Time of Possession

31:27

| 

31:49

33

|

29

28:33

|

28:11

3rd Down Conversion Pct

48%

|

39%

16

|

71

41%

|

38

%

79

|

51

Sacks Allowed-Yards/By-Yards

23-138

|

35-268

T63

|

108

27-138

|

23-171

T46

|

T66

Touchdowns Scored

52

|

51

34

|

36

Field Goals-Attempts

13-16

|

16-23

16-21

|

23-29

Red Zone Scores

(38-44)86%

|

(45-53)85%

39

|

50

(37-41)90%

|

(35-41)85%

114

|

88

Red Zone Touchdowns

(28-44)64%

|

(36-53

)68%

(24-41)59%

| (21-41

)51%
Offensively, Kansas State averages less than half a point fewer than Michigan, but gets it done with a much more balanced attack. Statistically, it's pretty similar to Northwestern's offense heading into that matchup with a running game around 50th nationally and a passing game in the 70s. The similarity continues with a dual-quarterback based offense featuring one that is a passer (a la Trevor Siemien) and one that is the runner (a la Kane Colter). Must be the purple.
But before we go to far with the comparison, Kansas State is a better team than Northwestern plain and simple. The Wildcats have scored more than 40 points just four times all season, but were never held below 21. Contrast that to Michigan, which scored 40 or more six times – including in two losses – but was also held to just 19 combined points in losses to Michigan State and Nebraska. K-State has been more consistent but doesn't necessarily have the ceiling or the ineptitude Michigan does.
The running game ranks 53rd nationally, averaging 180.4 yards per game, but hasn't been overly consistent. The Wildcats topped 200 yards rushing five times and 300 yards twice, but were also held below 50 yards twice. North Dakota State held them to 41 yards on 23 carries, while Oklahoma limited them to just 24 yards on 22 carries. Their big ground games came against Baylor (327 yards) and UMass (329). Those were also two of their three highest games for rushing attempts all season, 58 and 46, respectively.
The passing game ranks 73rd with seven games over 200 yards and two over 300. One of those big passing games was against Oklahoma, which boasts the nation's 14th-best pass defense in terms of yards allowed.
Kansas State also has a near-1,000-yard rusher in John Hubert and a 1,000-yard receiver in Tyler Lockett. Hubert will likely top the 1,000-yard mark against Michigan.
Defensively, KSU allows about three fewer points per game than Michigan. During their three-game losing streak in the first half of the season, they gave up 31, 33, and 35 to Texas, Oklahoma State, and Baylor. The 35 that Baylor scored was their second-lowest of the season behind only the 30 they scored against Texas the last week of the regular season.
Their rush defense is slightly better than their pass defense, allowing 145.2 yards per game on the ground. The Wildcats held eight of 12 opponents below 125 rushing yards and three of those below 100. However, three teams topped 200, most notably Oklahoma which rushed for 301 yards. Six opponents passed for fewer than 200 yards, but the K-State secondary was torched by Baylor (332 yards) and Texas Tech (354).
KSU converts third downs at a 48 percent rate, which ranks 16th nationally, but allows third down conversions at a rate of 41 percent, which ranks 79th. The Wildcats also allow a bunch of sacks, albeit nowhere near as many as Michigan. They rank middle of the pack nationally with 23 sacks allowed – nearly two per game. They have recorded four more sacks than Michigan's defense has.
Overall, it looks to be a pretty evenly matched game between two teams that had disappointing seasons. Stay tuned for more coverage leading up to the game.
Key Players

Passing
Comp-Att
Yards
TD
INT
Rating
Jake Waters
138-233
2,198
15
9
152.0
Daniel Sams
38-52
452
4
4
156.1
Rushing
Attempts
Yards
TD
Long
Avg/Carry
John Hubert
182
968
9
63
5.3
Daniel Sams (QB)
148
784
11
37
5.3
Jake Waters (QB)
106
270
6
24
2.5
Receiving
Receptions
Yards
TD
Long
Avg/Game
Tyler Lockett
71
1,146
8
90
104.2
Curry Sexton
36
409
0
32
34.1
Tramaine Thompson
28
495
5
79
49.5
Defense
Solo
Assisted
Total Tackles
TFL-Yds
Sacks-Yds
Blake Slaughter (LB)
68
35
103
6.0-23 (1INT)
3.0-16 (1FF)
Jonathan Truman (LB)
54
31
85
4.0-5
0-0 (2FF)
Ryan Mueller (DE)
52
9
16
18.5-82
11.5-66 (4FF)
Travis Britz (DL)
23
10
33
5.5-13
3.0-5
Kicking
FGA
FGM
Long
XPA
XPM
Jack Cantele
13
11
44
41
40
Punting
Punts
Yds
Avg.
TB
In 20
Mark Krause
47
1,941
41.3
4
17

Full Stats