---

Michigan missed out on the College Football Playoff, but still earned a spot in one of the prestigious New Years Six bowl games and gets an intriguing matchup against another traditional power. The Wolverines will face 11th-ranked Florida State in the Capital One Orange Bowl on Dec. 30.
At this time two years ago Michigan's season was over and a coaching search was just beginning. The Wolverines would watch rival Ohio State run the table to a national championship, but not before luring Jim Harbaugh away from the NFL.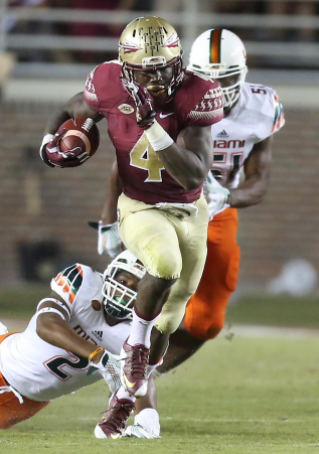 In a short two years, Harbaugh has transformed the culture of the program the way his mentor, Bo Schembechler, did 45 years prior. Harbaugh proceeded to double Michigan's win total in his first season and then match that again this fall, and on Dec. 30 he has a chance to improve upon that with an 11th win for just the 10th time in program history. In fact, it would be just the seventh time in program history that the Wolverines won at least 21 games in a two-year span.
Yet, the Orange Bowl feels like a letdown. Michigan had a legitimate argument for an inclusion in the College Football Playoff with two losses, both on the road and both on the last play of the game, by a combined four points, and as many top-10 wins as any team in the country. But when the CFP committee released its rankings on Sunday afternoon, one of those losses proved too much to overcome ACC champion Clemson and Pac-12 champion Washington, both of which had just one loss.
When Michigan got left out of the BCS championship game following the 2006 season they saw the Rose Bowl matchup with USC as a consolation prize and played like they didn't want to be there. USC won 32-18. This time around, they're taking the perceived snub as a chance to make a statement against another college football blueblood.
Florida State began the season ranked fourth nationally and quickly ascended to second after knocking off Ole Miss and Charleston Southern. Then, they ran into Louisville and the Cardinals kicked off a 3-3 stretch that saw FSU also lose to North Carolina and Clemson wrapped around wins over USF, Miami, and Wake Forest.
The Seminoles won four straight to close the season, topping N.C. State, Boston College, Syracuse, and Florida to climb back to the cusp of the top 10 entering bowl season.
As a team, Florida State's offense ranks 24th nationally in total offense (345.1 yards per game), 32nd in scoring offense (35.3 points per game), 39th in rushing (206.8 yards per game), and 29th in passing (267.6 yards per game). The main weakness is the offensive line, which has allowed 34 sacks — the same number as Rutgers and more than only 16 teams nationally.
FSU is lead by junior running back Dalvin Cook, the nation's seventh-leading rusher, who averages 135 yards per game. He has rushed for at least 100 yards in eight of the last nine games with two of those over 200.
Freshman quarterback Deondre Francois ranks 30th nationally with 260.7 passing yards per game and 36th nationally with a pass efficiency of 143.7 — one spot behind Wilton Speight.
Florida State's defense ranks 29th nationally in total defense (357.2 yards per game), 43rd in scoring (24.4 points per game), 27th against the run (131.3 yards per game), and 65th against the pass (225.9 yards per game). Although those numbers aren't great, the Seminoles are 16th in third-down defense (33.8 percent) and they lead the nation with 47 sacks — three more than Michigan.
Senior defensive end Demarcus Walker leads the nation with 15 sacks (14 solo) and ranks 18th with 17.5 tackles for loss. He'll be a handful for Michigan's offensive line.
Michigan opened as a 6.5 point favorite and should have a fully healthy offense with Wilton Speight getting a month to heal his left shoulder. That should allow the offense to function at full capacity — it's clear that it wasn't at Ohio State a week ago. Florida State's pass defense has surrendered over 200 yards in half of their contests and over 300 yards four times. By comparison, Michigan's defense has allowed over 200 yards passing twice with a high of 281 against Maryland. With a fully healthy Speight, I like Michigan's chances of moving the ball.
Defensively, Michigan's defense has done a good job this season of shutting down individual running backs. Cook may be the best they've faced this season, but they held Saquon Barkley to 59 yards on 15 carries, Corey Clement to 68 yards on 17 carries, and Mike Weber to 26 yards on 11 carries. L.J. Scott managed 139 yards, but that's an outlier against 11 others. Francois isn't a major threat to run the ball, so the Wolverines won't have the same issues they faced against Ohio State. And Michigan boasts the nation's best pass defense, allowing just 135.9 yards per game. With their pass rush and FSU's porous offensive line, Francois won't have much time to throw the ball.
Michigan has an edge on both sides of the ball and — like last year — it's hard to pick against Harbaugh with a month to prepare. The Wolverines entered last year's Citrus Bowl hoping to beat Florida and they demolished the Gators. I don't expect as big a margin this time around, but there's no reason not to expect a Michigan win.