---

Michigan Basketball is right around the corner, and it's time now to start looking at the new and returning Wolverines as we begin to preview the upcoming 2014-15 season. As in the past, we will begin by taking a look at the unknowns – the freshmen – and continue with position-by-position breakdowns featuring the rest of the squad and conclude with a complete season preview, including our picks for breakout players, team MVP, record, postseason finish, and more. Get excited!
First up is freshman big man Ricky Doyle.
#32 Ricky Doyle
Measurements
6'9″, 245

Hometown
Cape Coral, Fla.
High School
Bishop Verot HS
High School Stats (2012-13)
24.8 points, 9.9 rebounds, 1.9 blocks per game
AAU
SWFL Gold
Projected Position(s)
Center
Committed
March 11, 2013
Major Suitors
Miami (FL), Boston College, Notre Dame
Chance of Redshirt
0 percent
Recruiting Rankings
Rivals
3-star – Not ranked
Scout
3-star – Not ranked
ESPN
3-star – Position: 22, State: 9, Grade: 78
247
3-star – Overall: 212, Position: 55, State: 22, Grade: 88
247 Composite
4-star – Overall: 203, Position: 50, State: 21
Background: Ricky Doyle is in a unique position on this year's Michigan basketball team as probably both the most important newcomer for this season's squad while also being the biggest unknown. Hailing from Southwest Florida, Doyle never faced great high school competition, often towering over his opponents and seeing consistent double- and triple-teams. He also stayed away from the AAU scene for the most part, preferring to work on his game under the tutelage of his father Richard, who himself played professionally in France for 11 seasons.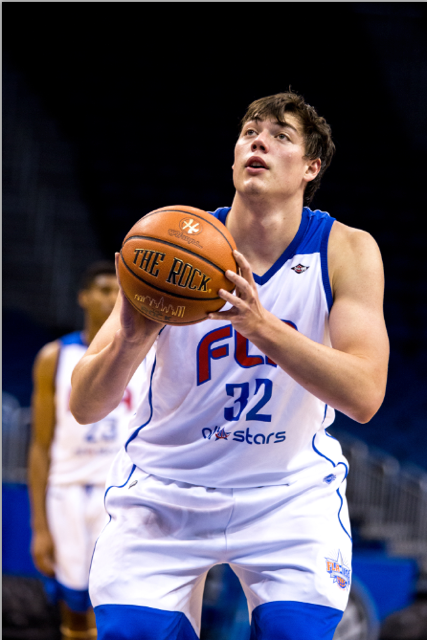 When the big man committed more than a year and a half ago, he could have never imagined the situation he'd be in when arriving in Ann Arbor. At the time, Michigan was preparing to make a run that would eventually turn into a magical NCAA runner-up finish. Jordan Morgan would be a fifth-year senior the next season, Mitch McGary was thought to be a surefire NBA lottery pick after his dominant tourney performance, and Jon Horford seemed like the heir apparent while then-commit Mark Donnal would be the back-up. Doyle, the big man whom little was known about, would have plenty of time to develop under the tutelage of John Beilein and Bacari Alexander before ever seeing meaningful minutes.
One year later and everything had changed. Morgan's eligibility indeed ran out, but Mitch McGary ended up staying in Ann Arbor an extra season only to be forced into declaring for the Draft in early 2014 after testing positive for marijuana, Horford decided to transfer for his final year of college basketball, and Donnal redshirted his first year in Ann Arbor.
All of a sudden, the largest of doors had opened for Doyle without so much as a push.
Sensing the unexpected opportunity, Doyle went to work, packing on some muscle while reportedly following a personalized practice and workout regimen right from the hands of the Michigan coaching staff. He then went on to arrive on campus weeks before he needed to in order to put in extra work with strength and conditioning guru Jon Sanderson.
Now the one-time afterthought is sure to have a major hand in what is to come this season. In the Wolverines' summer trip to Italy, Doyle looked up to the challenge, scoring 11.5 points per game while also leading the team with eight boards an outing – besting presumed starter Donnal in both departments – off the bench.
The once gangly looking high schooler also looks more the part of a Division I contributor these days with a svelte 6'9″, 245-point frame and reported 7'2″ wingspan.
So the question now is not whether or not Ricky Doyle will get a chance to show what he's got as a freshman. The question, of course is whether Ricky Doyle is up for the challenge.
Video:
What He Will Provide:
1. A true back-to-the-basket presence: Throughout John Beilein's coaching career, one could probably count the number of true big men he's rostered on one hand. Put one more finger up for Doyle, though, because everything about him screams low-post player. Doyle showcases an array of moves on the block, many starting with his back to his defender, and finishes at a very high clip.
A few things really stand out about the three videos above in this regard. First, in the Italy cut-up, the big man does not put the ball on the floor a single time, rather preferring to put it in the hole with a quick and simple one- or two-step move. Second, Doyle will make big man assistant Bacari Alexander sleep a little more soundly at night because he never takes the ball low after catching an entry pass. I have spoken with Alexander numerous times about how much it frustrates him when a big man does this, but Doyle looks very smart in this department. Lastly, the Floridian is adept at finishing around the basket with both hands off his arsenal of moves and rarely takes a shot he's uncomfortable with.
2. Rebounding: Highlight videos generally skip over more of the blue collar work that players put in on the court, and this is mostly the case here with Doyle, but the reports of his rebounding prowess are enough to list this as a strength for me. After Mitch McGary's fleeting career that promised so many more big-time rebounds came to an end this spring, Michigan fans were left wondering where this team's work on the boards would come from. Enter Doyle, who led the team in rebounding in Italy, has the size and willpower to bang down low, and should be much more focused on gathering than scoring, and we could have a very good rebounder on our hands.
3. Defensive Presence: Doyle will undoubtedly have plenty of growing up to do on the defensive side of the court, especially once a bevy of strong post players comes in Big Ten play, but he has the size, wingspan, and instincts to at least provide some defensive presence and make guards think twice about driving to his protected basket – another skill that's been lacking of late in Ann Arbor.
What He Will Have to Work On:
1. Adapting to the college game: All freshmen will have some growing up to do, but few will be asked to do it as fast and at as tough a position as Doyle. To make things even more interesting, Doyle is not the most hyped recruit out there and has unfortunately spent the bulk of his career facing far over-matched teams on the high school circuit. Guys like Frank Kaminsky, Kaleb Tarczewski, and A.J. Hammons will be licking their chops going into their game(s) against Michigan if Doyle doesn't show a ferocious competitive side early on in his career. One stat to keep an eye on here: fouls per 40 minutes. Doyle fouled more than any other Wolverine in Italy and will need to be careful about how many ticky-tack violations he is picking up while getting acclimated to this level.
2. Free throw shooting: Because Beilein teams are usually packed with outside shooters, free throw shooting is generally not a huge issue, but Ricky Doyle looks to have some work to put in at the charity stripe after making 60 percent in his four games overseas. If he can make his freebies consistently at a 60-65 percent clip, that will be a win for the Maize and Blue, but if his percentage starts dipping closer to the 50-50 range, teams could start to employ the hack-a-Shaq strategy early and often.
3. Range: Michigan does not lack in the shooting department, something that always makes them so tough to guard, and Ricky Doyle is a ways off from being asked to contribute anything more than finishing around the paint, but eventually the young big will have to at least make defenders respect him from 12-15 feet in order to reach his potential. Doyle looks well on his way to doing that, but it's something he will have to continue to work on.
Burning Question: Will Ricky Doyle be a liability on the floor?
Perhaps this question is a bit blunt and unfair, but it's the one thing everyone is dying to know. Most Michigan fans are level-headed and understand that Ricky Doyle is not going to come in and be a Trey Burke-level world-beater. Those types of players are once-in-a-decade types, and even rarer when it comes to big men, but Doyle is going to need to play at least 10-20 minutes per game. In that time on the floor, will Michigan be able to hold up against more experienced, savvy opposing centers, or will the Wolverines be scrambling to get the freshman off the floor and in the Player Development Center more?
Stat Predictions: 6.0 points, 5.0 rebounds, 0.7 blocks, 0.3 assists, 0.8 turnovers, 59% FG, 57% FT, 17 minutes per game
Bottom Line: Doyle seems to be putting in the work necessary to be the role player he will asked to be early on in his college career. Look for him to have his ups and downs like any freshman, but the less he's noticed, the better it should be. He'll be a solid, if quiet, contributor this season.