---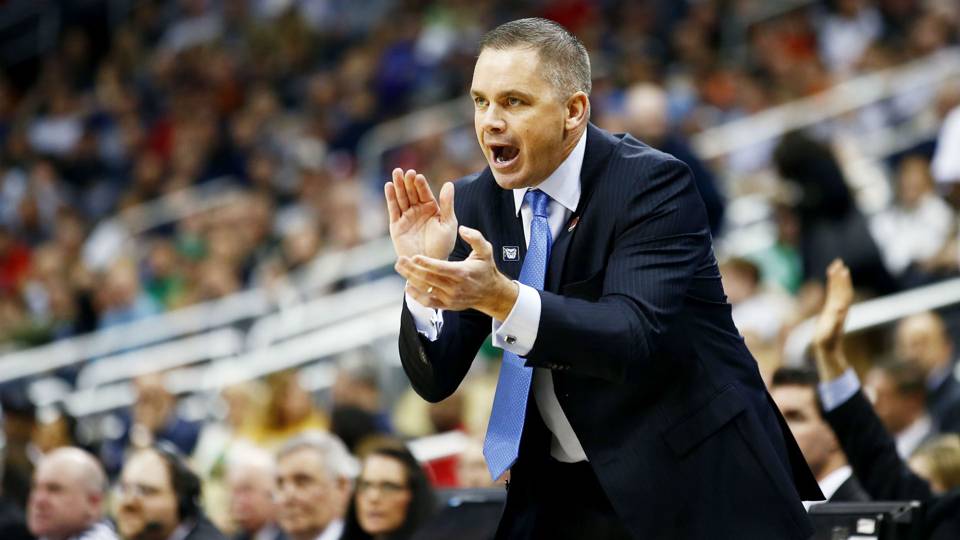 (Getty Images)
Rivals are supposed to feature villains — unlikable characters who are easy to hate, who say and do all the wrong things, and who — of course — never play by the rules. So why is Ohio State actually trying to make me like them?
The hiring of Butler head coach Chris Holtmann to replace Thad Matta, which was made official on Monday, presents a major paradox for me. I now have to either root for Ohio State or root against a great guy whose career I've been following and rooting for since he was an assistant coach in the early 2000s at the alma mater we both share.
Many here may be surprised to learn that I don't hold a Michigan degree, though my maize and blue blood runs just as deep as those who do. I grew up a Wolverine for life with a mom and grandfather who were both alums and my dream was to play soccer for the Maize and Blue. A knee injury that sidelined my junior season ended those dreams, and when it came time to choose a school, I narrowed my choice to two: pay full, out-of-state tuition to attend Michigan, or accept a soccer scholarship to my dad's alma mater, Taylor University.
I chose the latter in order to pursue soccer, and when I arrived in tiny Upland, Indiana as an 18-year old freshman, Coach Holtmann was there to serve as my academic advisor. Still in his late 20s, Holtmann was just beginning his coaching career as an assistant at the school where he earned All-America honors as a player.
The following year, Holtmann left Taylor to take an assistant coaching position at Gardner-Webb, his first step into NCAA Division 1 basketball. I followed his career as he moved onto John Groce's staff at Ohio University, then returned to Gardner-Webb to take his first head coaching position, where he produced the most wins in school history in his third season, earning Big South Coach of the Year honors.
The following season, he joined Brandon Miller's staff at Butler and a year later became interim head coach when Miller took a leave of absence. Three months later, he was officially named head coach, and this past season he was named Big East Coach of the Year.
It was a quick rise from NAIA assistant to Big Ten head coach, but given his basketball pedigree, it's not a complete surprise. His mentor, Paul Patterson, is the winningest coach in Indiana basketball history — and 11th-most at any level — notching 734 wins, 15 conference titles, 14 NAIA National Tournament appearances, one final four, 12 Conference Coach of the Year honors, and the 1991 National Coach of the Year award in 34 seasons at Taylor. He was a small school Bobby Knight and regularly landed high-character recruits who were talented enough to play at least lower-level Division 1.
From 1984-94, Patterson's teams won 25 games in 10 straight seasons — including Holtmann's entire playing career –, putting the Trojans in the company of UCLA, UNLV, and Lipscomb as the only men's teams at any level of college basketball to accomplish the feat.
He coached a hard-nosed, defensive-minded, methodical style of basketball that is also evident in Holtmann's teams. His coaching tree features branches that span all levels of basketball with Hotmann now being the farthest reaching to date. Groce, who was most recently the head coach at Illinois from 2012-17, was a teammate of Holtmann under Patterson in the early 90s. He's now the head coach at Akron.
Others include: Michigan assistant coach Jeff Meyer, who is the all-time winningest head coach at Liberty University; Steve Brooks, who accumulated a 468-132 record and two NAIA Division II National Championships in 17 seasons as the head coach of Indiana Wesleyan's women's team; Ty Platt, who has averaged 17 wins a season in nine seasons at the helm at Huntington University; Dave Close, who has won more than 500 games as a high school coach in Stow, Ohio; Chad Tapp, the head coach at Lyon College; and current Taylor head coach Josh Andrews, who also coached Princeton High School to the 2009 Ohio state title game where they came up two points short to the Trey Burke- and Jared Sullinger- led Northland team.
For a small liberal arts school with less than one-tenth the undergraduate enrollment of Michigan and less than five percent that of Ohio State's to produce two Big Ten head coaches and another top assistant is nothing short of remarkable. And while Groce didn't quite work out in Champaign, it's impossible not to root for Holtmann to succeed.
Ohio State was supposed to hire someone like LaVarr Ball to complement archenemy Urban Meyer — and Jim Tressel before him — with an easy-to-hate coach on the hardwood. The hiring of Holtmann is a dramatic plot twist, and although the rest of the Michigan fan base doesn't share the same connection to Holtmann that I do, he will prove to be a rare Ohio State coach that is hard not to like.
I won't be buying scarlet and grey any time soon, but on every day except when facing Michigan Coach Holtmann will have my support.