---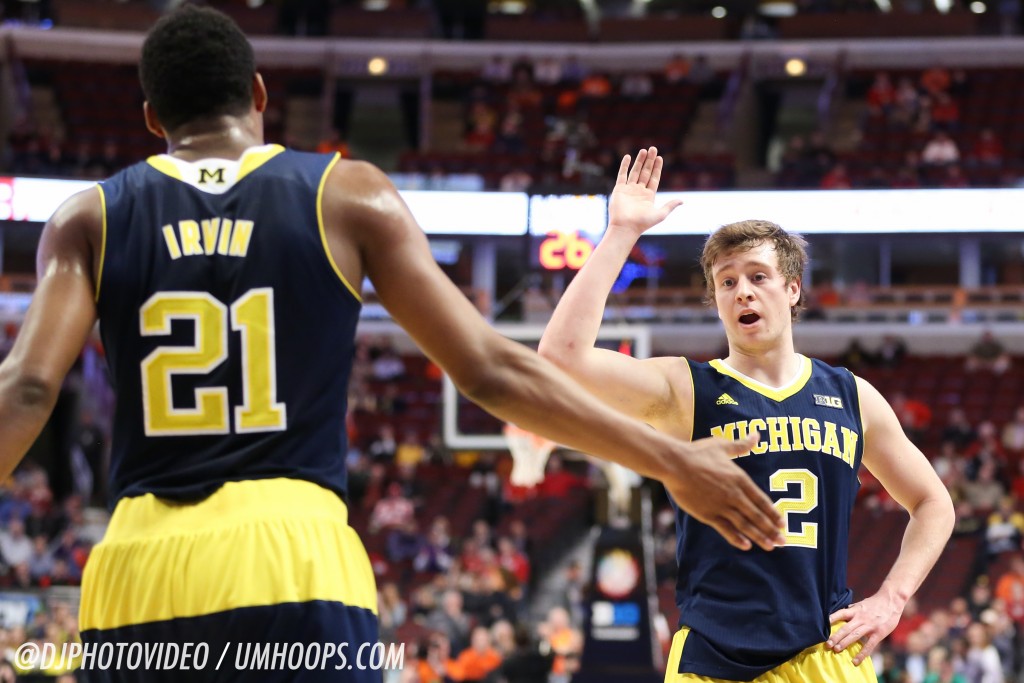 (Dustin Johnson, UMHoops)
After playing a thriller in last year's Big Ten Tournament and splitting this season's first two meetings in overtime it seemed natural to expect a closely contested battle when Michigan and Illinois met in the United Center on Thursday afternoon. Instead, Michigan kept its slim postseason hopes alive with a comfortable 73-55 win.
Playing with nothing to lose, it didn't take long for the Wolverines to get going, jumping out to a 14-2 lead through the first six minutes of the game. But a nearly six-minute scoring drought — something Michigan has become accustom to this season — allowed Illinois to come right back and take a 15-14 lead.
Michigan then went on a 15-4 run over the next five minutes to grab a 29-19 lead and cruised into halftime with a 40-23 lead. After the 15-14 Illinois lead, Michigan outscored the Illini 26-8 the remainder of the half.
While this season's first two meetings featured comeback wins, Michigan wasn't about to let that happen again. The lead widened to as many as 24 points and the Wolverines finished with an 18-point win.
Michigan shot 49.2 percent from the field and 46.7 percent (7-of-15) from three-point range for the game, while holding Illinois to 37.3 percent and 7.7 percent (1-of-13), respectively. Michigan had four starters in double figures, led by Aubrey Dawkins' 18 points on 8-of-12 shooting. Muhammad-Ali Abdur-Rahkman added 15, Zak Irvin 14, and Max Bielfeldt 10. Abdur-Rahkman led the team with eight rebounds, while Irvin added six and six assists. Spike Albrecht contributed eight points and five assists.
Michigan faces top-seeded Wisconsin at 12pm EST on Friday with a trip to the Big Ten Tournament semifinal on the line.
Final Game Stats

#

Name

FG-FGA

3FG-3FGA

FT-FTA

OR

DR

TOT

PF

TP

A

TO

BLK

S

MIN

44
Max Bielfeldt*
4-7
0-0
2-2
2
2
4
1
10
1
0
1
0
31
02
Spike Albrecht*
2-6
2-3
2-2
1
0
1
0
8
5
2
0
0
39
12
M-A. Abdur-Rahkman*
6-12
1-1
2-2
2
6
8
3
15
2
2
0
2
38
21
Zak Irvin*
6-15
2-5
0-0
0
6
6
0
14
6
1
0
1
38
24
Aubrey Dawkins*
8-12
2-5
0-0
0
3
3
3
18
0
0
1
2
34
03
Kameron Chatman
0-4
0-1
0-0
0
4
4
3
0
1
1
1
0
19
04
Andrew Dakich
1-1
0-0
0-0
0
0
0
0
2
0
0
0
0
1
20
Sean Lonergan
0-0
0-0
0-0
0
0
0
0
0
0
0
0
0
1
34
Mark Donnal
1-1
0-0
2-2
1
1
2
0
4
0
0
0
0
4
32
Ricky Doyle
1-1
0-0
0-0
0
2
2
3
2
0
0
0
0
5
Totals
29-59
7-15
8-8
7
25
32
13
73
15
9
3
5
200
Illinois
22-59
1-13
10-13
13
23
36
14
55
5
10
5
4
200
Full Stats