---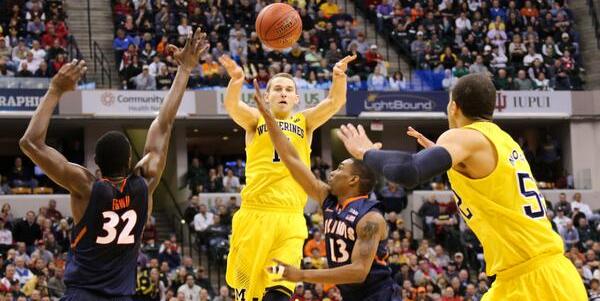 (Dustin Johnson, UMHoops)
For a team like Michigan, which won the regular season Big Ten title outright by three games over Wisconsin and Michigan State, the conference tournament is somewhat of an unnecessary exercise before the Big Dance. There's not much left to prove except perhaps bettering their seed in next week's NCAA Tournament. There's more to lose, from injury to loss of confidence to getting out of sync. But that doesn't mean John Beilein's squad wouldn't try to win and that was evident on Friday afternoon when the Wolverines hung on to beat Illinois 64-63.
Illinois hung around for most of the first half, but in the final five minutes it seemed as if Michigan was about to flex its muscle and pull away. A Glenn Robinson III layup at the 4:48 mark put Michigan ahead 30-23 and prompted John Groce to call a timeout. But over the next two minutes, Illinois outscored Michigan 7-0 to tie the game before Nik Stauskas hit a three to end Michigan's drought. Michigan took a 38-33 lead into the locker room.
The second half started out all Michigan as the Wolverines scored nine of the first 11 points to take a 47-36 lead. Michigan maintained a double digit lead through the under-12 timeout, but Illinois, which was fighting for its NCAA Tournament life as a bubble team, wasn't done yet. Seven straight points pulled the Illini within four.
After a Michigan time out and a missed Stauskas three, Tracy Abrams hit from downtown to bring Illinois within one. Robinson III answered, but it would be the last point Michigan would score for the next 4:21 of game time.
Illinois took its first lead of the second half at the 4:57 mark on a Rayvonte Rice layup and after the under-four time out, Kendrick Nunn scored to put the Illini up by three. But Michigan's freshman, Derrick Walton Jr., answered with a three to tie the game. Rice followed with another layup to put Illinois ahead 63-61 and Beilein called time out.
On Michigan's ensuing possession, Caris LeVert, Stauskas, and Walton all missed three-point attempts after Walton and Robinson III pulled down offensive boards. Illinois was unable to take advantage, however, missing a shot, and fouling Stauskas. The Canadian sophomore made one of two to bring Michigan within one with 55 seconds remaining.
Illinois turned the ball over on a shot clock violation to give Michigan the ball back with 11 seconds left, down by one. Stauskas came off a screen near the top of the key and pulled up to shoot. Instead, he hit a rolling Jordan Morgan in the paint and the lone senior who was honored last Saturday, and who had struggled with foul trouble for much of the game, laid the ball up on the rim and it rolled in.
Groce called time out to set up a play and Abrams drove the lane, pulled up and got off a great look from eight feet at the buzzer. But it came up short and Michigan got the win.
The loss likely bursts Illinois' (19-14) razor-thin bubble hopes, sending them to the NIT. Michigan moves on to face fifth-seed Ohio State, which beat Nebraska 71-67 in the following game. The two faced off just once during the regular season with Michigan getting the better of the Buckeyes in Columbus on Feb. 11, 70-60.
Stauskas led all scorers with 19 points on just 4-of-12 shooting. He made just 2-of-10 three-pointers, but was able to get the the free throw line often and connect on 9-of-10. Robinson III scored 15 points and grabbed seven rebounds, while LeVert added 13 points, five rebounds, and four assists.
Michigan made just 10-of-30 three-pointers as a team, struggling to get much offense going against the Illinois zone defense — a much different outcome than when the two teams met a little over a week ago in Champagne.
***Nik Stauskas***
19 points (4-of-12 FG, 2-of-10 3PT, 9-of-10 FT), three assists, two rebounds, one block, two turnovers in 38 minutes
**Glenn Robinson III**
15 points (5-of-11 FG, 2-of-5 3PT, 3-of-4 FT), seven rebounds (two offensive), one assist in 37 minutes
*Caris LeVert*
13 points (5-of-10 FG, 3-of-7 3PT, 0-of-1 FT), five rebounds (one offensive), four assists, one steal, two turnovers in 37 minutes
Michigan beats Illinois for the seventh straight game, extending its longest winning streak vs. the Illini since 1996.

— Drew Hallett (@DrewCHallett) March 14, 2014
Michigan improves to 11-2 this season when all three of Stauskas, GR3 & LeVert score in double digits.

— Drew Hallett (@DrewCHallett) March 14, 2014
Michigan's scored lead-changing or game-tying baskets in the final seconds of five games (FSU, Charlotte, Nebraska, Purdue, Illinois).

— Drew Hallett (@DrewCHallett) March 14, 2014
Michigan finished with 1.103 PPP. In its last 18 games, Michigan is 15-0 when it scores 1.100 PPP, 0-3 when it does not.

— Drew Hallett (@DrewCHallett) March 14, 2014

___________________________________________________________
Final Game Stats

#

Name

FG-FGA

3FG-3FGA

FT-FTA

OR

DR

TOT

PF

TP

A

TO

BLK

S

MIN

01
Glenn Robinson III*
5-11
2-5
3-4
2
5
7
0
15
1
0
0
0
37
10
Derrick Walton Jr.*
2-5
1-3
0-0
1
2
3
3
5
3
1
0
1
27
11
Nik Stauskas*
4-12
2-10
9-10
0
2
2
2
19
3
2
1
0
38
52
Jordan Morgan*
2-2
0-0
0-0
1
5
6
4
4
0
0
1
1
23
23
Caris LeVert*
5-10
3-7
0-1
1
4
5
0
13
4
2
0
1
37
02
Spike Albrecht
2-3
1-2
0-0
0
1
1
2
5
0
2
0
0
13
15
Jon Horford
0-1
0-0
0-0
1
1
2
3
0
0
1
0
1
15
21
Zak Irvin
1-3
1-3
0-0
0
0
0
1
3
0
0
0
0
8
44
Max Bielfeldt
0-0
0-0
0-0
0
0
0
0
0
0
0
0
0
2
Totals
21-47
10-30
12-15
6
20
26
15
64
11
8
2
4
200
Illinois
24-53
5-17
10-12
10
23
33
14
63
10
9
2
4
200

Full Stats