---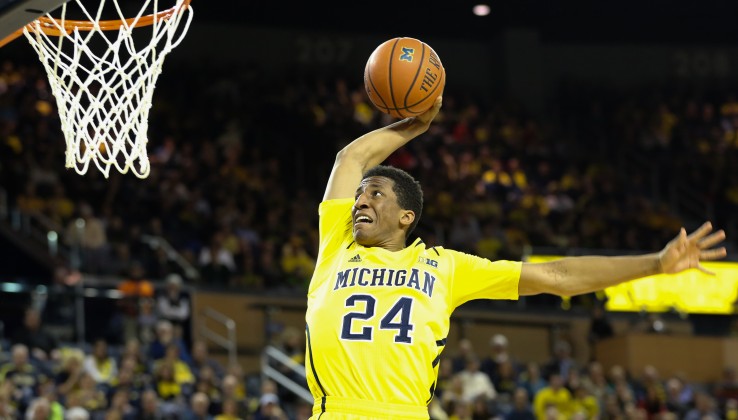 (Dustin Johnson, UM Hoops)
The Michigan basketball program lost a third member of its team on Wednesday morning. Sophomore Aubrey Dawkins announced his intention to transfer to Central Florida to play for his father, new UCF head coach Johnny Dawkins.
"This was not an easy decision, however, the chance to play for my father is a special opportunity for me and my family," Dawkins said in an official release. "Coach (John) Beilein and Michigan took a chance on me and that is something I will never forget. I want to thank all the coaches, staff and especially the U-M fans for making my time in Ann Arbor truly special. Go Blue."
John Beilein compared Dawkins' opportunity to one that he had while at West Virginia.
"While we certainly did not wish for this to happen, it is quite understandable," said Beilein. "I was able to coach my son and see him grow as a person and player and it was a once-in-a-lifetime opportunity. Aubrey is a wonderful and thoughtful young man who has a bright future in front of him. We wish him well."
In two seasons at Michigan, Dawkins started 22 games and averaged 6.7 points and 2.3 rebounds per game. He shot 43.9 percent from three-point range, making 83 of 189 attempts. He scored a career high 31 points against Rutgers during his freshman season, making eight three-pointers, which is the second-most in a game in program history.
The elder Dawkins spent eight seasons as head coach at Stanford where he compiled a 156-115 record, including two NIT titles and an NCAA Sweet Sixteen. He was let go after the 2015-16 season and quickly hired by UCF just eight days later. The Knights went 12-18 each of the past two seasons and 13-18 the year before. Their last winning record was in 2012-13 when they went 20-11. Dawkins will have to sit out the 2016-17 season due to NCAA transfer rules and will then have two seasons of eligibility.
Following the transfers of Spike Albrecht and Ricky Doyle, which put Michigan's scholarship situation at even, Dawkins' departure gives Beilein a scholarship to work with. He could go after a late flyer, seek out a graduate transfer such as Valparaiso's Alec Peters, or bank it for next year's recruiting class.