---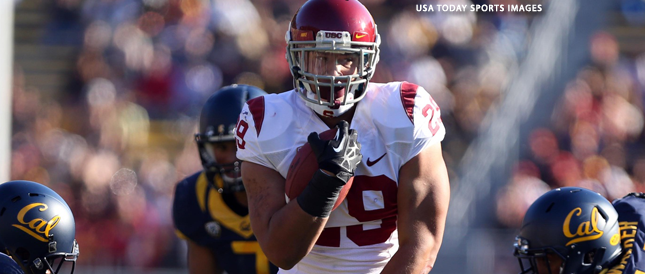 (USA Today Sports)
Ty Isaac – RB

 |

6-3, 225 | Joliet, Ill. – Joliet Catholic

ESPN

: 4-star, #13 RB

Rivals

: 5-star, #4 RB

247

: 4-star, #5 RB

Scout

: 5-star, #7 RB
Other top offers: USC, Ohio State, Oklahoma, Auburn, Clemson, Michigan State, Georgia, Notre Dame
Michigan missed out on a key transfer earlier this spring when Alabama center Chad Lindsay chose Ohio State, but the Wolverines landed an even bigger transfer today when USC running back Ty Isaac announced via Twitter that he would sign with Michigan.
I will be attending the University of Michigan this year

— Ty Isaac (@TyIsaac) June 5, 2014
If the name sounds familiar, it should. Michigan was one of the finalists  to land Isaac before he decided to attend Southern Cal in the 2013 recruiting class. At USC, the Joliet, Ill. native rushed for 236 yards on 40 carries — an average of 5.9 yards per carry — and two touchdowns during the 2013 season as a true freshman. He also caught four passes for 57 yards. Isaac battled for playing time in a crowded backfield that included senior Penn State transfer Silas Redd. When he got extended playing time against California on Nov. 9, Isaac showed what he is capable of, rushing for 87 yards and two touchdowns on 11 carries.
Isaac announced his transfer in mid-May because of a longing to be closer to his mother, who is dealing with medical complications related to a procedure. Under NCAA rules, a player can receive a hardship waiver in these types of circumstances, which would make him eligible to play right away instead of sitting out a year. However, in 2012, the NCAA refined the rule to institute a 100-mile radius from the immediate family member's home. Ann Arbor is approximately 250 miles away, so it would be up to the NCAA to grant leniency in this case.
Illinois, which is much closer to his home, was the other top contender for his services. He visited there last week before making a trip to Ann Arbor earlier this week. Notre Dame, which was also a finalist to land Isaac coming out of high school was initially not approved by USC since the Trojans play the Irish. Ohio State also sought approval to contact him, but it was for naught.
"I decided that I'm going to transfer to Michigan," Isaac said this morning. "I had a good visit there, and it's just the place where I feel the most comfortable. I didn't want to drag all of this out and see a ton of schools. Michigan was in my final three when I committed to USC, and the reasons I liked Michigan are still very much in place."
If the NCAA grants him the ability to play this fall, Isaac will battle for the starting job with Derrick Green and DeVeon Smith, who were also members of the 2013 class. Rivals rated Green the top running back in the class, Isaac fourth, and Smith 37th. Scout had Green first, Isaac seventh, and Smith 11th, while 247 Sports had Isaac fifth, Green eighth, and Smith 15th.
If Isaac does have to sit out the 2014 season, he will be able to take a redshirt and still have three years of eligibility remaining, which would put a year of separation between he and the other two.
During his senior year at Joliet Catholic in 2012, Isaac rushed for more than 1,500 yards and 22 touchdowns, but missed some games due to injury. As a junior in 2011, he racked up 2,629 yards and 45 touchdowns, including a 515-yard, six-touchdown performance in the Illinois Class 5A state championship game.
He is the first transfer Michigan has landed since quarterback Steven Threet transferred from Georgia Tech in 2007. Threet then transferred to Arizona State two years later.