---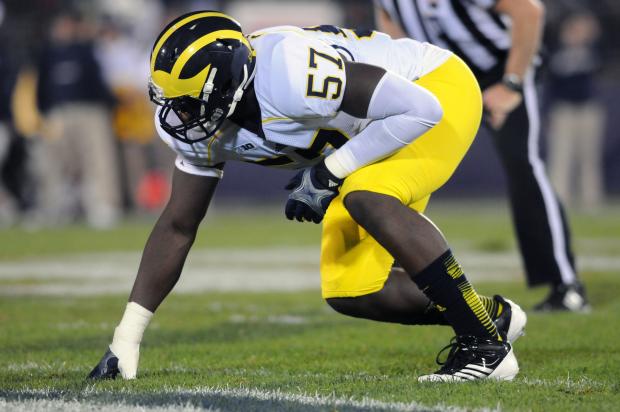 (Patrick Barron, The Michigan Daily)
For many kids growing up in the inner city, sports are a way out. Michigan defensive end Frank Clark is a testament to that.
Clark grew up in Baldwin Village, a section of Los Angeles filled with gangs, drugs, and violence, which served as the setting for the Denzel Washington film Training Day.
Clark's mom struggled with drug addiction but worked hard to provide for her sons, working several jobs at a time and moving from place to place, Clark recalled. By the time he was a teenager his best friend had been shot and killed in a drive-by, and Clark was in danger of heading down the path toward gangs, drugs, and violence that so many around him had taken.
"(That was) the road that every typical guy growing up in my neighborhood and inner city Los Angeles was going down," Clark said. "And the one thing that I had to identify quickly, with the help of my mother, was if I'm any good at doing what I do. And that's my sports."
Clark ran track because his mother wanted him to, but football became his passion and his escape. He would walk an hour and a half each way to Inglewood for football practice.
'You're good. You don't need to be in the streets," his mother told him. "You don't need to be out in the hood. You don't need to be out all night. But you do need to recognize how good you are at what you do."
Once he realized that, and once he started seriously playing football, everything else in life came together. His mom put him on an airplane headed for Cleveland and he never looked back.
"Basically, she made the decision that I needed to move to Cleveland because I needed a better life," Clark said. "It was her wise decision to put me on a plane…I'm sitting there on this plane just looking around scared for my life, so I ordered some peanuts and Sprite and went to sleep. And I was in Cleveland the next day."
Clark's father and aunt were on the receiving end of his move and enrolled him at Ohio State pipeline, Cleveland Glenville High School. There, he excelled at football under the tutelage of head coach Ted Ginn Sr., who served as the father figure Clark had missed during all those years in Los Angeles.
"He continues to play, to this day, a big role in my life," Clark said of Ginn. "(He) just guides me the right way, and having that person there that understands football, and he's been around it for so many years, and can guide you and show you the way to go so you can get to where you want to be."
That place was Michigan, even though the in-state Buckeyes showed some interest in him late in the recruiting process. Clark said he didn't care much for Ohio State; it was either Michigan or one of the schools back home, USC or UCLA. And he didn't want to go back.
"One thing about Los Angeles is you've got a lot of hate there," Clark explained. "A lot of people don't like when you're doing good and a lot of people don't want to see you be successful…One thing about it is the neighborhood I lived in, you never knew when you could wake up again. You never knew when you could see another day."
And he hasn't been back since.
"Just going there, it isn't like just walking outside here in downtown Chicago," Clark said. "It's like, 'I'm going to have to walk outside. Hopefully there's not a drive-by. Hopefully there's not a shootout.' That's the environment that I chose not to go back to. I chose not to go back to my boys in my neighborhood, especially while I'm in college, because they won't really understand me."
As a freshman, Clark showed promise, and it culminated with an interception in the Sugar Bowl to help the Wolverines top Virginia Tech. But that offseason, Clark ran into trouble, stealing a laptop from a dorm room. He was arrested, and because the laptop was valued at $1,800, convicted with a felony that carried a maximum punishment of 15 years in prison and a $3,000 fine. Clark had left L.A. to escape prison or worse and now found himself faced with that possibility in Ann Arbor.
The Holmes Youthful Trainee Act allowed Clark to avoid prison by fulfilling probation obligations, and Clark is thankful for his teammates that helped him refocus.
"Just being around the guys, from my early struggles as a freshman, just hearing them talk to me and tell me, 'Frank, we need you. We can help you. We can seriously use you on the field,' Clark recalled. "Things like having a person to be there for me, that was a first for me in my life. Coming where I come from, there aren't too many people like that. There aren't too many good people like that, people who are genuinely going to be there for you. And those are the guys on my team that were there for me."
Two players in particular helped point Clark in the right direction. Former Michigan linebacker Brandin Hawthorne took him under his wing.
"He basically told me the ins and outs of making it at Michigan the right way," Clark said. "Because the way I was doing it at the beginning was the wrong way. There were times when I was like 'Man, I'm tired. I don't know if I want to go to that workout. I'm tired, I think I'm going to be late," and he basically showed me the way to a point where it was like if you're going to do things right you need to do them right all the time. If you're going to do things wrong, we don't need you here. And that's simply how it went."
The other was former Michigan safety Jordan Kovacs, who led by example.
"I'm sure if you've seen him play, (you know) Jordan was leadership on the field," Clark said. "(He was a) great player. His story speaks for itself. As a walk-on, he comes in and starts for one of the greatest universities in the world. Jordan's story and everything he's been through, I just have so much respect for him for that, and that allowed me to listen to everything that he had to say. And I'm still listening to it to this day."
Clark has come a long way since his freshman year, both on and off the field. Last season, he led the team with 12 tackles for loss and finished second with 4.5 sacks. Now a senior, he's providing the leadership for the younger guys the way Hawthorne and Kovacs provided it for him.
"I'm the type of leader that you can respect based on work ethic and I have a big voice," Clark said. "I'm going to talk to players, I'm going to let players know what they're doing wrong, I'm going to bring players up when they're doing wrong. I'm not going to bash them, and I'm going to correct players when they're doing right, because you're never at 100 percent at the end of the day.
"I'm also a great listener and I think every leader is a great listener. I listen and I ask freshmen, 'Do you have anything to say?' instead of leaving them out. I ask the coaches after they're done with meetings or when they say it's a players meeting, 'Do you have anything to say?' I want everyone's input so I know what I can do on my end of the bargain to make our group as a defense the best defense we can possibly be."
Listening to Clark speak now, you would have no idea he grew up surrounded by gangs and drugs and is one of the lucky few to have made it out. Now he's on track to graduate, and whether the NFL is in his future or not, he hopes to devote his post-football career to working in inner cities and trying to help out the kids that he once was.
"I want to work with children from neighborhoods like I grew up in," Clark said. "Children in poverty-stricken neighborhoods where there's not a lot of money, you don't see the fancy cars. I want to work in those types of neighborhoods, where people say, 'Oh, it can't be done here' or 'Oh, they can't make it out of neighborhoods like this,' like inner city Chicago, like inner city Detroit, inner city Los Angeles, inner city Miami, neighborhoods where other people are scared to go into. I don't fear neighborhoods. I've seen the worst. I've seen it all. I want to go somewhere where I can show kids like I was growing up that there are other ways out instead of the streets, instead of drugs, and things like that."
But first, there's one more season to play, and Clark is ready to put the pads back on and join his teammates for one more Big Ten title push. He says he doesn't set personal goals for sacks or tackles, but he does have one big goal he would love to be fulfilled this fall: to get his mother, who sacrificed her personal relationship with her son in order to give him a better life, to a game.
"That's one of my goals for the year," Clark said. "No matter what happens. No matter what she can and can't do, one of my number one goals this year is to get my mother down to a game. This is my senior year, my last year, and I think it would be one thing that she'll really love.
"My mother hasn't seen me play in a long time. She told me that she's watched a few games, but not physically seen me play. My mother hasn't seen me one time in the physical state I'm in in four years. The last time I've seen her was almost 10 years ago. So you could say that's a long time, and just seeing her come to a game – oh, man, probably senior night or something like that, my last game – man, that would be the best thing ever."