---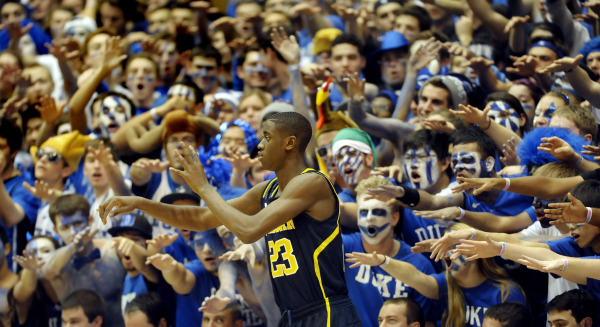 (MGoBlue.com)
Last night, as Michigan took to the road to play against a tough opponent in their own arena for the second time this season, it was the offense again that let the Wolverines down. Much like in the Iowa State game earlier this year, and in a later loss to Charlotte, Michigan was simply unable to find any sort of offensive rhythm in a 79-69 loss to Duke at Cameron Indoor Stadium.
Despite having John Beilein's preferred starting lineup on the court, including the recently-injured Nik Stauskas, the Wolverines came out completely flat against the Blue Devils and couldn't take advantage of a size and strength advantage inside. Duke seemed to want every loose ball more, and an appalling missed shot clock violation on an early Tyler Thornton three-pointer was a pretty clear sign that Michigan would need to play its best game of this young season.
Instead, the Maize and Blue dropped their third game so far, and with Arizona looming in two weekends, Michigan fans are starting to panic. The talent is certainly there for Michigan, but the execution is lacking.
Time and again last night, Michigan's perimeter players passed the ball around the three-point line, rarely looking inside for Mitch McGary and almost never giving a full-hearted drive to the bucket, against a Duke team that was being overly aggressive. Mike Krzyzewski's game plan worked to near perfection, as a still clearly hampered Nik Stauskas, Michigan's leading scorer and best creator, was face-guarded all game long and held to four points – all on free throws – on just two shot attempts.
Early on, it appeared as if Michigan would be run out of the gym. Duke, along with Michigan, was slow out of the gates, but started to pick it up behind eight points from Rodney Hood in the first 13 minutes. Michigan, on the other hand, never got going in the first stanza and didn't even manage to break double digits until five minutes were left before halftime, at which point the Wolverines had only managed three made field goals.
Somehow, however, Michigan's defense kept them in the game, as Beilein found himself down by only 10 points at the break after another buzzer-beating three by Thornton closed out the half.
With a clean slate and a golden opportunity with 20 minutes of game time remaining, Michigan started strong in the second half and cut the lead to just six points on a fast break layup by Derrick Walton, Jr. three minutes into the second half.
But as was the case all night, Duke was quick to answer. Jabari Parker, Quinn Cook, and Marshall Plumlee all converted layups before Michigan knew what him them, and within two minutes, the Wolverines' deficit was back to 12.
For the remainder of the game, Michigan tried to battle their way back into the game on the shoulders of sophomore Caris LeVert, but the closest they would eventually come was a 46-40 hole with nine minutes remaining.
Following a mini five-point spurt from Zak Irvin and LeVert midway through the second half, it seemed as if Michigan was poised to make one final push after trailing by eight to 12 points throughout the evening, but a quick Duke substitution quelled any remaining hopes of a comeback when Andre Dawkins, who had played just three first-half minutes without recording a stat, drained two deep balls on defensive mistakes by LeVert.
From there, the game was all but over. The Wolverines started to look like a well-oiled machine late in the game, but the 19 stat-padding, meaningless points scored in the final two minutes will only be recognized by those reading the box score.
Ultimately, this loss is not a terrible one to take at this point in the season, but with a bad defeat at the hands of Charlotte already on the record, Michigan is in dire need of some quality wins throughout the next couple months.
Michigan certainly is still a Tournament team in my book, and a fully healthy Nik Stauskas will be crucial as Big Ten season kicks off in a month's time, but a couple more losses in the near future could spell major trouble if this offense doesn't start to click.
It's clear at this point in the season that McGary and Glenn Robinson III desperately miss Trey Burke's ability to get past a defender, stall in the lane, and find them for easy finishes, and it's going to take a continued team effort to replace the Player of the Year. Derrick Walton, Jr. is rounding into solid form and LeVert has shown flashes of brilliance, but the consistency is lacking in a big way.
When the buckets are hard to come by for this team, there is no Trey Burke to calmly sink the 15-footer that he was so adept in doing, and as this year nears its end, Michigan needs to find a new beginning.
Three Stars:
***Quinn Cook*** – 24 points (6-of-11 FG, 2-of-7 3pt., 10-of-10 FT), 9 assists, 4 rebounds, 2 steals, 2 turnovers in 37 minutes
**Jabari Parker** - 15 points (7-of-14 FG, 1-of-2 FT), 6 rebounds in 33 minutes
*Caris LeVert* – 24 points (8-of-18 FG, 1-of-3 3pt., 7-of-7 FT), 4 rebounds, 2 assists, 1 turnover in 36 minutes
Final Game Stats

#

Name

FG-FGA

3FG-3FGA

FT-FTA

OR

DR

TOT

PF

TP

A

TO

BLK

S

MIN

01
Glenn Robinson III*
4-9
0-2
0-0
1
2
3
4
8
2
2
0
0
34
10
Derrick Walton Jr.*
3-6
0-2
1-1
0
2
2
1
7
1
3
0
0
26
11
Nik Stauskas*
0-2
0-1
4-6
0
3
3
3
4
4
3
0
1
34
04
Mitch McGary*
6-10
0-0
3-4
5
9
14
2
15
1
1
0
0
27
23
Caris LeVert*
8-18
1-3
7-7
0
4
4
1
24
2
1
0
0
36
02
Spike Albrecht
1-3
1-2
0-0
0
1
1
1
3
1
1
0
0
13
10
Jon Horford
0-1
0-0
0-0
1
0
1
1
0
0
0
0
0
6
21
Zak Irvin
2-5
1-3
0-0
0
1
1
2
5
1
0
0
0
14
52
Jordan Morgan
1-2
0-0
1-1
0
0
0
2
3
0
0
0
0
10
Totals
25-56
3-13
16-19
8
23
31
17
69
12
12
0
1
200
Duke
28-56
8-23
15-18
7
25
32
18
79
15
7
3
4
200

Full Stats