---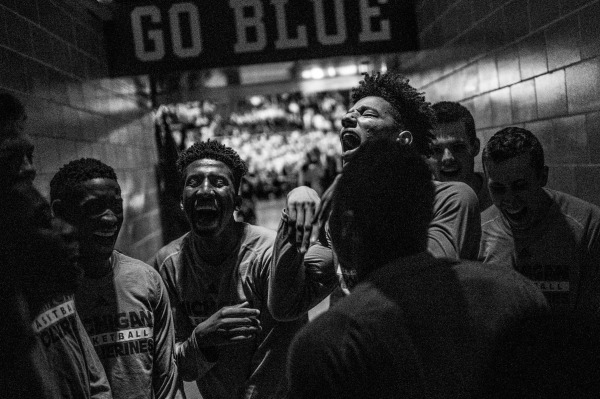 (MGoBlue.com)
A few years back when I was just a young college student in the then-miniscule Maize Rage, Michigan was coming off John Beilein's miserable first season in Ann Arbor. No one thought much of the young Wolverines' chances in Beilein's second year either, but that didn't stop them from believing in themselves.
The song that blasted throughout the Old Crisler Arena* before games that year was one that could be applied to just about any team playing any sport, but it seemed to carry extra weight for Michigan that season.
The first few lines went something like this:
"Go hard, today
Can't worry bout the past cause that was yesterday
I'ma put it on the line cause it's my time
I gotta stay on my grind cause it's my time."
It's certainly not one of the best songs of the last decade, but it always gives me chills when it unexpectedly comes on the radio or blares out of some party's speakers.
The Wolverines had to forget about the struggles of their first season under their new head coach, and though nearly every outsider doubted them, they grinded out one of the most memorable basketball seasons of my life, earning their way to a berth in the Big Dance and upsetting Clemson in the first round before bowing out to an over-powering Oklahoma squad.
You won't hear Fabolous's "My Time" any time soon at the new Crisler Center, but the message once again holds weight in Ann Arbor.
When I was walking down the Crisler tunnel to pick up my press pass earlier this week, getting the same tingly excited feeling I always do at the start of the college basketball season, an usher greeted me with a warm smile at the credentialing table and quipped "another season, huh?" in a mostly blasé tone.
Yes, it's just "another season", but it's a season of renewed opportunity for the Michigan Wolverines. It's a season of not worrying about the past and working to make the most out of an extremely talented and deep roster. In many ways to me, it's also a season that represents the end of a mini-era.
That's not to say that the Wolverines' last chance to win the Big Ten and make the Final Four hinges on this year alone; nay, the future certainly appears bright under Beilein and a handful of talented sophomores and juniors.
But it wasn't until this season's senior class was in its first year that the Maize and Blue truly found its way back on the college basketball map with a magical run through the NCAA Tournament that ended in heart-breaking fashion in the championship game.
The only two members of that storied five man class who hung around long enough to see their time as seniors arrive are Caris LeVert and Spike Albrecht. Their old classmates have all gone on to the bright lights and superstardom of the NBA, leaving two of the unlikeliest heroes carrying the team back in Ann Arbor.
If Michigan can make another deep run in the postseason this year, Albrecht just might break Jordan Morgan's total games played record at the University, which would be quite the consolation prize for the under-sized point guard who will likely be the sole 2012 recruit to not play at the next level.
The past for those two, of course, has been a bit of a bumpy ride. Three seasons ago saw the wondrous tournament run, the year after that saw Michigan fall just a basket short of another Final Four appearance, while last season saw the Wolverines stumble early on in the non-conference before the wheels completely fell off with LeVert and Derrick Walton Jr. missing a significant portion of the season with foot injuries.
There's always a silver lining, though, and it seems to be shining brightly so far. As a result of the season-ending injuries, a number of freshmen were forced into big minutes and played about as well as could be expected. One of those freshmen, Aubrey Dawkins, seems to be a shoo-in to start this year after coming on strong in February on the offensive end, while Muhammad-Ali Abdur-Rahkman has the potential to be a lock-down defender. Kameron Chatman is another sophomore that will be competing for minutes after struggling to find his way last season, while Ricky Doyle and D.J. Wilson are big men that appear primed for breakout seasons. Duncan Robinson, a sophomore transfer from the DIII level, should also shoot his way into plenty of action.
Perhaps no player looked better carrying the decimated Wolverines teammates, however, than Zak Irvin. Now a junior, Irvin blossomed from being a knock-down shooter his freshman season to an all-around offensive threat to close an otherwise disappointing campaign a year ago.
Match this depth up with somewhat proven commodities in LeVert, Walton, and Albrecht and you could be staring at another offensive juggernaut in Ann Arbor. Defensively, there may be some questions, but John Beilein has always been one to out-score with offensive fireworks.
A new season has dawned, and things are looking up for Michigan. It might not all go according to plan, as last year clearly did not. It might not look like the runner-up team from these seniors' freshmen year. But it most certainly will be fun. Caris LeVert and Spike Albrecht deserve a wonderful sendoff, and the supporting cast will grind hard to make sure it happens.
After all, their time has come.
*Unless it was the 2009-10 season – either way, the song still applies
Predictions:
Top Five Scorers
Top Five Rebounders
Caris LeVert
Caris LeVert
Zak Irvin
Ricky Doyle
Derrick Walton Jr.
Derrick Walton Jr.
Aubrey Dawkins
Mark Donnal
Spike Albrecht
D.J. Wilson
Top Five Assists
Top Five Three-Point Shooters (%)
Derrick Walton
Derrick Walton Jr.
Caris LeVert
Spike Albrecht
Spike Albrecht
Duncan Robinson
Zak Irvin
Zack Irvin
Kameron Chatman
Caris LeVert
Superlatives
Most improved player:
D.J. Wilson
Most valuable freshman:
Moritz Wagner
Most valuable player:
Derrick Walton Jr.
Final record:
27-10 (12-6 Big Ten)
Conference finish:
2
Postseason:
NCAA Tournament, Elite Eight