---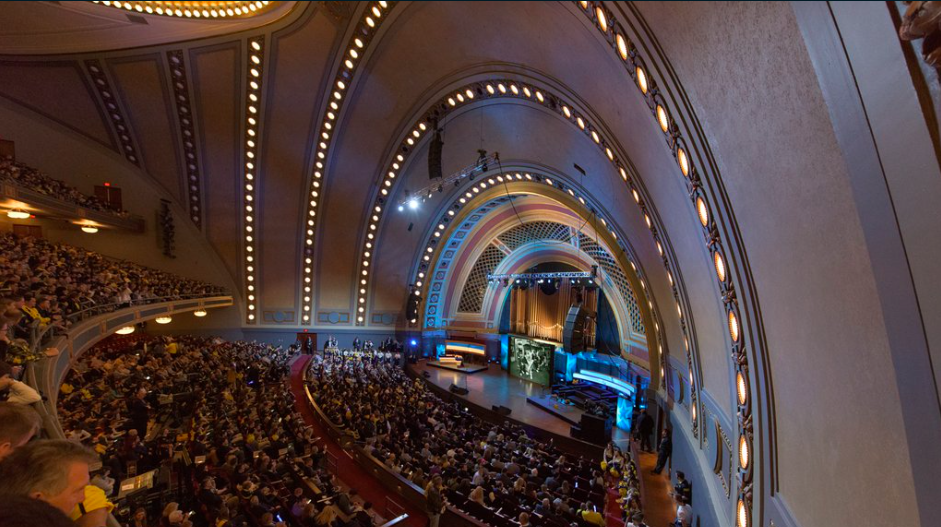 (MGoBlue.com)
Dense fog blanketing Interstate-94 from Chicago to Ann Arbor in the wee hours of Wednesday morning provided an apt metaphor for the current state of Michigan football. I knew the destination was ahead, but could only see a few feet at a time. As long as I stayed the course I would get to where I was going, despite the vast unseen in between.
By Wednesday afternoon, a good portion of the fog separating the Michigan program from where it stands now to where it wants to be had been lifted as Jim Harbaugh polished off a top-five recruiting class in style with a star-studded event in Hill Auditorium. The one-of-a-kind Signing of the Stars event was streamed live via The Players' Tribune, drawing a large audience and making Michigan the talk of the college football world on National Signing Day.
During the two hour event seven early-enrollees were introduced by duos of celebrities, resembling an awards show like the ESPYs or the Oscars. Each player walked up onto the stage to applause from the audience, similar to NFL Draft day. Their highlight reels were then broken down by a panel of experts made up of ESPN analyst Todd McShay, former Notre Dame head coach Lou Holtz, and former Denver Broncos and Washington Redskins head coach Mike Shanahan.
"That was originally Harbaugh's idea," said Matthew Mills, the founder and executive producer of Spacestation, the New York-based production agency that produced the event. "We were told that they wanted something that felt like a combination of NFL Draft day, College GameDay, and an awards show. And I think we delivered that."
The members of the 2016 recruiting class that were on hand to be celebrated for the night agreed.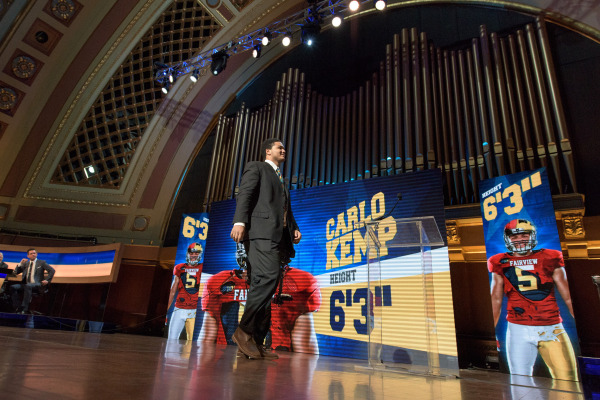 (MGoBlue.com)
"It felt like NFL Draft day, sitting in your seat and waiting to hear your name called to go say your two lines and stand up there with Coach Harbaugh," said defensive end Carlo Kemp, who enrolled a month ago. "It was like waiting to get drafted."
Former Michigan quarterback and current Jacksonville Jaguars running back Denard Robinson, who along with fellow former Michigan quarterback Jake Rudock, was among the day's presenters, echoed that sentiment.
"It was crazy because during the pre-runs for the whole thing it was kind of funny looking and you're like 'how's this going to set up, how's it going to be?' and now you see it and it's like 'wow!' It's a great idea," Robinson said. "It's almost like draft day. You've got guys announcing you, you've got guys breaking down your highlights, it's like getting drafted. You come to Michigan for things like this and to get drafted because a lot of people get drafted from this school."
Per Mills, as Michigan worked to confirm celebrity attendees, who ranged from Tom Brady and Derek Jeter to Josh Gracin and Migos, other celebrities were "coming out of the woodwork" to ask to participate. So much so that Mills and Michigan couldn't fit them all into the program. Instead, they filmed video montages of Owen Wilson, Vince Vaughn, Robert Patrick, Dick Enberg, Verne Troyer and many more congratulating the recruiting class.
"Usually (coaches) sit by the fax machine and the coach stands up and talks and usually says the same kind of things, so I wanted to do something different, wanted to do something awesome," Harbaugh said after the event.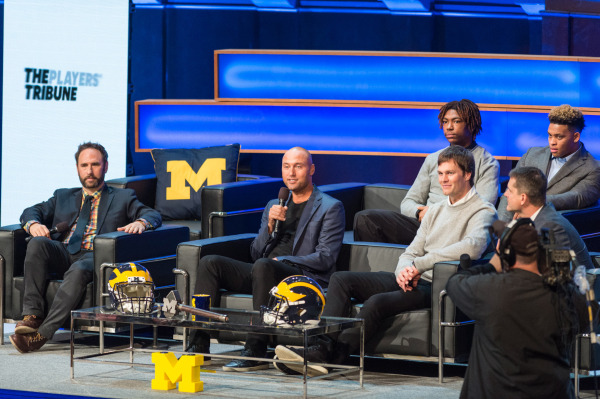 (MGoBlue.com)
Although he was traveling across the country, climbing trees, sleeping at recruits' homes, and attending classes with them, Harbaugh was involved with the planning throughout the process, said Mills.
"He contributed a lot of energy and enthusiasm. We took our cue from him in that regard. He said 'make this bold and give people something unique', and I think we gave them that. He was very involved in the process and the creative process. We were giving him briefs about 'we'd like to do this, we'd like to do that' and he would say yea or nay or he would amplify something. He was very collaborative and we just had a blast working with him."
It was a grand spectacle that provided water cooler talk in offices nationwide, some good and some who thought it was over the top. But those who will take notice the most are still in high school and Harbaugh will be battling for their commitments in the years to come.
"Sixteen and 17 year old kids are going to love this," Kemp said. "I mean, if I knew this was going to happen I probably would have committed even earlier. It's awesome, it was great. I'm glad to be a part of it and I'll remember February 3, 2016 for the rest of my life."
Robinson, who was drafted in the fifth round of the 2013 NFL Draft, concurred.
"I think it's a big deal. It's going to put us back on the map a little bit. This was a great idea to have guys come out like this. We've had so many celebrities come out, actually announcing these guys, so it's big. I mean as an 18-year old you've got Derek Jeter announcing you, Tom Brady announcing you, Ric Flair, Desmond Howard. They get to announce you when you're 18 years old. It means everything and coming to Michigan is going to be a great opportunity."
But in addition to celebrating a top five recruiting class, the purpose of the event was to raise awareness and money for pediatric cancer, an issue that has gripped the Michigan family since last year. Chad Carr, the grandson of former Michigan head coach Lloyd Carr passed away on Nov. 23 after a battle with Diffuse Intrinsic Pontine Giloma (DIPG).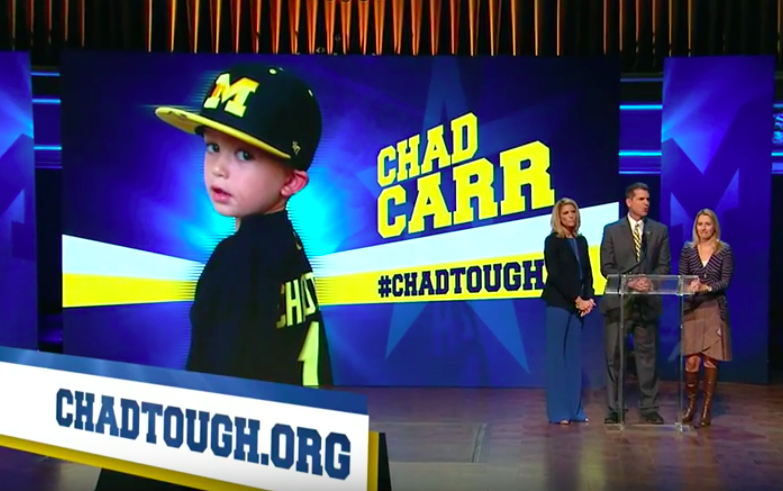 While Harbaugh's recruiting tactics have drawn criticism from rival coaches, players, and fans, there was no more telling moment than shortly after 1pm. As the nation's consensus top recruit, Rashan Gary, whom Harbaugh and his staff had been courting for over a year, was announcing his commitment to Michigan over Clemson live on ESPNU, Harbaugh wasn't glued to a television set or a smartphone. He wasn't backstage working the phones. He wasn't eagerly awaiting a text message or a call or a tweet.
No, he was standing on stage, flanked by his wife Sarah to his right and Tammi Carr to his left. He was telling the 3,500 fans in attendance and the rest of the country watching the live stream the importance of a five year old kid, urging them to visit ChadToug.org and donate to help fund research that may someday save other kids like Chad who suffer from DIPG.
Word of Gary's commitment spread through the Hill Auditorium crowd as they wiped their damp eyes — a poignant reminder of what matters most.