---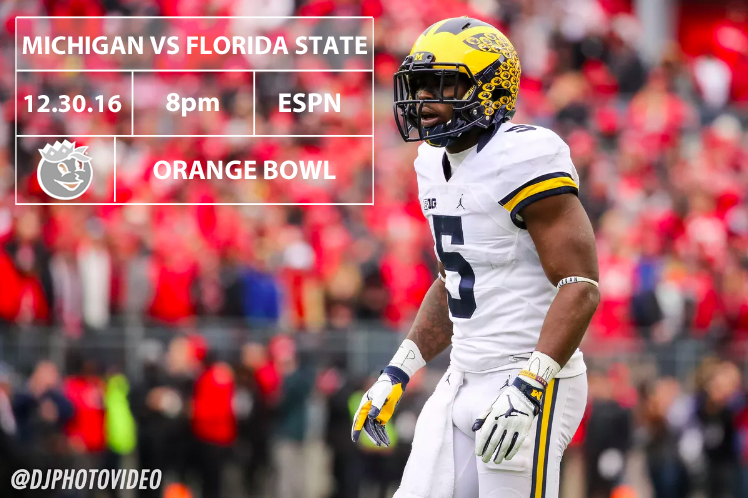 (Dustin Johnson, Maize 'n Brew)
Ten years ago Michigan entered the Ohio State game at the end of the regular season needing just a win to clinch a spot in the BCS Championship game. Ohio State won a shootout in Columbus, securing their own spot, but many felt the Wolverines deserved a chance at a rematch. However, Florida head coach Urban Meyer successfully lobbied for the Gators, sending Michigan to the Rose Bowl.
Quick Facts

Hard Rock Stadium – 8p.m. ET – ESPN
Florida State Head Coach:
Jimbo Fisher (7th season)
Coaching Record:
77-17 (all at FSU)
Co-Offensive Coordinators:
Randy Sanders (4th season)
Lawrence Dawsey (10th season)
Defensive Coordinator:
Charles Kelly (4th season)
Last Season:
10-3 (6-2 ACC)
Last Meeting:
FSU 51 – UM 31 (1991)
All-Time Series:
Tied 1-1
Record in Bowls:
First meeting
Jim Harbaugh vs FSU
First meeting
Last Michigan win:
1986 (20-18)
Last Florida State win:
1991 (51-31)
Current Streak:
Florida State 1
Florida State Schedule to date
Opponent
Result
#11 Ole Miss
W 45-34
Charleston Southern
W 52-8
at #10 Louisville
L 20-63
at USF
W 55-35
North Carolina
L 35-37
at #10 Miami
W 20-19
Wake Forest
W 17-6
#3 Clemson
L 34-37
at N.C. State
W 24-20
Boston College
W 45-7
at Syracuse
W 45-14
#13 Florida
W 31-13
On New Year's Day in Pasadena, Michigan played like a dejected team that would have rather been in Glendale and was embarrassed by USC, 32-18.
Tonight, Michigan faces a similar scenario, having been left out of a spot in the College Football Playoff. Rather than a semifinal in Glendale or Atlanta, the Wolverines face Florida State in the Orange Bowl in Miami. Like that 2006 postseason, this team has a wealth of seniors playing in their last game, but rather than a end-of-career Lloyd Carr at the helm, Michigan has an enthusiasm-unknown-to-mankind Jim Harbaugh keeping them focused.
Last year, after suffering a humbling home loss to Ohio State in the regular season finale, Michigan responded by throttling a Florida squad, 41-7, that many thought was the better team. This week, all the talk from the Michigan camp has focused on this being a business trip.
"As long as coach Harbaugh is here, any bowl game we ever play in will be a 100 percent business trip," said senior tight end Jake Butt. "You won't see a lot of messing around. I can guarantee you that. It'll be that way again this year."
Senior defensive end Chris Wormley echoed that sentiment.
"It worked last year," defensive end Chris Wormley said. "We beat a team by 34 points, and I'm guessing they went out and got to enjoy Orlando a little more than we did. But we got the win, and that's what we're here to do.
"I don't think I'd be wrong to say that I'd want to be at the beach. But at the end of the day, winning the bowl game is what we're here to do.
"We didn't come here to go to the beach. We didn't come here to go bowling, or to sing karaoke. I don't have a good voice anyway, so that wouldn't be entertaining."
In Thursday's press conference, ESPN's Janine Edwards tried to bait Harbaugh into a soundbite with a ridiculous question about players wanting to see bikinis, but he wasn't biting.
"I don't have any thoughts on that," he responded to the first question.
"I don't know about that. I don't know anything about that. I don't know what you're talking about," he responded to the followup.
And it awkwardly continued for three more followups.
It's clear that Harbaugh is concerned with removing distractions and focusing singularly on the task at hand: beating Florida State to send the seniors off with a win and springboard the younger players into 2017.
Florida State, meanwhile, is looking for a fifth straight 10-win season after finishing the regular season with a 31-13 thumping of rival Florida. The Seminoles had an interesting regular season, getting blown out by 43 points at Louisville, but nearly knocking off No. 3 Clemson. They also suffered a bad home loss to North Carolina and only beat Miami, Wake Forest, and N.C. State by a combined 16 points. But they finished the season hot with four straight wins to climb back from 23rd nationally to 11th.
Let's take a look at the matchups.
When Florida State has the ball
Florida State's offense ranks 24th nationally in total offense (474.3 yards per game), 32nd in scoring (35.2 points per game), 38th in rushing (206.8 yards per game), and 29th in passing (267.6 yards per game). None of those numbers is outstanding, but advanced stats like the Seminoles much more, as S&P+ ranks the FSU offense sixth nationally.
The unquestioned dangerman offensively is junior running back Dalvin Cook, who ranks eighth nationally with 1,620 rushing yards. As we discussed on Monday, he's accounted for 65 percent of the team's rushing yards on 55 percent of the team's carries. Remove quarterback from the equation and Cook accounts for 71 percent of rushing yards and 70 percent of carries. By comparison, Michigan's leading rusher, De'Veon Smith, accounts for just 30 percent of the team's rushing yards and 31 percent of the carries.
Cook eclipsed 100 yards rushing in eight of 12 games including eight of the last nine with a season-high of 267 yards against South Florida. He also topped 200 yards against Syracuse with 225 and ranked sixth nationally with 18 rushing touchdowns. He's also a weapon out of the backfield as the team's second-leading receiver in terms of yards with 30 receptions for 426 yards and one touchdown. His 35.5 receiving yards per game would rank fourth on Michigan's team this season. He had two 100-yard receiving games out of the backfield, but his receiving production tailed off in the second half of the season when he averaged just 1.7 receptions for 13.5 yards per game in the last six games.
Behind Cook, sophomore running back Jacques Patrick has rushed for 348 yards and four touchdowns on 5.8 yards per carry.
Quarterback Deondre Francois is the team's third-leading rusher with 189 yards and four touchdowns, though that includes the yards lost on more than 30 sacks. He has been much more dangerous through the air with a 60.6 percent completion rate for 3,128 yards, 18 touchdowns, and just six interceptions. The redshirt freshman had his two worst performances in the losses to Louisville and Clemson, completing just 24-of-53 passes (45.2 percent) for 387 yards, two touchdowns, and two picks. His next worst performance came against Florida's third-ranked pass defense, which held him to just 138 yards, a touchdown, and an interception on 57.7 passing. Of the teams he had big games against, none ranks higher than 35th in pass efficiency defense. Florida and Clemson have pass defenses similar to Michigan's caliber, so that bodes well for the Wolverines.
Junior Travis Rudolph is the team's leading receiver with 807 yards and seven touchdowns on 53 receptions, nearly identical to Amara Darboh's output this season (826 yards, seven touchdowns, 52 receptions). Rudolph had a monster game against Wake Forest with 13 catches for 238 yards, but averaged fewer than four catches per game in the other 11 games. Senior Kermit Whitfield has 33 catches for 372 yards, but has found the end zone just once this season, while sophomore Auden Tate leads all regular receivers with 16.4 yards per catch. He has 409 yards and six touchdowns on just 25 receptions. Senior Jesus Wilson is the other receiver of note with 30 receptions for 390 yards and one score.
The offensive line has been lackluster this season, ranking 108th nationally with 34 sacks allowed, which is nearly double the 18 that Michigan has given up. Junior left tackle Roderick Johnson is the best of the bunch as a first-team All-ACC performer each of the past two seasons.
When Michigan has the ball
Florida State's defense isn't quite as good as the offense. Charles Kelly's squad ranks 29th nationally in total defense (357.2 yards per game), 41st in scoring defense (24.4 points per game), 38th in rush defense (131.2 yards per game), and 68th in pass defense (225.9 yards per game). But like the offense, the Seminoles' defense looks much better according to S&P+ which ranks them 18th nationally.
There's no question who the star of the defense is. Senior strong side defensive end Demarcus Walker leads the nation with 15 sacks and was a second-team AP All-American. He also leads the team with 64 tackles, 17.5 tackles for loss, three forced fumbles, and two fumble recoveries. But he's not the only stud on the line. Freshman weak side end Brian Burns has 9.5 sacks of his own, which is one more than Michigan's leader, Taco Charlton. On the interior, junior nose guard Derrick Nandi has 5.5 sacks, 9.5 tackles for loss and 44 total tackles, which ranks fifth on the team.
Behind the line is a bunch of athleticism that hasn't produced at a high level just yet. The linebackers are okay, lead by sophomore Buck linebacker Josh Sweat, who has 38 tackles, 10 for loss, 5.5 sacks, and a team-high six quarterback hurries. Will linebacker Matthew Thomas is the second-leading tackler with 62 and has 7.5 behind the line of scrimmage, while redshirt junior Mike linebacker Ro'Derrick Hoskins has 45 tackles, 3.5 for loss, and 2.5 sacks. Sam linebacker Jacob Pugh has the second most sacks of the linebacking corps with 3.5.
The secondary is the weakest link. Sophomore cornerback Tarvarus McFadden is a good corner with plenty of upside and makes plenty of plays. He lead the team with eight interceptions (which also leads the nation), 13 passes defended, and five pass breakups. He'll be a touch matchup for Darboh and at 6-foot-2, 198 pounds he has the size to stack up. After McFadden, things go downhill. The other starting corner is senior Marquez White, who has 22 tackles, two interceptions, and three pass breakups. The safeties, sophomore A.J. Westbrook and junior Trey Marshall have a combined 86 tackles, three for loss, one sack, and seven pass breakups. Neither are more than average.
Freshman kicker Ricky Aguayo made 17-of-24 attempts this season with a long of 47, but was pulled in favor of fellow freshman Logan Tyler after missing two of three against Florida. Tyler hit 1-of-2 this season, though that one was from 53 yards out. Tyler is the team's punter, averaging just 40.6 yards per punt. He has downed 11 of 46 punts inside the 20 with two touchbacks. He has only allowed 13 punt returns, but opponents have averaged 21.5 yards per return, so if Jabrill Peppers gets one that is returnable, it could be a game-changer.
Whitfield is the main kick returner, averaging 22.9 yards per return. Wilson is the main punt returner with an average of 17.2 yards and one return for touchdown.
Unless Michigan's offensive line has improved significantly over the past month, it's going to be difficult to get a consistent running game against Florida State's defensive front. As Josh detailed in yesterdays The Numbers Game, FSU is susceptible to the big play, so it's likely that Michigan will move the ball in fits and spurts rather than with much consistency. And it's also likely that it will be mostly through the air against a Florida State pass defense that has allowed half of its opponents to throw for more than 200 yards. Walker will probably wreck a drive or two, but if Wilton Speight is healthy after a month off he can carve apart the Florida State secondary.
Defensively, Michigan will have to stop — or at least slow down — Cook. We shouldn't be too worried about Francois and the passing game beating Michigan's top-ranked pass defense. But Cook will present some issues in the passing game out of the backfield. Michigan's defense has had a knack for giving up big plays to running backs out of the backfield this season and Cook is the best they've faced this season. Don Brown faced Cook last season when he was at Boston College and held him to just 54 yards on 15 carries and two catches for three yards. If he can draw up a game plan to come close to repeating that performance Michigan will win. If the Michigan defense can stuff Cook on first and second down consistently, letting the pass rush loose on the porous FSU offensive line, it will be a big day for the Wolverines.
Overall, I see a game dominated by the defensive lines both ways, preventing either team from rushing consistently. Both teams will hit some big plays, but Michigan has the edge in the passing game and also on special teams. Expect a close game throughout with Michigan pulling it out late in the game.
Michigan 31 – Florida State 23