---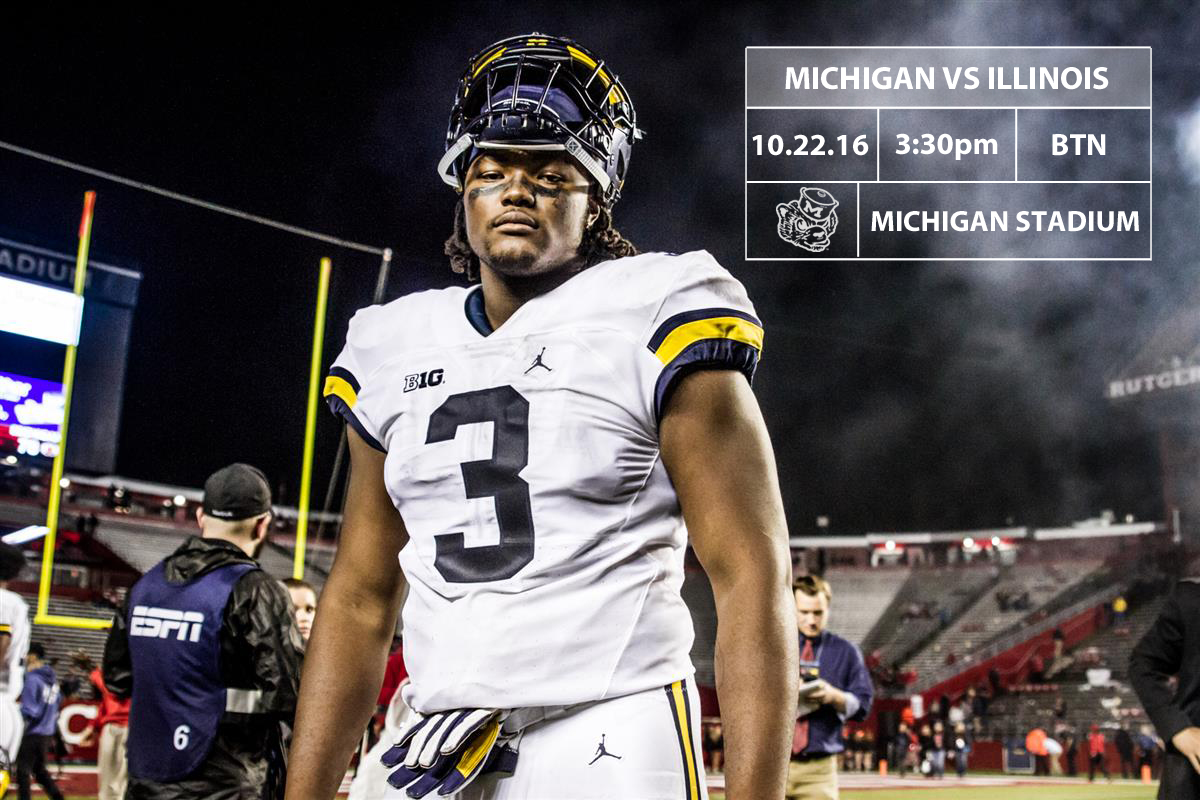 (Isaiah Hole, 247 Sports)
Previously this week: Midseason comparison: Offense, First Look, Five-Spot Challenge, Tailgate Tuesday, Midseason comparison: Defense, Big Ten power rankings, The Numbers Game
Fresh off a bye week, Michigan opens the second half of its season tomorrow with a matchup against Illinois. The Homecoming tradition is to schedule an easy opponent so that alums who make the annual fall pilgrimage back to campus can see a sure win, and aside from Michigan's last opponent — Rutgers — this is as close as one can get.
Quick Facts

Michigan Stadium – 3:30p.m. ET – BTN
Illinois Head Coach:
Lovie Smith (1st season)
Coaching Record:
2-4, 1-2 Big Ten (89-87 NFL)
Offensive Coordinator:
Garrick McGee (1st season)
Defensive Coordinator:
Hardy Nickerson (1st season)
Last Season:
5-7 (2-6 Big Ten)
Last Meeting:
UM 45 – IL 0 (2012)
All-Time Series:
Michigan 69-23-2
Record in Ann Arbor:
Michigan 33-11-1
Jim Harbaugh vs Illinois
First meeting
Last Michigan win:
2012 (45-0)
Last Illinois win:
2009 (38-13)
Current Streak:
Michigan 3
Illinois Schedule to date
Opponent
Result
Murray State
W 52-3
North Carolina
L 23-48
Western Michigan
L 10-34
at #15 Nebraska
L 16-31
Purdue
L 31-34
at Rutgers
W 24-7
It has been a rarity this season that the narrative leading up to a Michigan game hasn't centered around something the opposing coach said about Jim Harbaugh or something Harbaugh did over the summer that hurt the opposing coach's feelings. But for this one, the main talk has been about the NFL pedigree of the two opposing coaches. For the first time in college football history, two coaches that once coached in a a Super Bowl will face each other at the college level.
Lovie Smith spent 19 years in the NFL, going 81-63 in nine seasons as head coach of the Chicago Bears, which included a loss in Super Bowl XLI, and 8-24 in two seasons in Tampa Bay. When Illinois came calling in the offseason he returned to the college game for the first time since 1995 when he was the defensive backs coach at Ohio State. Illinois is his first collegiate head coaching gig, but he spent 13 seasons between Tulsa, Wisconsin, Arizona State, Kentucky, Tennessee, and OSU before moving up.
His Illini are just 2-4 so far this season and 1-2 in the Big Ten. A 24-7 win at Rutgers last Saturday was Smith's first win over an FBS team — the other was a 52-3 season-opening win over Murray State which is just 1-5 and ranks 115th in the Football Championship Subdivision (FCS).
Illinois lost to North Carolina (48-23), Western Michigan (34-10), No. 15 Nebraska (31-16), and Purdue (34-31).
Although this will be Harbaugh's first time coaching against Illinois, he and Smith faced each other once in the NFL when Harbaugh's San Francisco 49ers topped Smith's Bears 32-7 in 2012. As a player, Harbaugh went 1-0-1 against the Illini with a 3-3 tie in 1985 and a 69-13 win in '86. He missed the 1984 win after breaking his arm three weeks prior.
Let's take a look at the matchups.
When Illinois has the ball
Smith has been a defensive coach every step of his career, so he hired an experienced offensive coordinator who has held the same position at Northwestern, Arkansas, and Louisville. Garrick McGee's 2011 Arkansas offense led the SEC in total offense, and with the additional title of quarterbacks coach, he developed Ryan Mallett into one of the school's best passers. His 2007 Northwestern offense led the Big Ten in both passing and total offense. He also spent 2012 and 2013 as the head coach of UAB, where he went just 5-19.
His first Illinois offense isn't nearly where he wants it to be, ranking 10th in the Big Ten and 84th nationally in scoring (26 points per game), sixth in the Big Ten and 49th nationally in rushing (189.8 yards per game), 12th in the Big Ten and 103rd nationally in passing (181.5 yards per game), and 12th in the Big Ten and 99th nationally in total offense (371.3 yards per game).
Senior quarterback Wes Lunt has completed 60.5 percent of his passes for 840 yards, six touchdowns, and just one interception. However, he missed the Rutgers game last Saturday after an injury sustained against Purdue. In his absence, sophomore Chayce Crouch has completed 18-of-32 passes (56.2 percent) for 249 yards, one touchdowns, and one pick. He's more of a dual-threat option as he went 10-of-14 for 142 yards and rushed 17 times for 137 yards and two touchdowns when he came in in relief against Purdue. But against Rutgers, he was just 6-of-14 for 92 yards and managed just 25 yards on the ground.
Junior running back Kendrick Foster leads the team in rushing with 384 yards and five touchdowns on 6.2 yards per carry. That yards per carry average is inflated by a four-carry, 118-yard performance against Murray State in the opener. Against FBS competition, he's averaging a much more mediocre 4.6 yards per carry. Redshirt freshman Reggie Corbin is the second leading rusher with 325 yards and one touchdown but leads the team with 9.3 yards per carry. In all four games he has played in, Corbin has hit a run of at least 31 yards. Sophomore Ke'Shawn Vaughn is the other back who sees regular carries and he has 221 yards and two scores on 5.0 yards per carry.
Junior receiver Malik Turner is the one player on the Illini offense that ranks among the Big Ten best. His 71.2 receiving yards per game rank fifth in the conference and his 5.2 receptions per game rank fourth. He topped 100 yards against both Western Michigan (107) and Purdue (129) with nine catches in each. However, he caught just two passes for 18 yards against Rutgers last week and he hasn't found the end zone since. Turner is by far the favorite target of the Illini quarterbacks as the second leading receiver, senior Justin Hardee, has just 11 catches for 106 yards. Vaughn and Corbin actually rank third and fifth on the team in receiving.
The Illinois offensive line has been a revolving door this season. Although the same five players have started most of the games, they've rotated positions to the point that not one of the five positions along the line has had the same starter in all six games. The most consistent has been the center position where senior Joe Spencer has started the last five games and has 31 career starts. Sophomore Nick Allegretti has started all six games, but began the season at center, played four games at right guard, then started last week's game at left guard. Similarly, junior Christian DiLauro, who started all 12 games at left tackle last season, has switched between that spot to right tackle this season. Senior Austin Schmidt has flip flopped with DiLauro, starting two games at right tackle and three at left tackle. The spot that has been the most inconsistent has been left guard, which has seen four different starters in six games. True freshman Darta Lee started the Murray State and Nebraska games, redshirt freshman Gabe Megginson started the North Carolina and Purdue games — and also started at right guard last week –, junior Jordan Fagan started the Western Michigan game, and Allegretti started last week.
When Michigan has the ball
While Smith is a defensive coach, he turned to Hardy Nickerson, who coached under him at both of his NFL stops, to run his Illinois defense. After a 16-year NFL playing career, Nickerson got his coaching start under Smith as the Chicago Bears' linebackers coach in 2007. He spent 2009-13 as head coach of Bishop O'Dowd High School in Oakland, Calif. before getting back into the NFL as the linebackers coach under Smith in Tampa Bay in 2014-15. He left the same position in San Francisco to become Smith's defensive coordinator in Champaign.
His defense this season 10th in the Big Ten and 61st nationally in scoring defense (26.2 points per game), 11th in the Big Ten and 86th nationally against the run (185.2 yards allowed per game), seventh in the Big Ten and 32nd nationally against the pass (203.3 yards allowed per game), and 11th in the Big Ten and 57th nationally in total defense (388.5 yard allowed per game). They also rank 12th in the Big Ten and 106th nationally in third-down defense, allowing opponents to convert 46 percent of the time. By comparison, Michigan leads the nation at 12 percent.
The most dangerous player on the Illini defense is senior defensive end Dawuane Smoot, who has eight tackles for loss, one sack, and a team-leading five quarterback hurries. But weakside end, senior Carroll Phillips, leads the team with 11 tackles for loss and four sacks. The interior linemen are solid even if they tend to give up run lanes. Senior Chunky Clements — a former high school teammate of Mike McCray — has 2.5 sacks, while freshman Kenyon Jackson has nine tackles, but none for loss. Senior Rob Bain and redshirt freshman Jamal Milan are a big part of the rotation with a combined 5.5 tackles for loss and two sacks.
Unfortunately for Smith, he doesn't have Brian Urlacher or Lance Briggs at linebacker. He does, however, have Nickerson's son, grad transfer Hardy Nickerson, who transferred from Cal where he started for three seasons. He currently leads the Big Ten with 9.7 tackles per game and also has two interceptions from the MIKE position. The other two starting linebackers are sophomore WILL Tre Watson and sophomore SAM Julian Jones. Watson ranks third on the team with 41 tackles, while Jones will be making his third start of the season and has 16 tackles, two for loss.
The secondary is susceptible even though Illinois does rank 32nd nationally in pass defense. Sophomore cornerback Chris James leads the team with three pass breakups, while junior Jaylen Dunlap has two and ranks fourth on the team with 33 tackles. Senior Darius Mosley leads the team in total takeaways with two interceptions and a fumble recovery. The safeties are redshirt freshman Patrick Nelson and senior Taylor Barton, who have a combined 68 tackles, 3.5 for loss, half a sack, an interception, and a fumble recovery.
Sophomore Chase McLaughlin has made 9-of-12 in his first season as Illinois' field goal kicker with a long of 48, though he has missed three of his last four after starting 8-of-8. Senior punters Ryan Frain and David Reisner have combined to average just 40.5 yards per punt, which ranks eighth in the Big Ten. They have downed 11 of 36 inside the 20 with only three touchbacks.
Foster is the main kick returner, averaging 22.5 yards per return with a long of 39, while Mosely handles punt returns where he averages 5.5 yards per return with a long of 22.
Given Illinois' inability to defend the run — they allow 224.2 yards per game against FBS competition and Rutgers rushed for 203 yards last week — another big day on the ground should be expected for a Michigan offense that ranks second in the Big Ten and 15th nationally in rushing. Will the Wolverines break 400 rushing yards like they did against Rutgers? Probably not, but they should top 300. I also think we'll see a little more of Wilton Speight than we did against Rutgers when he threw just 13 passes. Having a strong ground game is great, but we can't forget that Michigan only rushed for 130 against Wisconsin. The passing game needs to be strong as well, especially as the Big Ten title hunt enters the home stretch. Finally, I expect the offense to show a few new plays or formations that they worked on over the weekend specifically to set up plays for the Michigan State game next Saturday.
Defensively, Michigan will shut down the Illinois offense, but surrender one touchdown on a big run. If Lunt starts, he's not a threat to run and Michigan's defensive line will tee off on him. If Crouch starts, the Illini will have the dual-threat option and he'll pull off a couple of first down runs on broken plays, but he won't be able to do enough to cause concern. Jourdan Lewis will shut down Turner, rendering the Illinois passing game useless, and the rush defense will hold them under 100 yards.
Michigan is favored by 38.5 points and I expect them to cover. I think this game will be very similar to the Rutgers game two weeks ago, but to a lesser degree. Michigan won't score 78 for the second straight game, they won't top 600 total yards, and Illinois will get more than 39 total yards. But Michigan will still win big.