---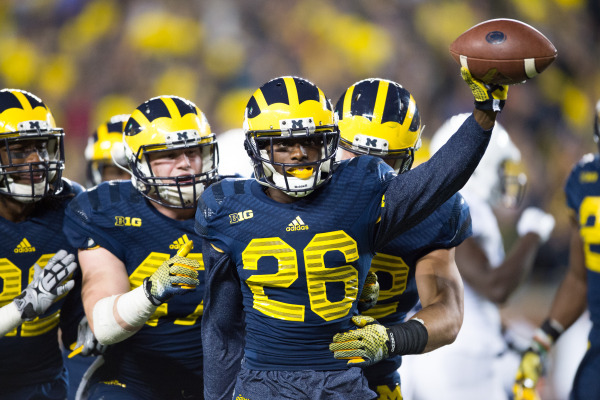 (MGoBlue.com)
It seems like it was a lot longer than a week and a half ago that Michigan beat Penn State, but the bye week certainly came at the right time, allowing the team to heal up a little bit and gain an extra week of preparation for Michigan State. We took it pretty lightly last week as well and used that time to get started on some basketball previews, so today it's time to take one final look back at Michigan's 18-13 win over Penn State.
Advanced Statistics

Michigan
Stat (National Average)
Penn State
57
Total Plays

68

 38.3
Avg. Starting Field Position (29.8)
27.8
12
Possessions
12
4
Scoring Opportunities
4
 4.5
Points per Opportunity (4.69)
3.3
 58.2%
Leverage Rate (68.3%)

58.8%

 32.1%
Success Rate (42.0%)

35.3%

 26.1%
Success Rate Passing Downs (30.5%)
25.0%
 37.5%
Success Rate Standard Downs (47.3%)

42.5%

 26.1%
Success Rate Passing (40.4%)

35.9%

36.4%
Success Rate Rushing (43.5%)
34.5%
1
Turnovers
 1
13.9
Equivalent Points
12.1
0.25
Equivalent Points Per Play
0.18
As I mentioned last week, I'm working to expand this section in the future, and hoping to put in some work to go back and calculate the previous games this season as well as last season so I can draw comparisons between this year's offense and last year's. The stats and formulas used are from Football Outsiders and Football Study Hall.
Like the Rutgers game, Michigan had considerably fewer plays, this time 11 fewer plays than Penn State. But Michigan had a 10.5-yard advantage in average field position thanks to the second half when neither offense could move the ball. Both teams had equal possessions and scoring opportunities. The leverage rates* were basically equal, but both were well below the national average of 68.3 percent. Penn State had a slightly better total success rate**, Michigan was slightly better on passing downs*** and success rushing, Penn State much better on standard downs and success passing. However, both teams were well below the national averages on all five of those success rate categories.
As far as how the offense's performance against Penn State compares to the previous six games this season, Michigan's average starting field position was its best so far, its 12 possessions were tied for the most (which they have done in three of the previous six games), and the one turnover matched the fewest in a game this season, along with the Appalachian State and Rutgers games. Michigan's 12 first downs tied the Minnesota game for the fewest in a game this season. Michigan's total success rate, success rate on standard downs, success rate passing, and success rate rushing were the second-lowest outputs of the season. Basically, this was Michigan's second-worst offensive performance of the season behind the Minnesota game (yes, even worse than the Notre Dame game despite, you know, actually scoring points).
*Leverage Rate: Standard downs/(Standard downs + passing downs)
**Success Rate: 50% of necessary yards on first down, 70% on second down, 100% on third or fourth down
***Passing Down is considered 2nd & 7 or more, 3rd & 5 or more, 4th & 5 or more
Let's take a look at the Five Factors.
Five Factors
Michigan
Stat
Penn State
4.6
Yards Per Play
3.1
 32.1%
Success Rate

35.3%

38.3
Avg Starting Field Position
27.8
4.5
Points Per Opportunity
3.3
Even
Turnover Margin
Even
Michigan won three of the five factors, split the turnover margin, and Penn State won just one. Per Football Study Hall, here are the chances of winning based on each of these five factors:
Yards Per Play (weighted 35%)
- Michigan +1.5 = 86.2 percent chance of winning
Success Rate (25%)
- Penn State +3.2% = 59.2 percent chance of winning
Average Starting Field Position (15%)
- Michigan +10.5 = 86.7 percent chance of winning
Points Per Opportunity (15%)
- Michigan +1.2 = 74.7 percent chance of winning
Turnover Margin (10%)
- Even = 50.0 percent chance of winning
Michigan won Yards per Play (35 percent), Field Position (15 percent), and PPO (15 percent). Added together, that equates to a 65 percent overall chance of winning, which they did.
*Hover over team initials to see drive statistics, Dash indicates direction of drive, Green dash = scoring play, Grey = punt, Red = turnover, Pink = missed field goal, Black = end of half or turnover on downs, Shaded line = special teams or defensive touchdown
113,085: The game attendance, the largest this season and the eighth largest in Michigan Stadium history
5,543: Devin Gardner's career passing yards, passing Tom Brady (5,351) and Jim Harbaugh (5,449) to move into sixth place in Michigan history
7: Devin Gardner's spot in career pass attempts (648) and completions (392), passing Steve Smith and Jim Harbaugh, respectively
6,350: Devin Gardner's career total yards, passing Elvis Grbac (6,221) for sixth in Michigan history
20: The number of consecutive games in which Devin Funchess has caught a pass, tying Anthony Carter for 10th in Michigan history
52: Dennis Norfleet's 52 kickoff return yards set the school record in career kickoff return yards (2,029). That total also ranks seventh in Big Ten history
6: Michigan's six sacks were the most in a game since the first game of the 2008 season against Utah
39.5: Jake Ryan's career tackles for loss, moving into 10th place in Michigan history