---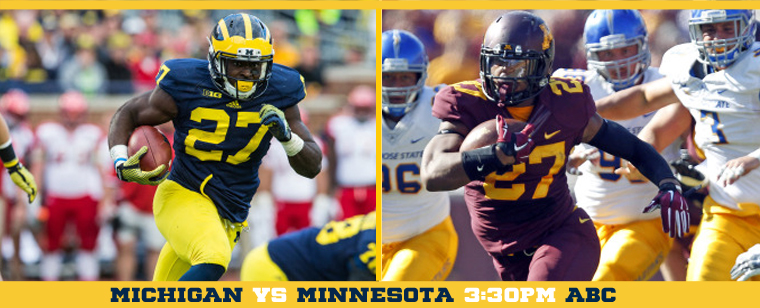 Michigan limps into conference play with a 2-2 record, but as Brady Hoke has said over and over again in the last couple of weeks, the goal of a Big Ten championship is still within reach. A turnaround in conference play can erase the futility of the first four weeks of the season and get back the fans that jumped off the bandwagon. It all starts tomorrow when Minnesota comes to town looking to beat Michigan for just the fourth time since 1968.
Quick Facts

Michigan Stadium – 3:30 p.m. EST – ABC
Minn. Head Coach:
Jerry Kill (4th season)
Coaching Record:
147-95 overall (20-22 at Minn)
Offensive Coordinator:
Matt Limegrover (4th season)
Defensive Coordinator:
Tracy Claeys (4th season)
Returning Starters:
14 (7 offense, 7 defense)
Last Season:
8-5 (4-4 Big Ten)
Last Meeting:
Michigan 42 – Minnesota 13 (2013)
All-Time Series:
Michigan leads 73-24-3
Record at Mich Stadium
Michigan leads 33-10-1
Last 10 Meetings:
Michigan leads 9-1
Current Streak: 
Michigan 6
Minnesota entered Jerry Kill's fourth season on an upward swing, having gone from 3-9 to 6-7 to 8-5 the past three seasons. If they can improve their record again this fall — a tall order, to be sure — Kill will have done something that hasn't been done since the 1940s — improve Minnesota's record for three straight seasons. Minnesota's legendary coach, Bernie Bierman, was the last to do it from 1945-48. Glen Mason had a chance to achieve the feat twice during his tenure, but each time fell back to earth. He did, however, reach 10 wins in 2003, and Kill will hope to parlay the momentum he has built into a similar outcome.
Kill got a nice vote of confidence in the offseason in the form of a new contract that bumps his salary up from $1 million per year to $2.3 million through 2018.
Minnesota enters Ann Arbor winners of three of their first four this season, the only loss a 30-7 defeat at the hands of TCU. The Gophers beat Eastern Illinois 42-20, Middle Tennessee 35-24, and San Jose State 24-7. Unlike Michigan, who has out-gained all four of its opponents offensively, Minnesota has actually been out-gained in three of its four games.
Michigan has had Minnesota's number the last half century, winning the last six, 22 of the last 23, 30 of the last 32, and 41 of the last 46 since 1964. The Little Brown Jug basically lives in Ann Arbor these days, and even during Michigan's 3-9 season in 2008, the Wolverines found a way to beat the Gophers. So how do the teams match up this season? Let's take a look.
Michigan defense vs Minnesota offense: When Minnesota has the ball
Through the first four games, the Minnesota offense averages a field goal more per game than Michigan (27 points). The Gophers rank 104th in total offense (336 yards per game), 29th in rushing (236.2 yards per game), and 121st in passing (99.8 yards per game). The also rank 95th in third down conversions (37 percent) and 90th in red zone scores (10-of-13).
Senior David Cobb is one of the best running backs in the conference. Our former feature writer Drew Hallett ranked him seventh-best in his preseason Big Ten position rankings. He came out of nowhere to rush for 1,202 yards on 5.1 yards per carry in 2013, becoming the first Gopher to eclipse 1,000 yards since 2006. He was held to just 22 yards on seven carries against Michigan, but had six 100-yard games, including against Michigan State. So far this season, Cobb has been the Gopher offense, averaging 134.8 yards per game on the ground. But he has gained most of that yardage in just two of the four games — 220 yards against Middle Tennessee and 207 against San Jose State last week. TCU held him to just 41 yards on 15 carries in Week 3 and you can be sure Michigan will load the box to do the same.
Cobb is the workhorse with 92 carries, but three other running backs have double-digit carries. Berkley Edwards, the younger brother of former Michigan star receiver Braylon, has 16 carries for 92 yards and two touchdowns. Rodrick Williams and Donnell Kirkwood each have 10 carries for just 35 and 24 yards, respectively.
With last year's starting quarterback, Phillip Nelson, gone the man who supplanted him by the end of 2013 was supposed to grab the reigns. Redshirt sophomore Mitch Leidner threw just 78 passes for 619 yards and three touchdowns last season. About a third of that came in the bowl game in which he completed 11-of-22 for 205 yards and two scores. He also saw extensive action against Michigan, completing 14-of-21 for 145 yards, a touchdown, and an interception. He was much more of a running quarterback last season, rushing 102 times for 407 yards and seven scores.
But after starting the first three games this season and completing just 48.1 percent of his passes for 362 yards, two touchdowns, and four interceptions, he missed last week's game with turf toe. In his place was redshirt freshman Chris Streveler, who threw just seven passes and completed just one for seven yards. On the other hand, Streveler rushed 18 times for 161 yards and a touchdown. He's likely to be the starter tomorrow.
The receiving corps is young, led by tight end Maxx Williams, Drew's second-best tight end in the conference this fall, who caught 25 passes for 417 yards and five touchdowns a year ago. Williams leads the team with six catches for 110 yards and two touchdowns so far, also missed last week's game with an injury, but should play tomorrow. Last year's leading wide receiver, Derrick Engel, is gone, leaving Donovahn Jones, K.J. Maye, and Drew Wolitarsky to step up. Jones has six catches for 92 yards and a score, while Maye has two for 65, and Wolitarsky has four for 31.
Experience isn't an issue with the offensive line. Of the nine linemen that started a game last season, seven returned, and those seven started a combined 55 games in 2013 and 124 in their careers. Left guard Zac Epping is the most experienced of the bunch, having started 38 career games. While none of Minnesota's linemen rank among the Big Ten's best, and the line as a whole won't be the best, it has paved the way for a powerful running game.
Michigan offense vs Minnesota defense: When Michigan has the ball
Defensively, Minnesota has allowed exactly the same number of points as Michigan has, 20.2 per game. The total defense ranks 66th nationally (383.8 yards per game), the rush defense ranks 51st (131.5 yards per game), and the pass defense ranks 82nd (252.2 yards per game). In addition, the Gophers are allowing opponents to convert 40 percent of their third downs, which ranks 72nd nationally. By comparison, Michigan allows 33 percent.
The main loss from last season is a big one in nose tackle Ra'Shede Hageman, who was drafted by the Atlanta Falcons in the second round of the NFL Draft. He led Minnesota with 13 tackles-for-loss in 2013 and also recorded two sacks. Defensive tackle Roland Johnson, who added 5.5 tackles-for-loss, also departed, leaving a big hole in the middle of the defense.
Senior Cameron Botticelli is now the main man in the middle and leads the team with 3.5 tackles for loss. He also has one sack. Nose tackle Steven Richardson has started the last two games and has eight tackles, 2.5 for loss, and one sack. The ends are redshirt junior Theiren Cockran, who ranked third in the Big Ten last season with 7.5 sacks, and senior Michael Amaefula, who recorded 19 tackles for loss a year ago. The two have combined for 12 tackles, three for loss, and a sack so far this season. Sophomore Hendrick Ekpe started the first two games and has 10 tackles, three for loss, and 1.5 sacks.
Two of the top three linebackers from last season are gone, but middle linebacker, senior Damien Wilson, returns. He was Minnesota's second-leading tackler last season with 78, and had the third-most tackles-for-loss with 5.5. He currently leads the team with 44 tackles and also has three tackles for loss, 1.5 sacks, an interception, and a fumble recovery. Junior De'Vondre Campbell, who started three games last season, is the second leading tackler with 21 to go along with one tackle for loss. The Gophers have gone with more nickel the past two weeks, but when they use a third linebacker it is usually redshirt sophomore Jack Lynn, who is third on the team with 20 tackles and two for loss.
The strength of Minnesota's defense was supposed to be the secondary, despite the loss of cornerback Brock Vereen, who was drafted by the Chicago Bears in the fourth round. The other starting corner from last season, Eric Murray, led the team with 10 pass breakups, which ranked sixth in the Big Ten. Just a junior this fall, Murray has 16 tackles, one interception, and two pass breakups so far. The other corners are junior Briean Boddy-Calhoun, who tore his ACL last season, and senior Derrick Wells, who was hampered most of 2013 with a shoulder injury. Boddy-Calhoun leads the team with two interceptions and five pass breakups so far.
The safety spots are filled by Cedric Thompson — last season's leading tackler — junior Antonio Johnson, and junior Damarius Travis. Johnson and Travis each have a pick so far this season.
Special Teams: The other third
Redshirt freshman kicker Ryan Santoso was rated the seventh-best kicker in the 2013 class by ESPN and is replacing Chris Hawthorne, who made 14-of-18 last season. Santoso has made just 1-of-3 so far this season with a long of 38. Redshirt junior punter Peter Mortell is a nice weapon to have after ranking third in the Big Ten with a 43.3-yard average a year ago. He's currently averaging 46.2 yards, which ranks second in the conference, behind only Nebraska's Sam Foltz.
Defensive back Marcus Jones ranked sixth in the Big Ten in kick returns last season, averaging 24.9 yards per return. He's currently right on pace, averaging 24.4 yards. He's also handling most of the punt return duties with six returns for an average of eight yards.
Prediction:
Minnesota is going to try to run the ball, run the ball some more, and run the ball some more. The good news is that plays right into Michigan's defensive strength. Expect Greg Mattison to load the box to stop the run and force Streveler to try to make big plays with his arm. He has completed just 4-of-11 passes for 37 yards in his career, so that's a good thing for Michigan's young corners, Jourdan Lewis and Jabrill Peppers.
Offensively, Michigan is also going to try to run the ball a lot with Derrick Green, but given the success teams have had passing on the Gophers so far, Michigan can have some success through the air. Could this be Shane Morris' coming out party? I wouldn't go that far, but I am looking forward to seeing what he can do as the (presumed) starter.
Expect a fairly low-scoring game with neither team able to pull away. Michigan will win, and while I don't think it will be decisively, it won't be too close for comfort either.
Michigan 24 – Minnesota 13