---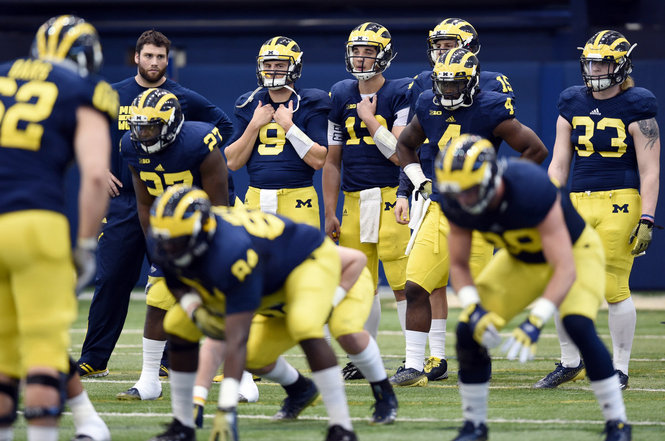 (Melanie Maxwell, MLive)
With the 2015 Spring Game just three days away, Michigan announced the rosters for the two teams on Wednesday afternoon. Defensive coordinator D.J. Durkin will coach the Maize team, while offensive coordinator Tim Drevno will head the Blue team.
Instead of a simple practice format that Brady Hoke, Rich Rodriguez, and late-era Lloyd Carr preferred, Jim Harbaugh is bringing a jolt of life to the event with a full game consisting of four 10-minute quarters. The team hosted a draft last Saturday to determine the two squads that will face off this Saturday.
Gates open at 10 a.m. with kickoff scheduled for noon. The game will be televised on Big Ten Network and Jim Brandstatter, Dan Dierdorf, and Doug Karsch will have the call on the Michigan/IMG Sports Network.
Maize team
Blue team
No.
Name
Pos.
No.
Name
Pos.
4
DeVeon Smith
RB
2
Blake Countess
DB
5
Jabrill Peppers
DB
3
Bo Dever
WR
6
Brian Cleary
QB
5
Kenneth Sloss
WR
7
Henry Poggi
DE
7
Shane Morris
QB
8
Channing Stribling
DB
12
Allen Gant
LB
9
Ramsey Romano
QB
13
Terry Richardson
DB
10
Da'Mario Jones
WR
13
Matt Thompson
QB
12
Alex Malzone
QB
14
Drake Harris
WR
15
Garrett Moores
QB
16
Jack Wangler
WR
17
Freddy Canteen
WR
18
Antonio Whitfield
RB
18
A.J. Pearson
DB
19
Wilton Speight
QB
19
Jared Wangler
LB
20
Matt Mitchell
DB
23
Dennis Norfleet
WR
22
Jarrod Wilson
S
27
Derrick Green
RB
23
Jeffrey Houston
DB
27
Travis Wooley
DB
25
Dymonte Thomas
DB
30
Reon Dawson
CB
26
Jourdan Lewis
DB
31
Nick Benda
LB
28
Brandon Watson
DB
34
Jeremy Clark
S
29
Ross Taylor-Douglas
CB
35
Joe Bolden
LB
31
Kyle Seychel
K/P
37
Bobby Henderson
FB
32
Ty Isaac
RB
40
Joe Beneducci
FB
32
Shaun Austin
DB
41
Ryan Tice
K/P
33
Wyatt Shallman
RB
42
Ben Gedeon
LB
36
Joe Kerridge
FB
44
Delano Hill
DB
38
Francois Montbrun
DB
44
Chase Winovich
TE
38
Nick Volk
FB
45
Brady Pallante
FB
43
Chris Wormley
DE
46
Deyanco Hardwick
LB
43
Scott Sypniewski
LS
49
Anthony Dalimonte
DB
48
Desmond Morgan
LB
49
Andrew Robinson
LS
52
Royce Jenkins-Stone
LB
50
Tom Strobel
DE
55
David Dawson
OL
51
Greg Froelich
OL
55
Garrett Miller
DL
52
Mason Cole
OT
61
Graham Glasgow
OL
57
Patrick Kugler
OL
62
Alex Kaminski
LB
62
Blake Bars
OL
63
Ben Pliska
OL
67
Kyle Kalis
OL
66
Dan Liesman
LB
73
Maurice Hurst Jr.
DT
69
Willie Henry
DT
75
Nikhil Brueggeman
OL
71
Ben Braden
OL
78
Erik Magnuson
OL
72
Logan Tuley-Tillman
OL
81
Brian Cole
WR
74
Dan Samuelson
OL
84
A.J. Williams
TE
76
Juwan Bushell-Beatty
OT
85
Maurice Ways
WR
82
Amara Darboh
WR
86
Jehu Chesson
WR
83
Jaron Dukes
WR
89
Brad Anlauf
WR
88
Jake Butt
TE
90
Bryan Mone
DT
94
Ian Bunting
TE
91
Kenny Allen
K/P
95
Michael Jocz
TE
93
Lawrence Marshall
DE
96
Ryan Glasgow
DL
97
Cody Zeisler
DE