---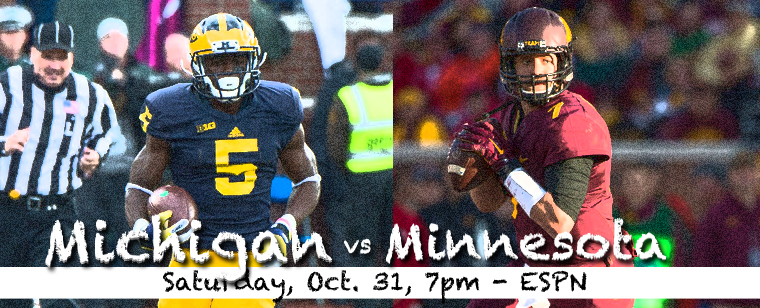 After a week off Michigan returns to the field tomorrow night looking to get the bad taste of the Michigan State loss out of its collective mouth. The Wolverines travel north to Minneapolis to face a Golden Gophers squad that just lost its coach.
Quick Facts

TCF Bank Stadium – 7p.m. EST – ESPN
Minn Head Coach:
Tracy Claeys (Interim)
Coaching Record:
(0-0)
Offensive Coordinator:
Matt Limegrover (5th season)
Defensive Coordinator:
Tracy Claeys (5th season)
Last Season:
8-5 (5-3)
Last Meeting:
Minn 30 – UM 14 (2014)
All-Time Series:
UM leads 73-25-3
For the Little Brown Jug:
UM leads 69-23-2
Record in Minneapolis:
UM leads 32-12-2
Jim Harbaugh vs Minn:
1st meeting
Last Michigan win:
2013 (42-13)
Last Minnesota win:
2014 (30-14)
Current Streak:
Minnesota 1
Jerry Kill abruptly announced his retirement due to health reasons on Wednesday. In the four-plus seasons on the job Kill turned around a struggling Minnesota program into a Big Ten title contender, achieving 8-5 records in 2013 and 2014. The Gophers finished second in the Big Ten West last fall and began this season with a close, six point loss to TCU. But after wins over Colorado State (23-20 in overtime), Kent State (10-7), and Ohio University (27-24), Minnesota has dropped two of its last three. Northwestern shut out the Gophers 27-0 the week before Michigan shut out the Wildcats 38-0. Then, after beating Purdue 41-13, Minnesota dropped a 48-25 contest to Nebraska.
Defensive coordinator Tracy Claeys stepped in as the interim head coach for the balance of the season. Interestingly, the last time Michigan visited Minneapolis Kill missed the game due to a seizure and Claeys coached it. Michigan won that one 42-13, but the Wolverines were embarrassed a year ago in the Big House. Shane Morris started the game, but suffered a "probable, mild concussion," which may have been the last straw for Brady Hoke and Dave Brandon.
Minnesota wants a win for Coach Kill and to avoid falling to .500. Michigan wants this win to regain the Little Brown Jug, to get past the Michigan State loss, and to remain in the Big Ten title hunt.
Let's take a look at the matchups.
When Minnesota has the ball
Minnesota's offense ranks 101st nationally and 11th in the Big Ten in total offense (351 yards per game), 84th and ninth in rushing (156.7 yards per game), 95th and 11th in passing (194.3 yards per game), 106th and 11th in pass efficiency (113.31), and 110th and 14th in scoring (20.4 points per game).
Quarterback Mitch Leidner ranks ninth in the Big Ten in passing, averaging 187.1 yards per game, one yard more than Jake Rudock. Leidner has completed 59.2 percent of his passes (Rudock 61.7 percent) for 1,310 yards, seven touchdowns, and six interceptions. He's also the team's third leading rusher with 121 yards (2.1 yards per carry) and three touchdowns.
Redshirt freshman Rodney Smith leads the way on the ground with 467 yards (4.1 yards per carry) and one score, averaging 66.7 yards per game. He had a 100-yard game in Week 2 against Colorado State, but managed just 20 yards on eight carries against Nebraska last time out. True freshman Shannon Brooks leads the team in yards per carry (7.0). He didn't play in the first three games of the season but has shared the load with Smith the last four. He broke out for 176 yards and a touchdown on 17 carries against Purdue but like Smith was held to just 25 yards on eight carries against Nebraska.
Four Gopher receivers have over 100 receiving yards on the season, led by senior K.J. Maye's 350 yards and three touchdowns. Maye had his best game of the season against Nebraska when he caught 11 passes for 94 yards, but after scoring touchdowns in each of the first three games, he has been held out of the end zone in the last four. Junior Drew Wolitarsky is just behind Maye with 297 yards and one score, while redshirt sophomore Eric Carter has 21 receptions for 245 yards and a touchdown. Sophomore tight end Brandon Lingen is the fourth with more than 100 yards (109) and he's the only pass catcher other than Maye with multiple touchdowns (two).
The offensive line has seen some injuries this season and left tackle Josh Campion, who had started 39 straight games entering the season, and center Brian Bobek, an Ohio State transfer who began the season as the starting center, are still out this week.
Redshirt junior left tackle Ben Lauer has 12 career starts under his belt. He was the starting left tackle entering the season, but an injury caused him to miss three of the next four games. He returned against Purdue and Nebraska. Fifth year senior left guard Joe Bjorklund has 10 career starts including seven last season. True freshman Tyler Moore is forced into action, while sophomore right guard Conner Mayes and redshirt junior right tackle Jonah Pirsig have both started every game this season.
When Michigan has the ball
Minnesota's defense ranks 28th nationally and seventh in the Big Ten in total defense (328.7 yards per game), 52nd and 9th in rush defense (151.4 yards per game), 18th and 5th in pass defense (177.3 yards per game), 21st and 6th in pass defense efficiency (107.91), and 45th and 9th in scoring defense (23.1 points per game).
The defensive line is anchored by sophomore tackle Steven Richardson, who leads the team with 3.5 sacks and seven tackles for loss. The other tackle, Scott Ekpe has yet to record a sack, but has two tackles for loss. Fifth year senior defensive end Thieren Cockran has seemingly been around forever and is the Gopher that gave Shane Morris his concussion last season. He has two sacks and five tackles for loss, while the other end, Hendrick Ekpe, has a half of a sack.
Redshirt junior linebacker Jack Lynn is the team's third leading tackler with 36 and has the second most tackles for loss with six. Fifth year senior De'Vondre Campbell is a multi-year stater and has 34 tackles, one sack, an interception and four passes defended. Sophomore Jonathan Celestin is the third starter at linebacker with 28 tackles and three for loss. Redshirt sophomore Cody Poock is the top reserve as the team's second leading tackler.
Senior safety Antonio Johnson leads the team with 48 tackles to go along with two for loss, two passes defended, and a fumble recovery. The other safety is redshirt sophomore Adekunle Ayinde, who 22 tackles and four passes defended. Senior Eric Murray and fifth year senior Briean Boddy-Calhoun are the starting corners, while Jalen Myrick is the nickel corner. Myrick leads the team with three interceptions and six passes defended, while Murray also has a pick.
Both kicking specialists are veterans. Kicker Ryan Santoso was the team's kicker as a redshirt freshman in 2014, connecting on 12 of 18 field goal attempts with a long of 52. So far this season he is 10 of 13 with a long of 50. Fifth year senior punter Peter Mortell ranks fourth in the Big Ten with an average of 44.0 yards per punt. He has booted 12 of his 43 punts longer than 50 yards and downed 18 inside the 20.
Myrick and Brooks share the kick return duties, averaging 21.4 and 18.7 yards per return, respectively. Sophomore defensive back Craig James is the normal punt returner, but is out with an injury, so Myrick and freshman KiAnte Hardin will do the job.
Michigan will come out focused and determined to reclaim the Little Brown Jug and stay in the Big Ten title hunt. Minnesota's defense is just average against the run and allowed 203 yards on 5.3 yards per carry to Nebraska, which managed just 82 rushing yards last week against Northwestern. Expect a heavy dose of De'Veon Smith and Drake Johnson, who should finally be healthy.
Minnesota doesn't have the offense to keep up with Michigan, so the main question will be whether or not Michigan's defense can record its fourth shutout of the season. Northwestern shut Minnesota out 27-0 and the Gophers managed just 10 points against Kent State, who is just 3-5 at this point and has given up at least 10 points in every other game.
It won't be a pretty or exciting game, but it will be classic Jim Harbaugh as Michigan pounds the ball on the ground and wears down the Gopher defense. Jake Rudock has a classic Jake Rudock day and Michigan wins and returns the jug to its rightly place.
Michigan 35 – Minnesota 6