---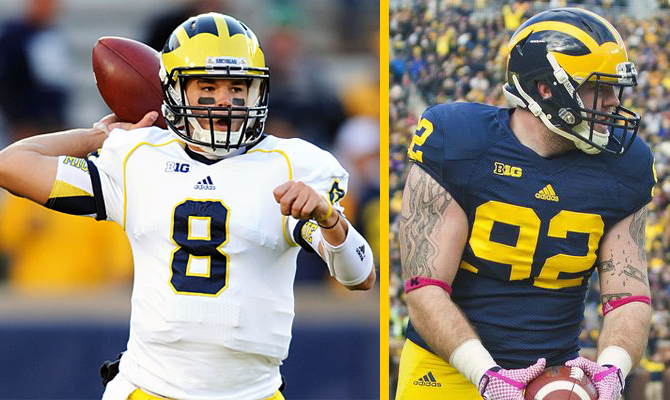 Four days after running back Justice Hayes announced his intention to transfer, new head coach Jim Harbaugh granted two more fifth-year seniors-to-be a release from the program. Quarterback Russell Bellomy and tight end Keith Heitzman both announced on Friday that they will seek a grad-year transfer to play out their final season of eligibility.
Bellomy appeared in six games during his four seasons at Michigan, completing 4-of-23 passes for 46 yards, no touchdowns, and four interceptions. The Arlington, Texas native entered the 2012 Nebraska game late in the second quarter in relief of an injured Denard Robinson and struggled to move the ball as the Wolverines lost 23-9. In that game — the most extensive action of his career — Bellomy completed just 3-of-16 passes for 38 yards and three interceptions while rushing five times for no yards.
He missed his junior season due to a torn ACL suffered in spring practice and came into the Penn State game last season for two series in relief of Devin Gardner. On those series, he went 0-of-2, but most importantly, didn't make a mistake to take Michigan out of field goal range. Matt Wile kicked a 42-yard field goal to tie the game at 13 late in the third quarter.
Heitzman played in 36 games in three seasons after redshirting in 2011. As a redshirt freshman in 2012, he appeared in 12 games as a reserve defensive end, recording seven tackles, one for loss, and recovering a fumble. In 2013, Heitzman started seven games at defensive end and played in all 12, recording eight tackles and half of a tackle for loss. Last season, he moved to tight end and caught two passes for 32 yards and one touchdown, which came against Indiana.
Both Bellomy and Heitzman expect to receive their degree from the University of Michigan this spring before transferring. Neither has picked a destination yet, but both stressed their love and appreciation for Michigan in Instagram posts on Friday afternoon. We wish both the best wherever they end up.
Click here to read Bellomy's Instagram post. Click here to read Heitzman's Instagram post.