---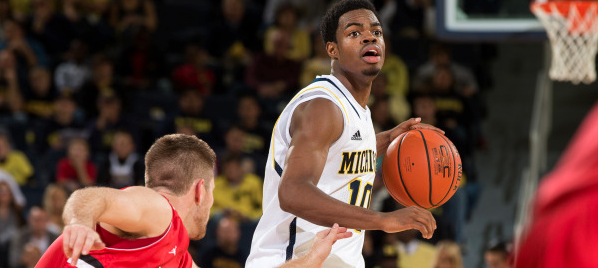 (MGoBlue.com)
Over the course of John Beilein's tenure in Ann Arbor, Michigan has gone from starting some combination of Kelvin Grady, C.J. Lee, and David Merritt at point guard to becoming a de facto Point Guard U with the likes of Darius Morris and Trey Burke leading the team over the past three years. Nobody is mistaking Beilein for John Calipari, of course, but the way Beilein has developed his floor generals, as opposed to hand-picking them, has certainly turned some eyes in the college basketball world. After Morris left following an incredible sophomore season and Burke quickly developed into the best player in the nation before departing after two years as well, Beilein finds himself in a familiar position, but this time has some leeway.
Let's take a look at how the point guard position will shake out for this year's edition of the Michigan Wolverines.
Projected Starter: Derrick Walton, Jr.
We've already taken an in-depth look at what Walton should be able to provide in his first season of college ball, but the exhibition opener over Concordia really confirmed what most have expected thus far. Walton is a very quick player with the ball in his hands who will be looking to create for others before looking to shoot himself. He will never be the same player that Trey Burke was in Ann Arbor, but Walton clearly has the potential to make a similar impact, and with the talent of this Michigan team, it should be felt instantly. Beilein continues to stress the opportunity created by the departures of Burke and Tim Hardaway, Jr., and Walton should be distributing a lot of assists as he learns the ropes and adjusts to a faster and more physical game. When no teammates are open and defenses start focusing on shutting down the passing lanes, however, Walton can also drain the long ball or drive to the hole, as he did in scoring 11 points Tuesday night.
Fortunately for Michigan, this is not the first time that a Michigan team enters a season with an inexperienced lead guard. Darius Morris had a year under his belt before taking the reins, but he had played just 24 minutes per game his freshman season before taking over while Trey Burke assumed the starting point guard spot in his first regular season game and never looked back. Assistant coach Lavall Jordan has proven adept at developing young guards, and Walton should be the next valuable protégé.
Projected Stats – Walton
Points
Assists
Steals
Rebounds
Turnovers
Minutes
6.0
4.0
1.5
2.5
2.0
25.0
Primary Back-up: Spike Albrecht
The difference at point guard this season is Spike Albrecht, the late addition to the 2012 recruiting class who was offered primarily in case reports of Trey Burke leaving after just one year ended up being true. Alas, Burke was convinced otherwise and Albrecht, the guy who claims to go mostly unrecognized on campus because of his average size, was afforded the chance to learn from one of the best for a whole season.
Spike Albrecht's numbers will not pop out to anyone, and he will most likely spend the majority of his career at Michigan watching from the sidelines, but he is an invaluable part of Michigan's program. Every team would love to have an experienced backup who can come in for a couple minutes here and there and be solid, which is exactly what Albrecht is.
On rare occasions, like the night of the national championship game last season, the starter will be in foul trouble, or perhaps injuries will cause some shuffling, but when that time has come in the past, Albrecht has stepped up and shown what he is capable of doing, scoring 17 first-half points against Louisville and making some forget about Trey Burke being on the bench for the majority of a half.
Albrecht certainly enjoyed that time in the limelight, making Sportscenter highlights and giving a shout-out to Kate Upton on Twitter, but he knows his role on the team. He didn't come to Michigan expecting to be a house-hold name. He came expecting to help his teams accomplish great goals.
To date, the script couldn't have gone any better for the son of a former bitty-ball legend. This season, if all is well, Albrecht will again back-up a hotshot point guard, enter the game to give Walton a breather from time to time, make a few shots, dish out a few assists, take care of the ball, and be happy to be a part of something bigger than him.
Last season, with no minimum shots required, Albrecht was actually the team's best three-point shooter, and while a few more shots this time around will likely see that percentage drop a little bit, Albrecht will have the green light when he's open and will make a good number of them.
Beilein does not hold back in his praise for Spike and unsurprisingly gave him the starting nod in the first exhibition of the year, in which Spike notched a quiet five points, four assists, two rebounds, and a turnover. Still, both Beilein and Albrecht are aware of the player's limited ceiling. Albrecht will never be a bona fide defender, scorer, or creator, but if he can put forth full-hearted effort, Michigan fans will be happy with the results.
This year, expect a year of practice against Burke to pay dividends for Albrecht and a few more girls to flutter their eyebrows while walking by the boyish-faced Spike on the Diag. But most of all, expect to be happy with Albrecht's contributions. Those contributions won't be great, and oftentimes they will go unnoticed, but a back-up point guard who flies under the radar is usually a back-up point guard who is doing his job.
Projected Stats – Albrecht
Points
Assists
Steals
Rebounds
Turnovers
Minutes
3.5
1.5
0.5
1.2
0.8
10.0
Career Stats
2012-13
2.2
0.7
0.3
0.8
0.4
8.1
47.5 FG%, 54.3 3pt%, 83.3 FT%
2013 NCAA Tournament Stats
2012-13
6.0
0.7
0.5
1.0
1.0
12.8
72.2 FG%, 90.0 3pt%, 33.3 FT%
Secondary Back-ups: Caris LeVert, Nik Stauskas
Both LeVert and Stauskas will be examined more closely in the wing preview to come, but Beilein has been more open to discussing the variety of lineups at his disposal this season than in years past. At 6'6″, LeVert and Stauskas afford Michigan the chance to go very big and assuredly offer Beilein an opportunity to run the length-heavy 1-3-1 zone defense that has been mostly an apparition over the past couple seasons. Perhaps uninformed commentators will finally be right on occasion when talking about Michigan being a zone team then, but I still don't expect to see either the zone or someone other than Walton and Albrecht at the point often.
For the most part, a change-of-pace with a wing running the offense will be used as a wrinkle and will perhaps occasionally be deployed against bigger teams; unless the true point guards are really struggling or go down to injury, however, this shouldn't be a significant part of Michigan's season.
Bottom Line: To be completely honest, Michigan's point guards will probably not be looked at as an invariable strength, and that is fine for John Beilein. Pundits around the basketball world continue to question Michigan until Walton can prove himself as the heir apparent to Trey Burke, and many will continue to doubt Michigan's chances as they realize that Walton will not fill up the scoring column like his predecessor.
But all Beilein needs is for his point guards to facilitate the show this time around. There is plenty of offense to go around on this Michigan outfit, and shots will be at a premium with potential stars like Mitch McGary, Glenn Robinson III, Nik Stauskas, and others littering the lineup. Walton and Albrecht will be more than happy to do that facilitating and should be able to take advantage from not being the opposing team's focal point too.
So while most may not look at the Wolverine point guards this time around as the foundation of the team like they were in the past, Michigan will be just fine with Walton and Albrecht being the conductors of a well-tuned symphony.