---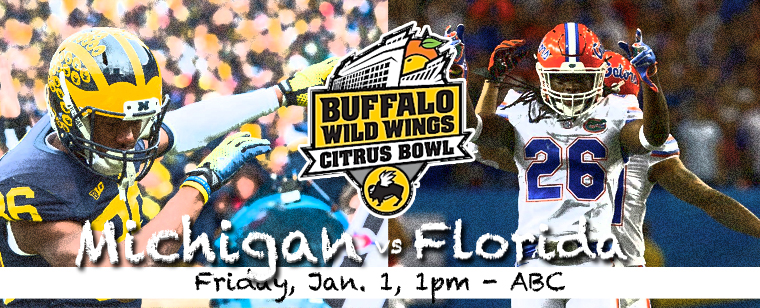 More than a month after a humbling loss to rival Ohio State, Michigan returns to the field looking to make a statement heading into a seven month football slumber. Jim Harbaugh can capture the 27th double-digit win season in program history with a victory over the Florida Gators in the Buffalo Wild Wings Citrus Bowl on Friday afternoon.
Quick Facts

Michigan Stadium – 12p.m. EST – ABC
Ohio State Head Coach:
Jim McElwain (1st season)
Coaching Record:
32-19 (10-3 at UF)
Offensive Coordinator:
Doug Nussmeier (1st season)
Defensive Coordinator:
Geoff Collins (1st season)
Last Season:
7-5 (4-4 SEC)
Last Meeting:
UM 41 – UF 35 (2008)
All-Time Series:
Michigan leads 2-0
Record in Bowl Games:
Michigan 2-0
Record in Citrus Bowl:
Michigan 1-0
Jim Harbaugh vs Florida
1st meeting
Last Michigan win:
2008 (41-35)
Last Florida win:
N/A
Current Streak:
Michigan 2
Michigan and Florida have faced each other twice before, both in Florida-based bowl games. In the 2003 Outback Bowl Michigan topped Florida 38-30 to close out a 10-3 season. Five years later, Michigan topped the Tim Tebow-led Gators 41-35 in the 2008 Capital One Citrus Bowl to close out Lloyd Carr's career with a 9-4 season. Win or lose this one, Michigan will finish with one of those two records.
Florida won the Southeastern Conference East division this season, losing only to LSU in-conference (35-28) and rival Florida State in the regular season finale (27-2). The Gators then faced Alabama in the SEC Championship game and lost 29-15, which means they ride a two game losing streak heading into this one.
Florida's best win was a 38-10 throttling of Ole Miss on Oct. 3, but they also nearly lost to Florida Atlantic on Nov. 21, needing overtime to top the Owls, who finished the season just 3-9. Their only wins came over Charlotte, Florida International, and Old Dominion.
So which Florida team will show up in Orlando on New Year's Day — the one that started 10-1 and was ranked as high as eighth in the College Football Playoff rankings or the one that needed overtime to beat FEI's 99th-ranked team and scored just 17 points in its last two games? Let's take a look at the Gators.
When Florida has the ball
Michigan fans will be familiar with offensive coordinator Doug Nussmeier, who held the same position at Michigan last season. His offense ranks 109th nationally and 11th in the SEC in total offense (338.7 yards per game), 98th and 11th in scoring (24.5 points per game), 113th and 13th in rushing (127.6 yards per game), 76th and 6th in passing (211.1 yards per game), and 61st in passing efficiency (130.58). FEI ranks Florida's offense 60th nationally with an opponent-adjusted offensive efficiency of -.03. By comparison, Michigan's OFEI is .36.
Quarterback Treon Harris opened the season as the starter after starting the final six games of 2014, but lost the job to redshirt freshman Will Grier, who went 5-0 and completed 65.8 percent of his passes with 10 touchdowns and just three interceptions. But Grier was suspended for a year for testing positive for performance enhancing drugs, so McElwain and Nussmeier were forced to turn back to Harris. The sophomore hasn't performed as well as Grier, completing just 51.9 percent of his passes with nine touchdowns and five picks. In fact, since taking over for Grier, Harris has completed just 49.2 percent for seven scores and five picks.
While the running game hasn't been dynamic — better than just 14 teams nationally — it does have a decent running back in Kelvin Taylor. The junior form Belle Glades, Fla. has 248 carries for 985 yards (4.0 yards per carry) and 13 touchdowns so far this season, averaging 75.8 yards per game. By comparison, De'Veon Smith has 155 carries for 644 yards (4.2 ypc) and six scores. Harris is the team's second leading rusher with 183 yards on 85 carries (2.2 ypc), but he has yet to find the end zone on the ground. The second leading running back, freshman Jordan Scarlett, was suspended for the Citrus Bowl for marijuana possession, which leaves Taylor and freshman Jordan Cronkite — 41 for 140 (3.4 ypc) — as the only two running backs with over 100 yards rushing on the season.
The passing game is better statistically, but Harris is not Grier in that category. Harris completed 17 of 32 passes for 271 yards and two touchdowns against LSU, but managed to break 200 yards just once in his final six games, averaging just 165 yards per game during that span. Freshman Antonio Callaway is the leading receiver with 603 yards and four touchdowns on 30 receptions. Junior Demarcus Robinson leads the team with 47 receptions, but is less of a big play threat with a yards per catch nearly half of Callaway's. Fifth-year senior tight end Jack McGee has 41 receptions for 381 yards and four touchdowns, while sophomore Brandon Powell has 28 for 364 and three scores. Sophomore tight end DeAndre Goolsby is the only other pass catcher with more than 100 yards (17 for 277 and one) but hasn't caught more than one pass in a game since Oct. 10.
The offensive line suffered a hit last week when fifth-year senior right tackle Mason Halter was declared academically ineligible. He started all 13 games. Freshman Fred Johnson will likely fill in. The other tackle, Jordan Sharpe is one of the elder statesman along the line as just a sophomore, as freshmen Martez Ivey and Tyler Jordan will be the starting guards. Sharpe started all but the Vanderbilt game this season, while Ivey has started seven at left guard and Jordan two at right guard. Ivey was the nation's top offensive tackle and No. 2 overall player according to 247 Sports in the 2015 recruiting class. The center is redshirt sophomore and Canton, Mich. native Cameron Dillard.
When Michigan has the ball
Defense is the reason Florida has had such a good season. The Gators rank 6th nationally in total defense (295.4 yards per game), 9th in scoring defense (16.5 points per game), 17th in rush defense (120.6 yards per game), 10th in pass defense (174.8 yards per game), 11th in pass efficiency defense (106.61).
Only one team — LSU (35) — scored more than 30 points on Florida this season, while the Gators held five opponents — Kentucky (9), Ole Miss (10), Missouri (3), Georgia (3), and Vanderbilt (7) — to 10 or fewer points. By comparison, Michigan's defense also held five opponents to 10 or fewer points, but three of those were shutouts.
Florida's defensive line is led by senior rush end Jonathan Bullard, whose 6.5 sacks and 17.5 tackles for loss are both team highs. The former No. 6 overall player in the 2012 class recently said that his intention to return to Gainesville for his senior season was the best decision of his life, and now he figures to be a first or second round NFL Draft selection. He was named first team All-SEC and second team All-American. The other end is redshirt junior Bryan Cox Jr, who has 3.5 sacks and 10.5 tackles for loss. Redshirt sophomore Caleb Brantley and junior Joey Ivie form the middle of the line. The duo has combined for 6.5 sacks and 9.5 tackles for loss. True freshman Cece Jefferson has also impressed at defensive end, recording 3.5 sacks and 8.5 tackles for loss, earning freshman All-American honors, while redshirt junior rush end Alex McCalister is tied with Bullard for the team lead with 6.5 sacks. However, McCalister was dismissed from the team two weeks ago. Still, that's a lot of production for a defensive line unit.
Senior middle linebacker Antonio Morrison leads the team with 97 tackles and ranks second with 12 tackles for loss. Junior weak side linebacker Jarrad Davis is the second leading tackler with 94, 11 of which have gone for loss. Redshirt junior Jerami Powell is the strong side linebacker missed a few games with a torn meniscus, but and has just 12 tackles on the season. Fifth-year senior Anthony Harrell and junior Daniel McMillan also factor into the linebacker rotation with a combined 37 tackles.
The secondary is Florida's strength with two of the best players in the nation, junior cornerback Vernon Hargreaves III and sophomore cornerback Jalen Tabor. Hargreaves joined Michigan's Jourdan Lewis as a first team All-American, becoming Florida's first consensus All-American since Joe Haden 2009. He's regarded as a top-10 pick in the upcoming NFL Draft after leading the team with four interceptions along with 31 tackles, four pass breakups, and a forced fumble. Tabor recorded an SEC-leading 14 pass breakups in addition to four interceptions, two of which he returned for touchdowns. Junior free safety Keanu Neal is the team's third leading tackler with 85, while redshirt junior strong safety Marcus Maye is fourth with 73 and also has two interceptions. Senior nickelback Brian Poole has 36 tackles.
Redshirt junior kicker Austin Hardin has made just five of 14 field goal attempts this season with a long of 43 after making seven of 12 last season. He has missed his last five attempts. Redshirt sophomore punter Johnny Townsend leads the SEC with an average of 44.92 yards per punt. He has booted 26 of his 79 punts over 50 yards and downed 29 inside the 20.
Powell averages 21.55 yards per kick return, which ranks 13th in the SEC, while Callaway ranks third in the SEC with a 14.5-yard punt return average.
A matchup of two of the top defenses in college football calls for a low scoring affair and I think that will hold true. Michigan will have trouble running the ball, which isn't a surprise after the last few games, but will need to find success through the air against Hargreaves and Tabor. That's not an easy task, but Michigan's passing game grew leaps and bounds as the season went on. If Jabrill Peppers is healthy enough to play, expect him to play a similar role to what he did against Ohio State, giving the offense another dynamic playmaker.
Defensively, Michigan will need to slow down Taylor on the ground, but shouldn't be too worried about Harris beating them through the air. Ohio State's offense this is not. Nor is it Indiana's, and those are really the only two offenses that gave Michigan's defense fits this season.
Michigan has the advantage on special teams, especially if it becomes a game of field goals, so I give Michigan the slight edge to pull this one out and carry momentum into the offseason.