---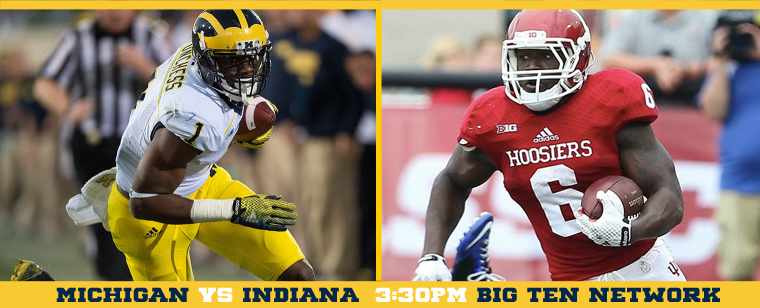 Michigan got embarrassed by rival Michigan State last Saturday, dropping to 3-5 overall and 1-3 in the Big Ten. Michigan now must win its next three to gain bowl eligibility and avoid a third losing season in seven years. All three should be winnable, but with every other record and streak that has fallen this season — shutout streak, largest margin of defeat to Michigan State, and possibly attendance streak — and the past few seasons — first loss to a MAC team, first (and second) losing season in over 40 years — Indiana could be primed to end another one. Michigan hasn't lost to the Hoosiers since Bo Schembechler roamed the sidelines, a 14-10 defeat in Bloomington in 1987. Michigan hasn't lost to the Hoosiers at home since Bo was at Miami (Ohio), a 27-20 defeat in 1967.
Quick Facts

Michigan Stadium – 3:30 p.m. EST – Big Ten Network
Indiana Head Coach:
Kevin Wilson (4th season)
Coaching Record:
13-30 (all at Indiana)
Offensive Coordinators:
Greg Frey (4th season)
Kevin Johns (4th season)
Defensive Coordinators:
William Inge (2nd season)
Brian Knorr (1st season)
Returning Starters:
17 (8 offense, 9 defense)
Last Season:
5-7 (3-5 Big Ten)
Last Meeting:
UM 63 – IU 47 (2013)
All-Time Series:
Michigan leads 53-9
Record at Michigan Stadium:
Michigan leads 30-5
Current Streak:
Michigan 18
Last 10 Meetings: 
Michigan 10-0
Last Indiana Win:
1987 (14-10)
Last Indiana Road Win:
1967 (27-20)
But it's not as if Indiana is a world-bater or anything. Kevin Wilson had the Hoosiers on the right trajectory heading into the season, going 1-11 in 2011, 4-8 in 2012, and 5-7 a year ago. But the two-quarterback platoon that he used to great offensive success last season dissolved when one of them, Tre Roberson, transferred to Illinois State in June. That left the other, Nate Sudfeld, to assume the quarterback role by himself. He provided a better arm, but not the dual-threat ability that Roberson brought to the table, and while Indiana's offense started the season pretty good, it was clear that it was a step behind last season's.
After beating Indiana State in Week 1, IU lost at Bowling Green, 45-42. But they responded the following week with a 31-27 upset of 18th-ranked Missouri on the road, giving Wilson more road wins over top 25 teams than Brady Hoke. The euphoria would be short-lived as Indiana returned home to get throttled by Maryland, 37-15. They rebounded with a 49-24 win over North Texas, but dropped back-to-back conference games to Iowa (45-29) and Michigan State (56-17).
All but the last one were with Sudfeld behind center, but Wilson's hopes for a winning season became extremely difficult when Sudfeld went down against Iowa with a separated shoulder. Suddenly, a position that was considered a strength three months ago was left with a true freshman with no college experience.
Does Indiana have the ability to come to Ann Arbor and steal a victory the same way it did in Columbia, Mo.? Or will Michigan's defense prove too much for the unseasoned signal caller? Let's take a look at the matchups.
Michigan defense vs Indiana offense: When Indiana has the ball
Indiana's offense ranks 32nd nationally in total offense (460.3 yards per game), 64th in scoring (30.1 points per game), eighth in rushing (289.9 yards per game), and 112th in passing (170.4 yards per game). It also ranks 103rd in third-down conversions (36 percent) and 98th in red zone offense (78 percent).
The main reason for the success Indiana has had is running back Tevin Coleman, who leads the nation with 170.3 rushing yards per game. He has rushed for at least 122 yards in every game this season with a high of 247 against Indiana State. He also rushed for 219, averaging 14.9 yards per carry, against Iowa's stout run defense and 132, averaging 8.8 yards per carry, against Michigan State.
The passing game is a different story, however. The Hoosiers average 170.4 yards per game through the air. In fact, Coleman has rushed for more yards (1,204) by himself than the Hoosiers have passed for (1,193). Sudfeld completed 60.5 percent of his passes for 1,151 yards, six touchdowns, and three interceptions before his injury. His replacement, true freshman Zander Diamont, completed just 5-of-15 for 11 yards in his first game action against Michigan State two weeks ago.
Shane Wynn is the leading receiver with 27 catches for 424 yards and two touchdowns. He caught two touchdowns against Michigan last season. Senior Nick Stoner has 18 catches for 177 yards and one score, while Coleman is the team's third-leading pass catcher with 17 for 140 yards. Freshman J-Shun Harris II is the only other Hoosier with double-digit receptions with 14 for 139 and two scores.
Michigan offense vs Indiana defense: When Michigan has the ball
Defense has never been a specialty of Wilson's in Bloomington. A year ago, Indiana's scoring offense ranked 16th nationally, but its scoring defense ranked 115th. Only nine teams in the nation allowed more points per game. But this offseason Wilson brought in Wake Forest defensive coordinator Brian Knorr to change from a 4-3 to the 3-4 that he ran at Wake. Knorr elevated Wake's defense from 91st in 2012 to 31st in 2013, but that kind of success at Indiana is a much tougher task.
The line consists of sophomore tackle Darius Latham — a former four-star recruit –, redshirt junior nose tackle Adarius Rayner, and senior end Bobby Richardson. Richardson has 4.5 tackles for loss, while Latham and Rayner each have two. Richardson leads the team with four sacks. Redshirt sophomore tackle Ralph Green III ranks second on the team with four tackles for loss.
Converted defensive end Nick Mangieri plays the bandit linebacker spot and has 25 tackles, two for loss, and two sacks. SAM linebacker Forisse Hardin has 32 tackles, 3.5 for loss, and a sack. Middle linebacker T.J. Simmons leads the team with 43 tackles to go along with 2.5 for loss and one sack, while fifth-year senior David Cooper has 35 tackles and one for loss.
The secondary has been picked on all season, allowing 283.3 yards per game through the air, which ranks 111th nationally. The corners are senior Tim Bennett and redshirt junior Michael Hunter. Bennett ranks second on the team in tackles with 38 and leads the team with eight pass breakups. The safeties are sophomore Antonio Allen and senior Mark Murphy. Allen is the team's third-leading tackler.
Special Teams: The other third
Redshirt freshman kicker Aaron Del Grosso has made just 1-of-4 field goals, but fellow redshirt freshman Griffin Oakes has supplanted him by converting 4-of-5 with a long of 58. Redshirt junior punter Erich Toth ranks sixth in the Big Ten with an average of 41.3 yards per punt. Wynn is the main returner, averaging 22 yards per kick return, which ranks eighth in the conference, and 5.8 yards per punt return.
Prediction
Michigan's offense has scored just 14.4 points per game in the last five, but it shouldn't have any troubles against Indiana's defense that has allowed just one team all season to score fewer than 24 points — FCS Indiana State in Week 1. The Hoosiers' defense was the cure for Michigan's struggling offense last season and that should follow suit on Saturday. It certainly won't be the record-setting performance that we witnessed a year ago, but it should look a little bit more like a normal offense.
Defensively, Michigan will look to pressure the inexperienced Diamont into mistakes. Coleman will get his yards like he does every game and like Minnesota's David Cobb and Michigan State's Jeremy Langford did to the Wolverines. But as long as Michigan's defense can prevent him from breaking long touchdown runs, it should be able to hold IU low enough to outscore them.
Michigan 34 – Indiana 20