---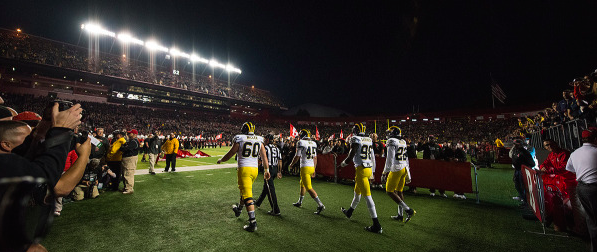 (MGoBlue.com)
A trying week for the Michigan football program following a loss to Minnesota, complete with a concussion controversy that gained national mainstream media attention, a student rally calling for the firing of athletic director Dave Brandon, and increased calls for Brady Hoke's head, was bookended with yet another loss. This time, the Wolverines came up just short in a 26-24 defeat at Rutgers on Saturday night.
It was the first ever meeting between the two oldest schools in FBS and it resulted in the first ever Big Ten Conference victory for the team that won the first ever college football contest over the school with the most wins in college football history.
Michigan started the game with a nine-play, 57-yard drive that stalled on the Rutgers 22-yard line. But Michigan managed three points on a 39-yard Matt Wile field goal. Rutgers countered with a seven-play, 58-yard drive and a 35-yard field goal to tie the game at three.
Final Stats
Michigan
Rutgers
Score
24
26
Record
2-4, 0-2
5-1, 1-1
Total Yards
336
476
Net Rushing Yards
158
74
Net Passing Yards
178
402
First Downs
18
18
Turnovers
1
0
Penalties-Yards
3-30
9-85
Punts-Yards
4-190
3-146
Time of Possession
29:14
30:46
Third Down Conversions
4-of-11
8-of-16
Fourth Down Conversions
0-of-0
0-of-2
Sacks By-Yards
2-21
3-18
Field Goals
1-for-2
2-for-2
PATs
3-for-3
2-for-3
Red Zone Scores-Chances
3-of-3
3-of-3

Full Box Score
Michigan went three-and-out and Rutgers went 47 yards in eight plays and took a 6-3 lead on a 45-yard Kyle Federico field goal. But Michigan responded with the first touchdown of the game. Devin Gardner kicked off the drive with a 23-yard pass to Devin Funchess and then the two connected for eight yards. Three plays later, Gardner lofted the ball up across the middle and Jake Butt made a one-handed catch for 20 yards to give Michigan a first-and-goal at the Rutgers five. Gardner tried to sneak it in, but was stuffed. On second down, Gardner ran to the right and outran the defense to the end zone giving Michigan a 10-6 lead.
After trading punts, Rutgers took over on its own 20-yard line. Quarterback Gary Nova found a wide open Andrew Turzilli for an 80-yard touchdown catch and run. Michigan blocked the extra point and Rutgers led 12-10.
Michigan couldn't do anything with its next possession and punted it back to Rutgers, who took possession at their own 12. Nova connected with Desmon Peoples for 33 yards on the first play, but Michigan's defense held strong to force fourth-and-10. Rutgers ran a fake punt, but Michigan stopped it for a loss of two yards and took over on the Rutgers 43. Six plays later, De'Veon Smith scored from a yard out and Michigan regained the lead, 17-12.
Rutgers got to work with 1:43 remaining in the half and marched right down the field. Facing third-and-goal at the Michigan 7-yard line, Nova dropped back to pass. But Frank Clark shot through the middle untouched for a sure-fire sack. However, Nova shooed him away with a stiff-arm and found John Tsimis in the end zone to put the Scarlet Knights ahead 19-17 and re-take the momentum heading into the half.
Neither team was able to score in the third quarter, but on Michigan's second possession, Gardner was intercepted at the Rutgers 41. The Scarlet Knights capitalized, going 59 yards in 10 plays, and capping it off with a 14-yard touchdown pass from Nova to Turzilli.
Michigan wasn't dead yet, however, as offensive coordinator turned to the run game to pound the ball down the field. Derrick Green ran for eight yards, eight yards, and 21 yards to get to the Rutgers 32. Gardner rushed for eight and Smith five giving the Wolverines a first down at the 19. Gardner rolled to his right, eluded several defenders and raced into the end zone to pull Michigan within two at 26-24 with 9:17 remaining.
Michigan's defense forced a punt and got the ball back hoping to drive the field for a game-winning score that could take some of the heat off the program. Smith rushed for nine yards and then four for a first down. Gardner hit Khalid Hill for a 12-yard gain, and two plays later, connected with Funchess for 17. On third-and-eight at the Rutgers 38, Gardner completed a pass to Amara Darboh on the right sideline. Darboh took two steps and dove out of bounds just past the first down marker. But as he hit the ground, the ball squirted out and the play was ruled an incomplete pass. Hoke challenged and it was upheld, giving Michigan a fourth-and-eight from the Rutgers 38 instead of first down at the 28. Hoke elected to attempt a 56-yard field goal, but Wile's kick was blocked, allowing Rutgers to run out the clock for the victory.
Rutgers finished the game with 476 total yards, 402 through the air. Both of those numbers are the most Michigan has allowed this season and the most Rutgers has gained this season. Michigan gained 336 yards with a balanced effort of 178 through the air and 158 on the ground. Gardner completed 13-of-22 for 178 yards, no touchdowns, and one interception. He also rushed 10 times for 40 yards and two touchdowns. Green led the way on the ground with 74 yards on 12 carries, while Smith had 31 yards on 10 carries and a touchdown. Funchess caught five passes for 71 yards, while Jehu Chesson caught two for 34.
Michigan has now won just three of its last 12 games and hasn't beaten a power-five school since topping Northwestern in triple-overtime last November 16. The two teams Michigan has beaten since then — Appalachian State and Miami (Ohio) — are a combined 2-9 this season with one of those two wins coming against an FCS school (Campbell) and the other just a one-point victory over 0-6 UMass.
The Wolverines fall to 2-4 on the season and 0-2 in the Big Ten for the first time since 1967. The Wolverines return home to face Penn State (4-1, 1-1) at 7 p.m. EST next Saturday.