---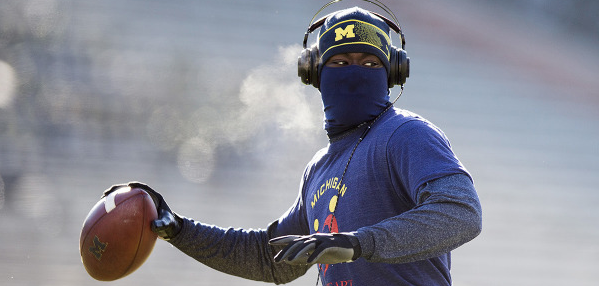 (MGoBlue.com)
Following last week's triple-overtime victory at Northwestern, Michigan had a chance to continue to build momentum heading into the big showdown next week with unbeaten rival Ohio State. Instead, with wind chills hovering around zero in Iowa City, Michigan's offense remained frozen and Iowa handed the Wolverines their fourth loss of the season, 24-21.
The game started on a high note when, on Iowa's first play of the game, Jake Ryan got pressure on quarterback Jake Rudock and Brennen Beyer picked it off at the Iowa 7-yard line. He carried it into the end zone to put Michigan ahead 7-0.
Final Stats
Michigan
Iowa
Score
21
24
Record
7-4 (3-4)
7-4 (4-3)
Total Yards
158
407
Net Rushing Yards
60
168
Net Passing Yards
98
239
First Downs
10
21
Turnovers
1
4
Penalties-Yards
2-20
3-31
Punts-Yards
10-354
4-150
Time of Possession
26:35
33:25
Third Down Conversions
4-of-14
4-of-15
Fourth Down Conversions
0-of-0
1-of-3
Sacks By-Yards
1-4
1-14
Field Goals
0-for-0
1-for-2
PATs
3-for-3
3-for-3
Red Zone Scores-Chances
2-of-2
3-of-5

Full Box Score
On their next possession, Iowa drove down the field, but kicker Mike Meyer missed a 36-yard field goal. Michigan wasn't able to do anything with its possession and Matt Wile's punt into the stiff wind went just 19 yards. Iowa took over at Michigan's 45, and punched it in seven plays later on a 5-yard pass to tight end CJ Fiedorowicz.
Michigan went three-and-out, and once again, Wile's punt into the wind gave Iowa possession on Michigan's side of the field, this time at the 42. But Iowa couldn't do anything with it and failed to convert a 4th-and-4.
At the beginning of the second quarter Michigan punted again, this time with the wind, and Iowa was forced to start at its own three. On 3rd-and-8, Blake Countess picked off Rudock at the Iowa 30, and Michigan took advantage of the short field. Six straight runs put Michigan at the Hawkeye two, and on 2nd-and-goal, Devin Gardner connected with tight end AJ Williams to put Michigan back ahead at 14-7.
Late in the second quarter, Iowa punter Connor Kornbrath found out what Wile had to deal with in the first. His punt went just 27 yards into the wind and Michigan took possession at the Iowa 47. Ten plays later, Gardner completed a 9-yard touchdown pass to Jeremy Gallon to give Michigan 21-7 halftime lead.
Despite a 14-point lead, Michigan's offense had just 113 total yards in the first half, taking advantage of a defensive touchdown and good field position.
The second half, however, was a different story. On the third play of the third quarter, Rudock found Tevaun Smith across the middle, who raced 55 yards for a touchdown. Michigan's four offensive possessions in the quarter went three plays, five yards; three plays, zero yards; three plays, six yards; four plays, minus-one yard.
It was only a matter of time before Iowa would capitalize, and they did so on their first possession of the fourth quarter, driving 60 yards on nine plays, culminating with a 9-yard Mark Weisman touchdown run to tie the game at 21.
Michigan's ensuing possession lost four yards in three plays and the Wolverines punted it back to Iowa. Nine plays later, Meyer hit a 34-yard field goal to give the Hawkeyes their first lead of the game, 24-21.
Needing some late-game magic like a week ago, Michigan mounted its first positive drive of the second half. On 3rd-and-8, Gardner completed a pass to Jeremy Jackson for 18 yards to the 50. After a loss of one, Fitzgerald Toussaint took a screen pass 13 yards to the Iowa 38. Toussaint lost a yards on the next play, and on 2nd-and-11, Gardner rushed to his left for eight yards, which would have set up a short third down already in field goal range. But Iowa linebacker Anthony Hitchens stripped the ball from Gardner's right hand and recovered it along the sideline.
Iowa needed just to run out the clock to seal the win. Michigan's defense held the Hawkeyes on first and second down, but on 3rd-and-10, Rudock completed a 12-yard pass to Fiedorowicz to end the game.
Michigan finished the game with just 158 total yards of offense – fewer than it had in the losses to Michigan State and Nebraska – and just 10 first downs. Gardner completed 13-of-28 passes for 98 yards and two touchdowns. Derrick Green rushed for 27 yards on 11 carries, while Toussaint carried the ball just six times for 12 yards. Gallon caught six passes for 47 yards and Devin Funchess, who dropped three or four catchable passes, was held to just one reception for two yards.
The only positive to come out of the loss – and it's a hollow one at that – is that Michigan set the all-time NCAA record for consecutive games without being shut out, breaking a tie with BYU. It was Michigan's 362nd straight game putting points on the board, dating back to a 1984 game at Iowa.
Michigan now heads home to close out the regular season with Ohio State, who has won 23 straight games and has already locked up a spot in the Big Ten Championship Game against Michigan State. The Buckeyes, ranked third in the BCS standings, still have hopes of a national championship if either Alabama or Florida State stumbles. Michigan will surely be a heavy underdog, but stranger things have happened.