---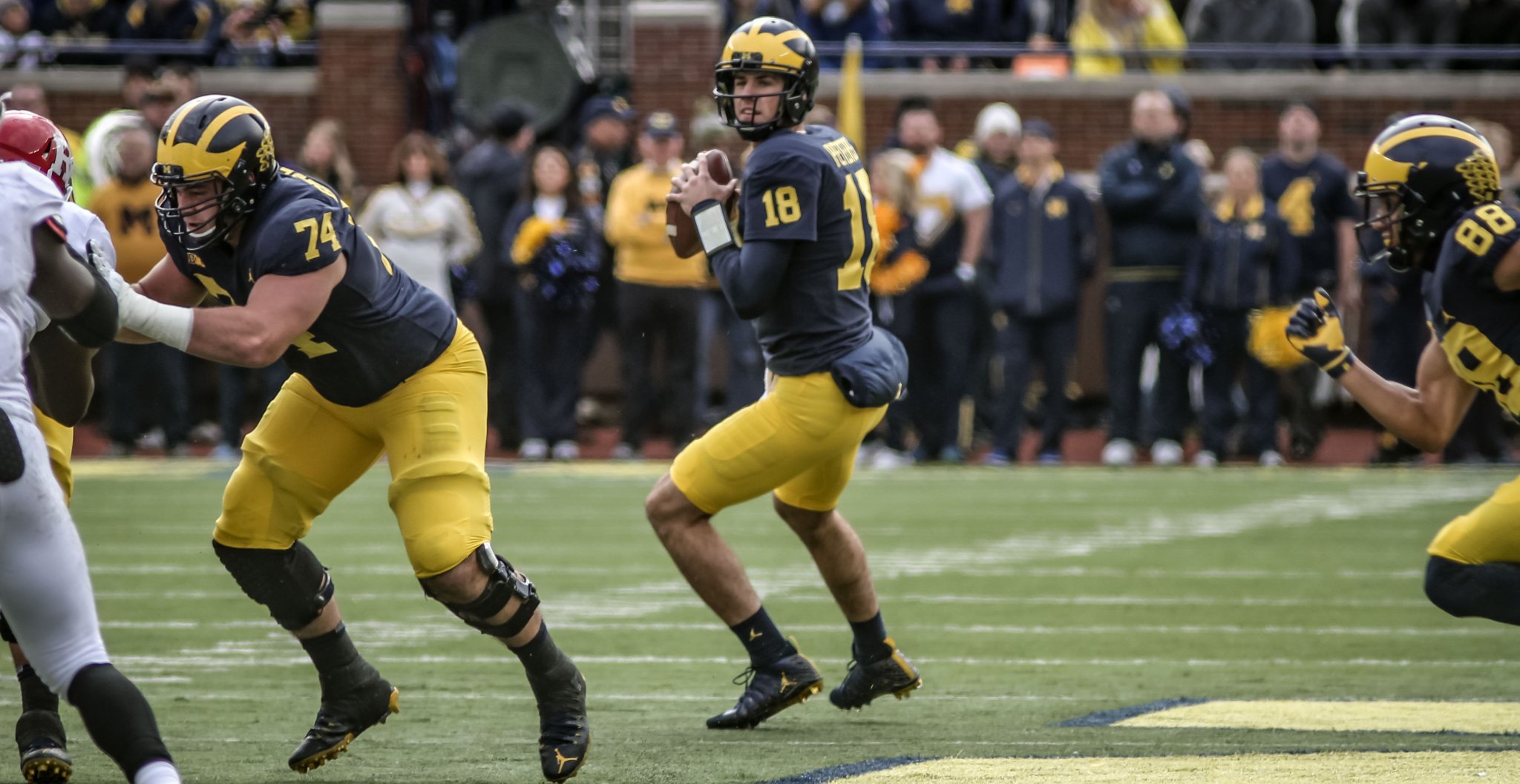 (Isaiah Hole)
After suffering its second defeat in three games last weekend, Michigan got the benefit of a Homecoming matchup with Rutgers on Saturday to ease back into the win column. And they did just what they had to do with a 35-14 victory.
Final Stats
Michigan
 Rutgers
Score
35
14
Record
6-2 (3-2)
3-5 (2-3)
Total Yards
471
195
Net Rushing Yards
334
94
Net Passing Yards
137
101
First Downs
25
9
Turnovers
1
0
Penalties-Yards
3-25
3-20
Punts-Yards
3-125
8-352
Time of Possession
36:44
23:16
Third Down Conversions
3-of-9
3-of-11
Fourth Down Conversions
1-of-2
0-of-0
Sacks By-Yards
5-25
0-0
Field Goals
0-for-1
0-for-0
PATs
5-for-5
2-for-2
Red Zone Scores-Chances
4-of-5
1-of-1
Red Zone TDs-Chances
4-of-5
1-of-1

Full Box Score
Despite a 21-point margin of victory, it didn't start out easy, however. John O'Korn started and led the first four possessions, which resulted in two punts, a touchdown, and an interception, before giving way to redshirt freshman Brandon Peters, who made his long-awaited debut. And he did it in style, leading three straight touchdown drives to turn a 7-7 second-quarter score into a 28-7 third-quarter lead. And just like that, the Peters era had begun.
On his first drive, Peters completed passes of 15 yards to Ty Wheatley, 10 yards to Henry Poggi, and 12 yards to Nico Collins as Michigan went 77 yards on eight plays. Karan Higdon ran it in from 10 yards out.
After the Michigan defense forced a three-and-out, Peters got the ball back and completed a 12-yard pass to Zach Gentry on 3rd-and-3. Four plays later, he connected with Chris Evans on a wheel route for a 20-yard touchdown.
On his third drive — Michigan's first possession of the second half — Peters needed just one pass attempt, a 10-yard completion to Ty Isaac, as the Wolverines marched down the field for a 4-play, 54-yard touchdown drive. Fellow redshirt freshman Kareem Walker scored his first touchdown of the season, carrying it in from five yards out.
Rutgers answered with a touchdown on its ensuing possession to pull within 28-14, but that was as close as they would get.
Peters led another promising drive, completing a pair of 15-yard passes to Grant Perry and Sean McKeon, but Michigan had to settle for a field goal attempt. Quinn Nordin missed it from 35 yards out.
The Michigan defense forced another punt, and Higdon followed up a 12-yard run with a 49-yard touchdown run to put Michigan ahead at the final score of 35-14.
Michigan's offense racked up 471 total yards, 334 of which came on the ground on 6.5 yards per carry. Peters completed 10 of 14 passes for 124 yards and a touchdown, while O'Korn went 3-of-6 for 13 yards and an interception. Higdon rushed for 158 yards and two touchdowns, while Isaac also topped 100 with 109 yards. The two averaged 8.8 and 7.8 yards per carry, respectively. Ten different Wolverines caught a pass, led by McKeon's three for 31 yards.
Defensively, Michigan held Rutgers to just 195 total yards and just 94 rushing yards. Rutgers entered the game 11th nationally with just six sacks allowed through seven games, but Michigan got to the quarterback five times. Devin Bush led the way defensively with 11 tackles, two for loss, and half a sack. Chase Winovich recorded 1.5 sacks, while Maurice Hurst and Rashan Gary each had one and Kwity Paye and Michael Dwumfour were each credited with a half.
Michigan stays home to host Minnesota next Saturday at 7:30pm. The Gophers are 4-4 overall and 1-4 in the Big Ten under first-year head coach P.J. Fleck.
Brandon Peters (10-of-14 for 124 yards and 1 touchdown)
Yes, it's a stretch to give the game ball to a quarterback that completed just 10 passes for 124 yards, especially considering the game Higdon had with 158 yards rushing and two touchdowns. But Peters is easily the story of the game, taking over an offense that looked stagnant under O'Korn and making an immediate impact. I'm cautious to draw too many conclusions from his performance in one game — against Rutgers nonetheless — but it was a great first step and showed enough to earn his first start next Saturday. Was he perfect? No. The play before his touchdown pass, he should have been picked off. He also underthrew a wide open McKeon on the last possession of the day, a play that may have been another touchdown. But he took command of the offense, looked to be in control, made some nice plays, made the right reads, and didn't make any costly mistakes.
Previous:
Week 1 – Quinn Nordin (4-of-6 field goals, 2-of-3 from 50-plus)
Week 2 — Ty Isaac (20 carries for 133 yards, 6.7 yards per carry)
Week 3 — Donovan Peoples-Jones (2 receptions for 52 yards, 2 punt returns for 104 yards and 1 touchdown)
Week 4 — John O'Korn (18-of-26 for 270 yards, 1 touchdown, 1 interception, 5 rushes for 12 yards)
Week 5 — Karan Higdon (12 carries for 65 yards, 5.4 yards per carry, 2 receptions for 33 yards)
Week 6 — Karan Higdon (25 carries for 200 yards, 3 touchdowns, 8.0 yards per carry)
Week 7 — None
Maurice Hurst (8 tackles — 2 solo — 2 tackles for loss, 1 sack)
This was a tough one to pick this week because a bunch of different players made big plays for the Michigan defense. Although Devin Bush led the team in tackles, when I think about who made the biggest impact on the game, I have to go with Hurst. He was constantly in the Rutgers backfield, recorded eight tackles, two tackles for loss, and a sack. Throughout the season he has cemented himself as a high draft pick next April and that was no different on Saturday.
Previous:
Week 1 – Devin Bush (7 tackles, 5 solo, 3 tackles for loss, 2 sacks)
Week 2 – Tyree Kinnel (9 tackles, 8 solo, 1 tackle for loss, 1 sack, 1 interception return for touchdown)
Week 3 – Chase Winovich (9 tackles – 3 solo – 2 tackles for loss, 1.5 sacks, 1 quarterback hurry)
Week 4 — Chase Winovich (6 tackles — all solo — 4 tackles for loss, 3 sacks
Week 5 — Maurice Hurst (8 tackles — 6 solo — 2.5 tackles for loss)
Week 6 — Rashan Gary (7 tackles — 3 solo — 2.5 tackles for loss, 1 sack, 2 quarterback hurries)
Week 7 — Khaleke Hudson (4 tackles — 4 solo — 1 tackle for loss, 1 quarterback hurry, 1 pass breakup)