---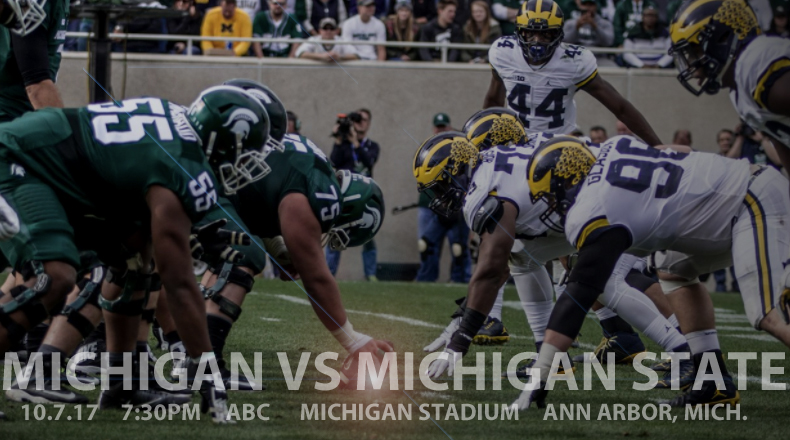 (Isaiah Hole)
Note: Work sent me to Atlanta and Charlotte for the week, so my writing time has been sparse. I had planned to write the game preview on my flight home, but Southwest's in-flight wifi had other plans. So here I am at midnight on Friday night, fighting a cold and a lack of sleep, so this will just be a brief one this week.
Quick Facts

Michigan Stadium – 7:30p.m. EST – ABC
MSU Head Coach:
Mark Dantonio (11th season)
Coaching Record:
110-60 (93-43 at MSU)
Co-Offensive Coordinators:
Jim Bollman (5th season)
Dave Warner (5th season)
Co-Defensive Coordinators:
Mike Tressel (2nd season)
Harlon Barnett (3rd season)
Last Season:
3-9 (1-8 Big Ten)
Last Meeting:
UM 32 – MSU 23 (2016)
All-Time Series:
Michigan 69-35-5
Record in Ann Arbor:
Michigan 34-19-3
Jim Harbaugh vs MSU
1-1
Last Michigan win:
2016 (32-23)
Last MSU win:
2015 (27-23)
Current Streak:
Michigan 1
Michigan State schedule to date
Opponent
Result
Bowling Green

W 35-10

Western Michigan

W 28-14

Notre Dame

L 18-38

Iowa

W 17-10
The tide has begun swinging back to Ann Arbor in the state's biggest rivalry and Michigan State fans are struggling to come to grips with the loss of the bragging rights they have enjoyed for much of the past decade.
They were the biggest beneficiary of The Great Experiment that Michigan undertook when it hired Rich Rodriguez in 2008 to transform Michigan football and then swung the pendulum in the opposite direction with Brady Hoke after just three years.
When Rodriguez started deemphasizing recruiting the top players in the state of Michigan Mark Dantonio welcomed them with open arms and took the upper hand in the rivalry. Hoke came in and won his second attempt — 12-10 on a last-second field goal — but lost the other three.
Jim Harbaugh reestablished the Wolverines as the premier destination for the state's top recruits, securing commitments from the top two in the 2016 class, then the top six and seven of the top eight in the 2017 class. In his first season, Harbaugh had a big win over the Spartans secured until a fluke botched punt in the closing seconds handed MSU their seventh win in the last eight seasons. In 2016, Michigan finished the job, topping Michigan State 32-23 in East Lansing, a game that was closer than it should have been, but given the recent history, it was a welcome win.
Now, after a loss that should have been a win, and then a narrow win, the pattern would say a resounding win is in the cards for Harbaugh. Michigan is, after all, coming off a bye week, which means they had an extra week to prepare.
But as we all know, nothing is guaranteed against Michigan State. Dantonio has mastered the art of playing with a chip on their shoulder, especially when it comes to playing Michigan. It simply means more, and Spartan players are constantly reminding us that they do a little extra every day to prepare for Michigan.
Michigan State has already matched last season's win total and looks good on paper. But when you dig a little deeper, you realize that they've beaten a bad Bowling Green team, a Western Michigan squad that isn't close to the darling it was a year ago, and a so-so Iowa. The one good team MSU has faced, Notre Dame, pounded the Spartans, 38-18.
Their leading rusher is quarterback Brian Lewerke, who is averaging 6.5 yards per carry. But their rushing offense is right about on par with Michigan's, averaging about three yards more per game. It's not going to scare a Michigan defense that leads the nation against the run — especially with a pair of running backs (L.J. Scott and Gerald Holmes) who are averaging less than 3.8 yards per carry. The passing game isn't much to be concerned about either, averaging just 208 yards per game in the three games that it wasn't playing from behind all game. I'm not worried at all about Michigan's defense stopping the MSU offense. They'll have success for a couple of drives, like Purdue did, but when the scripted plays run out, the Don Brown defense will take over.
What I am worried about, however, is Michigan's offense moving the ball consistently. This certainly isn't the Pat Narduzzi defense, but it is more solid that it was a year ago. Iowa managed just 19 rushing yards on 25 carries last week, and Michigan hasn't shown that it can run the ball consistently yet this season. The Wolverines have done well at big plays via the run, but those are hard to rely on, especially when you're getting stuffed at the line. But Michigan State's defense is allowing more than four big runs (10 yards or more) per game, so there is hope.
Where I see Michigan having some success is in the air — that is, if the rain holds off. If it rains throughout the game, it's anyone's guess. But if not, it will all depend on whether the offensive line can keep John O'Korn clean, of course. I see a big game for tight ends Zach Gentry and Sean McKeon. Michigan State's defense will try to keep O'Korn out of rhythm, but he'll find comfort with his tight ends and finish with a nice passing number.
The forecast currently calls for a 35-50 percent chance of showers throughout the game with thunderstorms starting later on. If they hold off, I think Michigan wins comfortably, but not in a blowout. If the heavens open up, we can pretty much just flip a coin. I'll make my prediction based on a mostly dry ballgame. Michigan is the more talented team and will win a relatively low-scoring affair.
Score Prediction: Michigan 23 – Michigan State 9