---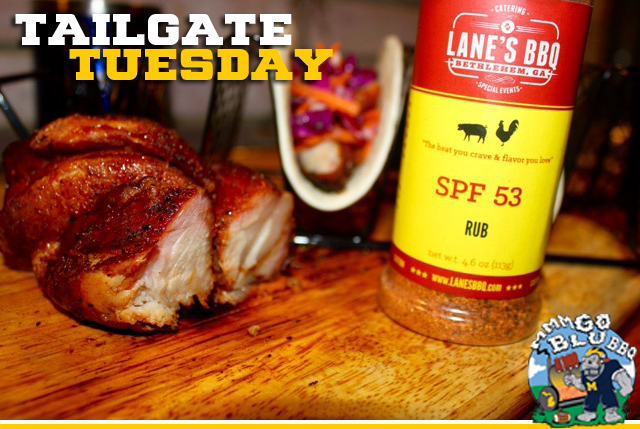 Tailgate Tuesday is our weekly contribution from our resident pitmaster, Joe Pichey from GoBlueBBQ. These tailgate recipes will be posted each Tuesday throughout the football season and will feature a variety of appetizers, main courses, and sides to help you be the king of your next tailgate. Lane's BBQ, a Bethlehem, Ga. based BBQ company, sponsors this season's feature by providing their killer rubs and sauces for use in the recipes. Buy them here. In addition, Fogo Charcoal provides charcoal to use in each recipe. Buy it here.
Previous: Cedar planked scotch eggs, Pork tenderloin sliders with grilled cheese, Chicken street tacos, Sausage and cheese poppers, Tomato pie, smoked corn pudding, Maple planked salmon, Sous vide steak and burgers, Bacon cream cheese, Brazilian style protein, O'Korn and cheesy jalapeno bacon dip, Smoked sausage balls
Full Archive here.
As we approach the ORANGE BOWL, I start to get excited when I think about the endless options for our year end TAILGATE. I've reached out to FSU friends and Michigan family located in Florida for their thoughts. Almost to a man (and one woman) they recommended something with a CUBAN flare. And as soon as Justin mentioned MOJO, the deal was sealed. I love trying new things and firing up the grill for a new recipe. It always adds a little extra something for me when the outcome is unknown. Plus, I love the movie CHEF! If you haven't watched it, give it a go. It's a good one. This recipe has a few of my favorites in it and will definitely work its way into my tailgate rotation. It's a Braided Pork Belly Taco topped with MOJO Slaw.
• Pork Belly (1-2 lb piece)
• Lane's BBQ SPF 53 Rub and Signature Rub
• Tortillas
Mojo Slaw:
• 3 cups chopped purple cabbage
• 1 cup chopped carrots
• 1 shallot
• ¼ cup fresh orange juice
• ¼ cup fresh lime juice
• 3 cloves chopped garlic
• ¼ cup chopped cilantro
• 1/4 cup chopped oregano
• 1 TBSP cumin
• Dash of salt and pepper
Set your grill up for indirect heat and shoot for a temperature of 275 degrees. Anywhere from 225-300 will work on this one. Be sure to use your FOGO lump for this to ensure a clean and hot burn.
As the grill is heating up, take your sharp knife and slice the pork belly into three pieces, all joined at the top. Make sure not to cut all the way through at the top as we need this for braiding. It should look like a pork belly octopus.
Each strip of the pork belly should be equal in size and thickness. Once you've sliced into strips, take something heavy like a meat tenderizer or a cast iron pan and pound them lightly. We want to thin them out just a little to make the braiding easier.

Once they are thinned slightly, dust it with a combo of Lane's Signature Rub and Lane's SPF 53 Rub. This adds some heat and sweet and some fantastic color to the belly. Once seasoned, start braiding by taking the strips on the outside and folding over the middle strip. Continue this all the way until it is completely braided. Make sure this is braided somewhat tightly. Secure the ends together with butchers twine. A BBQ skewer would even work (and look a lot cooler).

Once the braid is ready, place it on the smoker and add a few chunks of pecan wood for smoke. This will smoke for anywhere from 4-6 hours depending on your grill temp. We are looking for an internal temperature of 200 degrees.

As the pork belly is smoking, we can assemble our MOJO slaw. Cut your purple cabbage into chunks along with your carrot slices. It's easier to just buy the pre-sliced carrots in a bag. Chop up a half bunch of cilantro as well. I love extra cilantro in my MOJO so I added a little more than the recipe called for. Add your chopped veggies to a large mixing bowl and set aside. Now, add your OJ, lime juice, oregano, garlic, and cumin to a bowl. Mix and pour into your veggies. I don't like mine super saucy, so I only added half of this mixture and saved the rest. If you like your slaw super wet, add more. Set in the fridge for at least an hour and allow the flavors to develop. After about an hour, you will notice a lot of juice in the bottom of the bowl. This is some tasty stuff.

Once the pork belly reaches 200 degrees internal, remove from the heat and tent with foil for 10 minutes. Once rested, slice into chunks and start making your tasty MOJO tacos. These things are addicting and didn't last long. The MOJO flavors paired well with the spicy rub from Lanes. The slaw had a nice crisp bite to it and looks great with the purple coloring. I love me some purple.

Visit Lane's BBQ to purchase their fantastic line of rubs and sauces. You can follow them on Facebook and Instagram.
Visit Fogo to purchase their premium lump charcoal. You can follow them on Twitter, Facebook, andInstagram.
After growing up in Michigan, Joe now lives in North Texas where he can barbecue year 'round. He cooks mostly on Big Green Eggs and some Webers and has competed in BGE competitions. When he's not watching Michigan football, he also teaches BBQ classes at a local grilling store and does some catering. You can follow Joe on Twitter at @mmmgoblubbq and Instagram at @gobluebbq.