---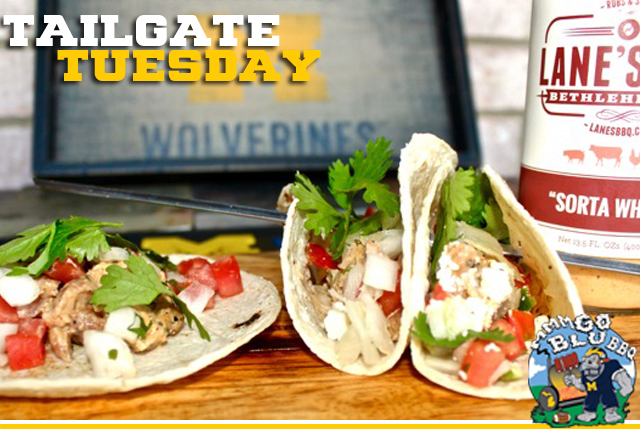 Tailgate Tuesday is our weekly contribution from our resident pitmaster, Joe Pichey from GoBlueBBQ. These tailgate recipes will be posted each Tuesday throughout the football season and will feature a variety of appetizers, main courses, and sides to help you be the king of your next tailgate. Lane's BBQ, a Bethlehem, Ga. based BBQ company, sponsors this season's feature by providing their killer rubs and sauces for use in the recipes. Buy them here. In addition, Fogo Charcoal provides charcoal to use in each recipe. Buy it here.
Previous: Cedar planked scotch eggs, pork tenderloin sliders with grilled cheese
Full Archive here.
Here we are in Week 3 and the competition is getting better each Saturday. The Buffs will be a stiffer test for the Maize and Blue so our tailgate recipe needs to keep pace. I don't know about you, but I love a good taco. I don't care if it's beef or chicken as long as it's in a smaller soft tortilla shell. I want to be able to walk around with it and not make a huge mess. I don't want it crumbling in my hand after the first bite. I also want to grab it and go if needed. These chicken soft tacos are perfect for your tailgate and will make your guests very happy.
• Chicken thighs (boneless)
• Flour or corn soft tortillas
• Queso fresco
• Pico de gallo
• Cilantro
• Lane's "SORTA WHITE" Sauce
• Lane's SPF 53 Rub
Fire your grill up for direct heat. These are best cooked fast as you want a nice char on the exterior. It adds a nice flavor to the finished taco. As the coals are heating up, season your chicken thighs with Lane's SPF 53 rub. This has a nice heat to it and will complement the finishing white sauce. For those seeking heat, this is the rub for you.
Season both sides of the meat. Don't worry about trimming the fat as it will cook off during the grilling process. If you have a large amount of fat on the thighs, feel free to trim a little. Fat is flavor, so don't remove it all.
Once the coals are hot, toss the thighs on the hot grill grate. Since these are boneless, they are very thin and will cook quickly. The boneless thighs will cook over direct heat for about four minutes a side. If you have your Thermapen instant read thermometer, you're looking for an internal temp of 165 degrees.

After about 4-5 minutes, flip the chicken and repeat on the other side. Don't worry about the flare ups, as you want a little char on the exterior. It also adds flavor. Once they reach 165 degrees internal or have gone for about eight minutes total, they are done. Remove from the grill and tent with foil for five minutes to allow the juices to redistribute into the meat. After five minutes, chop into bite sized pieces. As you can see below, these pieces are still super juicy and have some great color from the rub.
Add a good amount of Lane's "Sorta White" sauce to the chopped chicken and mix together. The color and flavor of this sauce is FANTASTIC and pairs perfectly with chicken or pork. Trust me, you want this one in your rotation. It is a top seller for Lane's.
Once mixed, start building your new favorite soft tacos with a little chicken, some pico de gallo, a few crumbles of quest fresco and of course some cilantro. These will not last long. I think I ate four before I decided to take some pictures. These are so moist and tender, you will wish you grilled some more chicken.

These would also make some great burritos or super flavorful nachos. This "Sorta White" sauce is bursting with flavors and is very similar to the Alabama white sauce that has exploded on the scene in recent years. Give this one a go when you're hankering for a taco, or two or three or eight. GO BLUE!!!!!
Visit Lane's BBQ to purchase their fantastic line of rubs and sauces. You can follow them on FacebookandInstagram.
Visit Fogo to purchase their premium lump charcoal. You can follow them on Twitter, Facebook, and Instagram.
After growing up in Michigan, Joe now lives in North Texas where he can barbecue year 'round. He cooks mostly on Big Green Eggs and some Webers and has competed in BGE competitions. When he's not watching Michigan football, he also teaches BBQ classes at a local grilling store and does some catering. You can follow Joe on Twitter at @mmmgoblubbq and Instagram at @gobluebbq.