---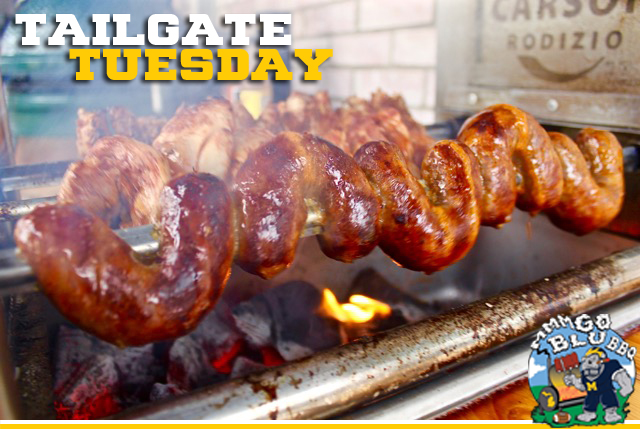 Tailgate Tuesday is our weekly contribution from our resident pitmaster, Joe Pichey from GoBlueBBQ. These tailgate recipes will be posted each Tuesday throughout the football season and will feature a variety of appetizers, main courses, and sides to help you be the king of your next tailgate. Lane's BBQ, a Bethlehem, Ga. based BBQ company, sponsors this season's feature by providing their killer rubs and sauces for use in the recipes. Buy them here. In addition, Fogo Charcoal provides charcoal to use in each recipe. Buy it here.
Previous: Cedar planked scotch eggs, Pork tenderloin sliders with grilled cheese, Chicken street tacos, Sausage and cheese poppers, Tomato pie, smoked corn pudding, Maple planked salmon, Sous vide steak and burgers, Bacon cream cheese
Full Archive here.
I have found the ultimate grill toy. This is the accessory of all accessories. This is the SUPERMAN, BATMAN, and HULK of grilling toys, all combined into one backyard, tailgating beast of a grilling toy. It's the Carson Rodizio Backyard Brazilian Rotisserie and it's taking over the BBQ world. I love all my grilling gadgets and try to use them as much as I can, but this one gets me excited when I know I get to use it. I start planning on Monday for a Saturday cookout when I know this is coming out to play. If you love the Brazilian steakhouse experience, then you are going to love this and most likely order one as soon as you read this. Trust me, this is the toy to have for any grill in the backyard.
Almost anything you want to grill.
Skewer it, season it with Lane's BBQ rub and sauce, light the Fogo Charcoal, turn on the rotisserie and SPIN. It's really that easy.
I have not found much that you can't cook on this thing. There are so many different skewers and attachments that you can cook anything from corn on the cob to lobster tails followed by glazed pineapples and shrimp skewers. This is a BEAST of a machine. I was lucky enough to cook with Blake Carson (the inventor of the Carson Rodizio) at the Big Green Egg Eggtoberfest in Atlanta last month. We were part of the national championship team and served nearly 5,000 hungry people. Everyone agreed that the Rodizio was the highlight of the show. This thing is built to cook on a charcoal grill, a gas grill, a Big Green Egg or other style commode cooker, and most other outdoor cookers. It's extremely versatile and will impress your friends at the next backyard tailgate.

The Rodizio comes with six skewers that will hold anything you can imagine that needs skewering. My favorites include chicken wings covered with Lane's BBQ One Legged Chicken Sauce and Sweet Heat or SPF 53 Rub. Sausages are also a huge hit at the tailgates. If you have a great steak laying around, just stick a skewer in it and start her spinning.
You can also toss on a few chunks of pork tenderloin and sprinkle them with parmesan cheese to get a crusty exterior. SOOOO JUICY!!!!

The juices dripping from meat cause a few flare ups that kiss the meat and add that nice char we all love so much. If you have a nice hunk of french bread, stick it on the top rack and watch her brown.
The controls allow you spin a varying speeds while the different sized skewers allow for a variance of meats and veggies. So far, the Lane's BBQ spices and rubs have worked on any and all spinning goodies.
From bacon wrapped shrimp covered in Lane's Sweet Heat to the pork belly charred over the Fogo coals for 45 minutes, the fun is endless. As are your options. On my most recent cook, I tossed a few potatoes seasoned with Lane's SPF 53 and some olive oil into the tumbler. They were crispy within 30 minutes and had a smoky flavor that only an outdoor grill can impart.

Toss on a few folded bratwurst and watch the juices drip. These were sliced up and served on slider buns with ketchup, mayo and a slice of lettuce. So simple yet so tasty.
But my favorite of all time are the chicken wings, drenched with Lanes One Legged Chicken sauce and dusted with SPF 53 or the Sweet Heat. The edges are so crispy and the interior is juicy and tender.
This really is a must have for all backyard BBQ enthusiasts. Grab some wings, skewer 'em up, and yell GO BLUE at game time! Let me know when you do, and I'll be right over.
Visit Carson Rodizio to purchase a Carson Rodizio Kit for your backyard grill. You can follow them on Facebook, Instagram, and Twitter. 
Visit Lane's BBQ to purchase their fantastic line of rubs and sauces. You can follow them on Facebook and Instagram.
Visit Fogo to purchase their premium lump charcoal. You can follow them on Twitter, Facebook, andInstagram.
After growing up in Michigan, Joe now lives in North Texas where he can barbecue year 'round. He cooks mostly on Big Green Eggs and some Webers and has competed in BGE competitions. When he's not watching Michigan football, he also teaches BBQ classes at a local grilling store and does some catering. You can follow Joe on Twitter at @mmmgoblubbq and Instagram at @gobluebbq.