---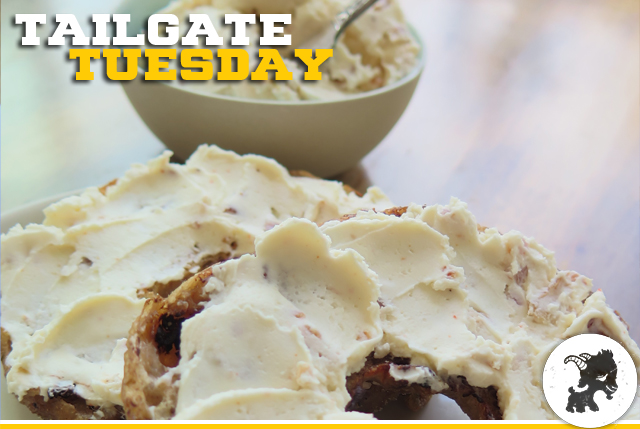 Tailgate Tuesday is our weekly contribution from our resident pitmaster, Joe Pichey from GoBlueBBQ. These tailgate recipes will be posted each Tuesday throughout the football season and will feature a variety of appetizers, main courses, and sides to help you be the king of your next tailgate. Lane's BBQ, a Bethlehem, Ga. based BBQ company, sponsors this season's feature by providing their killer rubs and sauces for use in the recipes. Buy them here. In addition, Fogo Charcoal provides charcoal to use in each recipe. Buy it here.
Previous: Cedar planked scotch eggs, Pork tenderloin sliders with grilled cheese, Chicken street tacos, Sausage and cheese poppers, Tomato pie, smoked corn pudding, Maple planked salmon, Sous vide steak and burgers
Full Archive here.
This week's recipe is for the morning tailgaters, those of you who get to the lot or golf course at dawn to maximize your time before kickoff and aren't quite ready for burgers, dogs, and brisket just yet. We are also proud to feature a guest chef this week, who also happens to be a Michigan alum — and a pretty successful one at that.
Stephanie Izard is a 1998 Michigan grad who then went to the Le Cordon Bleu College of Culinary Arts Scottsdale. After working on various restaurants in Phoenix and Chicago, she opened her first restaurant, Scylla, in Bucktown. In 2008, she became the first female winner of Bravo's "Top Chef" and then followed that up with her new restaurant, Girl & the Goat, which was named America's Best New Restaurant by Saveur. A year later, she opened Little Goat and published her first cookbook, Girl in the Kitchen. Earlier this year, she opened her third restaurant, Duck Duck Goat.
• ½ cup cooked bacon, rough chopped into very small pieces
• 1/3 cup heavy cream
• 1 lb cream cheese, room temperature
• 2 TBSP rendered bacon fat
• Pinch cayenne pepper
• Salt to taste
Simmer your roughly chopped bacon in heavy cream for 15 minutes over low heat. Allow to cool.
In a bowl, whip the cream cheese and two tablespoons of bacon fat together until slightly fluffy and well combined. Add your cooled bacon and cream mixture and a pinch of cayenne pepper. Mix until well combined. Season with salt to taste. This yields about two cups of cream cheese.
This cream cheese is great on a bagel and can easily be done in a saucepan on a grill at your tailgate location. But it's also great on zucchini or pumpkin bread, so if you start your tailgate early in the morning, it's versatile enough to please all your guests. Another great use for it for the post-breakfast crowd is to stuff it into some jalapeños, wrap them in bacon, and grill them.
Visit Stephanie's website to purchase her line of rubs and sauces. You can follower her on Twitter at @stephandthegoat and Instagram at stephandthegoat. And next time you're in Chicago, visit Girl & the Goat, Little Goat, or Duck Duck Goat for a great meal.