---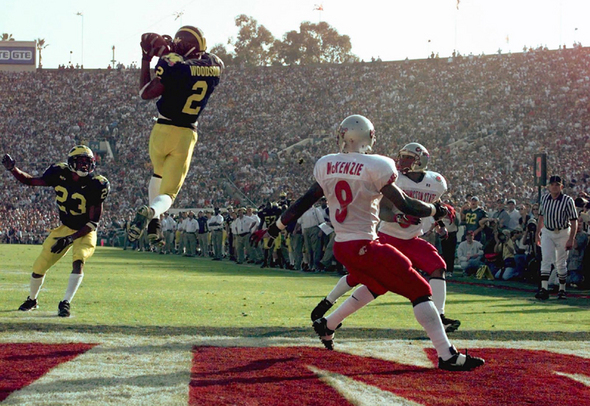 (Mark J. Terrill, AP)
The 1997 Michigan football team is considered the best Michigan team in the modern era. With Heisman trophy winner Charles Woodson leading a defense full of future NFL players, the Wolverines captured a national championship.
Seven games into the 2015 season, Michigan once again features one of the nation's best defenses. But how does it compare to that legendary 1997 squad? You might be surprised.
The 1997 squad yielded 57 points through seven games compared to 65 allowed by the current team. But 13 of those 65 points allowed weren't allowed by the defense. Utah's Justin Thomas returned an interception 55 yards for a touchdown in the season opener and Michigan State's Jalen Watts-Jackson returned a blocked punt for a touchdown. Remove those two scores that weren't allowed by the defense and the Michigan defense has actually allowed just 52 points — five fewer than the 1997 defense through seven games.
1997 vs 2015 Michigan defense comparison (through 7 games)
1997
2015
Points Allowed
57 (8.1)
65 (9.3)
Total Yards Allowed
1,518 (216.9)
1,474 (210.6)
Rush Yards Allowed
537 (76.7)
453 (64.7)
Pass Yards Allowed
981 (140.1)
1,021 (145.9)
First Downs Allowed
80 (11.4)
89 (12.7)
3rd Down %
29/105 (27.6%)
19/97 (19.6%)
Sacks
16 (2.3)
18 (2.6)
Turnovers Forced
21 (3.0)
8 (1.1)
The 1997 Michigan defense allowed 216.9 total yards per game, 76.7 on the ground and 140.1 through the air. This year's defense has given up 210.6 total yards per game, 64.7 on the ground and 145.9 through the air. Similar to the 386 total yards Michigan allowed to Michigan State two weeks ago, the 1997 squad allowed 354 yards to Notre Dame in Week 3. However, that still yielded a win.
The 1997 Michigan defense allowed its first seven opponents to convert 27.6 percent (29 of 105) of their third downs, while the current squad has allowed just 19.6 percent (19 of 97). The 1997 defense recorded 16 sacks (2.3 per game) through its first seven games, while this year's team has notched 18 (2.6 per game).
Now, the big difference is the 1997 squad won all seven games, while the current team stands at 5-2. Why is that? Could it be because the 1997 offense was better? Actually, no. While the 1997 Michigan offense averaged 30.7 more total yards in its first seven games than this year's squad, it averaged 28.1 points per game compared to 28.6 this year. So this year's team has scored a field goal more than Lloyd Carr's championship team at this point. Maybe this year's offense turns the ball over more? Nope. This year's offense has committed 10 turnovers through seven games, while the 1997 offense turned it over 13 times in that same span.
So what's the biggest difference between the two teams? I think it comes down to turnovers forced. The biggest — and only — real disparity between the 1997 Michigan defense and the current one is the amount of turnovers forced. Led by Woodson, that defense forced 21 turnovers through seven games, an average of three per game. This year's defense has forced just eight, 1.1 per game. Give this year's offense 13 more possessions — and take away 13 potential opponent scoring opportunities — and we very well could be rooting for a top-10 or top-5 team in Minneapolis this Saturday.
In the first year of the Jim Harbaugh era, we are looking at one of the best Michigan defenses in recent memory, one that rivals what most Michigan fans consider THE best Michigan defense in recent memory. It likely won't yield as many NFL draft picks, but with the exception of turnovers forced, it's performing at an equal, if not higher, level.