---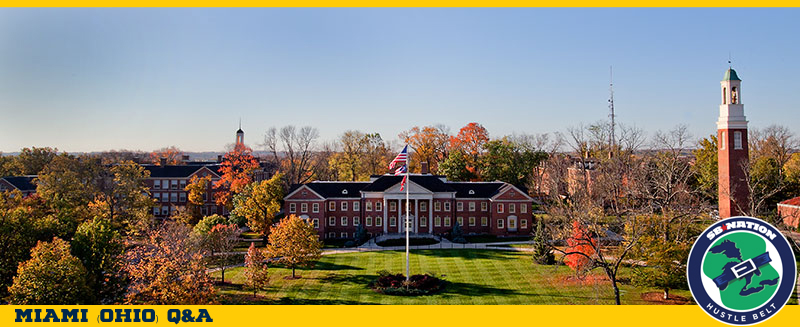 Each Thursday throughout the season we collaborate with that week's opponent blog to get some questions answered by the guys who know more about their team than we do. Last week, we talked to Ryan Ritter of Her Loyal Sons. This week, we partnered with Chuck LaPlante of the Mid-American Conference SB Nation site, Hustle Belt. He was kind enough to answer questions about the changes new head coach Chuck Martin brought about, why Andrew Hendrix throws so many passes, what match ups he's most worried about, and more. You can follow him on Twitter at @laplanck.
1. In what ways have the team changed under Chuck Martin compared to the previous staff?
I think the best way to answer that question is to answer a related question, which is how Martin and his staff are different from Treadwell and Company. (I think the jury's still out on how the team has changed after some practices and just two games.) Martin himself has an outstanding track record of success, both at the Division II level and as a coordinator at the Division I level. The man knows how to win, and he's hired a staff that shares experience winning with him, either as former assistants or as former players. That was a big component missing from the Treadwell staff, where our offensive coordinator, John Klacik, was hired despite taking two years off of football after a fifty-plus-game losing streak as a Division II head coach. The new staff has a confidence about them that the old staff never did (even from day one), and I think we'll soon see that reflected in the players.
Another refreshing change is Martin's directness and willingness to take responsibility when things go wrong. If Miami lost by 42 points under Treadwell, he'd say something like, "I thought our game plan was solid, but we just need to execute better," essentially throwing the team under the bus when his own schemes led to a 42-point beatdown. After last week's loss to EKU, Martin took the blame himself, saying that he was responsible for not having the team prepared to face EKU's game plan. It's a refreshing change.
2. Andrew Hendrix has thrown over 100 passes in two games and has completed more passes than Devin Gardner has attempted. Two Miami receivers are averaging over 100 yards per game. Is that how Martin wants the offense to be, or is it a product of not being able to run the ball? And do you think it can have success against Michigan's defense?
It's a product of not being able to run the ball. Our offensive line is terrible; there's no way to sugarcoat that. It's a product of how bare Treadwell left the cupboard (his staff recruited skill positions well, but seemingly wouldn't even try to recruit linemen), and of his aversion to any strength and conditioning for the players. To be sure, Miami can have limited success in a traditional running game — Spencer McInnis showed some good flashes last week — but the line just doesn't have the power or stamina to keep it up for a whole game, which is why you start seeing Hendrix scrambling around and throwing it all over the field, or just taking it and running himself. There's a reason so much of Martin's incoming recruiting class consists of tight ends on the larger side; most of them will bulk up and shift to the line.
Can they have success against the Michigan defense? I think that if they avoid stupid turnovers (there were six last week; Miami would have beaten EKU if there were only, say, four), they'll score points. I seriously doubt it will be enough to win, but there are yards to be had through the air.
3. After putting up 350 rushing yards and 52 points against Appalachian State in Week 1, Michigan's offense failed to make it to Notre Dame's red zone last Saturday and was shut out for the first time since 1984. Does Miami's defense have enough talent to slow down Michigan's offense or will it be more like Week 1?
The defense certainly won't be shutting Michigan out, but I think it will provide more of a challenge than the Mountaineers did. Despite being outweighed man-for-man by EKU's offensive line (again, thanks to Treadwell's S&C program or lack thereof, Miami's DL was outweighed man-for-man by the OL of an FCS school), the RedHawks held the Colonels to 82 yards. EKU got over 400 yards in Week 1 and averaged 200 yards a game on the ground last year. But this is a team that still has a big hole to climb out of. I expect a respectable showing that shows improvement in some phases of the game, nothing more.
4. What matchup worries you the most this Saturday and why? And is there a matchup where you think Miami has an advantage?
Devin Gardner versus the defense. Miami hasn't looked good against a dual-threat quarterback since 2010, and although I do think the defense is getting better, I don't see that changing by Saturday. Where does Miami have an advantage? Well, I'd take our AD, David Sayler, over Dave Brandon. But that's not exactly on the field.
5. What's your prediction and why?
Michigan, 37-17. If the RedHawks avoid turnovers, they can score a couple times. But Michigan is definitely the better team, and it will show.