---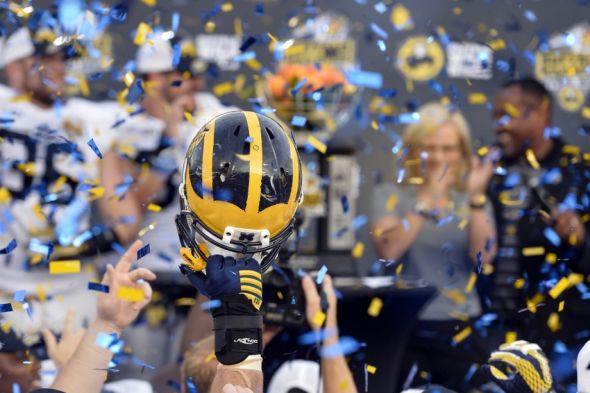 (Tommy Gilligan, USA Today Sports)
A heartfelt thank you to the 675 individuals who contributed to the "Match Harbaugh's fine with $10k to ChadTough" fundraiser this week. The total raised for The ChadTough Foundation was an astounding $28,507.
On Monday afternoon, we were driven to action by the Big Ten's public reprimand of Jim Harbaugh and $10,000 fine issued to the university following Harbaugh's comments about officiating in the Ohio State game. Partnering with Kerri of @SupportUofM, Craig Barker of The Hoover Street Rag, and Brad Muckenthaler of Maize & Blue Nation, we threw together a fundraiser to capitalize on the collective angst of the Michigan fanbase and bring it together for a good cause. The ChadTough Foundation was the natural beneficiary with its ties to the Michigan football family.
We set forth a three-part goal, hoping to raise $10,000 for ChadTough, then challenge the Big Ten to match it, then get the conversation to be extended during the Big Ten Championship Game. We achieved one of those, but really, that was the important one and everything else was icing on the cake. We felt good about raising $10,000 by Saturday night, but in reality, we surpassed the goal within 24 hours. We also know that some were driven to donate by our fundraiser, but donated directly to the foundation in order to get the tax write-off, which is perfectly fine with us. The true amount raised as a result of our fundraiser is over $30,000.
The story was picked up by The Ann Arbor News, the Detroit Free Press, CBS Detroit, and the AP. It helped create a conversation about The ChadTough Foundation and most importantly, it nearly tripled our goal with over $28,000 to help fight the especially ugly disease that is child cancer.
As Michigan awaits its bowl fate on Sunday afternoon, take a moment to pat yourselves on the back for a great week of fundraising. I know it took some of the sting off last week's loss for me. People helping people; it's powerful stuff.