---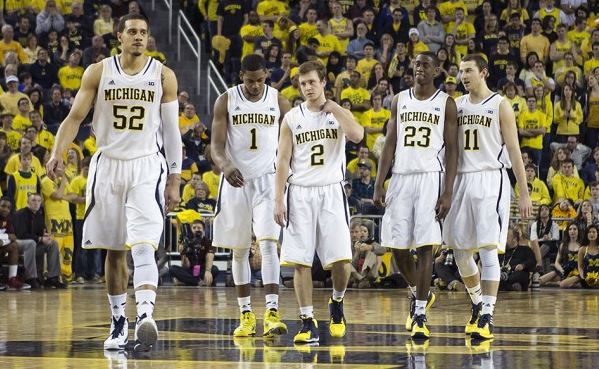 (Dustin Johnson, UMHoops)
It seems like a century ago. A vastly underachieving Michigan squad watched its enormous upset bid against the top-seeded Ohio State Buckeyes crumble as Evan Turner's half-court heave found the net in the 2010 Big Ten tournament.
Michigan couldn't bounce back from that devastating loss. Back then, Michigan basketball teams didn't generally earn trips to the NCAA Tournament. In fact, after Turner's 37-foot prayer sent the Wolverines home from the conference tournament, their 15-17 record left them without an invitation to even the NIT.
That season belonged to a different era of college basketball in Ann Arbor. It was before Michigan contended for Big Ten championships, Wooden Award winners and Final Four appearances.
But Jordan Morgan was there.
Morgan miraculously played in the shadow of four different generations of Michigan basketball. During his freshman season (in which he redshirted), Morgan watched the lackluster final edition of DeShawn Simms and Manny Harris from the bench. His actual playing days began alongside Darius Morris, whose ability to find Morgan wide open under the basket helped the young forward mature.
During the next two seasons, Morgan established himself as a consistent starter for the Wolverines, who earned back-to-back No. 4 seeds in the NCAA Tournament. Still, players like Trey Burke and Tim Hardaway, Jr. commanded the spotlight while Morgan quietly minded his business.
Now his journey nears its end. In his final few weeks of college basketball, Morgan finds himself mentoring a brand new generation of Wolverines. Freshmen Derrick Walton, Jr. and Zak Irvin continue to mature throughout the conference season. Meanwhile, Nik Stauskas and Caris LeVert stepped up and accepted larger roles in the absence of Burke and Hardaway.
And how many seniors do these young players learn from? Just Jordan Morgan, the only senior on John Beilein's championship team.
The Detroit native's career credentials speak for themselves. He has played on four straight NCAA Tournament teams, winning six of nine games so far. He won two Big Ten championships, including the school's first outright title since 1986. Entering his final game in the Crisler Center, he's compiled 103 wins during his college career.
Despite all of the program's success, it wasn't always easy for Morgan.
During his junior season, Morgan shared time with five-star super-recruit Mitch McGary, who chose to play for Michigan over many other high-profile schools, mainly Duke. Though Morgan welcomed the presence of such a talented player on the roster, McGary cut deeply into his minutes. After averaging 24-plus minutes per game in the previous two seasons, Morgan spent just as much time on the bench during the magical Final Four run, playing just under 16 minutes per game.
An average 22-year old player would protest losing over a third of his minutes after two productive seasons, but Morgan continued to play hard when Beilein called upon him. Now he reemerged as a consistent starter in 2013-14, doing Michigan's dirty work by rebounding, taking charges, and playing tough inside defense.
The redshirt senior plays more minutes than he did last year, but for the fourth year in a row, his field goal attempts have decreased. Still, as he's done his entire career, when opportunities come he takes advantage of them. He's currently shooting a career high 67.4 percent from the field.
Morgan's role in Michigan basketball history has been grossly understated. Former guards Zack Novak and Stu Douglas receive much of the credit for turning around the basketball program, but Morgan was the only player to step foot on the court during the National Championship game that survived a losing season as a Wolverine.
Morgan arrived in Ann Arbor to play in the dark, unfinished Crisler Arena for a team that struggled to make the NCAA Tournament every season. He leaves the Wolverines as perennial Big Ten contenders and defending champions.
He's not only seen the construction of facilities that compete with college basketball's finest, but also the commitment of two five-star recruits (McGary and Glenn Robinson III) to Michigan. The culture of this basketball program completely evolved over the past five years, and the only player to witness the entire process plays in Ann Arbor for the final time on Saturday.
You'll never see Morgan's jersey hanging in the rafters of the Crisler Center, but when the longtime Wolverine leaves the court for the final time on Saturday, he's left an amazing legacy in his wake.
Morgan is the only Michigan player celebrating senior night on Saturday — a fitting end for a player that will finally own the spotlight.