---

A full week of Big Ten games is in the books as the conference season officially kicked off Saturday with six intra-league battles and one nonconference matchup.
In the only cross-divisional game of the week, Michigan State topped Purdue in a nail-biter at Spartan Stadium. The East also picked up a win from Penn State, which snuck by Army. Meanwhile, a major power shift rattled the West Division as two of the division's best teams went down to the wire in Madison.
Here's a look at where the teams stand after one Big Ten game.
1. Ohio State (5-0, 1-0) – 

Even

Last Week: Beat Indiana 34-27
This Week: Sat vs Maryland (2-3, 0-1), 12pm, BTN
It wasn't an impressive performance for the No. 1 team in the country, but Ohio State held off a pesky Indiana team Saturday to pick up a win in the conference opener. Cardale Jones completed 18 of 27 pass attempts for 245 yards, a touchdown, and a pick. The defense surrendered over 400 yards, but was saved by Ezekiel Elliott's 274 yards and three touchdowns. Elliott ripped off runs of 55, 65, and 75 yards in the game, keeping the Buckeyes afloat in the second half.
The Hoosiers came into the game undefeated, but OSU couldn't pull away despite injuries to Indiana starting quarterback Nate Sudfeld and star running back Jordan Howard. Much like in the opener against Virginia Tech, Ohio State needed an injury to Indiana's best offensive player to swing the momentum and take the lead for good. Though they're clearly one of the most talented teams in the country, the Buckeyes have underwhelmed in four of their five games and can't find a consistent rhythm on offense. They shouldn't have a problem getting to 6-0 this weekend as a lost Maryland offense comes to the Horseshoe.
2. Michigan State (5-0, 1-0) – 

Even

Last Week: Beat Purdue 24-21
This Week: Sat at Rutgers (2-2, 0-1), 8pm, BTN
If not for Michigan's opening loss to Utah, the Wolverines would be well above the Spartans in the power rankings based on the past few weeks. Saturday was Michigan State's worst performance yet as it nearly blew a 21-point halftime lead to a Purdue team with only one win. Michigan State led 21-0 at the break and needed a stop on the Boilermakers' final drive to secure a 24-21 win.
MSU's secondary was a great concern early in the season, but it was Markell Jones, Purdue's starting running back, who smacked the Spartans on homecoming. Jones gained 157 yards on 22 carries and found the end zone twice. David Blough completed fewer than half his pass attempts and threw for just 136 yards, but Michigan State couldn't pull away, despite forcing three turnovers. Michigan State did outgain Purdue by 105 yards, but the worst team in the league shouldn't be within a field goal of the No. 2 ranked team in the country. Connor Cook needs to escape from his funk (just 139 yards passing Saturday) and lift the Spartans to where they were last year on offense.
3. Michigan (4-1, 1-0) – 

Even

Last Week: Beat Maryland 28-0
This Week: Sat vs #13 NU (5-0, 1-0), 3:30pm, BTN
In a Week 4 win over BYU, Michigan scored all 31 of its points in the first half before playing to a scoreless tie in the second half. In Maryland, the Wolverines mustered only a pair of field goals before the break and exploded for 22 points in the second half. The common denominator? Neither the Cougars nor the Terrapins could put up a single point against a stout Michigan defense.
For the second straight week, the Wolverines surrendered just 105 yards, this time holding Maryland to seven first downs and fewer than two yards per play. Quarterback Caleb Rowe has struggled all season, but Michigan forced him into his worst performance yet: eight completions in 27 attempts for 47 yards and three interceptions. One of the picks came from emerging star Jourdan Lewis, who's been near impossible to beat downfield all season. Lewis burst onto the scene as Michigan's top lockdown corner last year and he's already made enormous strides under Jim Harbaugh.
But it wasn't all good news for Michigan at Byrd Stadium. The offense struggled to run the ball with De'Veon Smith out due to injury. Derrick Green and Ty Isaac rushed 13 times for just 43 yards and a pair of fumbles. Drake Johnson struggled in the first half, but made an adjustment after the break and finished with 68 yards on 13 carries. He also took a screen pass 31 yards and dove to the pylon early in the 3rd quarter to break the seal for the Wolverine offense.
Even more serious for Michigan going forward is the loss of Mario Ojemudia for the rest of the season. Ojemudia had developed into Michigan's top pass rusher out of the buck linebacker position, but now those duties will fall on the shoulders of Royce Jenkins-Stone, a talented but largely unproven senior who made eight tackles last season. Northwestern will visit Michigan in the Big House this weekend in what promises to be a defensive slugfest. The two teams enter Saturday's matchup ranked Nos. 1 and 2 in the country in terms of scoring defense.
4. Penn State (4-1, 1-0) – 

Up 1

Last Week: Beat Army 20-14
This Week: Sat vs Indiana (4-1, 0-1), 12pm, ESPN2
Penn State was the only Big Ten team to play out of conference in Week 5, holding off a second-half charge from Army to improve to 4-1. The Nittany Lions were bailed out by three Army fumbles that wiped out a 293-yard effort. Army outgained Penn State 293-264, picked up more first downs, and averaged more yards per play. Christian Hackenberg threw only 19 times, picking up 156 yards and a touchdown — a disappointing sequel to his 296-yard, three-touchdown effort against San Diego State. James Franklin's team just doesn't have anything going on offense this season, so it'll rely on a top-tier defense to carry it through conference play.
5. Indiana (4-1, 0-1) – 

Down 1

Last Week: Lost to #1 OSU 27-34
This Week: Sat at Penn State (4-1, 1-0), 12pm, ESPN2
Injuries to Jordan Howard and Nate Sudfeld couldn't have come at a worse time for Indiana, which had a legitimate chance to dethrone the top-ranked Buckeyes in Bloomington before their top offensive threats went down. Indiana played its best defensive game of the season, but still allowed over 500 yards to the offensively-challenged Buckeyes. Two recovered fumbles and an interception kept the Hoosiers in the game, but three huge runs from Ezekiel Elliott handed Indiana its first loss of the season. The Hoosiers won't do much damage in the Big Ten behind their high-powered offense and risk-taking defense, but the road ahead won't get any easier as they visit Penn State and Michigan State and host Iowa and Michigan in the next five games.
6. Rutgers (2-2, 0-1) – 

Even

Last Week: Bye
This Week: Sat vs #4 MSU (5-0, 1-0), 8pm, BTN
Rutgers took an early week off after beating a winless Kansas team, 27-14, in Week 4. The extra preparation likely won't do much good this weekend as the Scarlett Knights host an angry Michigan State team. They might not be competitive in another game until a Week 11 home date with Nebraska.
7. Maryland (2-3, 0-1) – 

Even

Last Week: Lost to #22 Mich. 0-28
This Week: Sat at #1 OSU (5-0, 1-0), 12pm, BTN
Believe it or not, there's a team in the Big Ten that would love to have Jake Rudock as its starting quarterback. Maryland's situation under center is as grim as it gets, and those struggles were on full display against Michigan. Starter Caleb Rowe was pulled from the game after completing just eight of 27 passes for 47 yards and three interceptions. Rowe was replaced in the 3rd quarter by Daxx Garman, who went just 2 of 9 for 29 yards. Brandon Ross was smothered by the Michigan run defense, racking up just 44 yards in the team's 105-yard effort. The defense was solid, allowing just 378 yards and 28 points despite spending over 34 minutes on the field, but with this offense, Maryland won't be competitive for the rest of the season.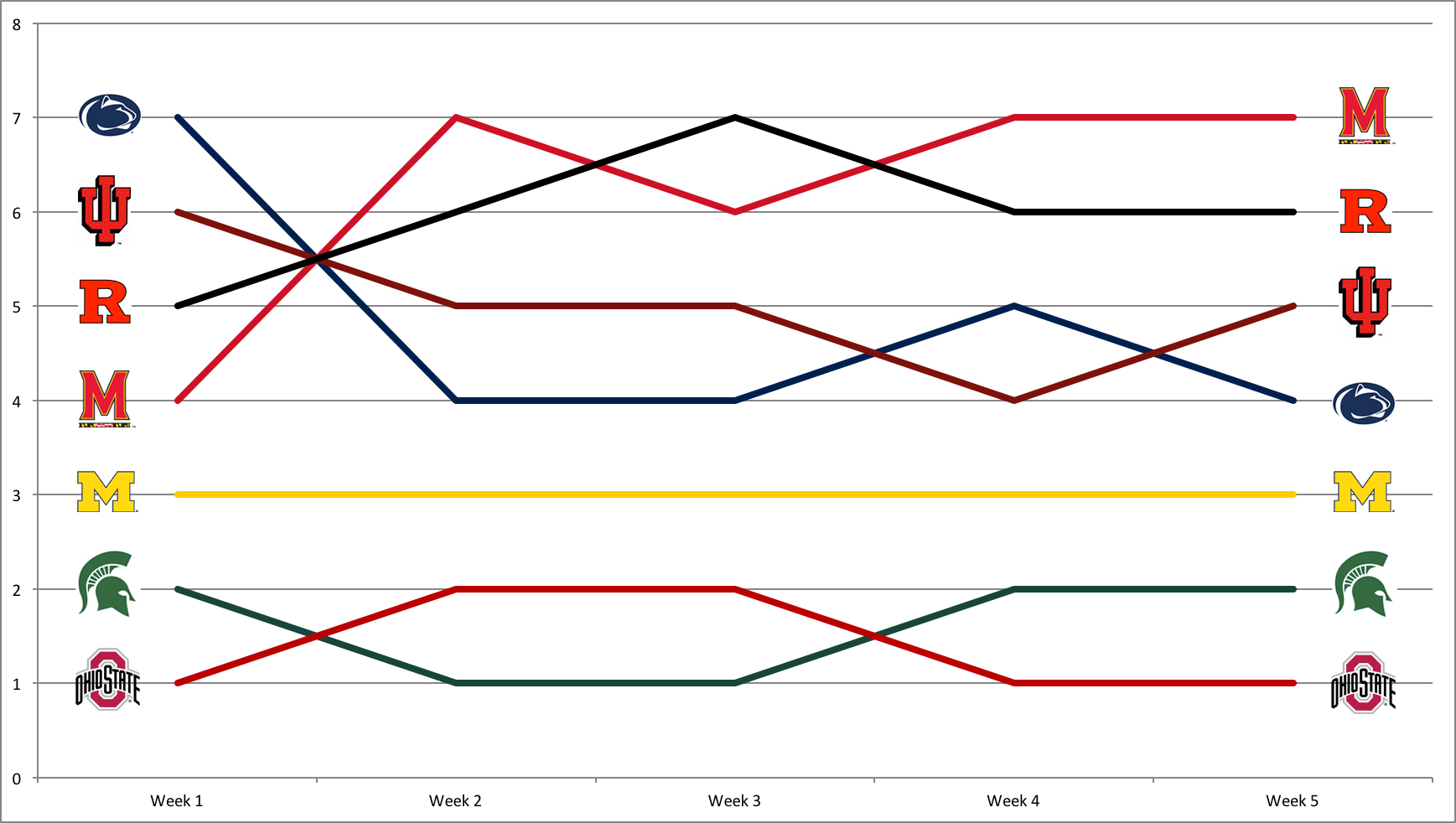 1. Northwestern (5-0, 1-0) – 

Even

Last Week: Beat Min. 27-0
This Week: Sat at #18 Michigan (4-1, 1-0), 3:30pm, BTN
Wow. It looks like the Wildcats are even better than we thought they were, and we already thought they were pretty good. Northwestern steamrolled Minnesota on Saturday, holding the Gophers to 173 yards and scoring a season-high 27 points against Jerry Kill's defense. Justin Jackson continues to quietly get the job done on the ground, picking up 120 yards on 20 carries to pace the offense. Clayton Thorson didn't have a huge impact, but he completed 14 of 19 passes and didn't turn it over. He also rushed for the team's only two offensive touchdowns. Pat Fitzgerald's team has climbed to No. 13 in the AP Poll with a chance to jump into the top 10 if it can knock off a streaking Michigan team in the Big House this weekend. Northwestern will need an outstanding effort from the defense allowing the fewest points per game in the country.
2. Iowa (5-0, 1-0) – 

Even

Last Week: Beat #19 Wisconsin 10-6
This Week: Sat vs Illinois (4-1, 1-0), 12pm, ESPNU
Northwestern might be the hottest team in the Big Ten, but Iowa picked up the biggest win in Week 5. The Hawkeyes knocked off perennial West Division champ Wisconsin in Madison by essentially out-Badgering the Badgers. Iowa scored just 10 points in the game, but controlled the clock with its own running game while holding Wisconsin to 2.5 yards per carry. C.J. Beathard was underwhelming, completing just nine of 21 passes for 77 yards as Iowa was outgained 320-221 overall. But the defense forced four turnovers and held Wisconsin to just 4 of 13 on 3rd down to sneak out of Madison with a power-shifting victory. Iowa is now in position to seize control of the West Division if it can win in Evanston on Oct. 17.
3. Illinois (4-1, 1-0) – 

Up 3

Last Week: Beat Nebraska 14-13
This Week: Sat at #22 Iowa (4-1, 1-0), 12pm, ESPNU
Don't look now, but Illinois is 4-1! Despite a pair of shaky performances leading up to the Big Ten opener, Illinois shut down the Nebraska offense on Saturday and came away with a thrilling, shocking victory in Champaign. The Cornhuskers opened the door for the Illini by throwing twice on the final drive instead of running the clock down inside 20 seconds. When Illinois took over with 55 seconds left, Wes Lunt led a 72-yard drive that lasted just 41 seconds and ended with a one-yard, game-winning touchdown to Geronimo Allison. Illinois' record is a bit deceiving, as it was blown out by its only solid non-conference opponent (a 48-14 loss at North Carolina). If the Fighting Illini somehow win one of their next two games – at Iowa or at home against Wisconsin – that'll be reason to buy in.
4. Wisconsin (3-2, 0-1) – 

Down

 1

Last Week: Lost to Iowa 6-10
This Week: Sat at Nebraska (2-3, 0-1), 3:30pm, ABC
The Badgers are treading in unfamiliar territory midway through Paul Chryst's first season as head coach. A rare home loss Saturday against Iowa landed Wisconsin behind the eight ball in the West Division and dropped the Badgers to 3-2 on the year. Joel Stave isn't playing like a typical Wisconsin senior, turning the ball over twice on Saturday and failing to lead his team into the end zone in the 10-6 loss. Even stranger: Wisconsin's running game has yet to awaken. Taiwan Deal and Dare Ogunbowale took 26 of the team's 34 carries against the Hawkeyes but gained just 87 combined yards and an average below 3.5 yards per carry. Wisconsin's defense was excellent, holding the C.J. Beathard-led attack to just 221 total yards and one touchdown. But the offense is struggling on all cylinders right now and there's no NFL-caliber running back to pull it out of the rut.
5. Minnesota (3-2, 0-1) –

Even



Last Week: Lost to #19 NU 0-27
This Week: Sat at Purdue (1-4, 0-1), 3:30pm, ESPN
Since nearly upsetting No. 2 TCU to open the season in early September, Minnesota has performed steadily worse each week. A pair of three-point wins over MAC schools preceded a 27-0 beat down at the hands of a Northwestern team that was struggling to score points before rolling over the hapless Gophers. Minnesota rushed for just 2.2 yards per carry and Mitch Leidner was awful through the air, completing 10 of 21 passes for 72 yards and a pick. A defense that had been leading the charge through four weeks surrendered 20 points and 312 yards on the night, though it was put in bad position by two offensive turnovers. The style points Minnesota gained by sticking with TCU have expired, and now it'll need a desperation win in Purdue to get the train back on the tracks.
6. Purdue (1-4, 0-1) – 

Up 1

Last Week: Lost to #2 MSU 24-27
This Week: Sat vs Minn. (3-2, 0-1), 3:30pm, ESPN
For the first time since a Week 2 thumping over Indiana State, Purdue showed a little fight in a 24-21 loss in East Lansing Saturday. The Spartans carried a commanding 21-0 lead into the half, but Purdue scored 14 unanswered points over the next 16 minutes to pull within a score. A 10-play, 28-yard drive stalled at their own 48-yard line as the Boilermakers' comeback effort finally ran out of gas. Freshman quarterback David Blough was awful in the first half, but he finished the game with 136 yards passing, a touchdown and an interception after a solid 2nd half effort. If not for MSU running back L.J. Scott's 146 rushing yards and two touchdowns, Purdue might have pulled the most shocking upset of this college football season.
7. Nebraska (2-3, 0-1) – 

Down 3

Last Week: Lost to Illinois 13-14
This Week: Sat vs Wisconsin (3-2, 0-1), 3:30pm, ABC
How could Nebraska possibly fall below a lousy, punchless Purdue team? It's simple: Mike Riley's team is playing a sloppy, ugly brand of football through five games and it starts with their junior quarterback. Tommy Armstrong Jr. completed less than one-third of his passes Saturday for 105 yards and an interception. He had zero passing yards in the team's 76-yard touchdown drive in the 1st quarter and the offense mustered only 13 points against an Illinois team that allowed a combined 73 points to North Carolina and Middle Tennessee State the last two weeks. Nebraska could actually be undefeated at this point in the season – the three losses are by a combined nine points – but mammoth mistakes in the 4th quarter an overtime have dropped them to a disastrous start. If Nebraska can't pull off a win over Wisconsin this weekend, it'll have to knock off Northwestern, Michigan State or Iowa down the stretch to qualify for a bowl.