---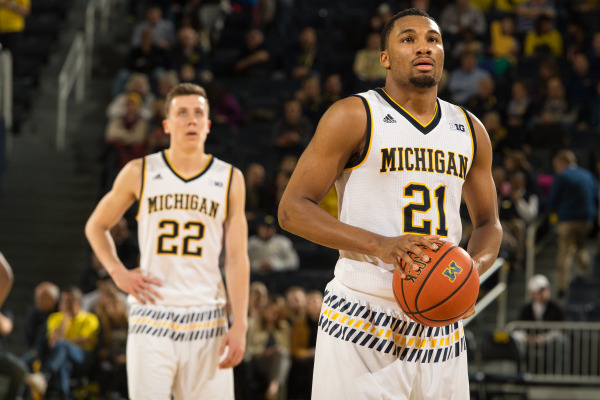 (MGoBlue.com)
Remember last week's message from Richard Pitino to his own team that Michigan enacted by winning ugly? Well…Michigan did it again, this time against the cellar-dwelling Scarlet Knights of Rutgers in a 68-57 win.
It wasn't pretty. It wasn't all that encouraging. But it was a win. That's the message the Wolverines seemed to be preaching in the aftermath of a sloppy victory that saw the home squad stumble, brick, and crawl its way to an 11-point win with only 20 made field goals (and only nine two-pointers) in a game they were favored to win by 25.
After the win, John Beilein did not hide his displeasure with the way things went, saying that he saw a big family hanging out by the main staircase and hoped that they had a good time, because Beilein "did not".
"So somebody had to have a good time today," he went on. "You have those games where we're fortunate to get a win based on your performance, but we'll just grow from it and learn from it and see where we go moving forward."
Fortunate is a pretty apt word to use in this case, given that Michigan very well may have lost to any other team in the Big Ten with the way they played this evening. To say that Rutgers is bad this season would be putting it kindly. Eddie Jordan's Scarlet Knights are undermanned, undersized, and in over their heads. They are now 6-15 on the season and 0-8 in conference play, with not much hope of pulling a win out of their hats before the end of the year. Rutgers sits at a woeful #274 on kenpom.com, flanked by the almighty New Hampshire Wildcats and Fairleigh Dickinson Knights, and a whopping 74 spots behind the next-worst team in the Big Ten in Minnesota (also winless in conference play). They shoot a lowly 45.6 percent from inside the three-point line and an even lowlier 30.9 percent outside the arc. You get the point – Rutgers is a poor excuse for a Big Ten basketball team this year.
And the Wolverines could not slam the door on them all night.
Duncan Robinson led the way in the scoring column with 18 points on 14 shots, but was just 1-of-5 from two-point range with a pair of ugly turnovers.
Derrick Walton added 14 on 10 shots while missing all four of his attempts inside the arc and also coughing it up twice.
Zak Irvin did well to tally eight assists and 12 rebounds, but he too struggled to knock down shots, going 1-of-6 from distance on his way to just eight total points and two turnovers.
Mark Donnal was the beneficiary of many of those assists, finishing with 10 points on six shots, but also gave it away twice.
Muhammad-Ali Abdur-Rahkman rounded out the starting lineup and did not turn the ball over, but he remained quiet offensively, missing all three of his shot attempts (all triples) and collecting a single assist in 29 minutes.
Perhaps Aubrey Dawkins was the best overall performer for the Maize and Blue with an efficient 11 points (1-of-2 2pt, 3-of-4 3pt) in just 19 minutes. But even he missed a wide open, violent tomahawk jam attempt down the heart of the lane when he tried to finish with a one-handed flourish and instead sent the ball clanging off the heel all the way back to half court.
There's good reason to believe that Michigan took this one lightly, and it's hard to blame them for it given the competition level. A loss here, however, would have been absolutely devastating. And though tonight's matchup had all the makings of a trap game, Rutgers is not quite good enough yet to win on the road versus a talented Michigan squad even when they are off.
Still, this one never felt in great doubt despite Michigan trailing for 14+ minutes of the first half and never leading by more than 14 throughout.
So the Wolverines will march on with another 'W' notched on their resume – no asterisk needed – for the third straight game to bring their conference mark to 6-2 and their overall record to 16-5, already reaching last year's win total with 10 regular season games to play.
At the end of the night, a win, as they say, is a win. No matter how it comes.
• Following the win, John Beilein said he got an ominous feeling when, before the game, he could not find his scouting report on Rutgers for one final pre-game read through, as he does so every game day. As of press time, he had yet to locate it, but he claims this was the first time it had ever happened to him (perhaps unsurprisingly, given the level of competition) in his many years of coaching.
• Speaking of bizarre and unique happenings tonight, Rutgers made a mental mistake that John Beilein also never remembers having seen in his career that started when, late in the game, Zak Irvin stepped to the free throw line for a one-and-one opportunity and bricked the first attempt off the rim. A Rutgers player nonchalantly caught the carom, glanced around briefly as everyone looked confused and sat still (including Irvin, it should be noted), and proceeded to toss the ball to a referee sitting out of bounds on the baseline, giving Michigan the ball back. Four seconds later, Derrick Walton drew a foul and made both his freebies.
Beilein felt it was a critical possession, given that Michigan was up just eight points with 45 seconds remaining when the gaffe occurred. It seems highly unlikely that Rutgers would have pulled off the miraculous last-minute comeback á la Virginia, but we'll never know.
***Derrick Walton Jr.***
14 points (0-of-4 2pt, 3-of-6 3pt, 5-of-5 FT), three rebounds (two offensive), four assists, one steal, two turnovers in 38 minutes
**Aubrey Dawkins**
11 points (1-of-2 2pt, 3-of-4 3pt), one rebound, one assist, zero turnovers in 19 minutes
*Zak Irvin*
8 points (1-of-2 2pt, 1-of-6 3pt, 3-of-5 FT), 12 rebounds, eight assists, two turnovers in 38 minutes
Season Three-Stars Standings
Derrick Walton Jr – 21
Duncan Robinson – 16
Caris LeVert – 15
Zak Irvin – 7
Aubrey Dawkins – 5
Muhammad-Ali Abdur-Rahkman – 3
Mark Donnal – 1
Spike Albrecht – 1
Moritz Wagner – 1
Final Game Stats

#

Name

FG-FGA

3FG-3FGA

FT-FTA

OR

DR

TOT

PF

TP

A

TO

BLK

S

MIN

34
Mark Donnal*
4-6
0-0
2-2
0
4
4
2
10
1
2
1
1
31
10
Derrick Walton*
3-10
3-6
5-5
2
1
3
1
14
4
2
0
1
38
21
Zak Irvin*
2-8
1-6
3-5
0
12
12
2
8
8
2
0
0
38
22
Duncan Robinson*
5-14
4-9
4-4
1
3
4
3
18
2
2
0
0
34
12
Muhammad-Ali Abdur-Rahkman*
0-3
0-3
3-4
0
2
2
1
3
1
0
1
1
29
03
Kameron Chatman
0-0
0-0
0-0
0
0
0
0
0
0
1
0
0
2
11
Andrew Dakich
0-0
0-0
0-0
0
0
0
0
0
0
0
0
0
0+
13
Moritz Wagner
0-0
0-0
0-0
0
0
0
1
0
0
0
0
0
2
24
Aubrey Dawkins
4-6
3-4
0-0
1
0
1
2
11
1
0
0
0
19
32
Ricky Doyle
2-2
0-0
0-0
0
2
2
1
4
0
0
0
0
7
Totals
20-49
11-28
17-20
5
24
29
13
68
17
10
2
3
200
Rutgers
22-50
3-18
10-14
5
25
30
18
57
11
14
0
6
200

Full Stats