---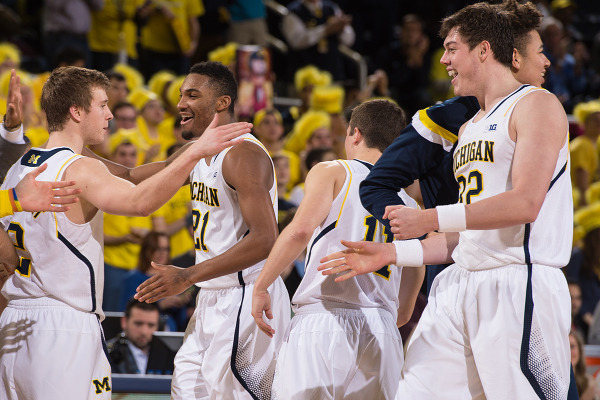 (MGoBlue.com)
Michigan is still looking for a signature victory after an overtime loss to Wisconsin on Saturday, but a 58-44 waxing of Nebraska without its two best players was a step in the right direction.
Derrick Walton, Jr. joined Caris LeVert on the bench Tuesday night with Michigan hosting Tim Miles' Cornhuskers. But three of Michigan's unheralded role players stepped up to shoulder the load.
Aubrey Dawkins paced the Wolverines in the first half, scoring 10 of the team's 23 points to carry a five-point lead into the break. An ugly offensive showing by Nebraska was highlighted by a zero from Big Ten leading scorer Terran Petteway.
Michigan came out of the break hot, stretching its lead to 11 with an 8-2 run. Petteway scored his first point with 15:05 left in the game, but it was too late as the Wolverines had already built an 18-point lead.
A Shavon Shields layup cut the lead to eight with under six minutes remaining, but Michigan answered with a Max Bielfeldt layup and never let Nebraska back within 10.
Dawkins finished with 13 points for Michigan, second only to Zak Irvin, who dropped in 14 and grabbed a career-high 12 rebounds.
Muhammad-Ali Abdur-Rahkman helped Michigan ice the game with three fast break layups in the second half. He finished with nine points and four rebounds on four of eight shooting.
Bielfeldt put up 12 points and nine rebounds in 26 minutes off the bench. Starting center Ricky Doyle scored four points and grabbed two boards in the other 14 minutes.
Mark Donnal was sidelined with an upper respiratory infection, which has ravaged through the Michigan locker room this season.
Shields was the only Cornhusker to score more than seven points Tuesday, finishing the game with 14 points on just four of 12 shooting.
Petteway, who finished with seven points, snapped a 30-game streak of scoring in the double digits.
With Michigan up 14, Austin Hatch got into the game for 7.8 seconds.
The Wolverines moved to 6-3 in the Big Ten, good for fourth place halfway through the conference schedule. The wins have come against the six worst teams in the conference standings.
John Beilein will lead his team into East Lansing on Sunday for a matchup with Michigan State.
Final Game Stats

#

Name

FG-FGA

3FG-3FGA

FT-FTA

OR

DR

TOT

PF

TP

A

TO

BLK

S

MIN

32
Ricky Doyle*
2-5
0-0
0-0
0
2
2
3
4
0
1
1
0
14
02
Spike Albrecht*
0-2
0-0
6-6
0
2
2
3
6
7
1
0
0
34
12
M-A. Abdur-Rahkman*
4-8
0-1
1-1
0
4
4
2
9
1
2
0
1
37
21
Zak Irvin*
5-12
3-7
1-1
1
11
12
0
14
3
1
0
1
38
24
Aubrey Dawkins*
5-7
3-3
0-0
0
2
2
2
13
1
2
1
0
32
03
Kameron Chatman
0-3
0-1
0-0
0
0
0
1
0
0
3
0
0
8
04
Andrew Dakich
0-0
0-0
0-0
0
1
1
2
0
0
1
0
1
8
20
Sean Lonergan
0-0
0-0
0-0
0
0
0
0
0
0
0
0
0
2
30
Austin Hatch
0-0
0-0
0-0
0
0
0
0
0
0
0
0
0
1
44
Max Bielfeldt
6-9
0-2
0-0
4
5
9
1
12
0
1
0
0
26
Totals
22-46
6-14
8-8
6
28
34
14
58
12
13
2
3
200
Nebraska
15-49
4-19
10-14
8
18
26
12
44
6
10
2
3
200

Full Stats